We were invited by Netflix to screen the new movie, Matilda the Musical, already available in theaters as of December 9th and streaming on Netflix as of December 25. If you're familiar with the story of Matilda, based on a popular children's book by Roald Dahl, or you like musicals, this is a movie you'll want to see. (And the Matilda the Musical soundtrack is going to be a hit!)
I took my friend and her daughter to see the movie, knowing that I'd get a firsthand opinion from someone from the younger set. She didn't hold back! I quote "I loved all the songs! They were so musical!" In short, she loved the whole movie and she's excited to be able to see it again when it hits Netflix in just a few days.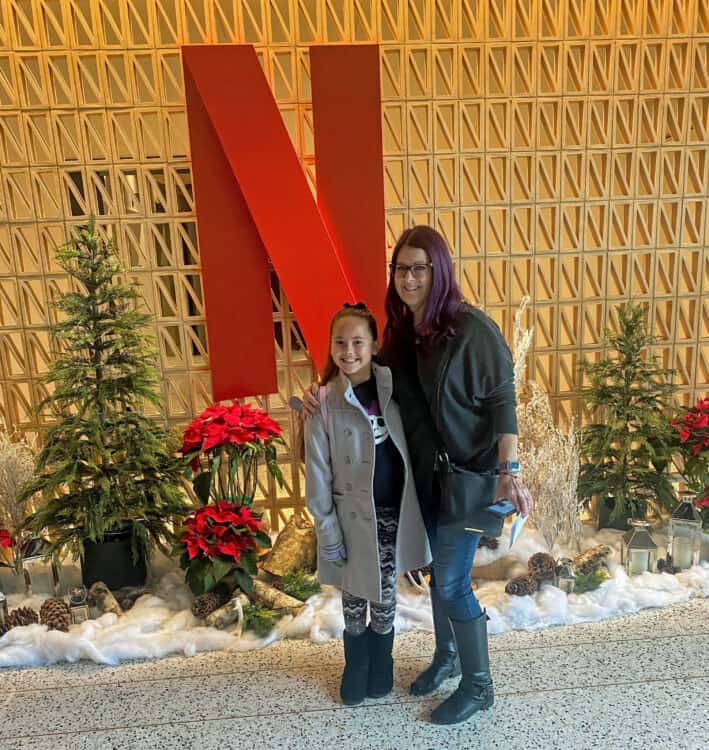 Screening Matilda the Musical at Netflix Tudum Theater
We got to screen the movie at the Netflix Tudum theater in Los Angeles, where the chairs recline to give you a great view of the starlit ceiling while you wait for the movie to begin. Right before it started, we were surprised by a quick visit from Tim Minchin, the composer for Matilda the Musical. It's always fun when this happens! His love for this movie was evident, as he was patient and waited quite a while for this project to come to fruition, and his talent is clear from the first song and onwards.
Matilda is a young girl with questionable parenting, and she's had to develop a tough shell and a lot of survival skills mixed with creative initiative. The movie is a bit dark, but not in a way that should deter you from taking your children to see it. They'll quickly get caught up in the music, and they'll root for Matilda and the other children who attend Crunchem Hall, a school led by the inimitable Emma Thompson, who is almost unrecognizable as Miss Trunchbull. Matilda learns she has some special abilities, such as telekinesis, and she uses her ingenuity and drive to right the wrongs in the world, beginning at the school.
The young actress who plays Matilda (Alisha Weir) is incredibly talented, and she nails the character. She hits all the notes (see what I did there?) but the movie would not be what it is without Emma Thompson. I honestly didn't realize it was her for a few moments, she's that altered. Lashana Lynch is also a wonderful surprise — I didn't know she could sing, but her portrayal of Honey is perfect. It was fun experiencing the story of Matilda in a new way, thanks to Netflix. It took a children's classic story and made it a fun ride with toe-tapping tunes, and I will never look at chocolate cake in the same way again.
You can see the movie in theaters now, or you can wait just a few more short days (which will speed by because it's the holidays and time is flying) and have a family movie night at home. Just don't serve chocolate cake as a snack. Make some popcorn, settle in and enjoy the movie together!