As I write this, I've got the news on and I'm watching two other websites for news updates on the Etiwanda Fire here in Rancho Cucamonga. Currently, the fire's about 1.5-2 miles from my house, depending on wind and who you listen to, but we're the fortunate ones — it's quickly encroaching on other neighborhoods and my heart goes out to them. According to the Cal Fire Data website, one structure was damaged and considering it's over 1,000 acres burned and out of control, that's pretty good stats so far.
Here's what I saw this morning right here in my neighborhood.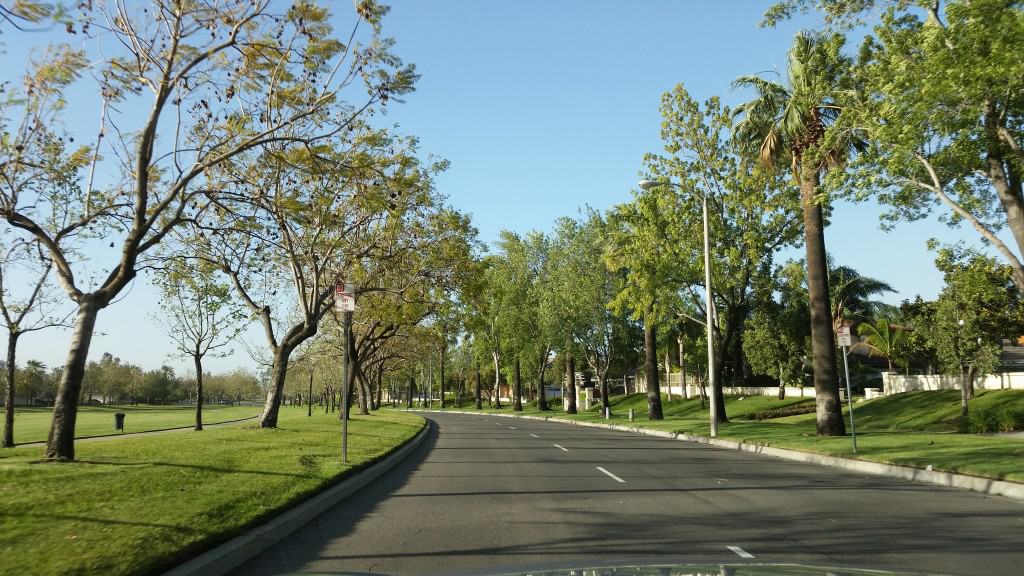 Then, just about an hour and a half later, this…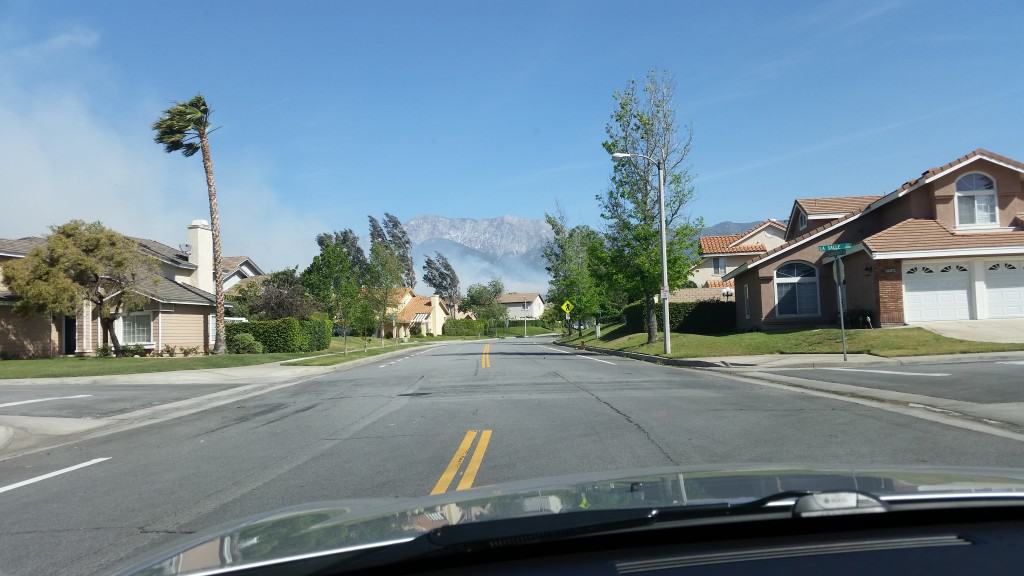 Then just about an hour later…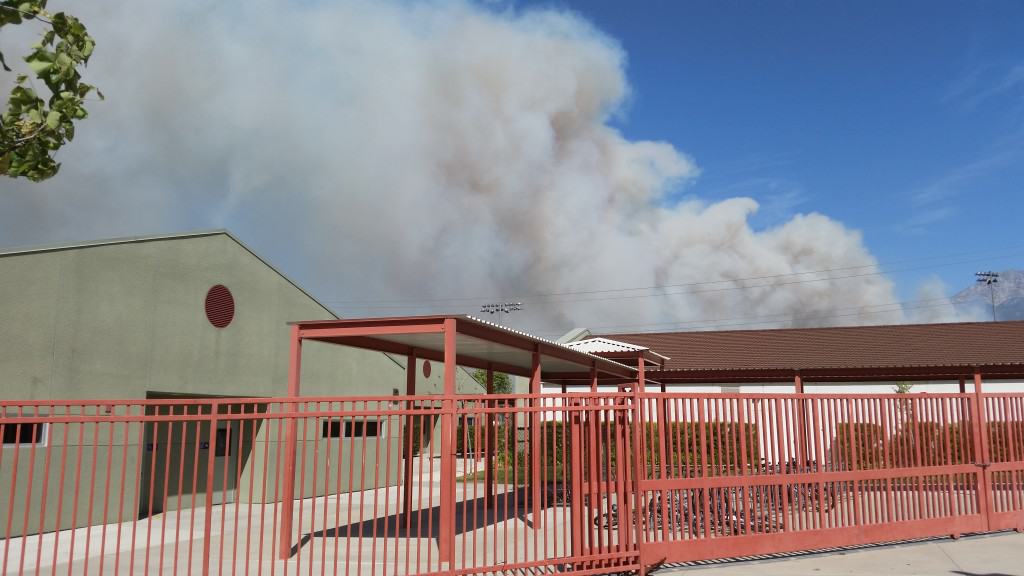 Crazy, right? They keep referring to it as a "fire explosion."
It started out as one fire in the Etiwanda Preserve, a beautiful hiking area in the foothills not far from here, and with the wind gusting around 70-80 mph, spot fires are a concern. It's too windy for the heli-tankers and other aircraft to get up in the air, but according to the news just a few minutes ago, the winds have slowed a bit. Bad news is that they are due to pick back up again in the morning.
This isn't our first fire situation. It's just one of those things about living in Southern California, much like storms and other disasters that occur all over the country. Scary and concerning, and we have memories of the Grand Prix fire back in 2003 that had our air so black and thick with ash, we had to evacuate though our home was still a few miles away from actual flame. (We watched that fire from our windows and our yard. We'll never forget seeing the helicopter catch fire on the ridge.)
There are mandatory evacuations of 1650 homes and voluntary evacuations of even more homes. I doubt we'll be at any risk but it certainly makes you think. We learned back in 2003 that keeping a list of things you would definitely want to take with you is a good thing. Write it, go over it with the family, and post it someplace around your house that's easily accessible.
Here is my evacuation list.
Important documents: I keep these in a folder, and a copy in another folder as a backup. Birth certificates, passports, insurance forms and policy numbers, etc.
Medications and prescriptions, including those for your pets.
Medical documentation and insurance cards: if you have anyone in the family with special needs, keep a copy of their diagnosis and doctors' information. You may not be able to see your regular doctor in an emergency.
Cash, debit and credit cards: you never know if you'll be gone longer than you thought or power outages makes it hard to use your plastic.
Pet gear: if you have a pet on prescription food like one of ours, we can't leave without enough of it for several days as you can't buy it just anywhere.
Jewelry or other valuables: again, keep these as close together as possible so you can grab them quickly.
Items your children have to have to feel secure: favorite stuffed animals, blankets, toys, including chargers.
Photos: I grab a stack of CDs full of photos, a couple of boxes (not huge) full of albums and videos and hard copies, but I also upload everything I can onto Snapfish in case I don't get them all.
Emergency contact information: if you lose your phone or can't get service, it's always good to have this information in hard-copy form.
Computer: not everyone has a laptop, but if you have one, or a tablet, this can help you if you need to contact someone and are unable to charge your phone.
Phone chargers
Clothing and spare shoes
School equipment for your kids: have them throw their backpacks into the car. (If they're old enough to have a backpack, they can help you out!)
If you have time, throw in your sentimental items, some water bottles (in case you are stranded somewhere), a roll of paper towels (in case you need to make a wet mask for your face), and what you'll need to be comfortable if you're displaced for a few days.
What else do you have on your list?