When I was invited on a press trip to Riviera Nayarit, I was told it was going to be full of fun and adventure. She was NOT kidding, because the itinerary was full of so much fun, it didn't feel like work in any way. And as for the adventure? We had a few with Vallarta Adventures in Punta Mita!
The day started with a short shuttle bus ride from our accommodations at the Marival Distinct, where we ended up in Punta Mita, only about 20 minutes away. The Vallarta Adventures team greeted us with smiles and guidance on prepping for our first adventure: riding the Polaris Razor ATVs on winding, rolling, dirt roads through the mountains of Punta Mita!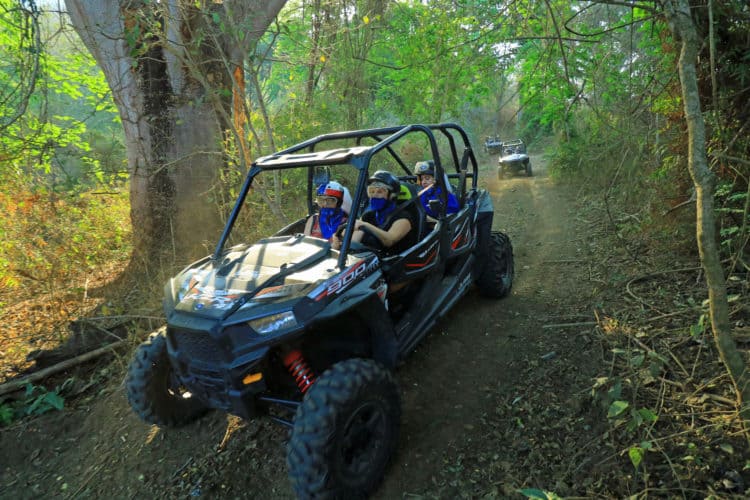 Let the first adventure begin!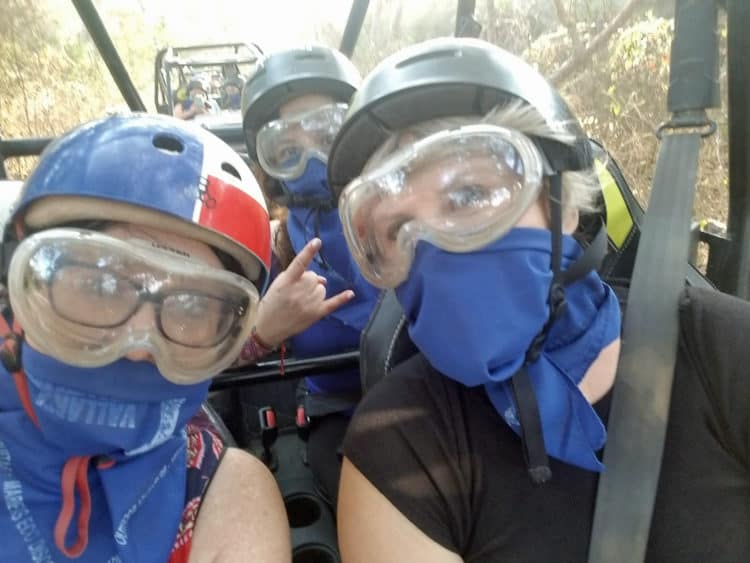 We were geared up with goggles, a helmet and a neckerchief. I was honestly a little claustrophobic with all the gear on my face, so much so that I didn't drive the ATV myself, but I did get over that quickly. (The humidity was causing my glasses to steam up, as I had to still wear them under the goggles because I have had old eyes since I was 10 years old.) After a brief lesson on how to handle the ATVs, we were off! We drove a couple of miles on the main highway, then took a turn into the jungle-y forest and away we went!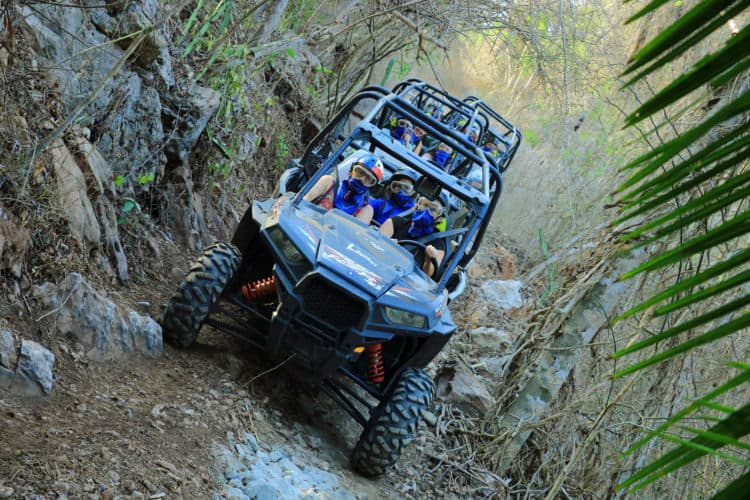 Up, down, around, they put us through our paces, testing our skills further as the day went on. Lots of whooping and screeching and oh so much laughter. We had an absolute blast! And look at this view…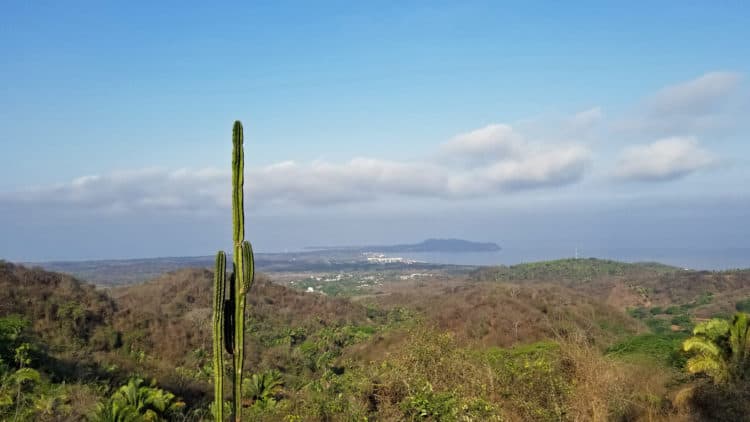 There was a stop mid-way, where one of the staff served us authentic burritos from his grandmother. I'd never had a burrito like that and it was so good! (Green chilis, mushrooms and queso and a whole lotta love, according to the driver that shared them with us.)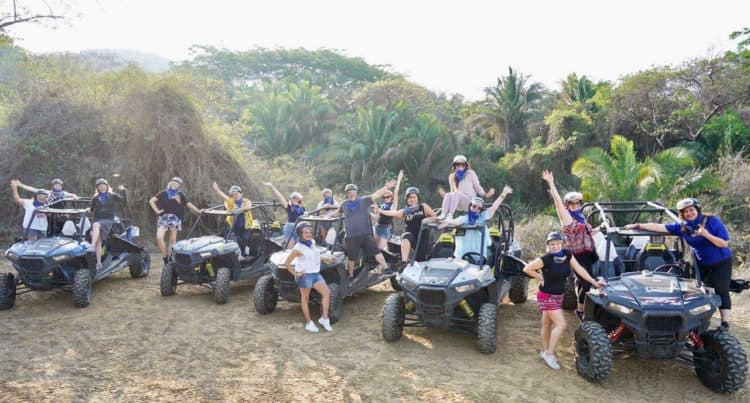 We even took the ATVs into the beautiful little town of Sayulita, where we had just about an hour to take photos, get a feel for the city and grab a snack.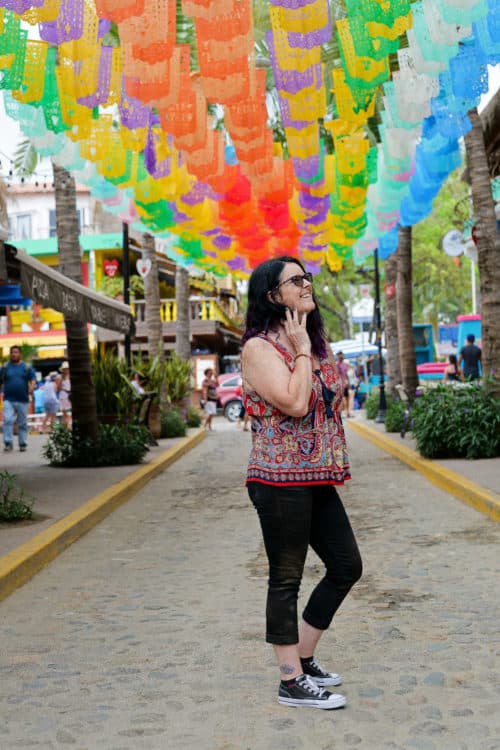 A few of us also quickly picked up a couple of souvenirs — mine was a handmade purple beaded bracelet that has garnered so many compliments. Look at all the colorful buildings!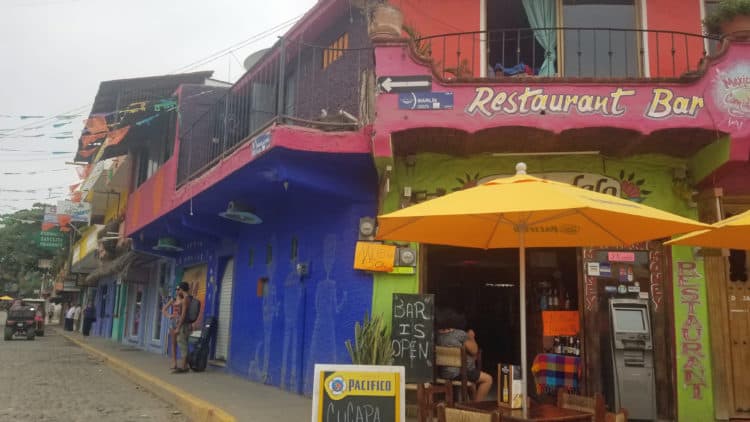 After Sayulita, we took the ATVs back to the Vallarta Adventures "Sayulita Escape" home base, and were picked up by a shuttle bus to take us to the harbor for the second half of our adventure: lounging on a yacht out in the open waters, with the opportunities to snorkel, paddle board and literally, lounge on the water on a big floating yoga mat.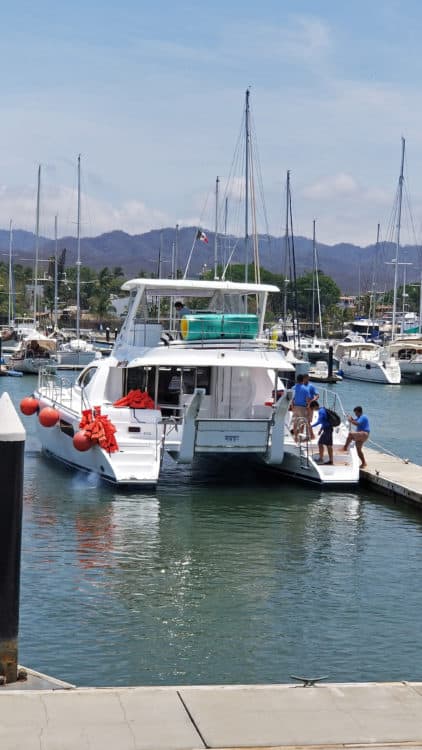 It was heaven. Fun music played, the open bar was manned by a cocktail wizard, and they even served us a cruise-worthy charcuterie lunch.
One of my favorite parts was laying on the mat, water splashing on us periodically from the gentle waves, and having one of the crew swim cocktails to us. Where else am I going to get that kind of amazing service?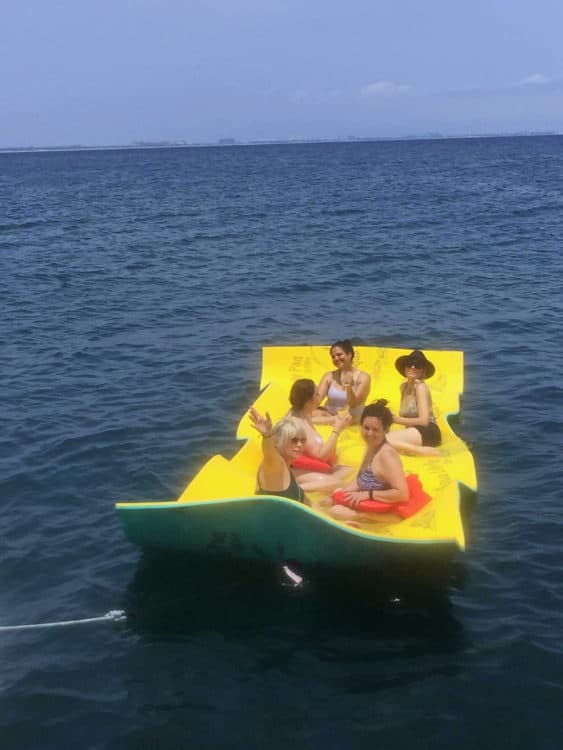 We moms dig this.
And this….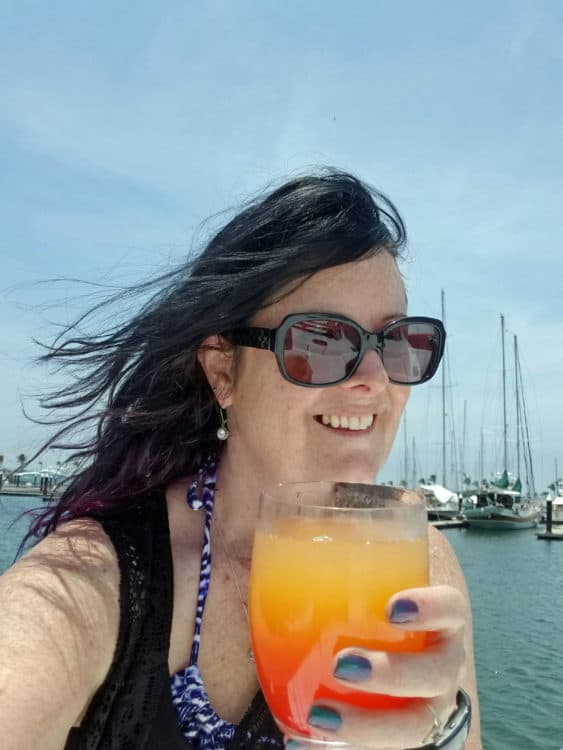 The cruise back to the harbor was just as fun, with the music getting louder and a lot of photos being taken as everyone was enjoying their cocktails and lounging on the deck.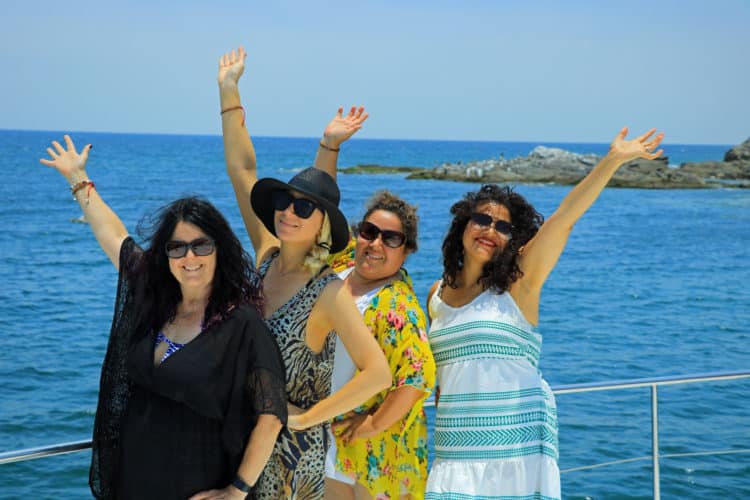 I could have done it for days.
A few landmark things from the day:
a) I don't wear a bathing suit very often, especially uncovered. This group of ladies made me feel so comfortable and happy, the cover-up got tossed into my pile and forgotten until later.
b) I am not the biggest fan of the open ocean. It's very pretty in pictures and from the shore, and even movies…except for movies like The Meg and Jaws. I don't volunteer to get into the water and swim. On this trip, I DID BOTH. I swam, looked for fish and paddle boarded twice. I even stood up!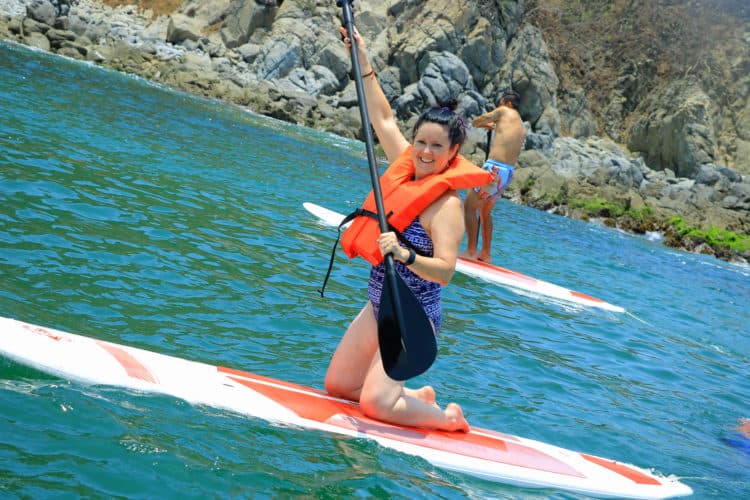 c) Hanging out with these ladies (and one man!) was an absolute treat. I am so lucky to have been invited and to get to know all of these women that I didn't already know was a huge bonus.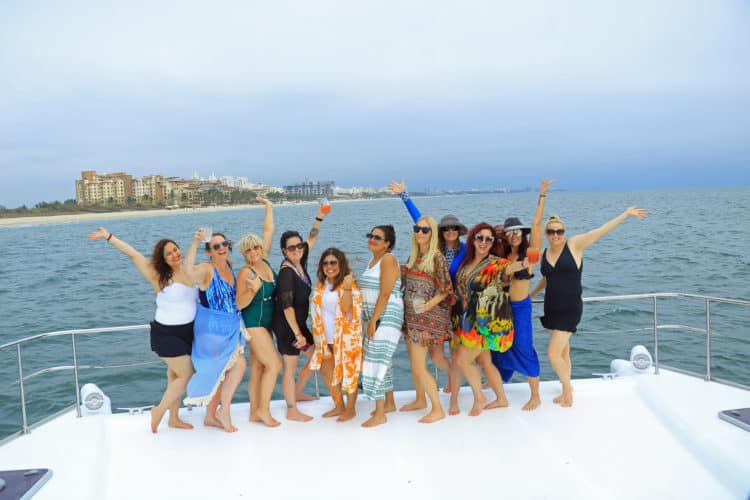 To address B a little more, the crew of Vallarta Adventures did a lot to ease my mind. They provide all the equipment you could need, even towels, and they teach you individually how to paddle board in addition to a group lesson. I felt like a blob trying to climb onto the paddle board and even less confident standing up, but with their guidance and personal attention, I did it! I may not have looked confident, but that's okay, I stood up, I paddled, I enjoyed it AND I didn't hold my breath. It's all good.
The entire cruise, they were very attention, ensuring we all were comfortable, had everything we needed and were able to truly do nothing but relax and have fun. Mission accomplished! And major kudos to the bartender — he makes a mean rum punch, layered all pretty and everything!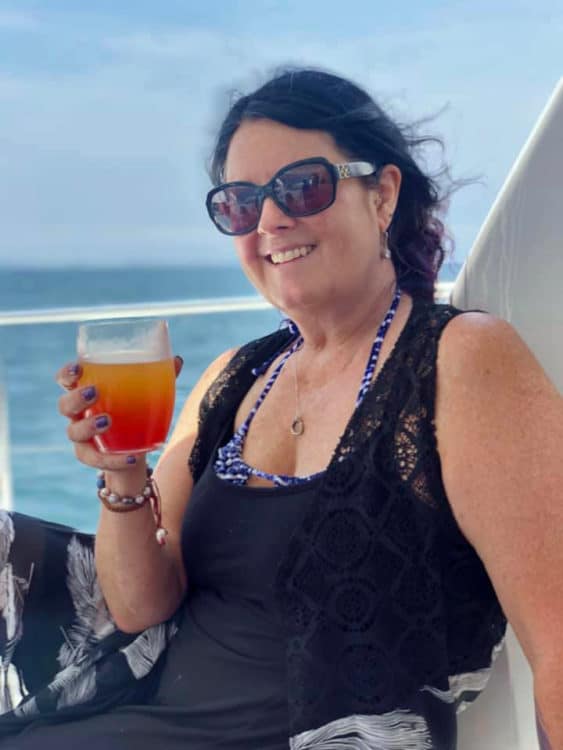 Vallarta Adventures has a lot of adventures to choose from, so visit their website to get information on prices, reservations, scheduling and any age or other restrictions.
While this day was complimentary as part of our press trip, I'd easily pay to be a part of another one of their adventures. I literally had nothing to worry about the entire day…other than how I would make sure I covered all my exposed skin with sunscreen. I must have done it right though, no sunburn!
Thank you, Vallarta Adventures in Punta Mita, for a day full of memories! I hope to see you again soon!