Looking to see the California superbloom but not wanting to fight the crowds or drive a long way? Go see the superbloom at Chino Hills State Park!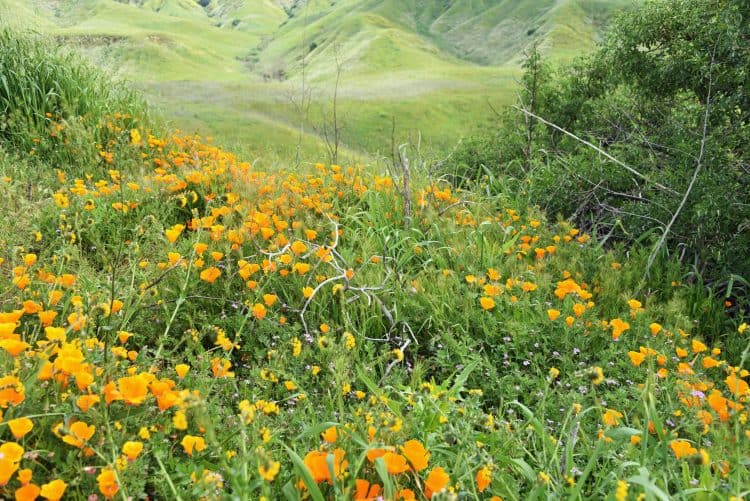 Chino Hills State Park is easily accessible from all counties in Southern California, only minutes off the 71 freeway between the 60 and 91 freeways. You can also enter via Yorba Linda and Brea, but I haven't tried either of those entries to give firsthand experience.
It's a huge park, about 14,000 acres full of rolling hills and a plethora of hiking trails ranging in levels of difficulty (more strenuous climbs) and length. Its location means you can enter a whole new world, seemingly far away from city life, but within just minutes of freeways, shopping centers and homes.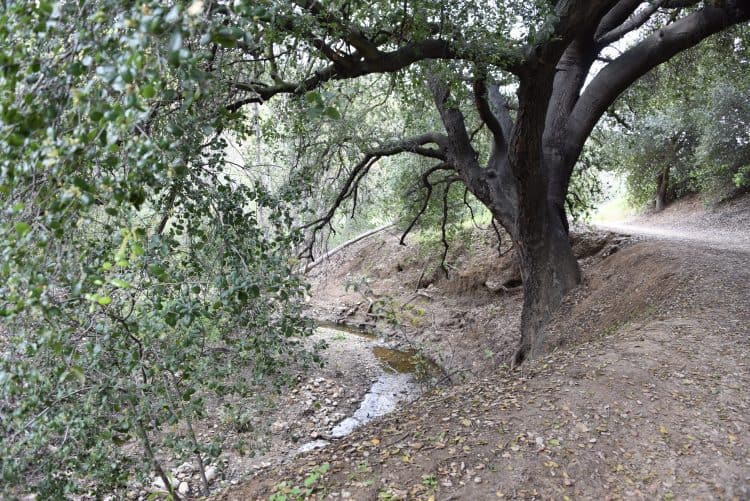 How much does it cost to see the superbloom at Chino Hills State Park?
The entry fee is $5 per car, but once gates close, they close for the night so pay attention to the hours, which change during the winter. (Hours are 8-5pm or 8-7pm, depending on the time of year.) It is open year-round, though you'll want to check ahead of time if you're visiting during inclement weather as some trails may be closed if there is erosion or anything else unsafe. We also learned that rattlesnakes may be present, though we didn't see any.
Since I drive a sports car that's low to the ground and has rear-wheel drive with a powerful kick, I was going to park out on Sapphire or Elinvar, at the entrance to the park, where a lot of people park along the curb. I was meeting my daughter and son-in-law, so the plan was for them to pick me up, but they arrived a few minutes earlier. They used that time to explore a little. They learned that the roads are fully paved, other than a couple of small offshoots to trail heads where you can park.
Paved roads meant for a change of plans, in a good way. I drove into the park, paid my entry fee, used the restroom (actual buildings, not port-a-potties) and checked out the map they provided before heading further into the park.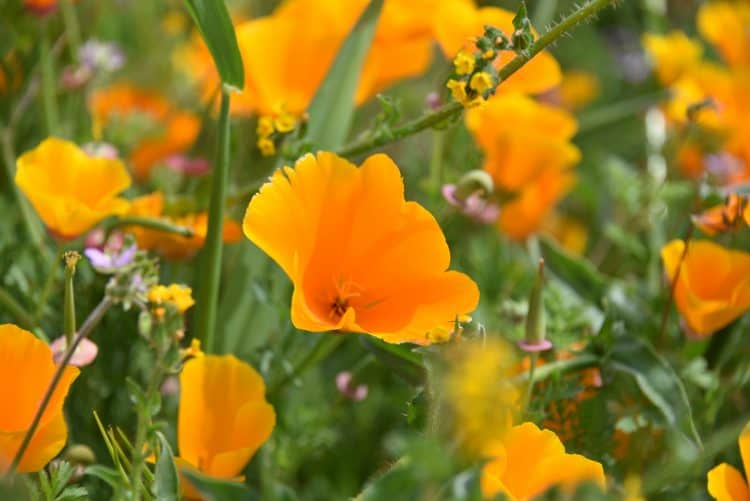 How easy is it to get to see the superbloom at Chino Hills State Park?
Keep in mind that driving through the park is beautiful — and the best way, as it is quite a trek up the hill before you even get to the gate or any of the trail heads — but it is slow going. The speed limit is 15 mph and a good portion of it is one-lane. I didn't run into anyone going up, but coming down, we did have to pull into one of the many turnouts to let others coming into the park get by. (Entering guests have right-of-way.)
The poppies, on the day of our visit, were visible in all directions. It wasn't as vivid as what I'd seen on the media in the Lake Elsinore area, but I also didn't have to wait in any traffic, take a shuttle or fight a lot of people for a good photo.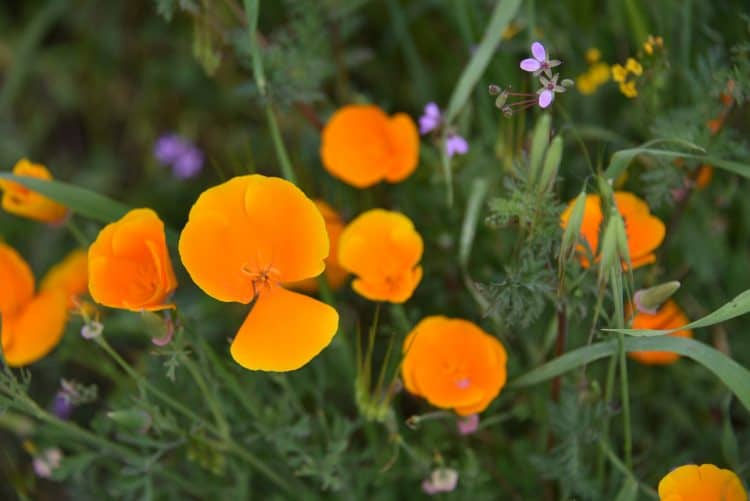 We also were able to get right up close to the poppies. They line the trail, and it's possible to get photos up along them without having to stop on anything. We did see quite a few other people hiking but we never saw a single person stepping on or picking any of the flowers.
I didn't plan on doing that much hiking, but the trail we took to see the flowers, Upper Bane Ridge Trail, was probably about 1.5 miles round-trip, and much of it was uphill. (We didn't go to the end, but that's how far we went to really be amongst the flowers.) We also took another small hike, about 2 miles round-trip along Upper Aliso Trail, where we saw a lot of other flowers, trees and creeks along the edge, but the poppies were only in a distance.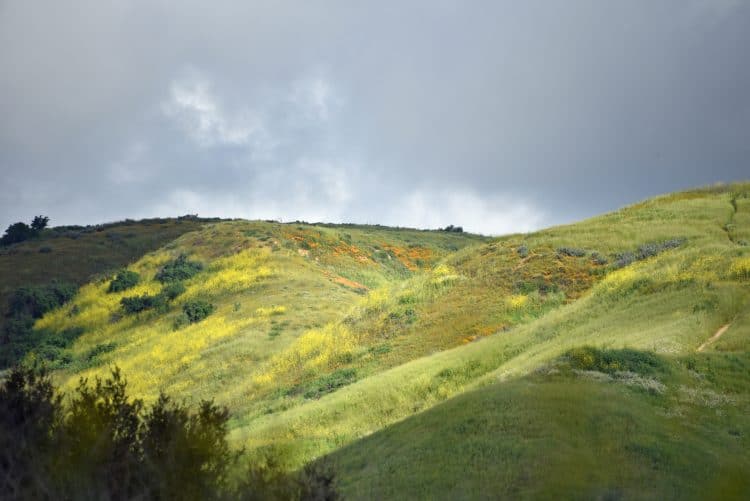 To get to Upper Bane Ridge, stay on the paved road, Bane Canyon as it turns into Telegraph Canyon Road, and watch for signs. If you miss the right-hand turn into the long loop dirt-road parking lot, you will not be able to go much further on the road before it ends at Rolling M Ranch, and the campground will be on the left. If you get there, turn back around and it's the first turn on the left.
Wherever we went, it was peaceful, quiet and the only sounds we were heard were the breeze in the trees, some wildlife scampering through the brush, and birds.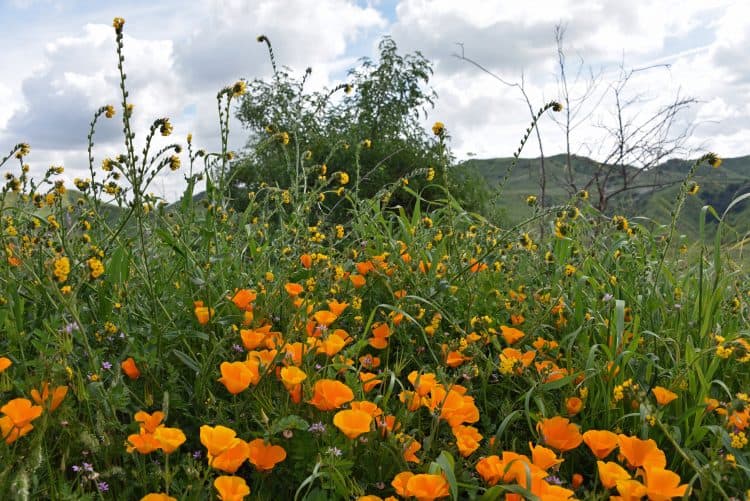 Where do I park?
There were a lot of trail heads on both sides of the road, and all of them offered parking, though some were smaller than others. There were a few scattered facilities (again, not port-a-potties) and picnic tables in case you wanted to carry in your lunch…and carry out your trash. Parking is also available immediately inside the front gate.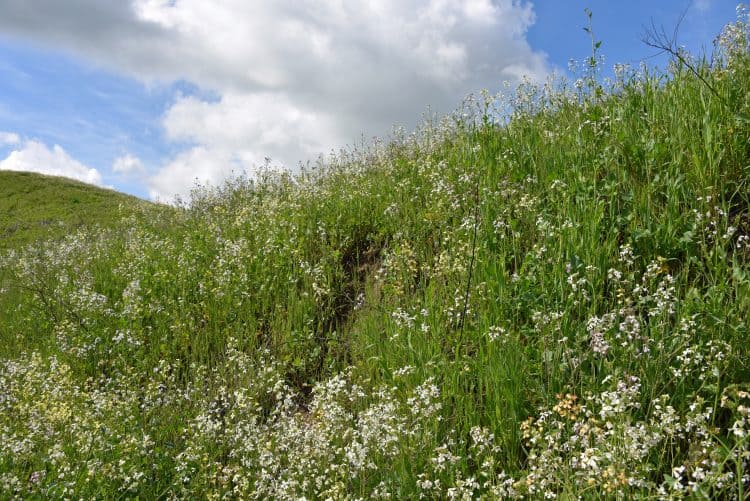 Can I take kids to see the superbloom? Can anyone make the trek?
If you want to go see the superbloom with young kids, it is possible. We saw quite a few kids, and people of all ages, hiking up and down the hills. Wear sturdy shoes, as there are some ruts, but if you happen to stop by in sandals, you will be fine, just watch where you step. We did take a three-wheel sports stroller along one of the trails without issue, but the Upper Bane Canyon is a thinner trail and a stroller would not be possible.
I'd waited so long to go see the superbloom, I was afraid I'd miss it. We spent a perfect few hours in the park, taking some baby photos (as my granddaughter is only two weeks old) and enjoying the activity. Sometimes you need to really need to just step away from the stress and the daily routine and enjoy nature.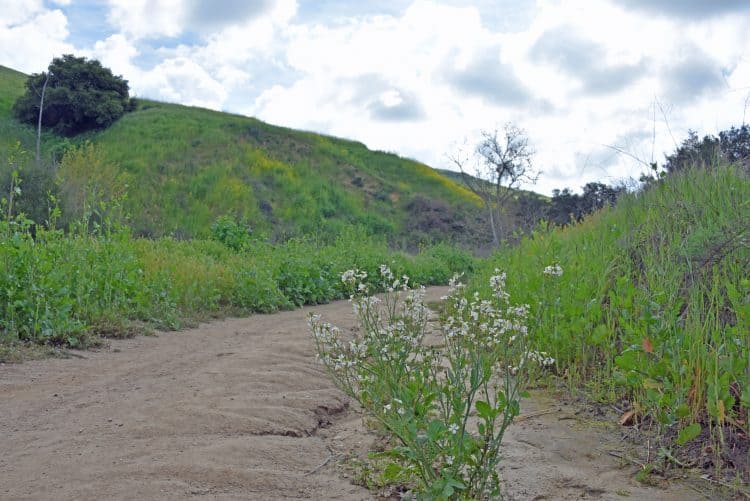 And that we did. The California poppies are gorgeous. They wave in the wind, petals blowing gently amongst all the tall green strands. We even saw a few white poppies, which I didn't know existed. Next time I go back, I'm going to pay more attention to the map and the landscape so I can identify more of the trees and flowers.
There is still time to see the superbloom! It doesn't need to cost a lot and the flowers are a lot closer than you think. Southern California is full of flowers only minutes away!