This past year has been rough for us all, and sometimes our self-care took a back seat. With the world still dealing with the pandemic, we're learning new ways to take care of ourselves at home and we're doing it for less. Ingenuity, creativity and flexibility has been key! With our home remodel done, I'm working harder on taking more time to relax, and with that in mind, I created some homemade skin care crafts with my Cricut.
**This post is sponsored by Cricut, and the links are affiliate links.**
Crafting with my Cricut is relaxing on its own, and using it to make self-care items on the cheap is even better. I've always loved lounging in a hot bath for an hour (…or two) and I like to make it special, with the addition of a scented oil, bubble bath or bath bomb. Lavender is my favorite scent, so I was able to incorporate it into my homemade skin care crafts without having to buy anything extra. Now my bath time is extra special!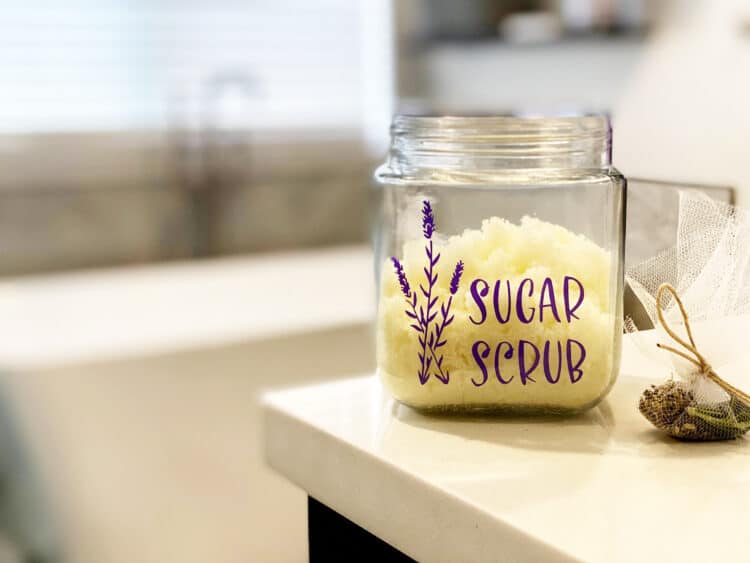 If you've got a Cricut machine, whether it's an Explore Air, Maker or a Joy, you know how versatile they are and how easy it is to be inspired to make new things. See a mug saying you like? Design it in Design Space, cut it out in permanent vinyl and make it for the cost of a dollar store mug! (Or get even fancier and use the new Cricut Mug Maker!) Need custom aprons, sneakers or pillow cases? It's on with a Cricut!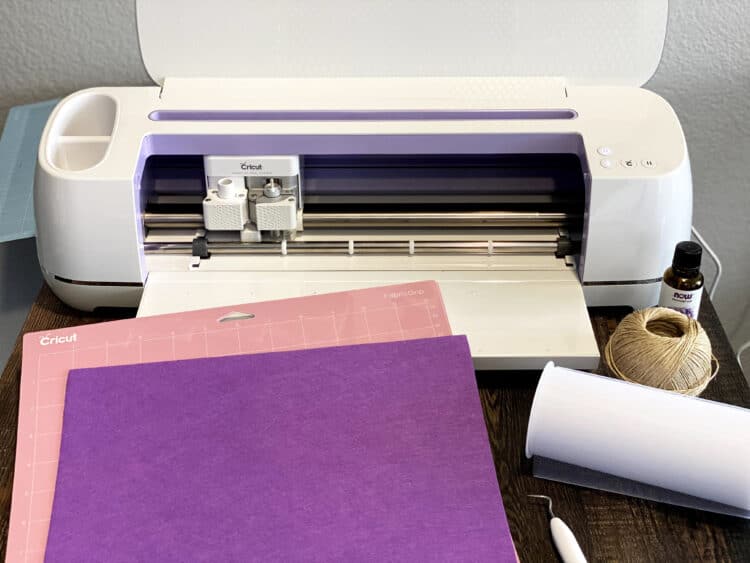 I'm still learning, but there is SO much support on the Cricut site, I'm never confused for long. I can also Google and find a ton of fantastic YouTube tutorials or breakdowns on blogs. Just be careful, you'll get sucked down the rabbit hole of ideas and before you know it, you'll be back at the craft store buying "just a few things" to redo your entire house and gift your entire family.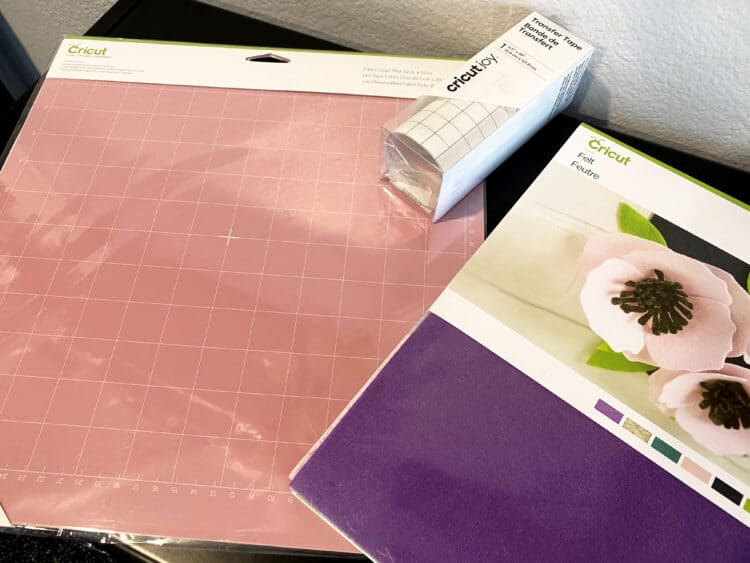 When it came to homemade skin care, I didn't need any help, because once you learn the simple techniques with your Cricut, it just gets easier. And you get braver. I knew I'd be able to knock out the necessary items in no time. It's been a while since I'd made any, but I made a dozen sugar scrubs as shower gifts a few years back and I can't believe I'd been buying them since! I mean, retail scrubs can be amazing, and oh the scents, but sometimes you get more chemicals than you want. This is where your homemade versions become more important! No preservatives, no ingredients you can't pronounce and no artificial colors.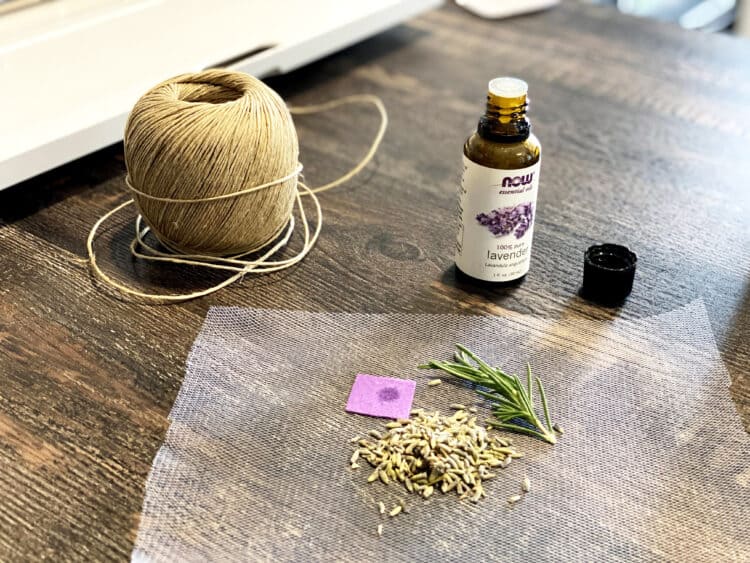 You know those fancy sachets you buy in expensive little envelopes at the specialty shops? You can make them for less than $.50 each! Crazy, right? They take about 15 minutes to make, tops, including set-up of the cuts on your Cricut. Then you have plenty of time left to take a relaxing bath. (And if you want to cut them by hand, you can — no Cricut necessary but I was making a bunch at once and it was easier to just place numerous squares into a new blank Design Space canvas and cut the Cricut felt on a fabric mat. So fast!)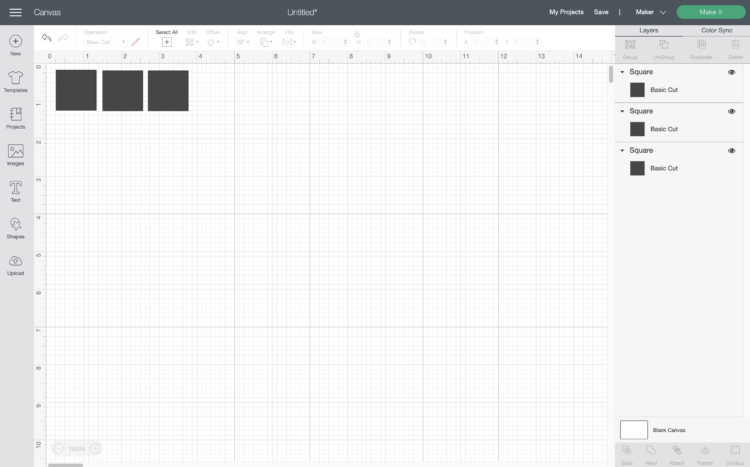 Want to try out one of your own sugar scrubs? You'll be amazed at how easy they are!
Homemade Skin Care: Sugar Scrub
1 cup sugar
3 tbsp olive oil (give or take)
Optional Scents: 1/2 tsp quality vanilla extract, 5-6 drops of essential oil, 1/4 tsp lemon juice or sub in 2 tbsp of coconut oil for the olive oil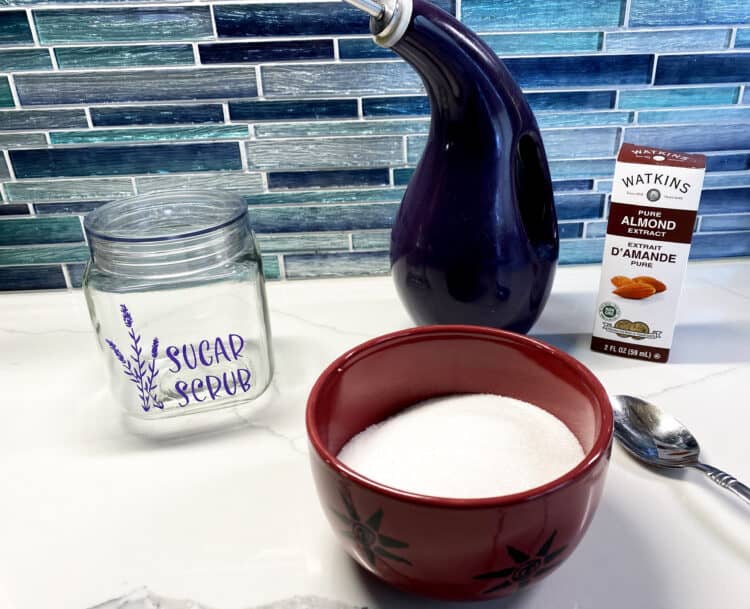 Mix the first two ingredients together until the right consistency is achieved. It should somewhat stick together, like very mildly damp sand, but not be too wet. (Clear as mud, right? ha, I couldn't help myself.) Place in a sealed jar. It will break down eventually, as there are no preservatives but with only a couple of inexpensive ingredients, you don't have to worry about using a lot or not using it entirely before you have to dump out the remaining if you don't use it in time.
How do you use sugar scrub? After you're done cleaning in the tub or shower, literally just rub it on your skin and gently scrub, then rinse off entirely. You've exfoliated without chemicals AND you smell good!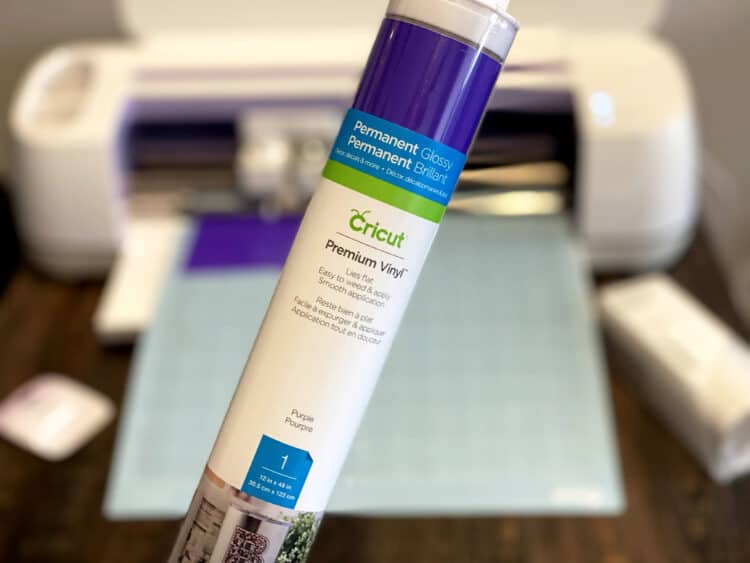 The label is made of Cricut Premium Vinyl, so all you need is the vinyl and a dollar store jar!
If you're a hot bath person like me, this tub sachet is so quick, and it's cute! You can modify it in many different ways and they make cute gifts. Place 10 or so in a labeled jar and give to a new bride or stressed out mom. Tie to a gift bag or box for a birthday or holiday. You can change up the scents to even make them seasonal!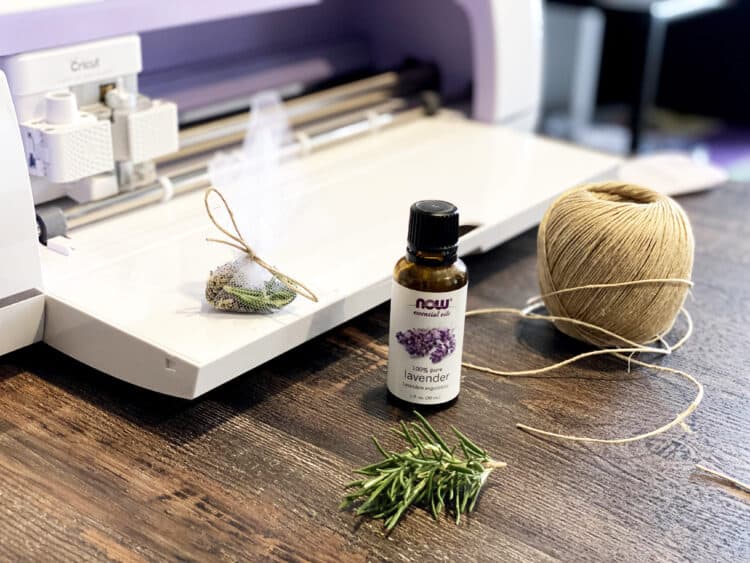 Tub Sachets
Square of tulle (I used about 6″ x 6″.)
Twine to tie tulle
1/8 cup dried lavender
Fresh Rosemary sprig
1″ square of (Cricut) felt
2-3 drops essential oil
Place the lavender and rosemary on the center of the tulle square. Drip the essential oils onto the felt square and place it with the herbs. Tie the tulle, bringing all the corners/edges together tightly, with the twine.
Drop the sachet into the tub as it fills. The oils and herbs will infuse the water with the scents and give you a natural relaxing bath! These sachets are one-use only, so be sure to throw them away before you drain the tub as they can clog the drain if they are too small.
You can change up the herbs you use in the sachets. Different types do different things, such as relax, moisturize, etc. Homemade skin care is pretty amazing when you look at all the attributes of things you can grow in your own garden!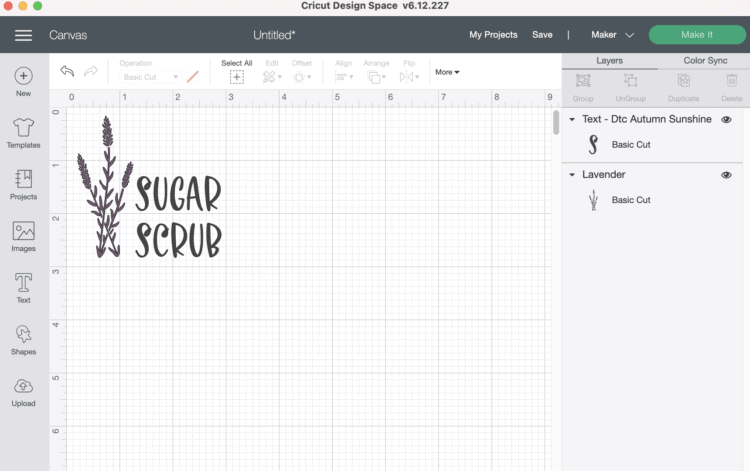 Making the labels for the sugar scrub jars took me just a few minutes. Open Design Space on your laptop or electronic device, depending on what machine you're using. (I LOVE that I can use my Joy without hooking up my laptop!) Search the Images section for an image that matches your scent, like I searched for "lavender." There are a lot of free images available, but for even more, you can get a Cricut Access Premium Subscription here!)
Size the image to fit the side of your jar, then choose a font for the words Sugar Scrub. I did a hard return between the words so they were above each other, then load my Cricut mat with the Premium Vinyl (permanent) in purple. Select the proper material, and click through to cut!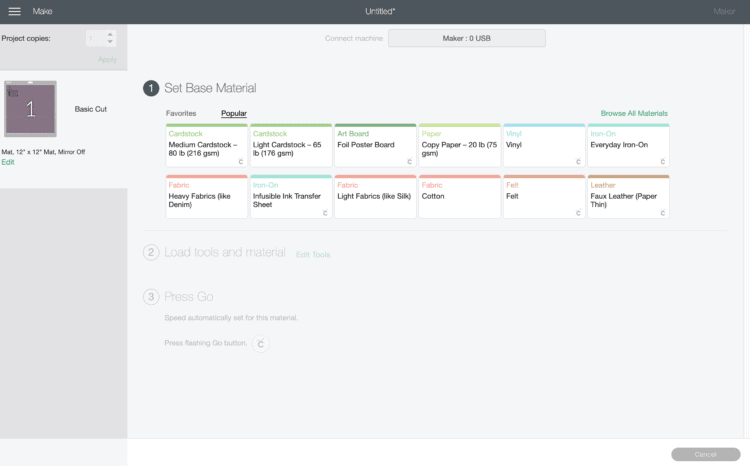 This is where the trickier part happens, but once you've completed one project, you're old hat, it's that easy! (One tip: thin fonts can be harder to transfer, so keep this in mind when you choose to print smaller letters.)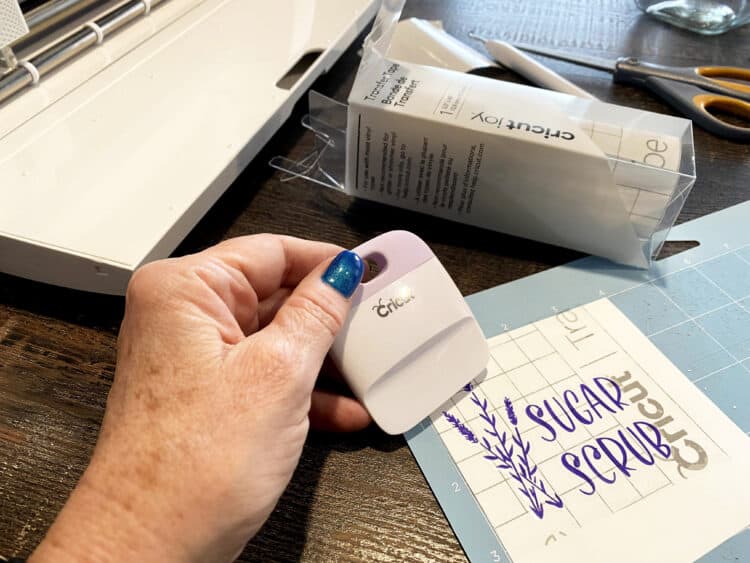 Weed the excess vinyl away from the image/words. Cut a corresponding section of transfer tape, just a little bigger than the size of your project. Separate the back from the front, pulling away the non-sticky side and throwing it away. Turn the transfer tape over and apply to the vinyl you want to put on the jar. Using a brayer, rub it firmly and with decent pressure, to make the vinyl stick to the transfer tape. Gently pull up the tape, and the image/words should come with it! (If any rogue edges give you a hard time, use one of the Cricut hook tools to manipulate it onto the tape.)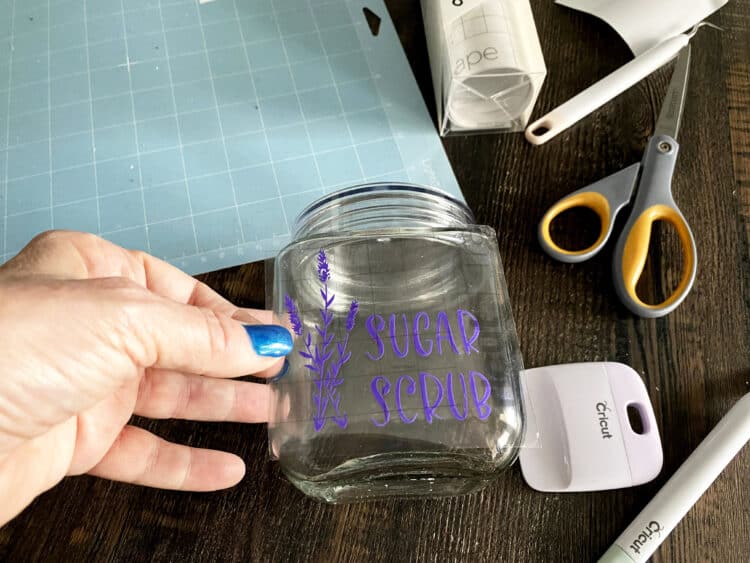 Place the tape, vinyl side onto the project. Again, use the brayer to attach the vinyl to the jar. Pull away the tape and you're done! (Go over it carefully to make sure it all adhered fully; if not, you can use the brayer or even a credit card to make sure it sticks.)
Homemade skin care products can encompass a wide variety of projects. I've made lip scrub, foot lotion and scalp treatments — it's crazy what being in a pandemic will inspire, right? Think big, consider your favorite scents and just have fun with it! They also look really good in your bathroom!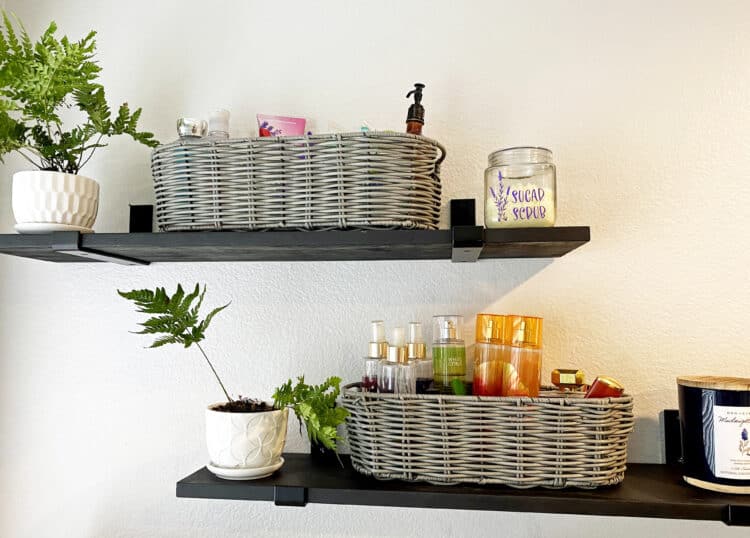 If you don't have a Cricut yet, now is the time! (Check out their latest deals here!) They just came out with a Maker 3, which uses smart materials so you don't even need to use a mat! The Explore Air 2 is still a great choice, as is the regular Maker. (Using mats is pretty easy, and I've gotten several different kinds; my latest purchase is a 12″ x 24″ mat, so I can make a stencil for a new door mat I'm making.) There is also the Cricut Joy, the smallest machine of their cutting line. Mine sits in a corner of my kitchen counter so I can bust out cards and labels without any real set up.
Give my projects a try! They are obviously very entry-level, but sometimes these easy things can give you the nudge to break into a whole new area of crafting and creating. Now's the perfect time, right?