Go on a vacation. Find a few glitches upon arrival. Vacation feels ruined…then you find vacation friends and end up with the crazy trip of a lifetime. We all need that, right?
Well, maybe not the same way it happens for Marcus and Emily. They arrive at their all-inclusive resort in Mexico, where Marcus is planning on a dream proposal to Emily — except their suite is flooded and the resort has no other rooms available. Enter their new vacation friends, Ron and Kyla, to save the day….or the week!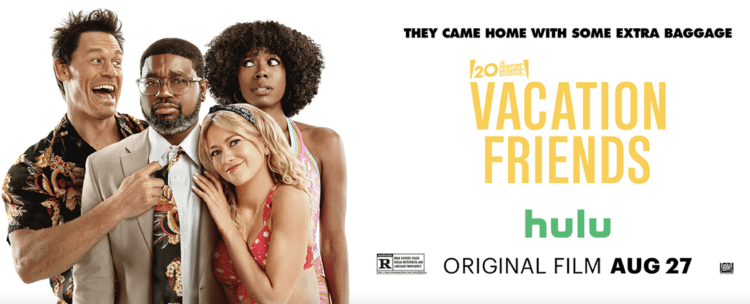 Ron and Kyla are free-spirited, adventure-loving and a bit off the deep end, but despite their crude behavior, they have big hearts. Marcus and Emily go along for the ride on their trip, but decide to leave it all behind them as they head back home. Little do they know, Ron and Kyla have missed them and show up with big news at their wedding a few months later, proving that what happens on vacation doesn't always stay there.
Vacation Friends is hilarious, and is a much-needed laugh during this rather dry season of movie releases. It's raunchy, there is crude language and innuendos, so it's not for the younger set, but don't let that stop you. Grab a beverage and some popcorn and get ready for some dirty laughs and silliness!
You can find Vacation Friends on Hulu now, as it is 20th Century Studios' first film to have a simultaneous global release on August 27 on the Hulu (U.S) and Disney+/Star (International) streaming platforms. It's rated R and runs for one hour and 43 minutes, but it goes quick.
Cast: John Cena as Ron, Lil Rel Howery as Marcus, Yvonne Orji as Emily, Meredith Hagner as Kyla, Robert Wisdom as Harold, Andrew Bachelor as Gabe, and Lynn Whitfield as Suzanne.
Credits: Directed by Clay Tarver, "Vacation Friends" was written by Tom Mullen & Tim Mullen and Clay Tarver and Jonathan Goldstein & John Francis Daley. The producers are Todd Garner and Timothy M. Bourne, with Steve Pink and Sean Robins serving as executive producers.