Last weekend, I was fortunate enough to attend #LLABLOG14, a conference for bloggers in the Southern California area. I came home with pages and pages of notes. I was inspired and while I didn't want it to end, I kept thinking "I can't wait to do xxx…." You should see my list!
While I haven't implemented nearly any of it – this was the week I had to work at the LAX office and I had some other events – I am no less inspired and really need to get my butt in gear. Overall though, I came away with this feeling that my blog IS my business and I need to continue to grow it. Independent and entrepreneurial: words to the wise, it's where it's at!
My blog is monetized, meaning I do make money off of it. In addition to my blog, I also do social media management as a consultant or contractor. I have the best of both worlds!
There is a balance though. Blogging is time-consuming, and as a blog owner, you're doing it all: writing, researching, photo touch-ups/edits, HTML/CSS coding, metrics reading, strategy creation, editorial calendar creation, public-relations, sales/ads, you name it. It's a full-time job in and of itself if you have the time. But why do you do it all? That's the question I hear the most, followed by "What do you blog about?"
First though, let's get past the negative connotation about the word "blogger." Being a blogger doesn't signify a less-than-quality writer, a troublemaker or a narcissist. A blogger is an influencer, a writer, a person who likes to share information or make people laugh.
If you look at my blog more than a quick glance, you know I don't do a lot of parenting stuff, though I am a mom. Calling me a "mommy blogger," well, try it and see what happens. While I don't necessarily have a niche, per se, I do have a solid topic range of cupcakes, food, events in Southern California, wine, cookbooks, health and fitness, and a few miscellaneous topics. Oh, and social media. I tend to go a little heavy on that because I believe in it so much, and I get it from both the side as the business owner and the consumer. Important distinction, as we don't all use social media for the same reasons!
And all those topics? They work together quite well. You don't need a niche to be successful. I'm a person with a lot of interests and wanted to be able to include them all. In short, I'm a mom of 4 who believes in eating and living healthy while still enjoying the fun and fine things in life. Those fun and fine things include my obsession with cupcakes (which my clients love!) and my enjoyment of a good martini or fine glass of wine while understanding that those indulgences may mean some extra exercise tomorrow. We avoid GMO foods and dyes, preservatives and HFCS (high-fructose corn syrup) when we can but it's not 100%. We like to cook our food from scratch, using ingredients we've carefully purchased based on their additives or lack thereof, growing what we can, though nothing's perfect. To do the best we can, I research a lot online and collect cookbooks like they're going out of style. Staying active is important, so I work out 4-5 days a week, but some nights, we want to chill on the couch with an adult beverage and a burrito someone else made. Most importantly though is family time and memories. We spend a lot of time together, be it traveling, camping, Nascar races, foodie events, visiting various California parks and attending events, and hosting parties and gatherings at the house. I love to entertain and cook and bake for people. I'm also very passionate about autism acceptance and natural health to help my son and other kids with autism improve. All of these things are my life and as such, they all show up on my blog at some point. Because I write about my life, I'll proudly wear the badge of lifestyle blogger.
Why do I blog? Because I love it! I love all of it, even the long days, droopy eyes and the accounting details. (It's a business, so there are taxes, expenses and banking to be done.) I blog for the friends I make and the things I learn and see. I blog for the insight and the feedback I receive. The money, the amazing products, the movie stars and the fashion icons I meet? All bonuses of something I never thought would be this big. What started as something to keep me busy when I was bored in South Carolina is now something I can't imagine not doing. It's now in the forefront of our lives as a family, as a business that's benefiting us all. I never know what will show up at my door each day and then there's my email that's always exciting to go through. I not only work with other writers and families but now I network and speak daily with publishers, public relations representatives and business owners. I still shake my head sometimes at how a little idea turned into a big way of life and is still morphing into our future.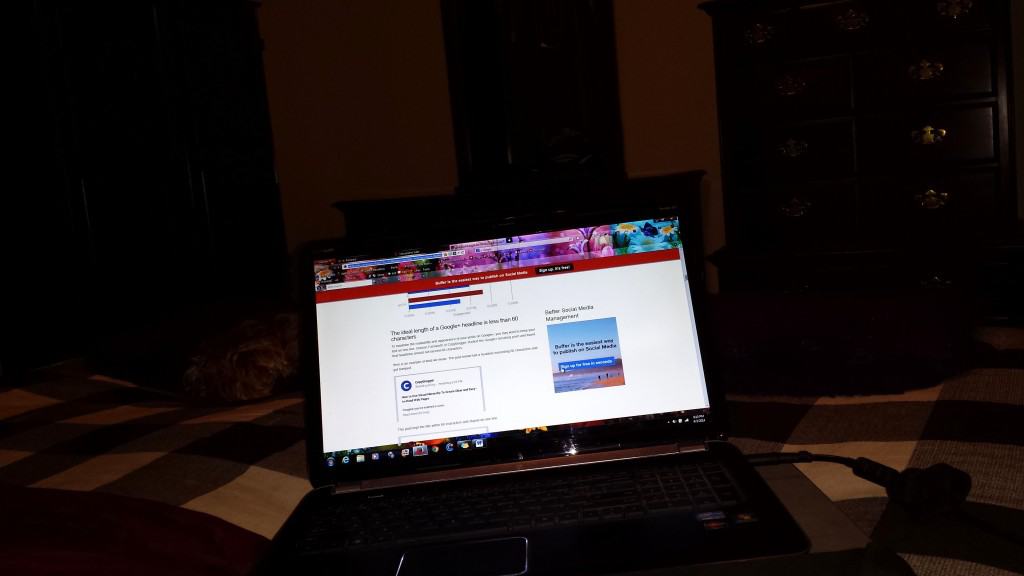 My late-night view while blogging.
On the fence about starting a blog? Get a free one and give it a shot. Write a little, write a lot, but let it lead you. Life is all about change; we think we have a handle on it but then there's a curveball. Many times, that curveball ends up as a score, even though it initially looks like a strike. Not sure what you want to in life? Write it out. If you've got a passion for something, share it. There is no "wrong" topic. Just don't let it take over your whole life, because it can…mostly in a good way. Careers are meant to make us happy and enable us to provide for our families but they aren't who we are, just what we do. It won't be my companion or keep me warm or night or make me laugh, so I won't let it take over so much of my time and effort that I don't make time for my family and friends. And as a blogger, double-bonus, as I can include them in so much of it! They not only attend events with me, but they help photograph, research and set-up. When we eat, they know that after we say grace, we have a brief moment of silence for photographs. It's not unusual for us to go out to eat and three to four of us are snapping our cameras. So fun, and it's common for staff to come talk with us.
A year ago this week, we arrived back in California after a three-year hiatus in a tiny rural town in the south. We lived in an RV while we bought our home, me telecommuting for my 16.5 year job for a major media company and my husband waiting to start his new job; then the call came about mass layoffs and I was a casualty. The brakes went on in the escrow process and things changed in an instant. Four weeks turned into four months in a hot California summer. Fast-forward to now, and we have a beautiful new home, I have a new daytime gig with better long-term prospects and less stress than the last one, flexibility to be a mom and my husband loves his job. The kids are settled and our schedule is, by choice, full. And then there's my blog and business! I never know what each day will bring but being a blogger has opened a whole new world. Now I write business plans, plan marketing strategies and dream of SEO and metrics, waking up with new ideas of things to write about, projects I want to work on and companies I want to work with. What a difference a year makes!
I'm a blogger. No shame in that title, and I'm not going to downplay it anymore. I'm a business-owner and a mom and the two often intersect. That, in my book, is success. My biggest piece of advice? Believe in yourself. Come up with your idea, give it a try and tweak it as needed. Be flexible and read, read, read. And listen. Resources and knowledge are plentiful and the blogger community is beyond amazing. The help you need IS available, you just need to reach out, and be ready to give back. The blogger community is a giving one, but it takes everyone to participate, on any level you're able. Together, we are a force of influencers that are taking the internet by storm. The future is changing every day, and we are a big part of it. Now THAT is exciting.