We love NASCAR.
There, I said it out loud. Judge away.. 😉  Thank you if you're still here. For some reason, a lot of people talk snark about the sport and its followers, but we love it. The strategy, the enthusiasm, the sounds, the smells, and the camaraderie between fellow fans. If you haven't been to a race to witness it firsthand, trust me when I say that while there are indeed a few drunken and/or noisy fans (much like any other sport — just because I prefer NASCAR doesn't mean we don't see the news clips of what other sports fans do to each other) people overall are chatty, helpful and caring. We've made some lifelong friends sitting at a race or tailgating in the parking lot! And NASCAR drivers are amongst some of the most giving out there. Just about every driver has a charity of choice that they give their time and money to, much of it downplayed because they aren't in it for the attention.
NASCAR, you have my heart.
A couple of weekends ago, NASCAR came to my town. We have the Auto Club Speedway a couple of miles south of us, and even if we weren't fans, we'd be able to experience the sounds and the fans and the crowds, so I do feel for you if you live locally and aren't into the sport!
Activities, for us, start Wednesday evening before the race weekend. We drive around finding the big rigs parked in various lots by hotels and restaurants. Some of them open their doors for pictures and hand out photo cards for the kids. We've had some great photo opps throughout the years and met a lot of fun people.
Thursday, we find a place along the main street and spread out a blanket in preparation for the hauler parade. Around 645, we hear the sirens and see the flashing lights and the police close off our main intersection, much to the unhappiness of those who aren't aware that they are now on a forced detour. (There is a lot of prior notification so it's never a surprise.) The haulers drive slowly down Cherry Ave. towards the speedway, horns honking, drivers waving and everyone going nuts. So much fun! Lots of picture taking and excitement builds for the races.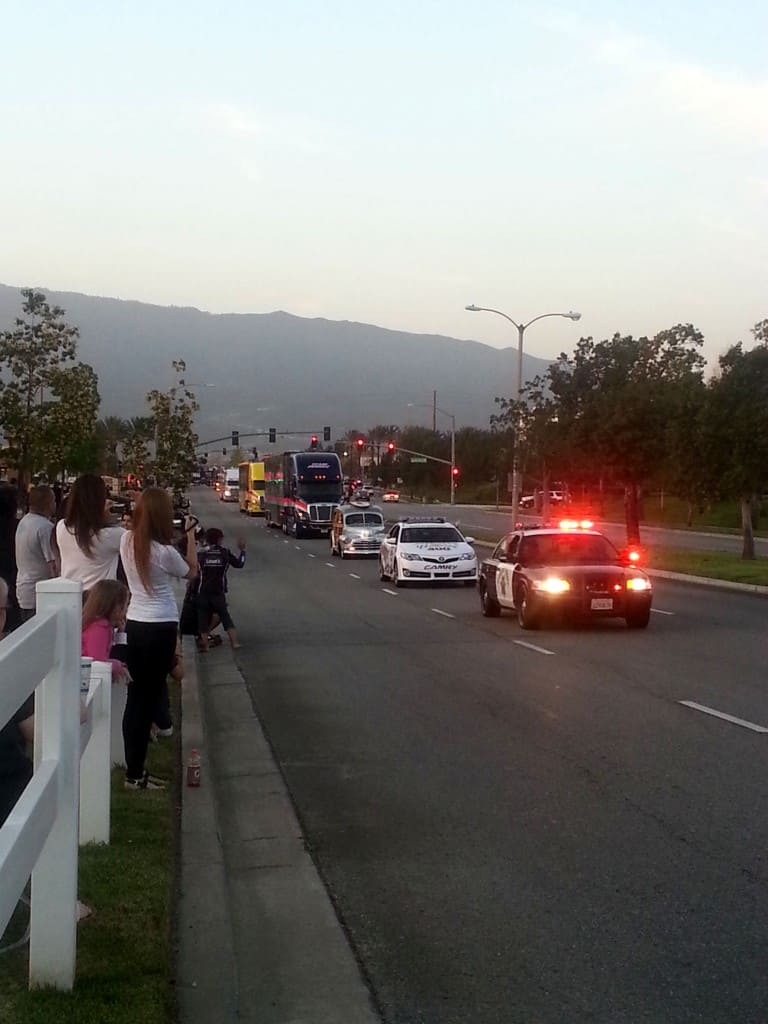 It's a parade!
Friday afternoon, we head down to the Speedway for qualifying. We can also shop for merchandise in the haulers and scope out our seat location for Sunday's race. Lots of running around in the pit, taking photos all over and planning who we're going to meet where. The the infield parties start and we settle down in the RV for the long haul. (We don't take our own in, as we stay with friends who own theirs and have plenty of room. Better parties this way, too!) Infield can get pretty crazy so it's not for the faint of heart, but you'll see a lot of families and groups hanging out enjoying the bike rides, the concerts, the impromptu dance parties and bean-bag games. Barbecuing is typical, but Vons had an infield store this year where you could buy almost anything; need a microwave meal? They even had that!
While there is technically a 'quiet time' infield, it never really completely quiets down. How some people keep it up all weekend is beyond me!
Saturday, we watched the Nationwide race. The husband was very excited to see Kyle Larson win. We watched from the roof of the RV and later that evening, headed home to sleep in our own bed as Sunday starts early.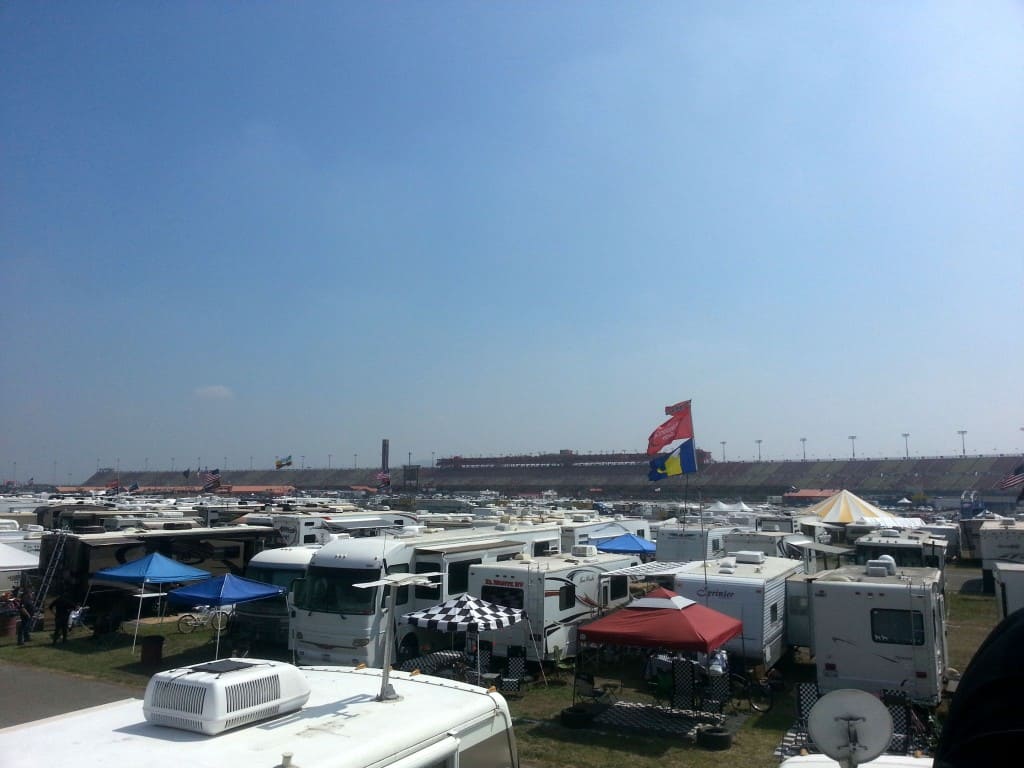 Our view from the RV roof as Kyle Larson was winning his first Nationwide race
Back at the track at 830am. Walking the looooong way to the gates as, for some reason, pedestrian traffic was poorly arranged this year. All the guests were funneled through one entry. Once inside, another quick merchandise hauler visit to get a new t-shirt and then straight to the track gates from the stands to sign the start/finish line, a tradition we've had forever. Pictures in Victory Lane and off to the pits to see if we can score any autographs. Many drivers are wonderful about remembering how important fans are — and not just the kids — but some seemed to forget we were even there. It's those who can't get into the garage, the regular people, that are filling the stands and many drivers walked on by without even a glance or a wave. Really disappointing, as we've followed the sport for years and really wish that PR reps would remind their drivers the importance of a simple wave and looking up and not just signing things for those inside the garage area.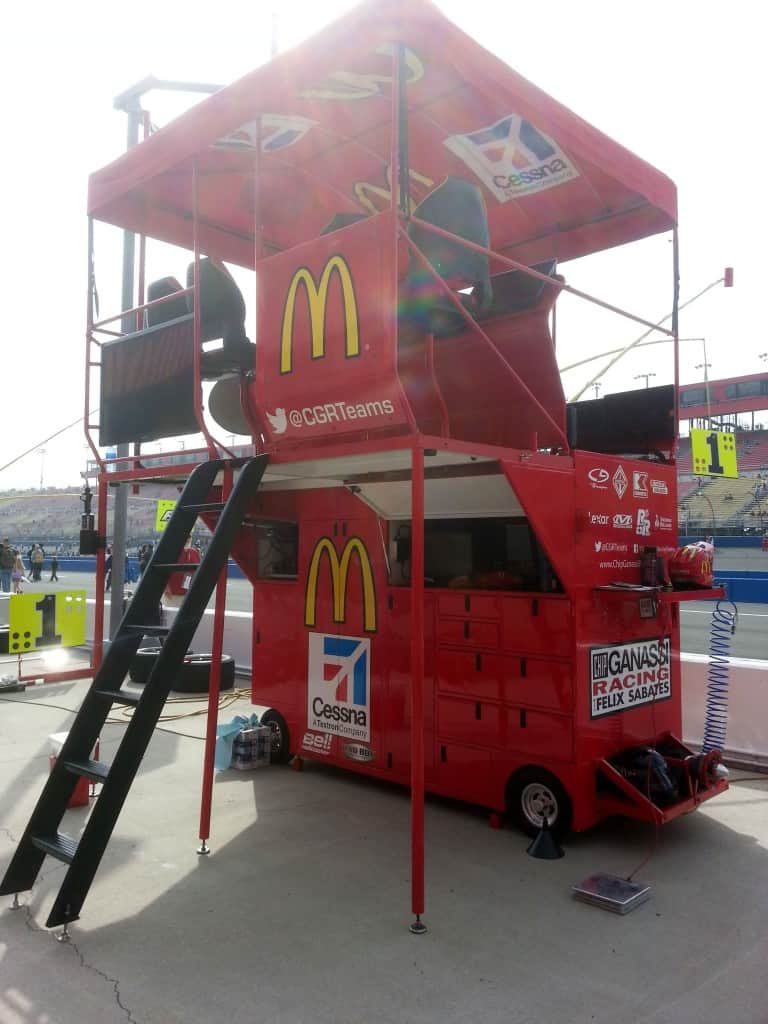 Our driver's pit box (Jamie McMurray, #1)
So kudos to Carl Edwards, my daughter's favorite driver, who came over to her — as she's dressed in all new Carl gear — from his car after he got off the driver intro truck, and signed her hat, talking to her and looking at her in the face. She was crying out of excitement and Carl's PR team and sponsors were also very gracious while he stepped away to see her. That's how it's done, Carl, you are a class act! (We met your mom in a Cracker Barrel several years ago in Phoenix. The apple doesn't fall far from the tree, she was such a sweet woman as well! You are both so sincere and kind.)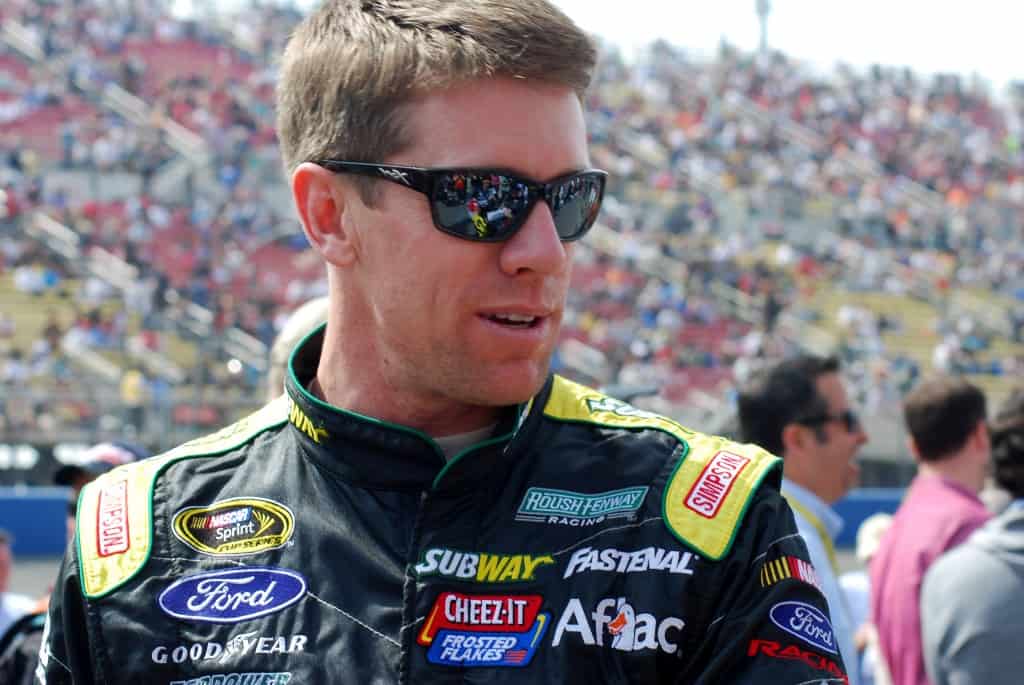 Carl Edwards talking to my <crying> daughter
We then hiked it back as fast as we could to our seats. The husband made a beverage stop and we all met at our seats literally seconds before the command to start your engines occurred. We'd already missed the national anthem but at least had a fantastic view of the flyover from the back of pit road.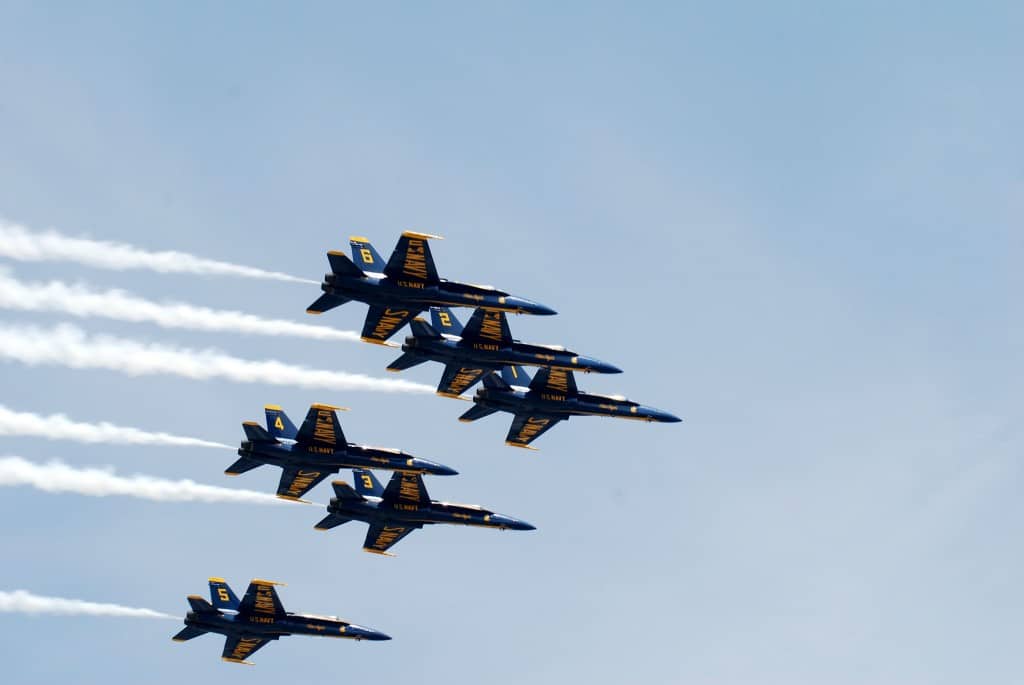 So cool!!
Apparently this race was sold-out. Some would still say it wasn't, but they weren't there to see the crowded stands and the long bathroom lines. (There are plenty of bathrooms, just a lot of people!) It was an amazing race!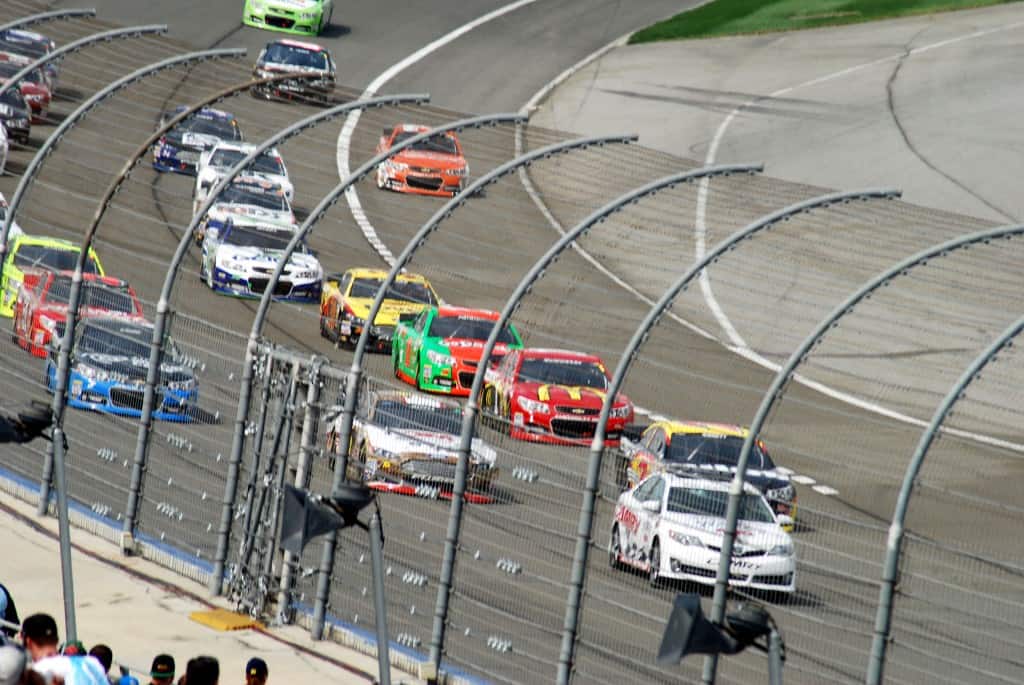 Boogity, boogity, boogity, let's go racin', boys!
Lead changes, cautions, fun people sitting around us — it all culminated in a fun day. Our driver didn't win, but it's not just about that. The sport is enjoyable to watch regardless, though I have to admit that when my driver wrecks or is a lap down, it can be hard to stay motivated the whole time!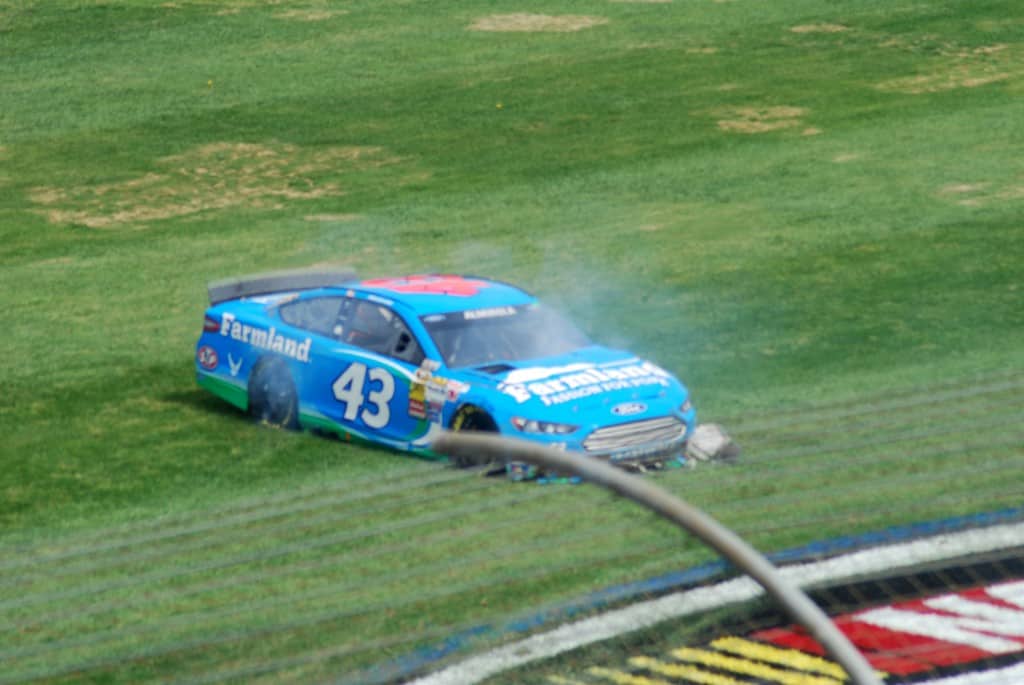 One of the wrecks occurred right in front of us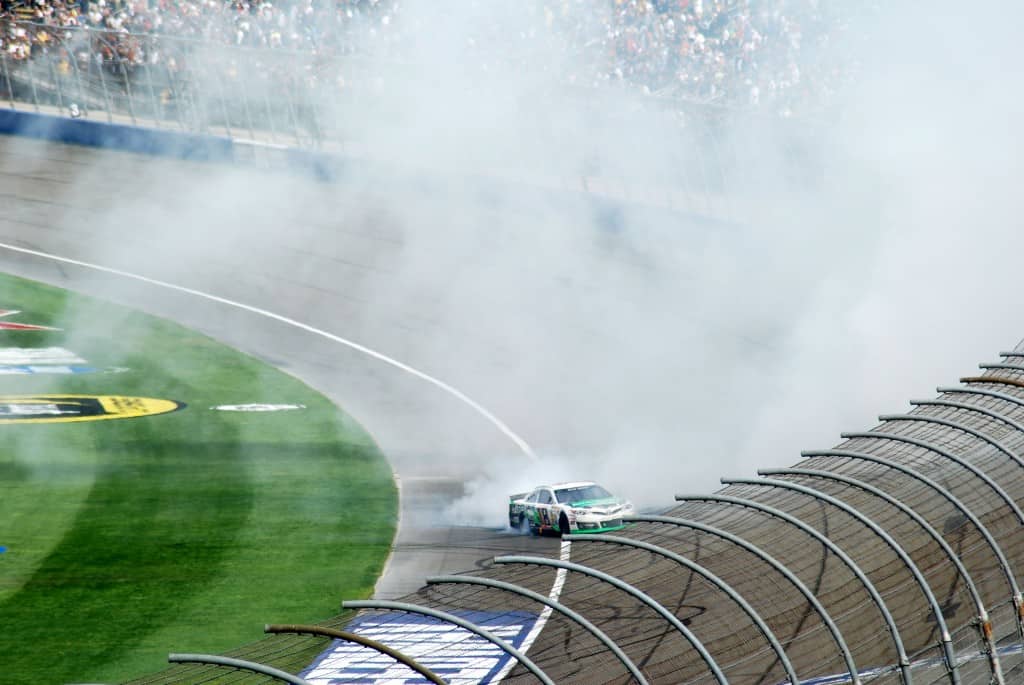 Kyle Busch doing his amazing perfect donuts after his win
We hiked it back to the car (this is where it fell apart — all the people going out that one tiny gate again and then finding, after walking a ways, that the other pathway is no longer open..we were moo'ing like cows in a cattle chute, SO unnecessary) and were out within minutes. The city does it right by opening lanes and lights and we were home in under 10 minutes. Tired. Sunburned. Dehydrated. Happy.
NASCAR only comes to town once a year, but there are a lot of other races. We've traveled extensively for various races and went to the race in Las Vegas two weeks before the Fontana race. We'll also hit up Phoenix later in the year and maybe Sonoma. When we lived in the South, we went all the way from Daytona to Dover, Delaware and Bristol and all tracks in-between. Love this sport, the experiences we've had and the relationships we've built. Thanks, NASCAR, for being something my whole family can do together <usually> affordably!
If you haven't experienced NASCAR, give it a chance. It's not for everyone, but then again, I don't like football or basketball. Whatever sport it is that you like, make it a family thing!