It's no secret that I love to drive fast cars. Anyone that knows me well can tell you how particular I am about my car, and that I love to put my car through its paces. But, the reality is, despite having gone through a driving class in the past and taken my car on a few race tracks, I've never been professionally trained, the kind where I learn the very specific details about turning into a corner, when to brake and when to let off the gas. These are things that as drivers, we think we know, but do we?
I learned I didn't! I knew it was no longer "ten and two" in regards to our hands on the steering wheel, but why? Why is it now nine and three? Where should our head restraint — not a head rest — really sit? So many fine points we take for granted and just "do," but are we really doing it right? Are we as safe behind the wheel as we could be?
For me, that's a NO, and who really couldn't use an opportunity to improve driving skills? While on the Drive2Learn press trip and conference, put together and hosted by A Girls' Guide to Cars, we were treated to a complimentary custom driving class, a hybrid of some of their most popular offerings (explained in further detail below) and not only taught some of the most important behind-the-wheel safety tips, but we were also unleashed behind the wheel of the newest and fastest BMW automobiles on crazy performance tracks! It was a dream come true for a car girl like me!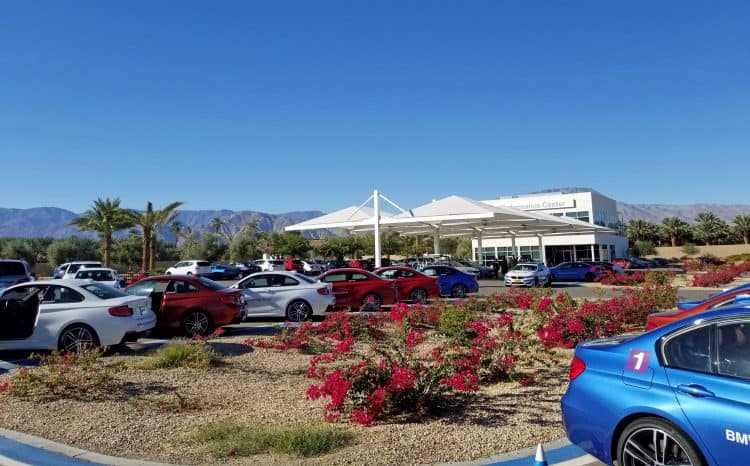 The BMW Performance Center West, located on 32 acres in Thermal, California, is a permanent performance driving center not far from Palm Springs. The facility offers a list of driving schools for guests of all capabilities, with specialized courses for corporate groups and private groups. All classes are taught by professional drivers on private courses at BMW property. Every individual is given the opportunity to get behind the wheel of the Ultimate Driving Machine® and learn proper vision, basic car control, panic braking, handling, last-minute emergency lane changing, distracted driving, high-speed control and precision driving…and you'll love every single minute of it!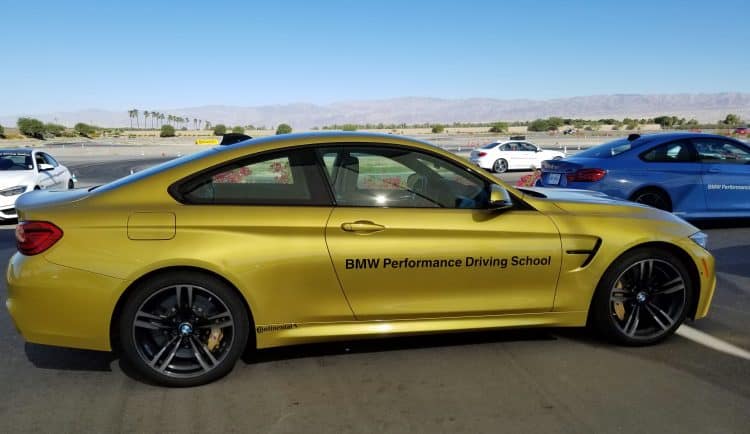 Classes available range from Car Control School to Teen School to M School, where you focus on learning to drive the BMW M vehicle line firsthand. You can choose the M Track, MINI Motoring School, or MINI Tricks and Stunts School, if you want to dig even deeper. The choice is up to you, your budget and your time. There are 100 vehicles available on-site, and all vehicles are replaced annually so they're always the latest models and in top condition.
Our class consisted of almost an hour of classroom training, complete with diagrams designed to make it easy for us to learn how to maximize speed while maintaining our safety in the corners and straightaways. After watching races for years, I thought this would be a slam-dunk, but I came away with a LOT of information!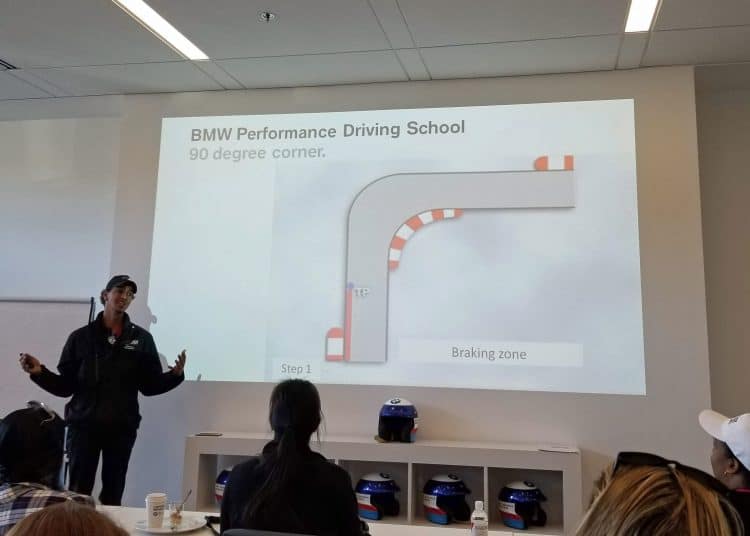 After the classroom portion was complete, we were divided up into three smaller groups and each group was assigned a track experience. Our group first was assigned a small timed course, where we were paired up with fellow guests/friends and showed how to drive one of the BMWs on the road course; we got a few laps of practice, with constant radio contact with the instructor who always had his eyes on us. It's no free-for-all, as we're carefully monitored to ensure the gap between vehicles is always safe. Via the radio, he teaches us what signs to look for along the track so we know when to slow down, when to begin our turn, and when to go back onto the gas; the signs are either cones or colored, painted lines alongside the track. Both are readily visible so you're never left hanging. Then it's GO time!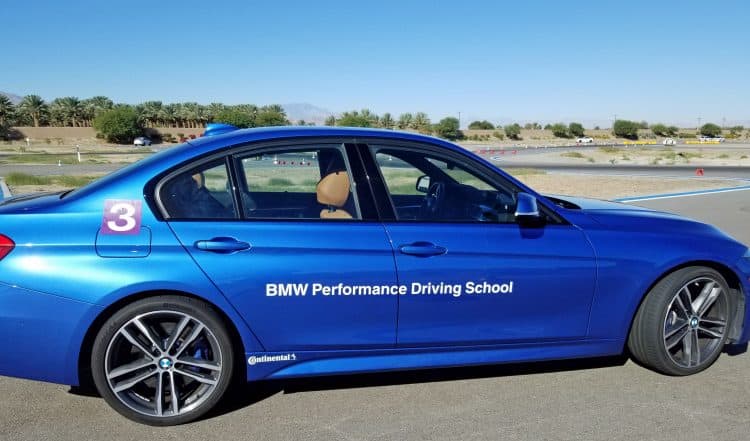 Tires squealed, brakes were put to the test and we slid through turns trying to best our times. I'm convinced, had I had one or two more laps at best, I'd have gotten my time below 30 seconds. I felt like I was screaming through the track but I know there was room for improvement. As the instructor said, "Trust your vehicle." And trust I did. Gas, brake, turn, GO. On this course, we had to stop within a small area, similar to a pit box, or face a two-second penalty. It's a lot harder than it looks!
Our next track was another small technical course with a completely different configuration. The vehicles were more varied and we stuck with our same partners. It was crazy fun! I also picked out a couple of BMWs that were my favorite. It's amazing how well the SUVs handle on courses like this!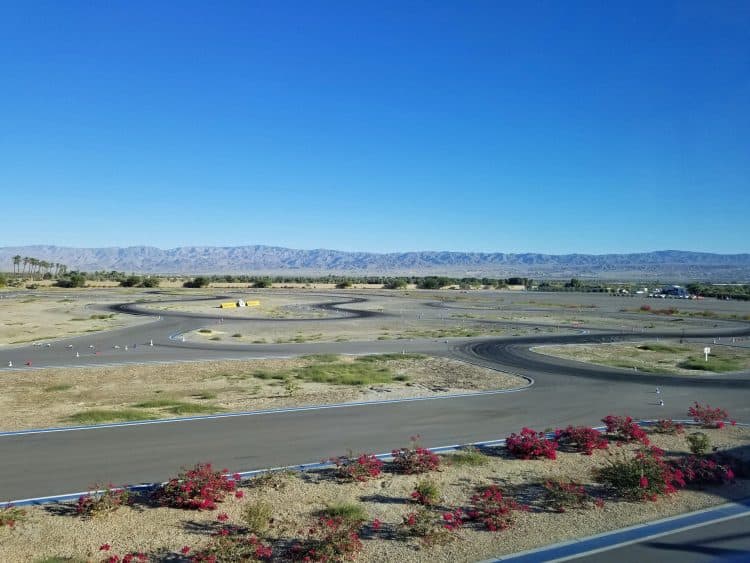 Last up, we drove our vehicles over to a longer road course. As a NASCAR fan, it reminded me of Sonoma, minus the inclines and slopes. We again were partnered up and paying close attention to radio communication with our instructor. If we gapped too much, he let us know which car needed to tighten up the space, which car was off pace, who needed to tighten up the corners, whatever areas in which we needed to improve. On our last lap, it was pedal to the metal, and most of us got to between 125 and 130 mph. Such a rush!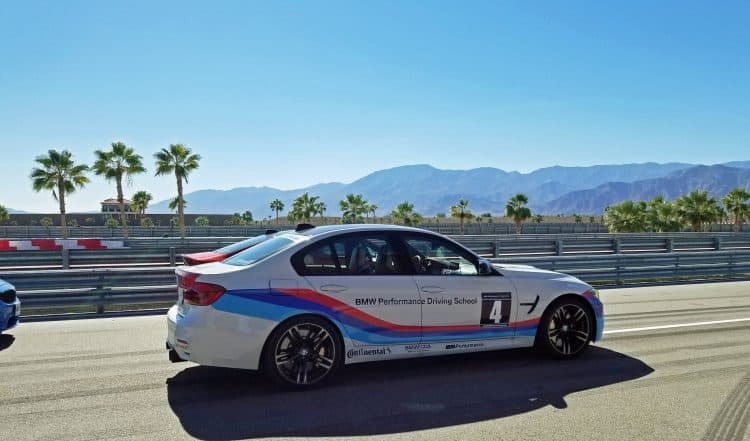 As the cap to our fun day, we were all taken around the lap at top speeds in a car driven by one of the professional drivers. I was lucky enough to ride with a pro-drifter, and whoa, no words beyond O M G, what a trip! We slid, we screamed, we laughed, and throughout every second of it, we knew we were in excellent hands. Sliding through the turns, up the bump stops and rumble strips, it was such a treat.
Even if we entered the classes as total newbies, we left more confident and comfortable behind these high-powered performance vehicles. Awards were presented to the top 3 speeds (sadly, I was not one) and we all left with a fun swag bag of BMW gear, including a hat you can only get if you take the course. (There's also a fun shop on-site, so you can buy other gear, and there's also a cafe.)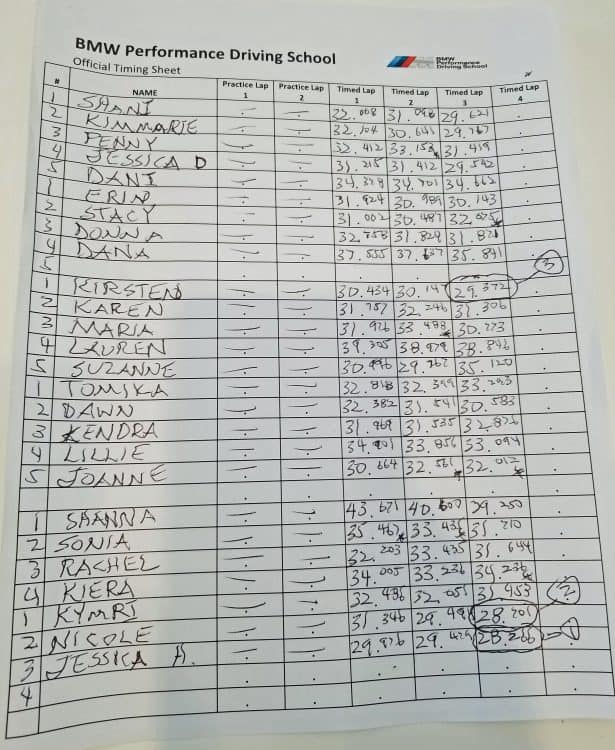 The BMW Performance Training Center is a wonderful idea for a gift for a special loved one, or a retreat for a group. There is a package available that includes a room over at Miramonte Resort in Indian Wells, just a 20-30 minute drive from the training center, and with all the amenities you need for a relaxing evening after the adrenalin rush!
Classes from the training center are a lot more than just fun though. If you're like me, you drive in a lot of inclement weather; even here in SoCal, our rainy season poses some challenges and we're often unprepared. One special class at BMWPCW, where rainy weather conditions are simulated, and you'll get more comfortable with your own skill behind the wheel, how to handle other drivers and what to do when the weather worsens. If you want to get your teen driver ready for the road, they can be trained in panic braking, last-minute lane changes, distracted driving and precision driving. Even if you're just going for the fun though — and let's be honest, why not?? — you'll find yourself applying your new skills on the road. I was driving through Mulholland Canyon again a few days ago and I really felt like I was paying more attention to where I turned and braked and making my drive a lot more smooth and economical…and fun!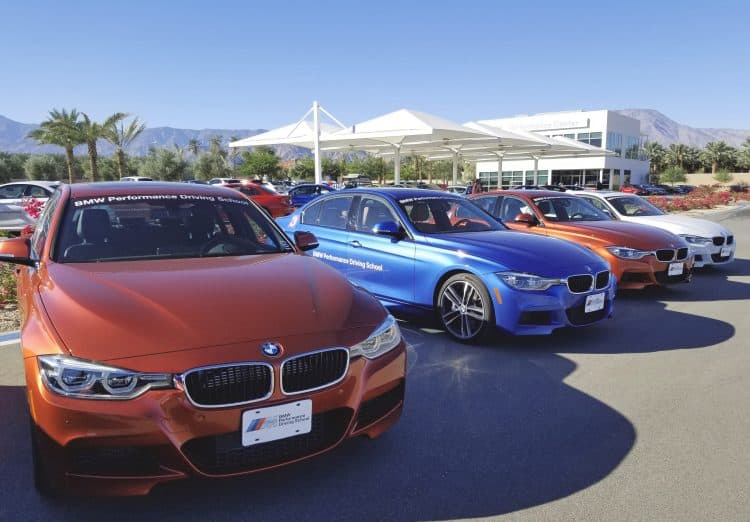 For more information on how you can sign yourself up or buy a package for someone else, visit the BMW Performance Training Center here. Prices, scheduling and further information are available. You can also follow them on Facebook and Instagram.
We are giving away a drive experience at BMW Performance Center West, an overnight at Miramonte Resort and more! Improve driving skills in the coolest of BMWs and have a relaxing getaway in SoCal at the same time!
**Contest rules: Entries must be completed by 11:59PM Pacific December 31st, 2018. No purchase necessary; contest open only to US residents 18 years old or older and subject to the laws of the state of California. Winner will be chosen by random drawing from qualified entires and verified by A Girls Guide to Cars; winner will be notified by email no later than January 7th, 2019. Prize will be delivered by USPS to a valid US address; prizes cannot be shipped to a P.O. box. Winners may be asked to provide identification to receive their prize. Prize valued at $1,200, not exchangeable for cash or other items. Prize is limited to one (1) night accommodations at Miramonte Resort, Indian Wells, CA with date of accommodation subject to approval by Miramonte management; one (1) breakfast for two at Miramonte Resort; one (1) half day driving instruction and hot lap package for one person at BMW Performance Center West, Thermal, CA. Travel and additional accommodations are the responsibility of the winner. Contest is administered by and prizes awarded by A Girls Guide to Cars, which assumes no liability for the administration of this contest. Miramonte Indian Wells Resort, BMW Performance Center, Visit Greater Palm Springs Area, and all other event partners assume no responsibility or liability for the administration of this contest. A total of 1 grand prize will be awarded.**
Enter below!