On a recent weekend at the A Girls Guide to Cars Drive2Learn press trip and conference, I got to test drive the new Lexus UX 2019 model. It wasn't even on the market yet for purchase, and it was quite a treat for a car lover like me!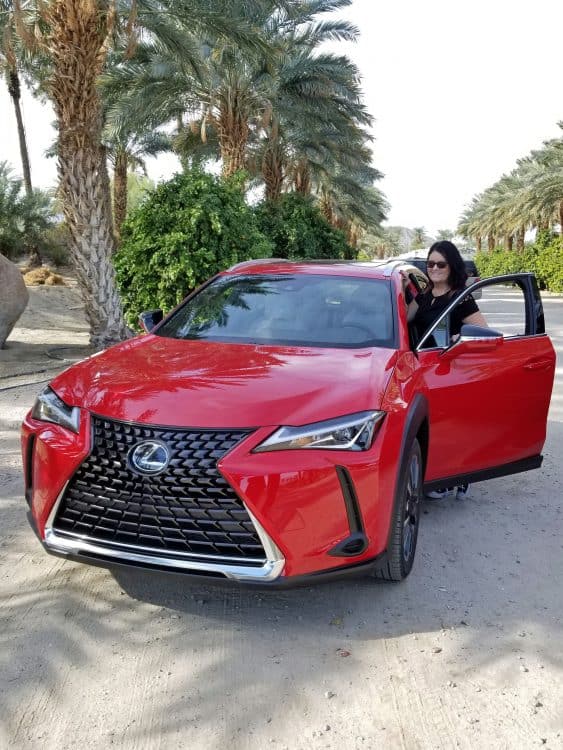 We were staying at the Miramonte Indian Wells Resort & Spa, so we were surrounded by open roads, historical murals and natural backdrops that speak of the Southern California lifestyle. We hopped into the new Lexus UX and hit the road to explore, while putting the UX through its paces.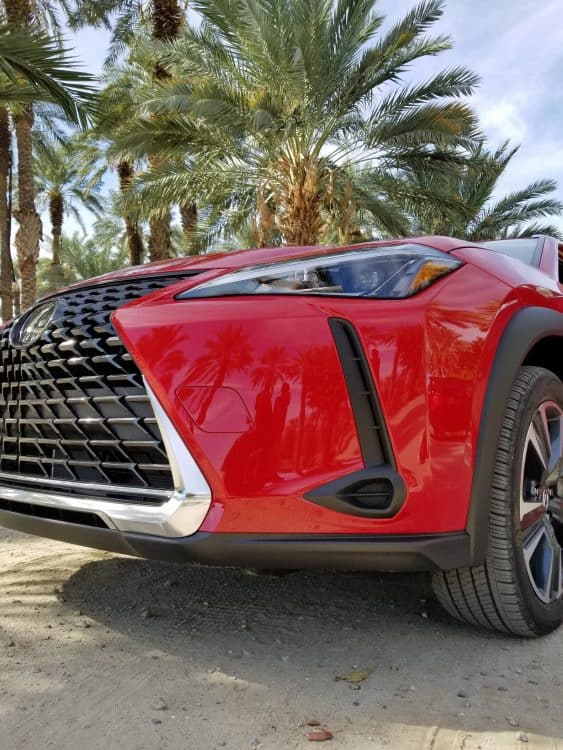 Getting behind the wheel of the new Lexus UX was a lot of fun, because it drives like a dream. The 2.0 liter four-cylinder engine features a 10-speed automatic direct shift transmission with MacPherson frontal struts, so it provides a smooth takeoff, cruise and stop….but you won't want to stop too much once you get settled in the driver's seat of this beautiful car. The 7″ Lexus Multimedia System with remote touch and audio controls comes with Apple CarPlay, Amazon Alexa, App Suite 2.0 and more, and with six speakers, you're surrounded with sound that you can control easily, as it even offers voice command.
I've never driven a vehicle with a touchpad before, so I did spend a few minutes getting a feel for it before I took the car out of park.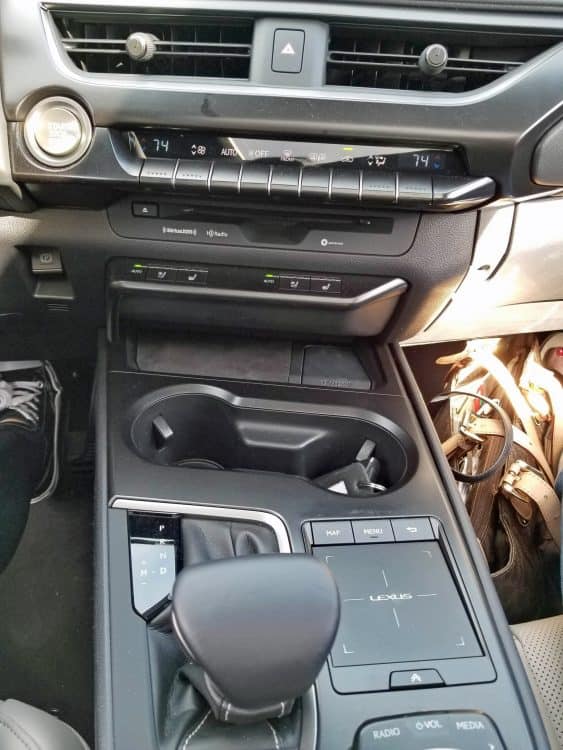 Once I got driving though, I appreciated the location of the navigational screen, as well as the digital screen that clearly told me my speed, the time and other important details. Not having to divert my eyes from the road is a huge bonus when you're driving, especially in a car that is potentially a family car yet is ideal for someone like me without small kids. It's easy to park on busy city streets and crowded lots, and with the backup camera, I was able to backup into photo spots without a hitch…and that is NOT my forte.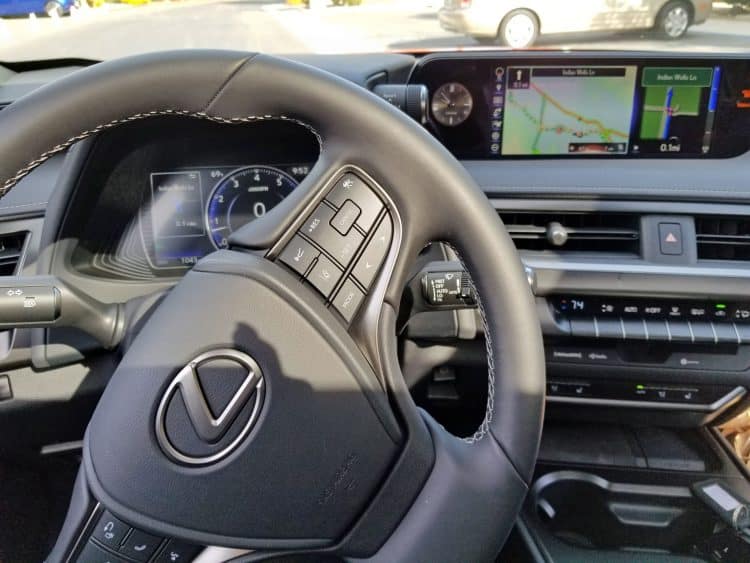 The steering wheel also offers numerous controls, so once you learn where everything is, you really are completely in control at the touch of your fingertips. It was also a substantial size so for someone who is used to grabbing on tight, as I drive a sports car on the daily, it was easy to get used to and is actually a preference of mine.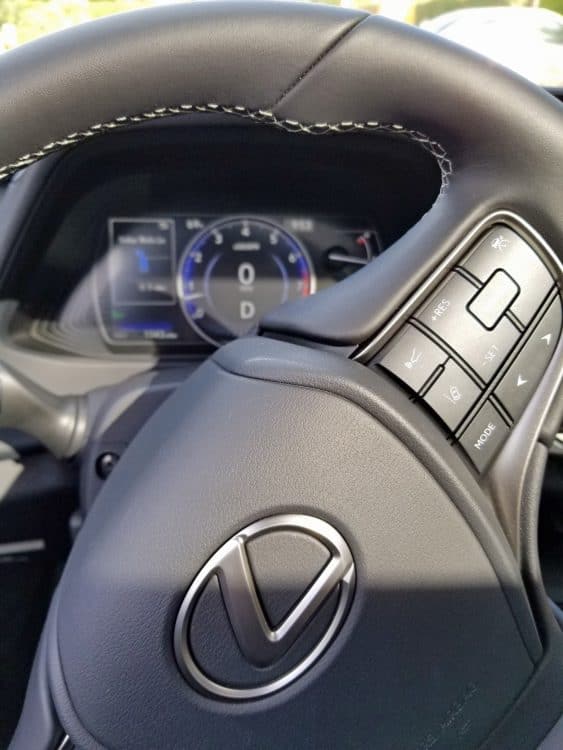 Cruise control, audio, volume, it's all right there. The back seat is spacious, with the drop-down middle section that includes two cup holders, USB chargers (there are four ports in the car) and a/c vents so the passenger row stays as comfortable as the front. The trunk is large enough for a good grocery run, Christmas shopping or hiding those shoes you bought and don't want your husband to see, as there's also a folding Tonneau cover.
Comfort is a huge part of the enjoyment in the new Lexus UX. When I got into the car for the first time, it took mere seconds to get my seat adjusted just the way I like it. The front seats have 8-way power and the driver's seat also has a 2-way lumber adjustment. Everything was easy to find, right where you'd expect it to be, so you don't need to pull out the driver's manual to study it before you can drive it off the lot.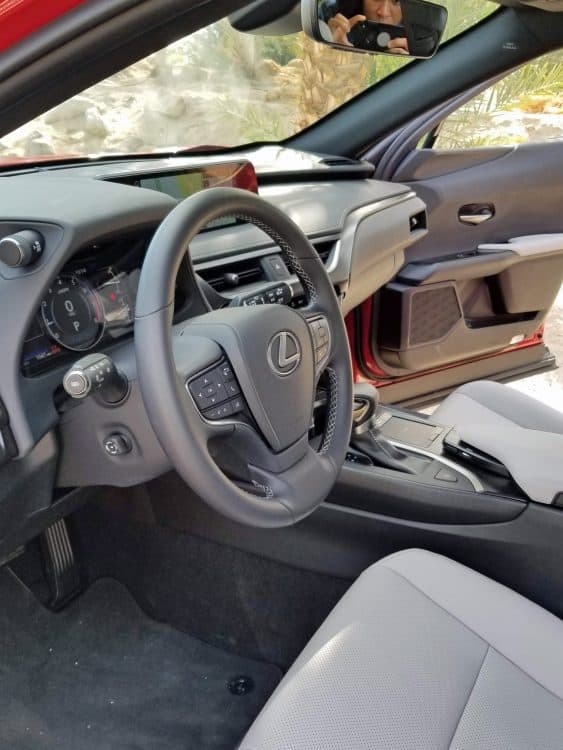 Of course it also has all the safety features, and if you're like me and hate to have any blind spots, there is an optional blind spot monitor available. So many safety options are already built-in though, like Pedestrian Detection (which I thankfully never had to test), Daytime Bicyclist Detection, which I didn't even know was a thing, Lane Departure Alert with Steering Assist, Road Sign Assist, and so much more! The Lexus UX really does ease the pressure of driving on congested roads and lets you focus on the important thing like keeping your eyes on the road. If you're driving with kids or just find yourself distracted on a long drive, the Lane Tracing Assist and Emergency Assistance Button will also be appreciated.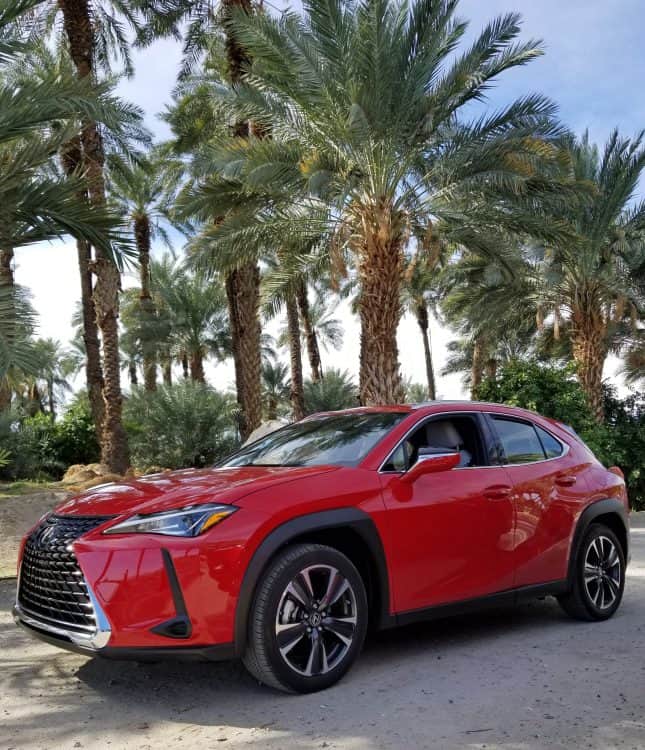 Let's get to the two things people ask the most: MPG and cost. Fuel consumption is 29/37/33 for city/highway/combined, and base model starts at $32,000. Add in the premium package (power tilt and slide moonroof, heated/ventilated front seats, rain sensing wipers, auto-dimming inner mirror with HomeLink garage door opener, Washi trim and the aforementioned blind spot monitor) for another $2,200. BD costs $500 and Nav is $2200, so the model in my pictures comes in at an MSRP of $35,875. Not bad for all of that, right?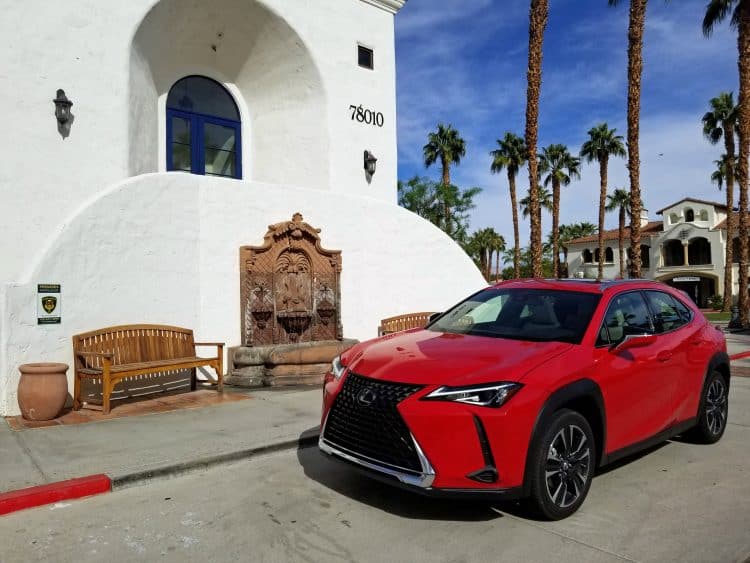 When we took it downtown, we parked by this pretty scene and when we started taking photos, we had to stop for almost five minutes while passers-by stopped to admire the car. More than one couple walked off talked about the car, and one asked us what it was and how much it cost. He was pleasantly surprised to hear the price and told us just how lucky we were to be driving it. We know, we said, we know!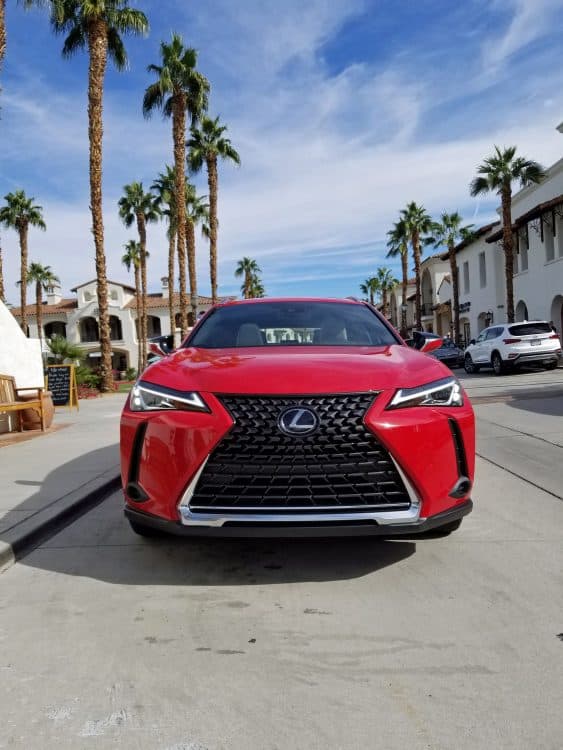 It is a badass sporty car that crosses the line between family car and commuter car with hints of luxury. I love how the front grill means business and how sleek the lines of it are. As a mom who has done the family sedan, a minivan, and an SUV, I loved driving the UX. It took off at green lights, provided the oomph you look for when changing lanes and the turn-radius is small, making those spontaneous u-turns fast and easy. I felt like I was sitting in a custom seat as I was driving, and as a passenger, I was also comfortable, with sufficient leg room in the back seat. We had four of us riding in it at one point, and we all had space for our bags, cameras and coffees….which is pretty much how I drive around on a regular basis so I feel like I got a good grasp on authenticity.
Another huge selling point for me? We live with our air conditioners on out here in Southern California, much of the year outside of the few months over the winter where we instantly switch to heat. It's important to me to have the a/c go on/off while driving without taxing the engine in a way that makes you physically feel the power go up/down as it turns off and on. It didn't seem to impede the power at all!
I feel like I could have used a little more time to adjust to the touchpad, but I'm sure that comes with time, as you will want to input the address for your navigation system before you put it in drive as it's sensitive. There are a lot of things that the digital system does, so I would probably sit down and read through the directions with it to be sure I'm using it to the best of its abilities.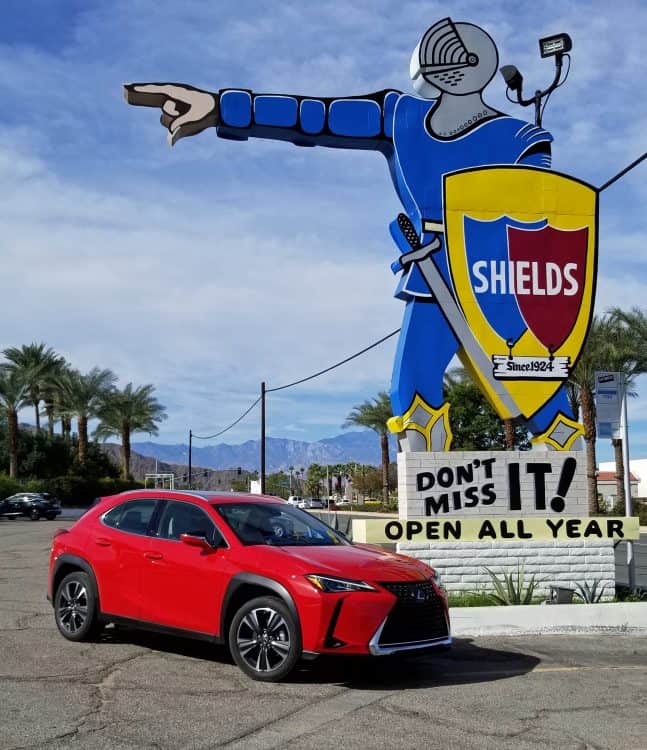 That's right, don't miss it! If you're considering a new vehicle that seats five or less, head to to the Lexus dealer to test drive the new Lexus UX. Tell them you heard about their beautiful Redline from the blog, and take it for a spin. You won't be sorry!