A couple of weeks ago, Disney held the Jungle Book press junket for the soon-to-be-released live action movie. Held in Hollywood at a beautiful hotel off of Santa Monica Boulevard, the cast, director and producer assembled to answer our questions and fill us in on some of the secrets about being involved in Disney's remake of the original animated movie. Interestingly enough, the original book was big 100 years ago, and we're 50 years from when the first movie was big. Wonder what will happen in another 50 years?
In attendance at the Jungle Book press junket were:
·        Jon Favreau (Director)  
·        Neel Sethi ("Mowgli")
·        Sir Ben Kingsley (voice of "Bagheera")
·        Lupita Nyong'o (voice of "Raksha")
·        Giancarlo Esposito (voice of "Akela")
·        Brigham Taylor (Producer)
We had the pleasure of screening the movie two days prior and we knew we were still on a Jungle Book high. It was fantastic! I'll be sharing my review of the movie on Friday, April 15 (when the movie debuts) but for now, suffice it to say you'll want to see the movie. If you saw the original animated version, the remake just expands on the magic; if you haven't seen it, you'll want to find the DVD and do some comparisons.
Here's my secret confession: I did not know that Happy from Iron Man directed the Jungle Book. Did you? I did my research prior to the press junket and did a little OH MY moment. Not only was I meeting the director from the movie, but it was Happy!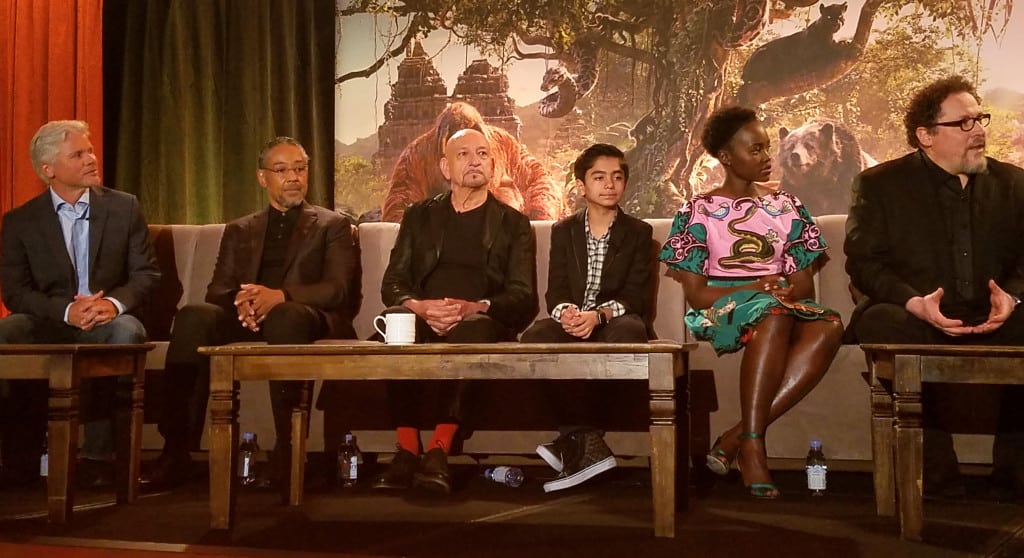 The cast and crew were nothing short of fun to listen to. Lupita's dress captured everyone's eye; the snake and the sparkles were so unique, and matching shoes? Every woman in the audience was envious of what appeared to be an easy sense of style and self.
She's so beautiful and everything she says has you raptly listening, it just flows. I still think of Sir Ben Kingsley in his role as Gandhi, despite having seen him in Iron Man 3 (as the Mandarin) and now in the Jungle Book as Bagheera. Such an actor to be able to play off each of those characters so perfectly, given that each is so distinctly different.
Jon Favreau answered the many questions fielded at him with finesse. He's got a way about him that is at once both prolific and concise. His love for his craft shines through, along with his love for Disney. He was asked about the mention of Fanta Sounds in the credits, where he explained how Fantasia was a favorite movie of his and he wanted to be able to use the full scope of things available yet historical to Disney. Growing up with Disney, he has a big emotional connection to the movies.
Neel Sethi is a show stealer. Young yet able to go with the flow of a fast press junket, he seemed to roll with the fast pace. Press questioned him about the climbing scenes and Neel said that he really didn't need a stunt double as he was only 3′-4′ off the ground, maximum, at any point, with the rest of the scenery computer-generated. Jon Favreau then went into detail about how they had to work with Neel about fitting his movements into the scene with the non-human roles, having us all laughing that Neel was able to use his baseball experience as motivation to run in a particular scene that will have your heart pounding. (It reminds me of an important scene in the Good Dino.)
I think my favorite question of the evening was when Giancarlo Esposito, Sir Ben Kingsley and Lupita Nyong'o were asked about their perspectives towards playing one of three of the four parental figures in young Mowgli's life. Lupita, as always, was a charmer, sharing that her mother, a wonderful, nurturing mother, was her inspiration as the wolf-pack mother to Mowgli. I could totally relate to the answers that both Giancarlo and Ben shared — they paralleled parenting their own children to parenting Mowgli, and how they change their parenting towards the individual. When Mowgli needed tough love, he got it. When he needed fun love, there was Baloo.  (Bill Murray plays Baloo, but he was not in attendance.) Each child gets a different approach, based on the timing, the need and the personalities involved. Having four kids myself, that resonated a bit as that's how we parent. Nice when you can hear someone else articulate your feelings so well!
Giancarlo seems so gentle in person, and so much like his character as Akela, Mowgli's wolf-pack father. He's had many, many roles in Hollywood but he'll be remembered for this one as well. He shared a great story about reading Rudyard Kipling and the law of the jungle, which plays a very large role in the movie. Brigham Taylor is very soft-spoken, yet commands a presence when he speaks about his involvement in the production of the Jungle Book.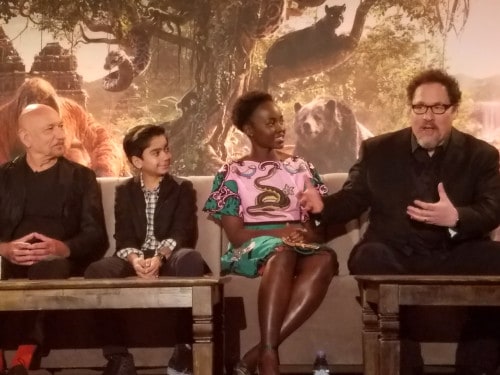 All smiles! The interview went quickly but it didn't take long to see that this cast, like any other Disney cast I've met, has bonded. Their chemistry as a team is apparent and it comes across on the screen, even in a live-motion type of film. (This is Lupita's second similar type of film, as she's known for her role in Star Wars: The Force Awakens as Maz Kanata.)
Want a short taste of the interviews?
Many, many thanks to Desireeeaglin.net, aka TheFunnyMomBlog.com, for so generously sharing her Jungle Book press junket photos with me. I sat down, front-row, excited for the interviews and when I went to turn on my Nikon, I got the dreaded flashing battery signal. I had been at an event the afternoon before and apparently had neglected to turn off the camera once I placed it in my bag. I did get some good cell photo shots but Desiree saved the day!
For more Jungle Book fun and news:
Like THE JUNGLE BOOK on Facebook: https://www.facebook.com/DisneyJungleBook  
Follow THE JUNGLE BOOK on Twitter: https://twitter.com/TheJungleBook
Follow THE JUNGLE BOOK on Instagram: https://instagram.com/disneythejunglebook