Finding Dory comes out today and I'm so excited! I've had numerous opps to take the rest of the family to go see it but I have a big family so I need to do it in shifts…which means I get to go see it again in a couple of days.
If you remember the lovable Finding Nemo cast, you're going to be excited to know that some of them are back in the new Finding Dory, along with the addition of several other characters that are going to equally steal your heart away. From odd Becky to the duo of Bailey and Destiny and the sea lion pair, each character not only gives Dory a growing family but they each play a major part in helping Dory find herself. From a tiny fish with "short term remembery loss" to an adult fish who has learned to find her way, Dory has grown but still is missing a part of herself: her family. Family means everything to everyone, but for most of us, family is not just those to whom we're related by blood, but those we find and choose along the way. Or in Dory's case, those that choose her.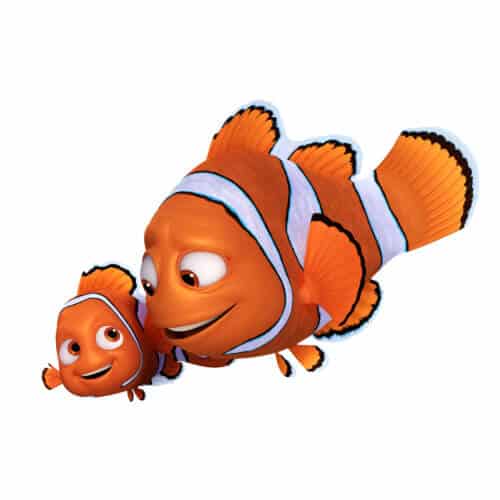 These two — father and son — forged a new relationship since their own adventure and their love for Dory shines through, no matter how rough it gets and how emotional a moment may be.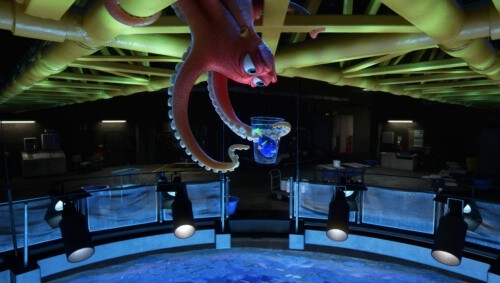 This guy, the cantankerous septopus named Hank, voiced by Ed O'Neill, whose gruff voice perfectly suits the attitude and personality of Hank is going to be a favorite. Missing an arm, Hank's got a mission of his own and Dory may just be the secret to success, but before you know it, they've switched directions and game on, Dory and Hank.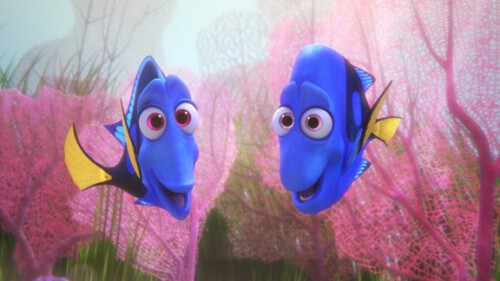 Who do you think those two are? My only clues are that they are voiced by Eugene Levy and Diane Keaton and there's a portion of this movie with "Jenny" that will have you reaching for your tissue. (I talk more about the whole cast here in the press junket piece.)
If the movie inspires you to go out and get a fish, Disney-Pixar has provided this helpful info sheet entitled "Selecting the Right Pet Fish." The tang, Dory's inspiration, is not one you want to take home and confine to your tank, so Disney-Pixar gives you some great suggestions in a downloadable document to enjoy and refer to when choosing your pets.
https://dangerouscupcakelifestyle.com/wp-content/uploads/findingdory_pdf_5747408428618.pdf
Destiny and Bailey will make you look at large sea creatures in an entirely new light. Each comes with their own unique history — one having her own history with Dory, specifically — and their physical characteristics add one more level to the story line of what could be referred to as Dory's disability. Finding Dory, while not entirely intentionally, shows us how our disabilities can be our strengths and how no handicap has to define you.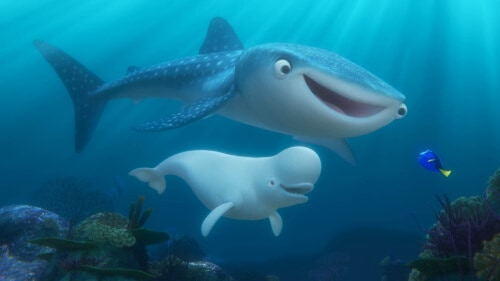 My review wouldn't be complete without spotlighting these two. They are a conduit to Becky, and without their quirky approach to helping Marlin and Nemo, Finding Dory would have turned out completely different. Poor Gerard though, that's all I have to say. Every time I see a beach pail, I will think of him and his adorable, gullible grin.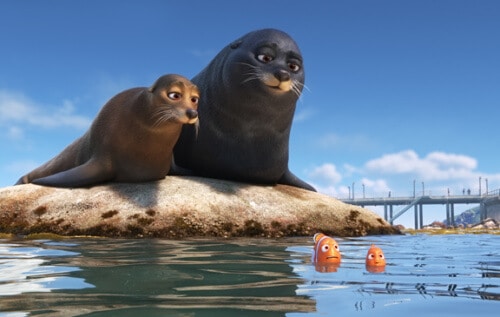 Finding Dory is coming out in theaters today and will be the perfect kickoff to Father's Day weekend, especially given how many father roles are in the movie. All ages will be able to enjoy the movie, with its bright colors, humor for everyone and gorgeous realistic scenery. Even if you don't have children, go see it — I guarantee you won't be the only ones there child-free. It's a wonderful follow-up to Finding Nemo and fills many of the gaps that you may have wondered about. No character deserved an encore roll more than Dory and you'll be cheering for her and her whole family.