Dogs. I love them and would have 200 if I had the room. Okay, maybe not 200, but at least 20. Since the loss of my precious baby, Missie the Yorkie, this past October, my heart hasn't quite recuperated. I look at dogs, and I miss that companionship and love, but I'm just not ready. I know she would want me to get another furbaby, and one day, I will. In the meantime, I'm going to continue to shower her brother with pets and love and figure out how to turn her Instagram account into something helpful for dogs who need rescue.
I'm a big mushball when it comes to dogs. The husband and I do watch a few (a lot) of dog videos and I probably see more dog photos on Facebook than people.
Don't judge. They don't talk about politics and they have cute noses.
Now that a few months has gone by since the day Missie crossed the Rainbow Bridge, I am back to watching pet TV shows and the next hurdle is watching A Dog's Way Home, from Sony Pictures Home Entertainment. It comes out on digital on March 26 and on Blu-ray™ Combo Pack and DVD on April 9. I'm being given a free copy of the A Dog's Way Home book and movie so I can read and watch it myself and I know I'm going to need tissues even though I've seen enough trailers to know it has a happy ending!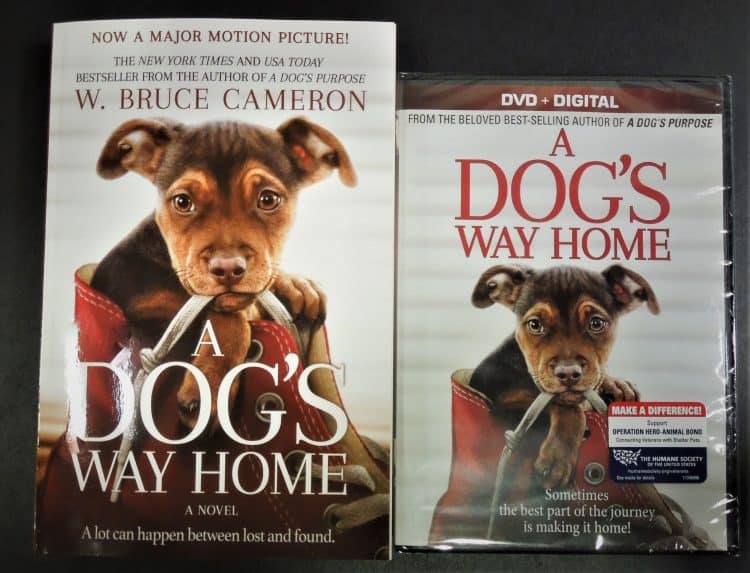 Based on the bestselling novel by W. Bruce Cameron, the film chronicles the heartwarming adventure of Bella, the brave and adventurous dog that embarks on an epic 400-mile journey home after she is separated from her beloved human, Lucas. A DOG'S WAY HOME highlights the power of unconditional love between man's best friend and its human companion.
You don't need to convince me, I'm all in.
The film stars Ashley Judd ("Twin Peaks"), Jonah Hauer-King (Old Boys), Edward James Olmos ("Mayans M.C."), Alexandra Shipp (Love, Simon), and Wes Studi (Hostiles ) with Bryce Dallas Howard (Jurassic World: Fallen Kingdom) providing the charming and lovable voice of Bella. A DOG'S WAY HOME is produced by Gavin Polone (A Dog's Purpose, A Dog's Journey) and directed by Charles Martin Smith (Air Bud).
A DOG'S WAY HOME arrives with adorable extras including a DIY guide to creating your own tasty dog treats at home and several deleted scenes. Also included are interviews with novelist W. Bruce Cameron, director Charles Martin Smith and cast and crew as well as a heartwarming look at the film's canine star Bella's rags to riches journey from the shelter to the big screen.
Bonus Materials Include:
DIY Doggie Treats With Shelby What animal doesn't like a special treat? With adult supervision and some help from our furry friends, we'll make a couple of tasty homemade dog treats!
Unforgettable Journey Join novelist W. Bruce Cameron, director Charles Martin Smith and the extraordinary cast and crew as they discuss their journey to bring Bella's heartwarming tale to the big screen.
Dog Days: Shelby's Production Diary Meet Shelby, the canine star of A Dog's Way Home and track her journey from being adopted from a shelter to being cast as "Bella". Follow Shelby and her trainers as she prepares for the film and join her on set as she makes her big screen debut.
Deleted Scenes
Enter my A Dog's Way Home book and movie pack giveaway below! Rules are simple: winner must be at least 18 years old and reside in the United States. No purchase necessary and void where prohibited by law. Winner must respond to email notification within 24 hours or prize will be forfeited and another winner will be randomly drawn. Prize will be fulfilled by public relations company and prize is not the responsibility of Dangerous Cupcake Lifestyle and team.
a Rafflecopter giveaway