Keeping it cool in Southern California, with temps that are frequently over 100 degrees during the summer, is no easy feat. We have our air conditioning running typically from mid-to-late May through September. Leaving our windows open is nice in theory, because no one wants to feel closed in 24/7, but it's not energy efficient in the long run. That nice breeze is cooling at 2am, but if you don't close things up in time, the air conditioner is working overtime to keep it at a nice even 74-75 degrees.
It's easy to take the air conditioner for granted. You turn it on, you walk to the vent and you wait for the cold air. When you come in from the hot outdoors, you appreciate the cool temps of your home but you often don't think about it otherwise….until you come in from work and your house is a nice, toasty 80+ degrees. But it's avoidable. You don't need to put off maintenance air conditioning on your home until it's too late, when it results in your unit not working. It's affordable and with a RighTime yearly program, you can make it easy to keep your air conditioner and heating unit maintained and in good working order.
We were offered a year membership in the new RighTime program for our home, in exchange for writing about it and sharing it with you. It was a welcome email, because we did exactly what we shouldn't do: we hadn't had our a/c and heating unit maintained or serviced in a while. The husband had put in a new filter pretty regularly, but that was all we'd had done for the past couple of years. With a new unit costing so much though, there really was no excuse. It's a lot cheaper to spend money on routine cleaning and servicing to keep it all running at an optimal level. Thank you, RighTime, for getting us back on track!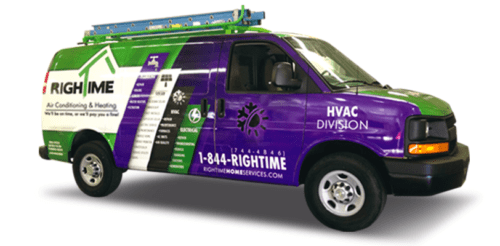 What are some of the perks of using RighTime?
RighTime, with five locations in Southern California (Los Angeles, Riverside, Palm Springs, San Diego, Orange County) offers a yearly program:
Two full-service maintenance tune-ups/inspections during the year

Discounted diagnostic fee on all emergency service calls
No after-hours, overtime, weekend or holiday service charges
Discounts on all HVAC system services and repairs
One-year guarantee on all repairs performed
Priority scheduling – guaranteed 24-hour response time

Transferable, should you sell your home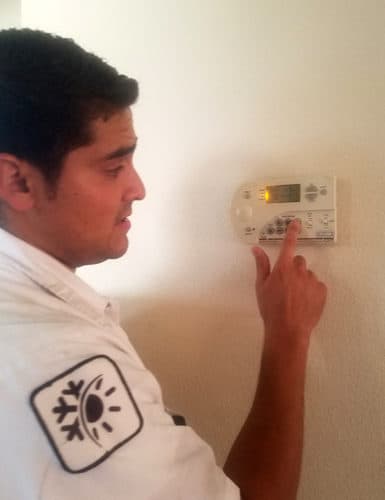 Our technician was Josh. After my dogs gave him the once-over — they were happy, they made a new friend — he checked out the thermostat first. It needed new batteries and I didn't even know how to change them. I can see the numbers now!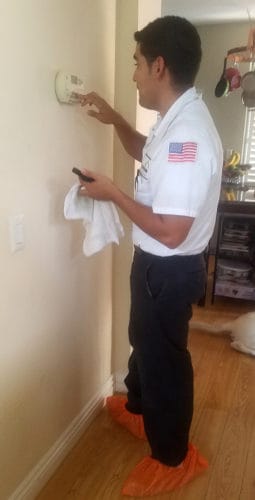 He showed me a few other things about the wall controls that will help me to use it more effectively. Once that was checked to be operating properly, he moved forward to change the filter. We have a two-story house with an odd attic, so the filter access is in our upper hallway.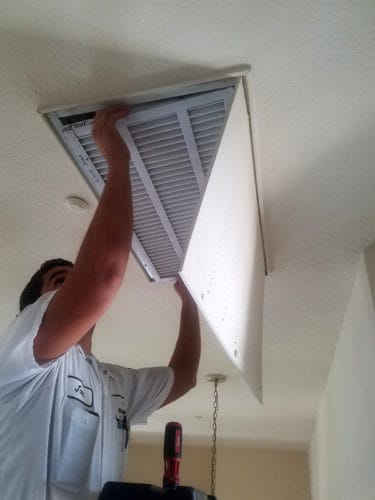 It was pretty dirty, and not very old, and you realize then how dirty the air you could be breathing is! No more worries, Josh put in a new filter quickly and next up was doing a routine check of the ducts in the attic.
Unfortunately, our attic is only accessible via our master bedroom closet…which may or may not be filled with a lot of boxes of shoes, leaving only enough room to get to the clothes. Josh was very patient as I cleared a path down the center, big enough for a ladder. Unlike the last person who climbed into the attic, Josh spread out a tarp to protect everything. That's so appreciated given how much I love my shoes! Our attic's situated very weird, so it's not easy to do any work up in there, and the good news is that it didn't appear any is necessary.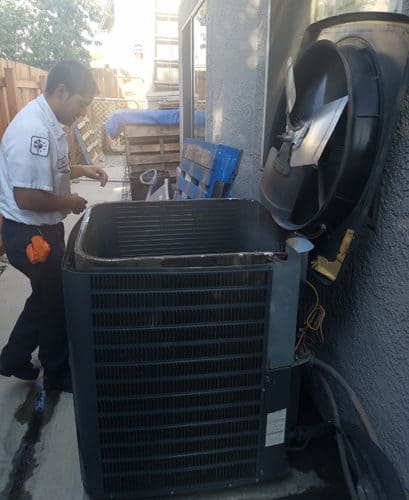 The next part of the appointment was for the heart of the system: the outdoor air conditioning unit. We had very little information on it, as we bought the house about three years ago, and all we know is that the house was built in 1991. It was encouraging to hear it looks like our unit is only around nine years old. This means that it's unlikely that we'll have to purchase and install a new system before we sell our house. Good to know!
The unit itself has been maintenanced once since we owned the home, but after watching Josh go through the steps of a thorough RighTime appointment, we knew it wasn't anywhere near as thorough as RighTime's standards. Josh checked the wiring, found that a hard start kit had been installed at some point and fixed its installation to make it safer.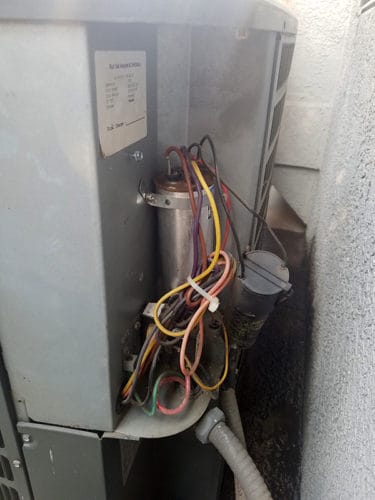 See how it's just dangling there? 200 watts just hanging around, literally, instead of having been secured to the unit. A hard start kit is apparently a good thing, as it helps pull the power to the unit without taking it from the house. (You know how when you turn on a microwave and the power can dim? This hard start kit, installed by some prior company, can help prevent that.)
The unit was filthy, so after Josh ensured it was all working properly, he cleaned it. Yuck, I had no idea how bad it was! It sits outside on the side of a house where we rarely walk by. Our back patio and small yard is usually immaculate, but this small alley doesn't get much traffic. It houses some garden equipment, a couple of pallets for future garden projects and the trashcans. There's no overhead coverage so the unit is exposed to a lot of weather. As a result, it was pretty dirty.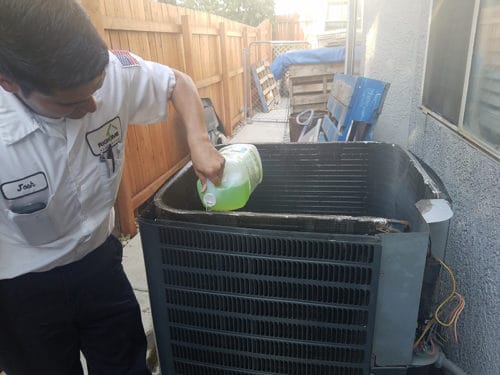 Did you know that inside the coils of a unit, it's pretty open other than the condenser unit? Me neither.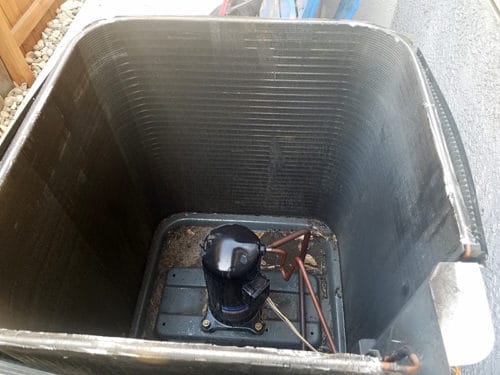 The coils were rinsed with a diluted green cleaner, then sprayed with a lot of water to rinse all the debris away. The end result is a clean, debris-free unit working at its finest. One last test is run to ensure proper power gets to the unit and that the freon level is good.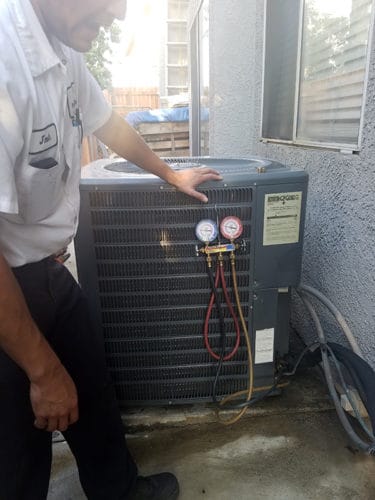 Our unit had no issues, though at some point, we are going to have RighTime out to work on a drainage issue unrelated to the unit itself. (It appears that at some point prior to our ownership, the primary and secondary drainage pipes were swapped, so moisture from the unit comes out of a weird place. What should be overflow is now our main drain, meaning at the hottest of the summer when the unit's on 24/7, it drains from a small pipe jutting out near our roof. It doesn't fall directly on anyone walking by, but it does drain down the side of the house and potentially onto the window at my kitchen sink. Dumb construction mistake but not a critical repair.)
See how shiny clean and debris-free the unit is after Josh's work?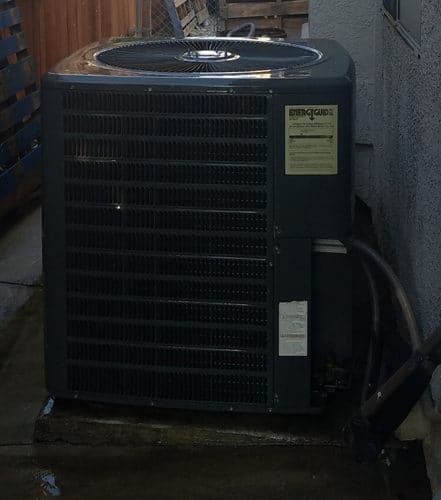 Here are some tips on why it's important to get a maintenance tune-up this time of year: 
Having your HVAC tuned-up helps it to work properly. When dirt builds up in your system, it causes friction. That friction forces the system to consume more energy, resulting in a higher energy bill. By getting a maintenance checkup, you can extend the life of the unit and also save money on your monthly bill.
When your furnace ducts have a buildup of dirt, turning on your system can create a burning-like scent in your home. This scent is not only bothersome, but could also result in an actual fire. It may seem like the time to use your furnace is far off, but colder temperatures will be here before we know it.
When dirt gets in to the air filter of your HVAC system, that can lead to the decline of heat or cool air being generated. You'll notice a difference from room to room; some being too cold and some too hot.
A clean and well maintained HVAC will be able to operate at its best efficiency, and your home will be more comfortable as a result.
Our appointment was much-needed, because a clean and well-running unit can be more cost effective and energy efficient. This means my electric bill could be less if the machine is running as it should. Given our last a/c bill was $482, that is significant.
Appointments are easy to set up. You can do it online at their website, or call them at (877) 959-4076. RighTime also does electrical and plumbing, so you can have a reliable place that does it all for your home with just one call. With a one year repair guarantee and technicians available 365 days a year, you know you're in good hands.
Thanks, RighTime and Josh, for taking one thing of of our to do list. I'm appreciating that air conditioning right now and we're keeping it cool in Southern California during our dog days of summer.
Save
Save