As a writer and blogger, I'm frequently on the road. I need to be ready to photograph an event or interview someone in a moment's notice. Couple that with being a mom and having family commitments means my time is at a premium. Being organized for press trips is a priority for me so I've created this packing list for press trips to share with you.
To be clear, I'm not unique. This is a problem that journalists who travel frequently face and we all have our tips and hacks. My list may not fit you entirely, but it does include the basics that often get forgotten in the rush. I'll share a few other ways to organize your home that will also make it easier to find what you need, not just know what to include. Doing all of this, with a few minutes of advanced preparation and minimal effort between trips, I can be ready to hit the road with very little lead time.
Getting Organized for Press Trips: How I Use My Packing List for Press Trips
I start by keeping a section of my house devoted to press equipment. In the absence of an office devoted to photography equipment, I use a corner in my upstairs hall. It's a built-in cabinet area with a large shelf. That shelf is mine. ALL mine. I purchased some quality Rubbermaid-ish stackable bins with drawers. These hold various pieces of my camera gear or other press equipment, such a microphones, larger mobile device chargers and cords. My travel tablet (with wifi/data), case and charger resides there next to odd-shaped things such as reflectors, shades and backdrops. Leaning in the same corner are my lights, and bulbs are in cases on the counter top, too.
On that same counter, I keep my various press bags. I have three right now that I use the most. One is a big Fab bag that doesn't zip at the top but allows for me to shove big items in without worry. The bag is sturdy and its generic pale beige/coral color goes with anything. It's big enough to hold a basic black sweater, which stays in the bag between uses. It's easily accessible and when packing the bags, everything's there on the counter. I also have a glittery Juicy bag, a little different from the norm but I love the glam and sparkle, and a Marvel backpack that fully closes and has pockets for every little thing I might need. And, well, Marvel….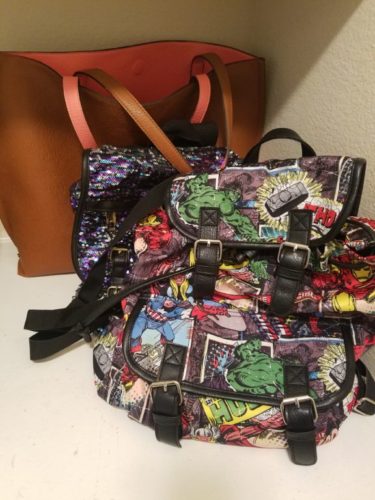 By the press bags, I keep a stack of smaller notebooks, spare pens and business cards. In one of the bags at all times is a container of breath mints, tissues, lip gloss or chapstick, and another small portable charger. I even keep a small container of ibuprofen should I get a headache.
All of the gear being in one place means I can choose the bag and quickly drop in whatever I need that day. I grab the camera, the lens(es) I might need, power cords, chargers, note equipment, and I'm good to go. When I get home, I drop the bag back on that same counter and as soon as I've had a bit to recuperate, I unpack it all back into the piles.
An important part of preparation is to never run out of juice. Whenever I return from an event, I check the battery level on the camera and tablet. If it's dipped too much, I get it charging or swap out the battery(ies). I also make an extra effort now to make sure the camera is actually turned off; I learned the hard way that zealously shoving it in your bag to head home can turn it on, leaving you with a dead battery while sitting front row with celebs sharing their secrets while making funny faces.
Being the good Marvel fan that I am, I have a big stack of Marvel-themed notebooks handy. While I do have some expensive leather-bound journals and folios, there's no need to spend a ton on things you'll fill with notes, shove in a bag or bend, only to throw away when you're done with it. I enjoy pulling out a Thor mini-spiral to take my notes and they're only $1 each if you find them at the right time. (Target's dollar, or 'few dollars' now, section is a great place to score on notebooks.) My tissues are Marvel packets. Keeping your stuff fun and relatable to you gives you a little smile every time you use it.
A couple of other random suggestions? Keep a couple Starbucks gift cards in your press bag. In the event I'm in a rush and forget cash, they are handy for a caffeine stop on the way home, especially if I need to kill time so I can miss some of the worst traffic. I've also given out a couple throughout the years to thank someone for helping me. (I "paid" a teen for helping me once in gift cards for his favorite junk food place. He was thrilled!)
A cell phone holder for my car cup holder is a lifesaver. I have a uConnect system in my Charger, so I can make and receive phone calls entirely hands-free, but I still like my phone handy. I just don't want to have to hold it and endanger anyone or get a ticket. The holder keeps my phone level so I can see it without searching and if I use it for navigational purposes, it's right there easier for me to hear. (Sometimes I prefer to listen to Sirius and keep the map app open on my phone separately.)
You can download my packing list for press trips below! It's an 8 x 10 printable with doodle circles so you can check off when your item's in your bag.
https://dangerouscupcakelifestyle.com/wp-content/uploads/Press-Trip-Packing-List.pdf
I hope this makes your next press trip, FAM or media trip less stressful so you can enjoy it all!