Ready for a fun family event with a live action show? The Buena Park location has offered me a Medieval Times discount code to share with you. Keep reading for details on how to cut the costs for your entire family to attend!
Medieval Times has provided me and my family a complimentary visit, so I'll be visiting again, too! Last time, I only took my son, but this time, I get to take my husband and other son, too. They were both unable to attend last time, so I can't wait!
This was us three years ago. He'd just gotten his long hair cut off and I was just about to start a new job, so we really had a special mom-son lunch out. Wow, how time flies! We had so much fun — and the food! Who doesn't like eating a turkey leg??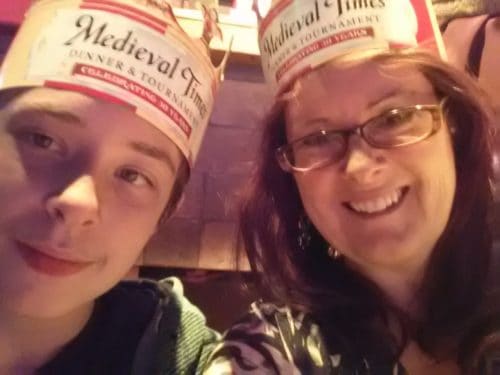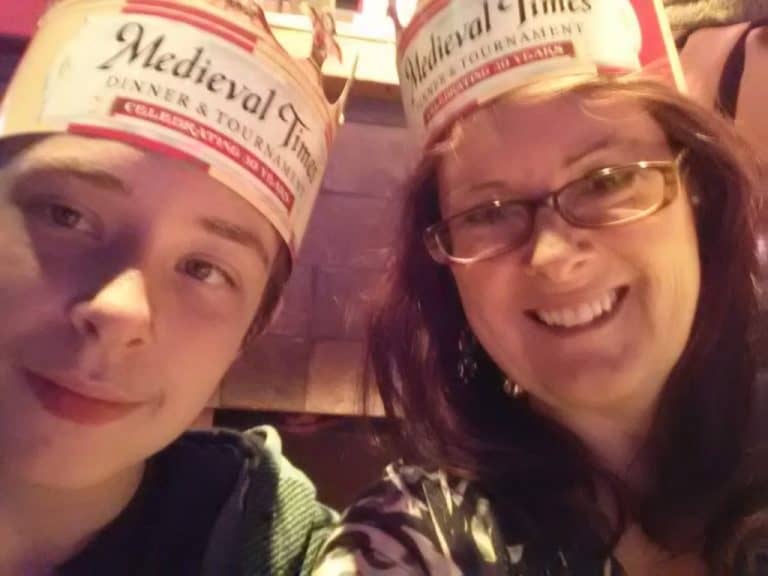 And then there are the props and museum to tour before and after your visit. Little Dude found so many things he wanted that day.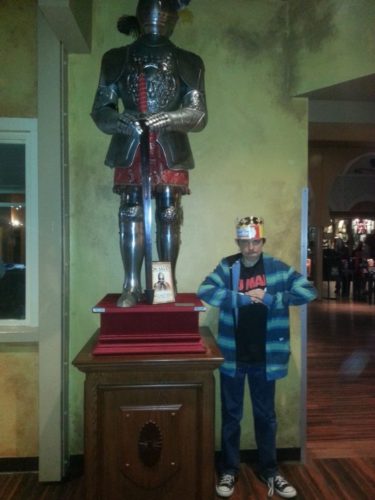 Located on Beach Boulevard off of the 91 freeway in Buena Park, Medieval Times is in the middle of many cool places to go see in Orange County. There are many hotels nearby and its location means you can easily go from one tourist attraction to another without even having to get into your car. Perfect for families or couples, the show is interactive, good for all ages and a fun way to experience a different era. Here are a few fun facts:
* All Knights begin their training as Squires – just as they did in the Middle Ages – learning horse care, sword fighting, and weaponry. It takes a minimum of six months of training to become a Knight.
* Knights perform with real metal weapons and wear authentic armor. During battle scenes, real titanium swords create sparks.
* Every shield must be repainted after every show.
* When jousting, the Knights charge at speeds of approximately 15 to 20 miles per hour and reach an impact velocity speed of about 30 to 40 miles per hour.
* Each year, 25 foals are born at Chapel Creek Ranch, where they spend two years training.
* Our horses enjoy retirement at the ranch after 15 to 20 years of performing.
* 125,000 gallons of soup are served each year.
* 400,000 gallons of Pepsi are consumed each year.
* Each arena is filled with about 4,455 cubic feet of sand – about the load of 10 dump trucks.
* Medieval Times is the #1 breeder of pure Spanish horses in North America.
(More information about our horses: http://www.medievaltimes.com/about-the-show/the-horses.html)
Have fun!