Every minute at the D23 Expo 2022 Day 1 was full of excitement. There's literally nothing like walking into the building and being surrounded by people who love Disney and Marvel as much as you do. The cosplayers, the families with matching t-shirts, the people toting bags full of purchases…it's unreal, and you can't really explain it unless you've experienced it. But, D23 Expo tickets sell out FAST and travel can be tough, so I'm going to share a recap of the weekend, as well as some individual videos and clips from the Day 1 sessions in Hall D23 at the Anaheim Convention Center.
I'm going to share a "planning a D23 Expo trip" tips in another post, but here's a quick recap of the weekend.
It's really hard to encapsulate the vibe and the emotions in one minute, but that's my perspective as a huge fan of Marvel walking through the D23 Expo for the weekend. The halls are big, there are a lot of people, you need to bring your patience and you may not get to see everything you want (though maybe reservations and online ordering will go away at a future expo, as this was done due to the pandemic) but you WILL have a good time. When my post on how to plan and enjoy a trip is done, I'll come back and link it here! In the meantime, let's go on to the videos!
This video's inside the Dreams display. It is a great example of displays at the expo. Some displays have walls, others are more just ropes or items outlining boundaries, but each one is themed and like its own little world. The Dreams display is one of my favorites, with so many amazing things within its walls.
I'll just throw in here that my feet hurt by the end of day one…and that was only on Friday. I'd gotten a hotel room for the weekend, and I so appreciated just being a few minutes away rather than driving home and heading back down in the mornings. (And gas here in CA is about $6+ per gallon…or was, at least at the time of this writing.) Sore feet did not get in the way though. It's only three days every two years and you'll want to enjoy every single minute.
During a Disney panel about the upcoming movie, "The Wish," hitting theaters in November 2023. Arianna DeBose, voicing the lead role, Princess Asha, sang us this beautiful song, "More For Us." She has such an amazing voice, everyone was enthralled.
And about those cosplayers, here's a gallery that just skims the surface of the amazing costumes — and these people made them! The creativity!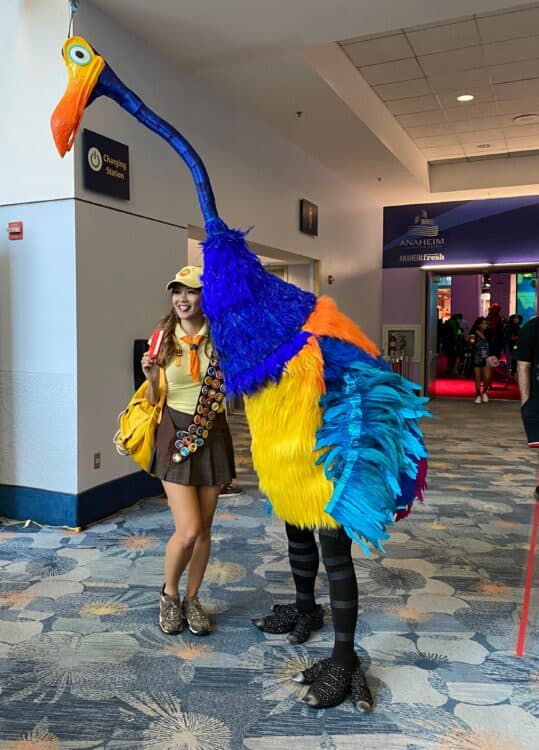 Pretty amazing, right? I was there in my Loki t-shirt and jeans…I need to step up my game. If you get a chance to attend, take it. You won't be sorry!