Last year, we attended CHILL at the Queen Mary for our first time. It was a magical evening full of Christmas spirit, from the lights to the music to the ice castle Christmas Carol sculptures and story inside the dome. This year, CHILL has changed gears a bit and this year's theme is Alice in Wonderland. Use my discount code below and save money on tickets for you and your family to experience the opportunity to trip down the rabbit hole with us!
Like last year, our visit this year is complimentary on behalf of the Queen Mary, in exchange for me sharing with you the news of this beautiful event. I'm taking both my sons and my husband this year and I'll post again after, sharing photos of our evening.
Check out my discount code below!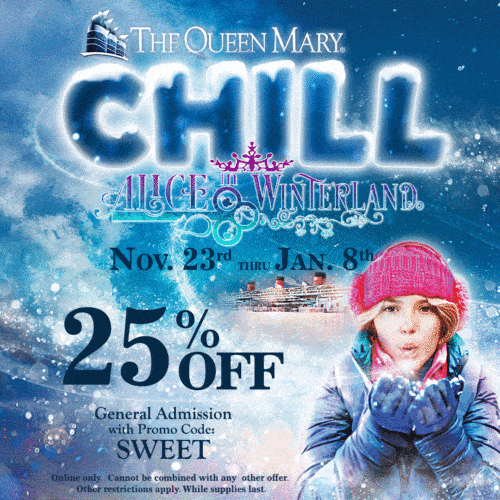 To get a more detailed list of events that are available, visit the CHILL website.  Your trip down the rabbit hole is a 14,000 square foot experience, taking you through the story of Alice in Wonderland complete with handcrafted lanterns and RFID technology, resulting in a beautiful interactive wonderland. Then, go ice skating on the 6,000 square foot ice skating rink, go tubing and make your own gingerbread creation in the Gingerbread House. Ride the world's largest rocking horse or the swings and of course, no visit would be complete without stopping to see Santa and Mrs. Claus.
Aboard the ship, you'll be able to visit Peppermint Parlor and you can also stop by Queen Mary's Post to send a letter to Santa. (It can't hurt to double-up and make sure he knows what you want for Christmas, right?)
Tickets start at $39.99 online per adult and $29.99 per child. ELF passes for front of the line are available as well as hotel packages and ice skating may cost extra. Use my discount code SWEET to save 25% off your general admission. Choose your dates online and get ready for a holiday event like no other!