I think there's few movie phrases as iconic as "Welcome to Jurassic Park." You can't hear it without thinking of the huge gates swinging wide open…and what eventually lies beyond. Now, with the new Jurassic World the Ride open at Universal Studios Hollywood, you can re-experience your favorite, and not so favorite, dinosaurs in their new world.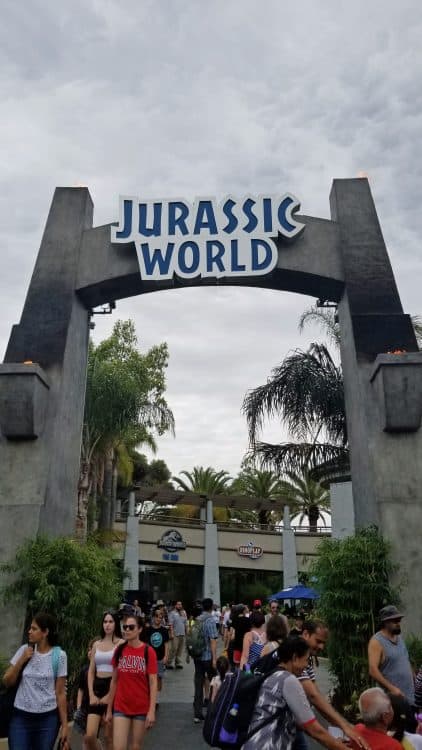 Universal Studios Hollywood debuted the new Jurassic World the Ride at an opening ceremony on July 23, attended by Chris Pratt and Bryce Howard. Since that evening, the ride is hopping and people are headed to the park to see what new dinosaurs Universal Studios has in store!
We got to ride the ride front row, and let me tell you — it is a BLAST and I mean that literally, as you will get wet. And I don't mean just at the end, because that was actually where I got the least wet.
The new ride is full of surprises, splashes and digital effects that fully transport you into a dinosaur park, beginning with those infamous gates edged with the flames to greet you. If you are a Jurassic Park fan, or you just like adventure rides, you'll need to head over soon!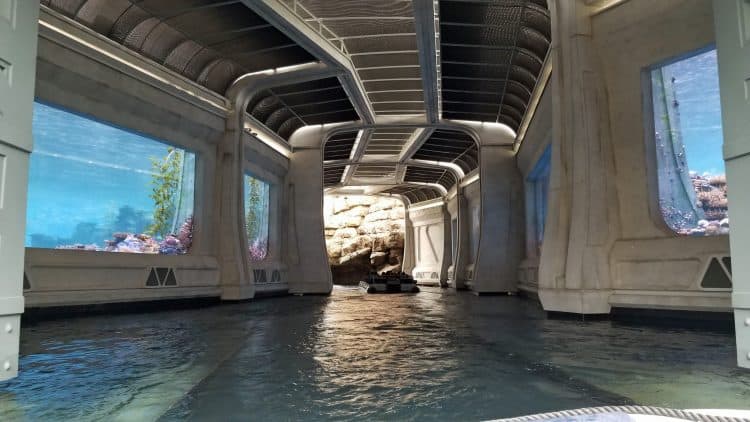 Universal Studios invited me and a few guests for a complimentary visit, along with food, so we could experience the new offerings this summer. I took my Jurassic-nerd son-in-law, daughter and my baby granddaughter; for the first time in over 10 years, we used a child switch pass, allowing the third person to skip the line and get back on the ride with a guest, so they don't need to ride alone. (We had express passes and this process still worked.) If someone in your party is too small for a ride, inquire and take advantage of this system so everyone gets to ride!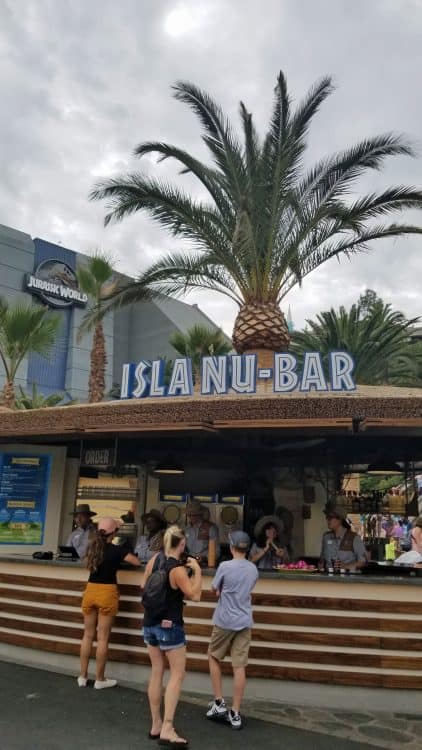 Along with the renovation of the Jurassic Park ride, Universal Studios has also added the new Jurassic Cafe and the Isla Nu-Bar. (Any Jurassic fans out there know where they got that name from?) The food at the cafe looked really delicious, but we were so hot, we headed straight to Isla Nu-Bar to try out their new tropical drinks that come in tiki cups you get to take home. My daughter tried the very refreshing pineapple cider and I ordered the Bird of Paradise, which includes rum and passionfruit puree. Both were really good! (Don't let the line worry you; the service is fast even though all the drinks are made fresh when you order them. It's worth any wait you may run into.)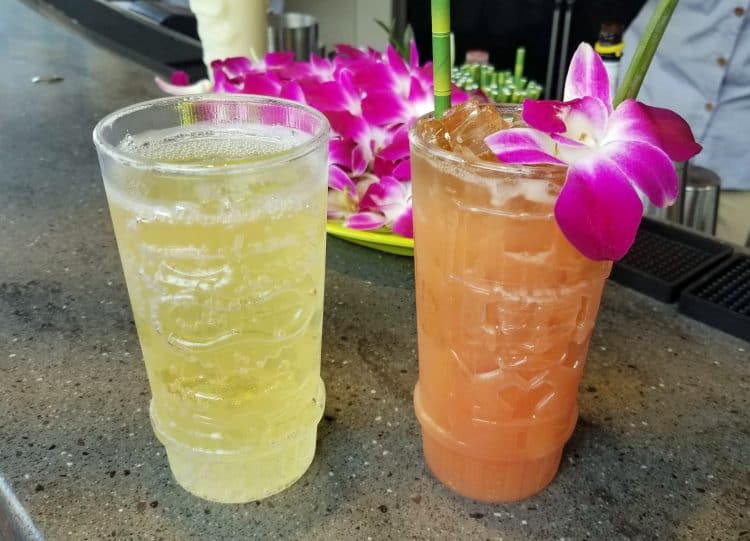 There's also a new store, Jurassic Outfitters, where you can buy a Baby Blue and other dino gear, and the Dino Play area. This huge dino skeleton was pretty amazing! (And we loved the many misting fans in the area to help you stay cool!)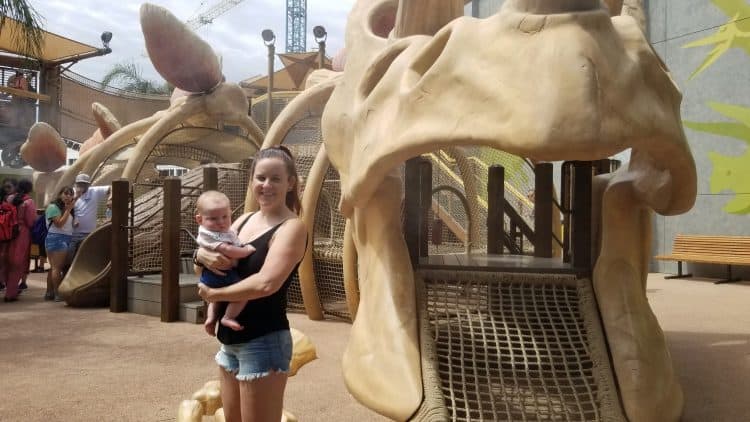 No visit to the Jurassic World area of the park without going to see Blue at the Raptor Encounter. Not only is Blue available for photo opportunities throughout the day, but sometimes Juliette the Stegosaurus is available, along with a baby raptor. We stopped by for a quick family photo with Blue, who talked to us and moved around the entire time. Blue is quite the character!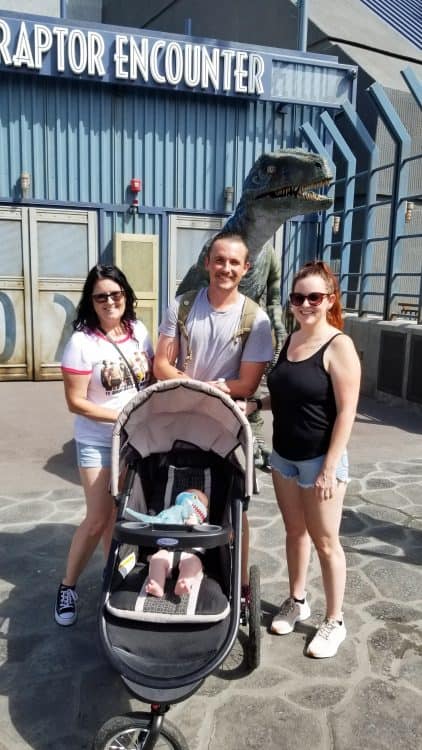 We headed back to the upper level, where we ran into Guy Diamond over in the the Dreamworks Trolls photo opp area.
Now through August 11, you can get your photo with Poppy, Branch or Guy Diamond, the troll who farts glitter! (I even did a little dance with Guy!)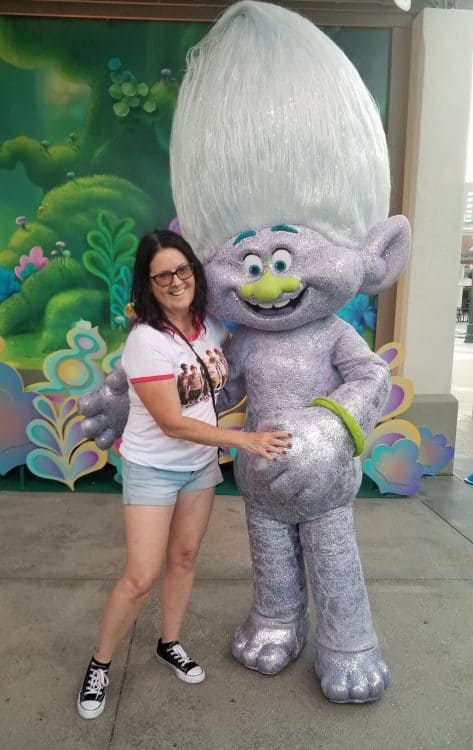 If you've got any Harry Potter fans in your group, like my daughter who had never been to the Wizarding World of Harry Potter, you'll need to head over to Hogwart's to ride Harry Potter and the Forbidden Journey.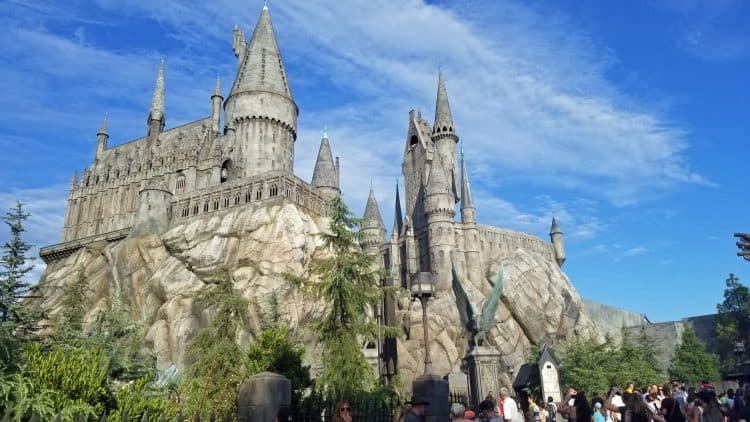 That view never gets old. I think I take this same photo every visit.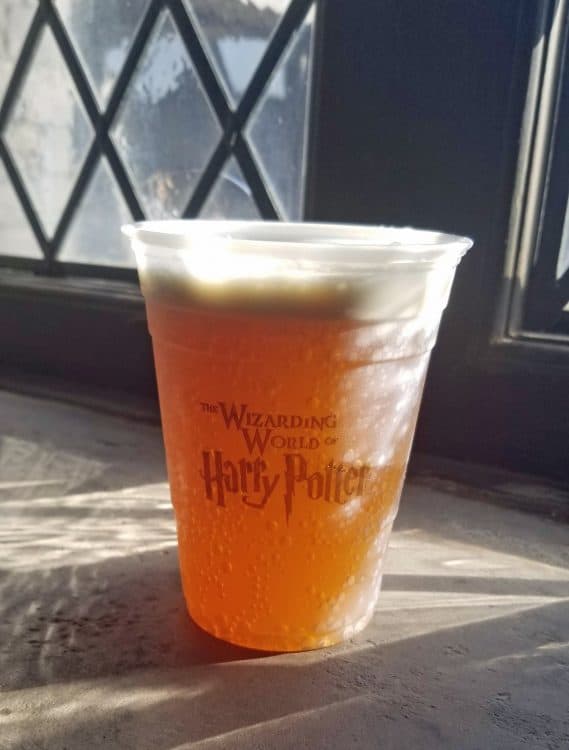 Stay long enough to enjoy a butterbeer (hot or cold, or in ice cream form), eat at Three Broomsticks (where we enjoyed dinner) and see Dark Arts, this summer's digital lights show that happens on the outside of Hogwart's once it's completely dark. It's so worth it, you have to see it at least once.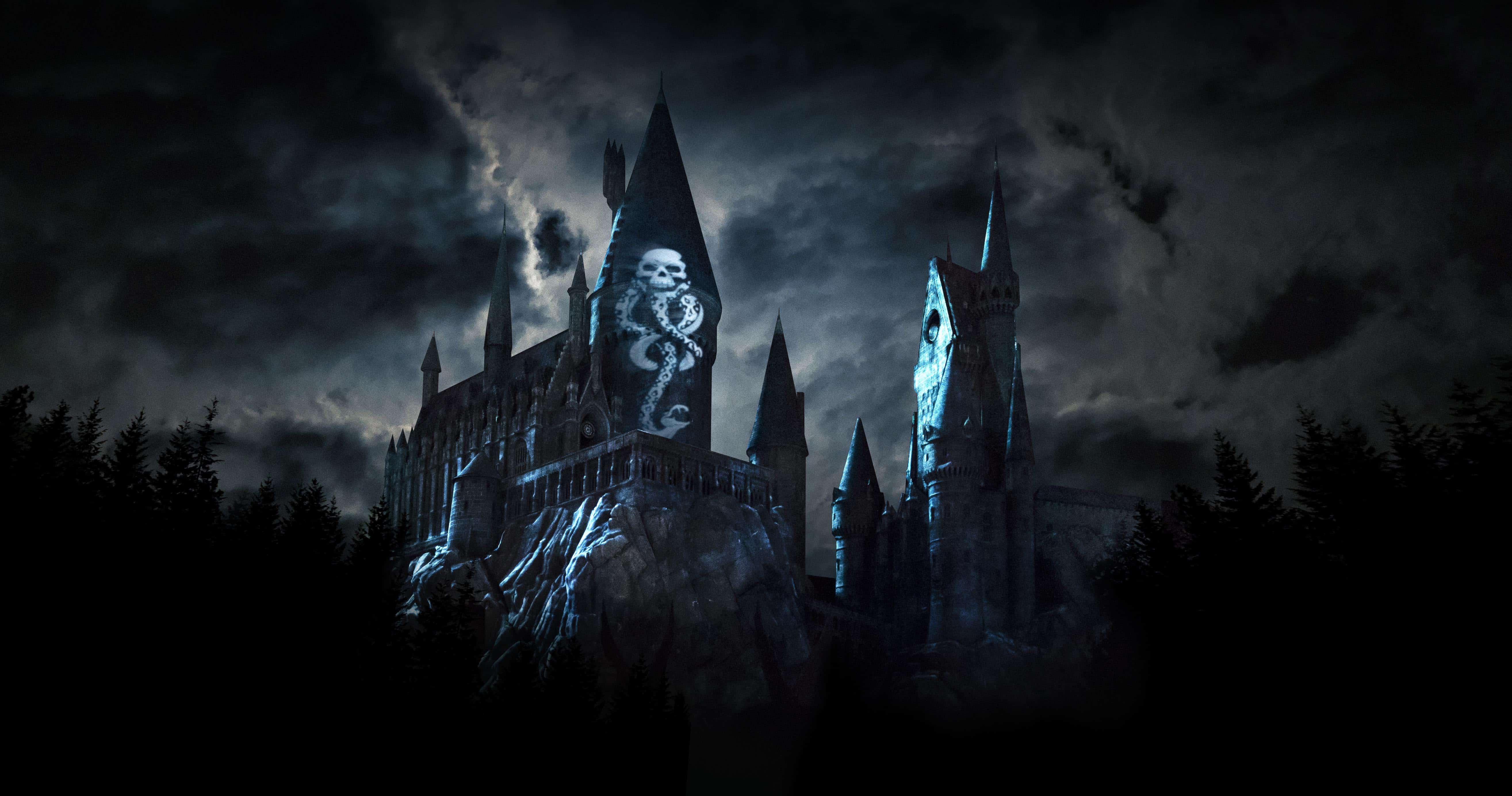 With Jurassic World the Ride open, you've got one more reason to visit, but don't miss the back lot tram tour, which takes about an hour and transports you through many movie lots so you can experience the behind-the-scenes look of many favorite movie and TV show sets. My favorite is Jaws and Amity Island, but Kong: Skull Island is pretty cool, and the Bates Motel is creepy even if Norman isn't walking around and staring at you with those eyes….
If you're not into creepy, look for photo opps throughout the park with favorite characters. We ran into Po, from Kung Fu Panda, and I think I was more excited than the baby.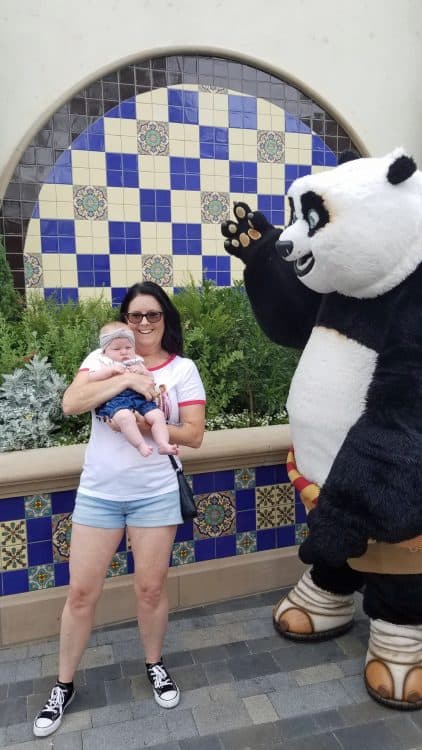 There's so much more at Universal Studios Hollywood, you'll have a full day of food and fun. Express passes let you bypass the main line and there are even VIP tour passes available for purchase as well. Don't miss Despicable Me, the Simpsons, the Walking Dead and more.
Welcome to Jurassic World!
*Jurassic World the Ride open at Universal Studios Hollywood as of July 23.*