I was late to the game when I finally got my Nintendo Switch several months into quarantine. I'd been seeing my friends post requests for friends on social media, and I totally didn't get it. Fast-forward a few months, and I had this amazing setup on my Animal Crossings: New Horizons island and I was officially a gamer. Now that the Nintendo Miitopia is a thing, it's reinvigorated single player video game play in a whole new way.
We're a game night kinda family. We have a list of a few basic card and dice games before we bust into the overcrowded board game cabinet, but if we want to involve everyone and let off some steam, we break out the video games. Now that my Nintendo Switch can be easily docked on the new game room TV, we've got a whole new space to play games. Don't want to play? You can sit right over there on the other couch and laugh at us. It's all good.
But the thing is, you're going to want to play. The list of Nintendo Switch games is growing and if you don't fancy yourself a race car driver, you may be surprised once you get behind the wheel in Super Mario Cart. Trust me.
I love solo video game play and thanks to Nintendo, I'm now having a lot of fun with Nintendo Miitopia. The premise is simple. Cast yourself, your friends and your family in an animated adventure to bring down the face-stealing Dark Lord! Each character gets assigned a role and it's adventure time!
But know in advance: is Miitopia multiplayer? No, it's single player, so don't have expectations for it be a family game night if you all want to play the game at the same time.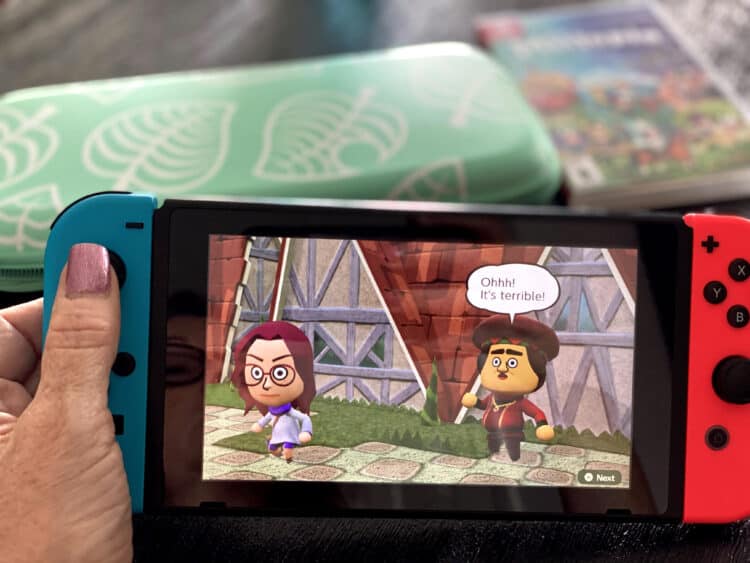 The game can get a little crazy along the way. Your grandma, who may or may not resemble your grandma at all (thanks to wigs and makeup and more), might be doing pushups before she goes to ride a horse or meet friends at the movies. One of your friends can even BE the Dark Lord!
It gets pretty silly, with all the environments and situations players can find themselves in. Change up their personality traits and give them jobs, and you never know what may happen! Pop star, warrior, chef (complete with cooking tasks), that's just the beginning.
I have been a longtime player of similar games online, where I create my character, buy a house, start a family, get promotions…it's always been a bit of an escape on a stressful day or when I just need to relax. This is one reason I absolutely love Nintendo Miitopia. I don't have to think too hard and I can just have a good time. This makes it an easy shoe-in for game night with friends, because no one really has to be taught how to play the game before jumping right in.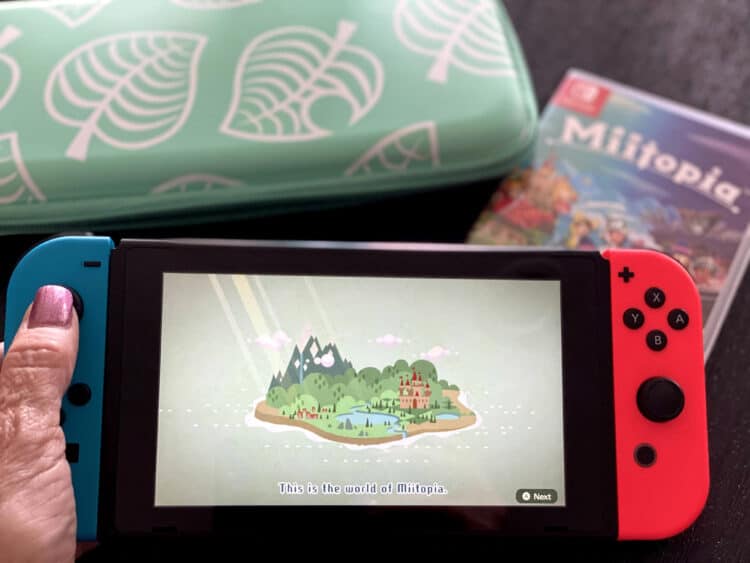 Nintendo Miitopia is a one-player game, but don't let that stop you from playing it during a video game night! People will get a kick out of your antics, and if you're brave, you can show them the character you assigned them. You can also share and receive Mii characters online!
Miitopia supports TV mode, handheld mode and table-top, so you can play on-the-go or at home. We've taken mine to friends' houses and set the kids up…or the adults, depending on who you ask. A good video game with a lot of laughter and 'rules' start to fall away!
Nintendo Miitopia came out on May 21, 2021, and MSRP is $49.99. You can purchase the game in a store, online or do a digital download. If you're not sold on it just yet, there's a free trial you can download, and when you're done with it, you can save your characters and history with the game if you purchase it, so don't lose anything.
There's what Nintendo labels as a little crude behavior and mild language, but I haven't seen anything that would keep me from having it on the big screen with the baby around. (She's two and mimics everything so perfectly.)
Fore more info on other new Nintendo games, read this piece written by my daughter and writer, Devon, who covered E3 2021 and shared these great recommendations and insider tips!
Thanks again for the game, Nintendo! I'm happy to have another game to keep me busy on these long hot summer nights where we're looking for more things to do inside to keep us busy when it's too hot to leave the house. I'm a fan of single player video games and am so glad Nintendo keeps making them!