It's been a hot minute since we last had something on the grill. We love to use our outdoor barbecue frequently, but during the pandemic, we spent more time in our new kitchen than out back. Now that we're ready to grill again, and fixed a broken part on the bbq, we're in the middle of a heat wave. Air-conditioned houses hold a lot more appeal than any outdoor grills for at least the next week.
But after our temps stabilize a little, before they head back into triple-digits, it's game on. Give me all the grilled fruits, vegetables and proteins…well, except for beef. You can keep that one. The goal is to squeeze in at least one or two events with friends and family over the next month, and I know for sure some of these fun Tastefully Simple products will take center stage.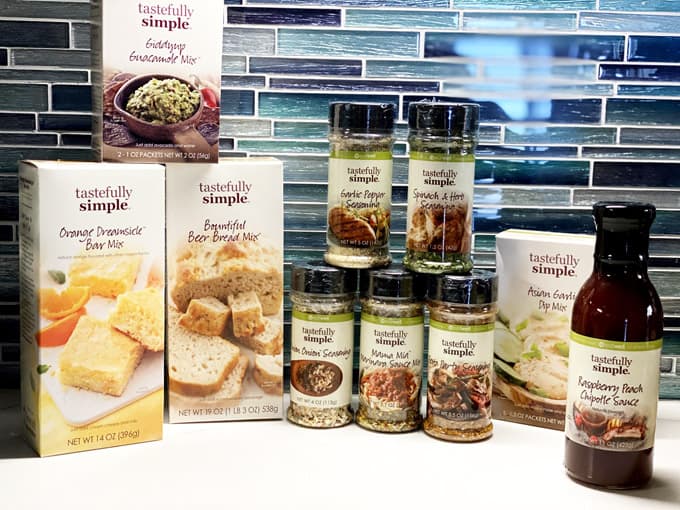 If you've been around the blog before, you know I'm a big fan of the Tastefully Simple line. (And outdoor grills and grilling — best summer parties ever!) A company that started as an in-home party plan, where hostesses earn free product from their party sales, Tastefully Simple has a long list of food products that make cooking and entertaining easier for everyone. You can still host parties now but in a time where we're becoming more and more used to ordering things to have delivered, it's handy to have one more website option to add to your list.
Tastefully Simple sent me a big box of products to share with you all, and not only will I give you a brief intro to these kits and items, but I'm hosting another giveaway! One lucky winner is going to win the same products I'm sharing here, with an approximate U.S. dollar value of $107.
First, check out this Multi-Cooker 10 Meal Kit. The ingredients contribute to ten different meals, and all recipes are included. It's always cool when recipes work with slow cookers and pressure cookers alike! Four spices, two dip mixes and a bottle of the deliciously Raspberry Peach Chipotle Sauce mean you'll be able to get really creative with the included recipes or making up your own. (Tip: that sauce is fantastic on baked pork chops, bone-in to help keep them moist.)
Along with the recipe book, you'll get photos of what the meal can look like and nutrition facts, in case you're watching your sodium, carbs and more. You also get a checkmark grocery list to make the shopping easier for the rest of the ingredients. The Raspberry Chipotle Pulled Chicken is what's for dinner tonight, and the recipe is one from the kit. So easy!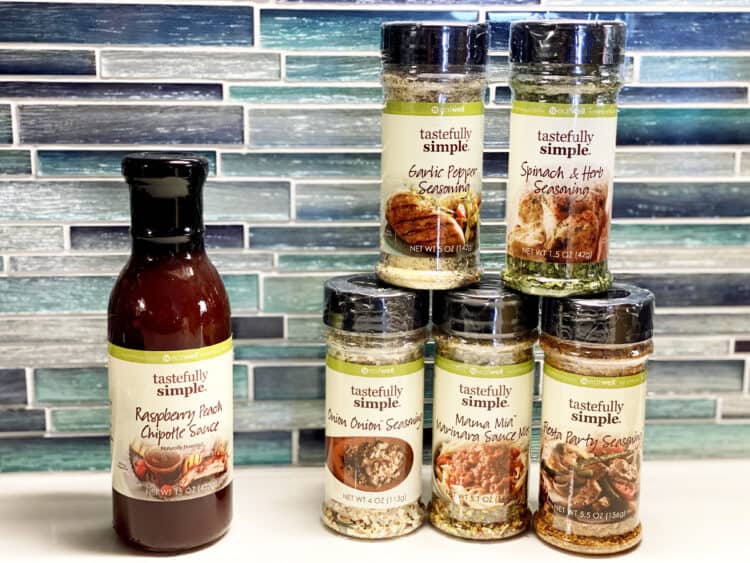 This Spinach and Herb Seasoning is really versatile. It makes a super-fast dip by mixing with sour cream (and a little mayo, if you like it a little tangy) and we use this one often for dipping fried pita chips. The husband has mixed it in with ground turkey for burgers, for a little unexpected zing. You can find a lot more ways to use this one.
I'm a sucker for fun serving ware. This melamine serving tray holds four items to dip, surrounding the dip in the center. I think I'm going to make my orange creamsicle dip and fruit in this one for July 4th.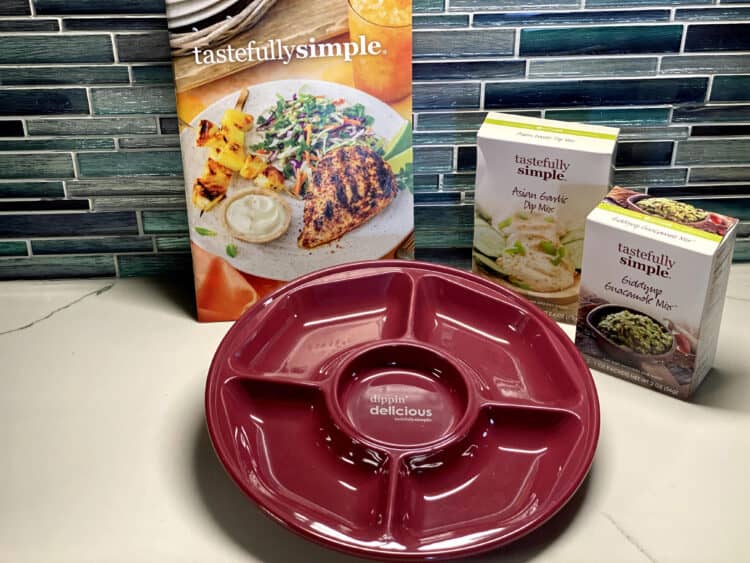 No order from Tastefully Simple would be complete without trying their infamous Beer Bread. Don't discount it because it's bread in a box — it comes together quickly, is moist and is a great addition to a meal, a happy hour or a fireside snack on colder days. We've put it out a few times next to a deli platter or charcuterie tray. It's also great in a cheese fondue!
If hosting a party sounds good, head over to their website to learn the basics. Your Tastefully Simple consultant will help you handle everything, from invitations to helping you get the word out. Host it in-person, add a workshop/demo, or do it all online so your guests can shop from the comfort of their couch. You earn towards free product whichever way you go, and you don't pay to participate!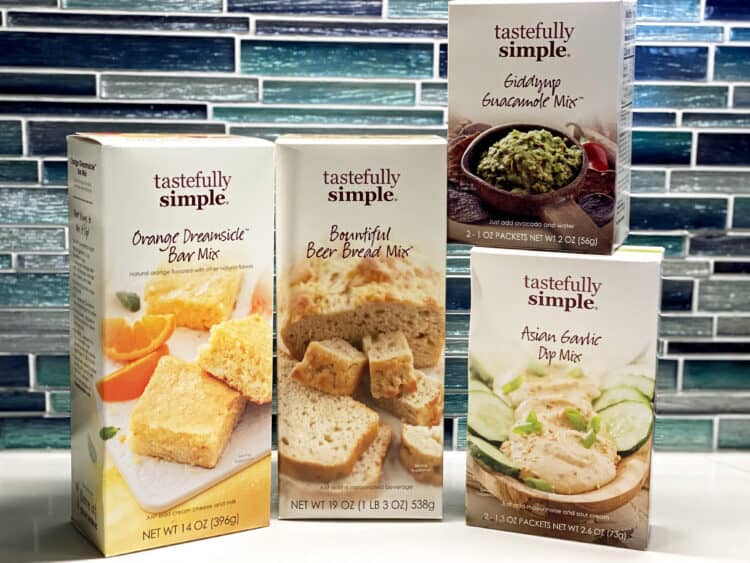 Online parties became even more popular during the lockdown, but now that things are opening back up, planning a party where your guests get to sample products before purchasing can be a great way to socialize finally, while still keeping it as safe and socially distant as you want.
When you order, use this discount code: DCLTS10 to save 10% on your total purchase between now and September 1, 2021.
To enter my giveaway, use the widget below. Please do NOT share the URL directly to the widget and not on this blog post; your entries will be disqualified. (That circumvents traffic for this site, which provides free recipes and info, so your clicks help!)
Tastefully Simple Summer Grilling Food Giveaway
Giveaway rules are easy: winner must be at least 18 years of age and reside in the United States. One winner per household. No purchase necessary and void where prohibited by law. Winner must provide a physical address, full name and phone number for shipment; prize will be fulfilled directly by Tastefully Simple. If winner does not respond within 48 hours of email notification, a new random winner will be drawn.
While we're at it, let me know your favorite outdoor grills! I am in the market for a new one maybe and I love to hear my readers' recommendations.