When COVID closed down California, I let my gym membership go. Gyms are now allowed to reopen, but with outdoor-access only. I just couldn't do it. I look bad enough on a good day, indoors, but outside in a parking lot? In the heat and smoke? It was a no….but I still need to stay active, get in my steps and movement and not turn into a couch potato. Enter the new Nintendo Switch bundle for the Ring Fit Adventure! Working out at home just took another form and it's FUN.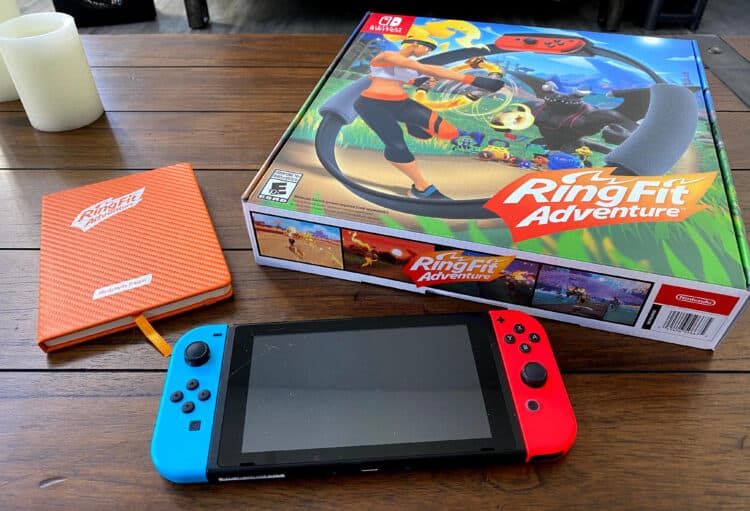 This post is sponsored by Nintendo. I was sent the Ring Fit Adventure to facilitate a review here for you!
Early on in COVID quarantine, the Ring Fit Adventure was so popular, it sold out….but the Nintendo Switch itself was hard to find, too. I'd missed the window and I was SO bummed. A few of my kids had Switches of their own, so we could play family games but I didn't have a way to play Animal Crossing: New Horizons at will. Then it happened, I was able to get a hold of one and boom, on my way to creating my own island and playing games when I couldn't sleep.
Someone asked me once, "You don't feel weird, being an adult playing a kids' game?"
First, no, I do not. Everyone does something to relax, whether it's a game on their phone or watching a sport or reading a book. Some people shop mindlessly on Amazon. In these stressful times, finding something that makes you happy, gets your mind off things and is fun is so important. So no, no guilt here about happily sitting and playing Animal Crossing…or any other Nintendo game.
Second, Animal Crossing isn't a kid's game — it's an everyone game.
With the important stuff out of the way, let me tell you more about the Nintendo Switch bundle of stuff that comes in the box with the new Ring Fit Adventure!
It does NOT include the Nintendo Switch, so be sure to already have one available. It DOES include the ring, a strap that goes around your left thigh and of course, the game.
The game premise is pretty simple. There is a dragon out there named Dragaux, and you have to help save the world from him. You move around from location to location, in the game, by jogging in place. You choose your level of intensity throughout the entire game, so you also choose your speed. You don't need to be in-shape to play this game, nor do you even have to view it as a workout — it can just be a fun game that provides you some much-needed activity!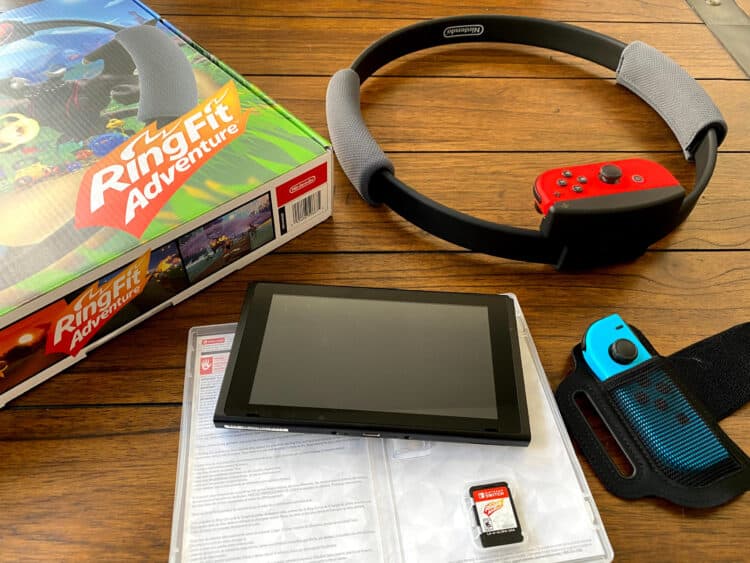 You'll place one controller in the thigh strap and the other in the ring, which you can squeeze, pull or move around to 'steer,' essentially. You'll also aim it to jump, climb stairs, paddle board and more! You'll fight some little battles along the way and you'll win by doing 'fit skills,' which are little workout moves. Again, all of this is done at your own level so you can make sure it's all fun! The game reminds me of a safer version of Wipeout or American Ninja Warrior, stuff the rest of us can do!
My house is majorly under construction, so I was worried about space when I initially set up my game. I don't have a lot of open floor space to do a lot of movements, so I was afraid I'd be hindered. No worries! If you've got room to do a yoga move or a sit-up, you're all set. Confession: I even did this on my bed more than once! (New floors can really get in the way of productivity for the duration of the project. Floors are now in but there was a screw-up with the baseboards so we're still waiting on them to install them.)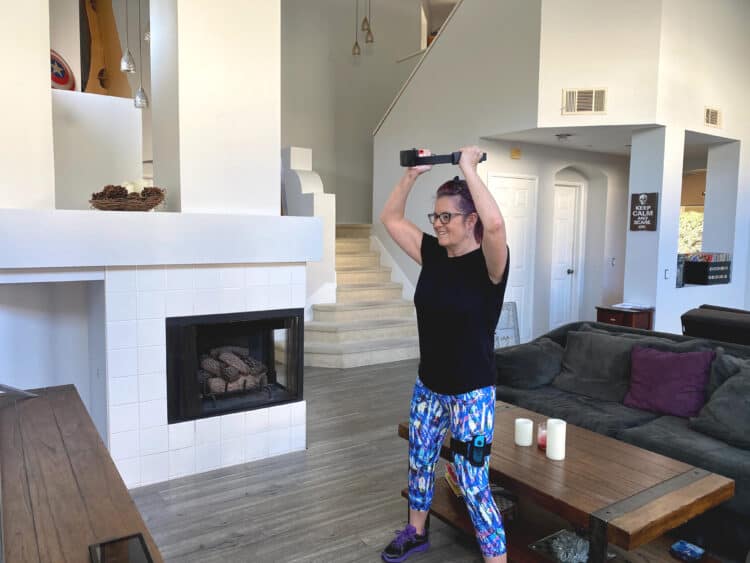 My favorite activities of the game were flying (ring held overhead), making pottery (using thigh muscles) and the HIIT-like mini-workouts where you do a move for a certain amount of time. I also really like the dodgeball-ish game. It's been fantastic for when my weights are inaccessible, and you'll get a decent workout without having to buy other equipment! (Always good to check with your doctor if you have extenuating medical circumstances.)
You can follow the existing workout modes, or you can customize your own depending on your needs. (Certain skills are labeled as core, arms, legs, etc.) You can also pass the ring around so you can play as a family, and you can even play online!
If you're like me, you may be a bit competitive. I used to go to the gym with friends or my daughter a few times a week, and we'd push each other a little. While not everyone has a Nintendo Switch to do this with, we can use the stats provided in each workout so you can compete against yourself! You'll also learn your approximate calories burned, which is a big deal to me. I wear a fitness tracking watch and I really like getting an idea of where I am daily on my quest to burn calories beyond what my body uses for basic functions.
This Nintendo Switch game is so worth the cost! It's MSRP is $79.99. It's available on Nintendo's website, as well as third-party vendors like Amazon, Best Buy, Walmart and more, so you can have it delivered and avoid shopping. I'll be honest, I've gotten a little hermit-ish during quarantine, so if I can have something delivered, I'm that much more excited about it!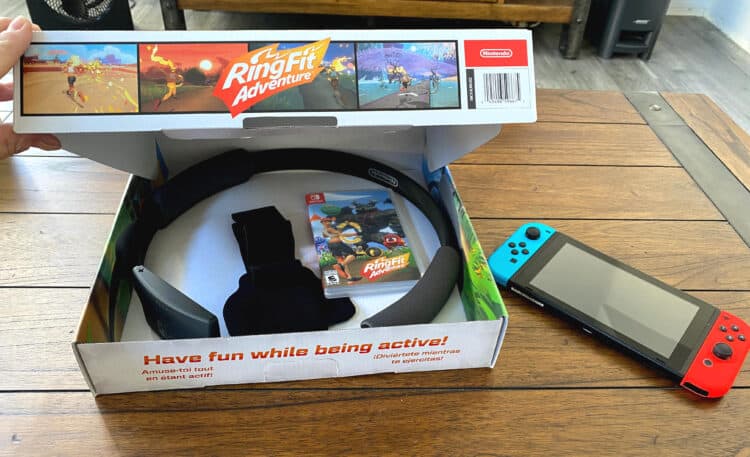 Let me know if you have the Ring Fit Adventure and I'd love to know your favorite benefit of having purchased this Nintendo Switch bundle to have fun and stay active at home! One day, when it's safe to invite people over, we're totally having a Switch party with some of our closest friends. We're a pretty competitive group at games and I think playing the Ring Fit games would be a spectacularly funny evening we talk about for a long time!