Who doesn't love this cute but kinda creepy Troll community? Whether you first learned about Trolls while having one of those odd hairy dolls as a kid, or when the movies came out the past few years, you're going to want to watch the new Hulu Trolls: TrollsTopia streaming on November 19th!
Not familiar with the Trolls, or want a sneak peak at the new trailer?
Inspired by the beloved DreamWorks Animation films, Trolls: TrollsTopia is the next chapter in the hair-raising adventures of the trolls. Now that Poppy knows there are other musical trolls scattered throughout the forest, she bottles up her endless positivity and invites delegates from every troll tribe in the forest to live together in harmony in a grand experiment she calls TrollsTopia! 
My granddaughter is 18 months old and absolutely loves Trolls…which is good, because I've watched all the movies with my own kids as they came out. There's something about these guys that hold an appeal for all ages, and the witty humor provides a good laugh for everyone.
The cast of Trolls: TrollsTopia is a good one, with a lot of familiar names: Amanda Leighton, Skylar Astin, Kenan Thompson (Saturday Night Live), Jeanine Mason (Grey's Anatomy, Roswell), Kevin Michael Richardson (Trolls World Tour, American Dad), Vladimir Caamaño, David Flynn, Ron Funches, Megan Hilty, Kat Graham, Walt Dohrn, Charles DeWayne, JP Karliak, Declan Churchill Carter, Kyla Carter and Lauren Mayhew.
Who is your favorite character? I've always liked Poppy, but Guy Diamond is pretty funny. Close friends of ours gave the baby a Poppy on Halloween and she went home hugging it. A couple of years ago, I attended a tea centered around the Trolls and got my photo taken with Poppy, and last year, I took the baby to Universal Studios, where she got to meet Guy Diamond. Fun memories, recreating them with the grand baby and getting to redo it all again!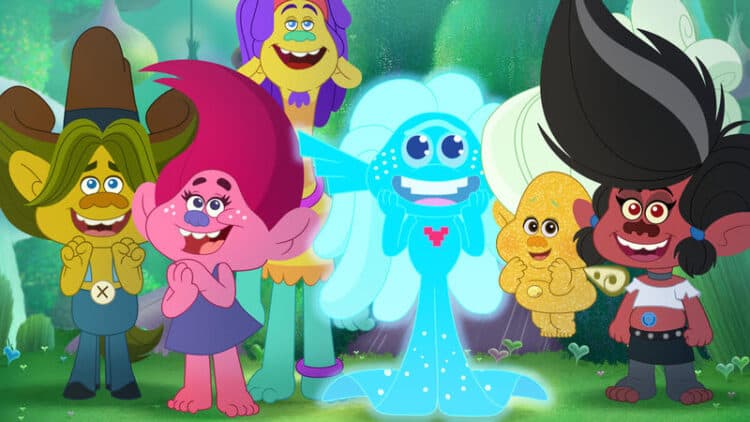 All episodes of Trolls: TrollsTopia streaming November 19th on Hulu!