Last week, I took my first ever trip to Mexico in over 20 years. As a teen, I'd spent a week in Mazatlan, and there were numerous trips to Tijuana when I was in college, but this would be my first time traveling across the border since we needed a passport. Packing for a trip to Mexico didn't seem daunting at all, but I left behind a long list of logistical issues for the husband to handle, so I let my nerves get to me a little. Would I do everything properly to get through customs without issue? Would I forget something critical? Turns out, my worries were unfounded. Here's how I packed for my trip and what clothes I packed for four days in paradise!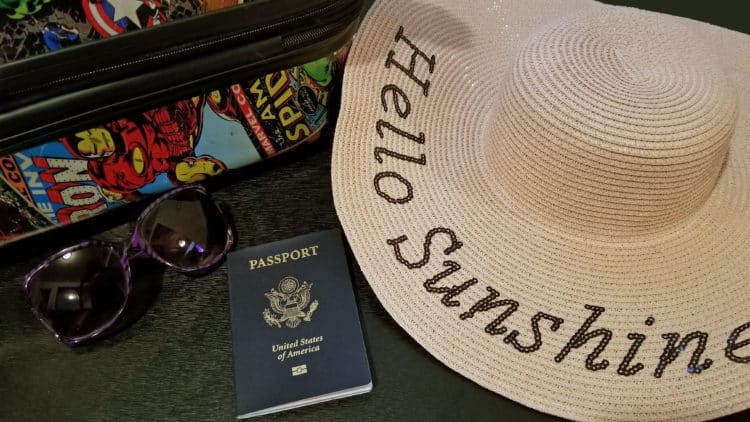 The first thing I did before I started to pack was to do an inventory on my current clothes. Bathing suit that I can wear in public? Check. Cover-up? Check. Dresses for dinner? Check. Something to wear on the ATV ride that I can get dirty? Hmmm, add that to the shopping list.
I also went through my travel gear. I pulled out my makeup bags and my travel-sized products and realized I was short a 3 oz. empty bottle for my hair products, as I can't use hotel-provided shampoo and conditioner. That's where I started my list of things to pack for my trip to Mexico that was coming up quick!
Before you pack though, head over to STEP and enroll with your travel plans. It's FREE and it's a great way to stay in the loop before you travel, in case there are any uprisings, weather emergencies, catastrophes or whatnot at your destination. You will be notified of any pertinent events. It's a U.S. Department of State website, via a service of the Bureau of Consular Affairs, and it only takes a few moments to complete. Have your passport and travel itinerary handy, and have an emergency contact in mind.
While on the topic of travel apps, download Mobile Passport before you leave home or before you return home. (It's only good for returning to the United States, not entering Mexico.) When your phone's on airplane mode as you land — when you're allowed to have your phone on — fill out the app quickly. Take a photo of yourself, as clear as possible, and enter your passport and travel information. As soon as you have wifi at the gate, click "submit." You will hear back within a minute or so with a QR code; this allows you to bypass the regular line, and you will be directed to an express line. SUCH a time saver. This also helps when you go through customs after retrieving your luggage. I was off the plane and had cleared customs, headed to the airport exit, in under 15 minutes. (My friends, on the same flight, were still in the first line!)
Mexico Packing Trip List
Travel Gear
Sturdy suitcase: I recommend checking a bag so you have more packing freedom
Carry-on: flights can get crowded so something that fits under the seat in front of you is easiest. (I put my laptop in a tote with my tablet, cords and extras I need accessible during my flight, like my documents, ID, cash, water, mints, tissues, etc.)
Makeup case: I really recommend Lay-n-Go products. They squish into small places in your suitcase, they fit on any vanity or sink ledge and they are easy to clean. (I also have one for my cords and chargers. So easy to stuff into my carry-on bag.) Here's a link to the ones I have. (This is an affiliate link, as are my others below, so if you purchase one, I may get a small payout.)
Hanging jewelry case: you can put one day's worth of jewelry per pocket, an outfit per pocket, or all bracelets in one, necklaces in another, etc. It hangs on a towel rack or in the closet by your clothes and makes it easy to ensure your necklaces don't tangle.
Curling iron sleeve: these depend on the size of your curling iron, but no more worries about needing time for your iron to cool before you pack it away with one of these inexpensive items!
Dollar-aisle plastic squeeze bottles: even if you don't need to worry about 3 oz. size limitations for the TSA, these are just space savers. I like the ones that go for $2 at Target; they are a triangle on the bottom and come in various pastels, but the best thing is that while the bottom is stable, the bottle itself is very squeezable and the top is wide-mouth, so it's easy to pour in your conditioner, lotion, facial cleanser, etc.
Extra plastic bags: these can be from sandwich-sized plastic bags to grocery bags, and they are great for storing dirty clothes, wet bathing suits, a leaky perfume bottle, and if you don't use them, they take up little-to-no space.
Pill container: it's much easier to pre-pack it for the days you'll be away, and 1-2 days extra, than to carry all your prescription bottles. Disclaimer: I have heard of people being asked to show proof that the pills are prescription, so I carry a photo of each prescription just in case, though I've never had to show it.
Clothing and Accessories
Seasonally appropriate clothes: do your research prior! The humidity makes it feel hotter than it is, so layers and multiple outfits can be handy.
Dinner attire: there are a lot of restaurants where flip-flops and/or shorts aren't appropriate
Two bathing suits and at least one cover-up for protection from sun
Robe for enjoying your room's balcony or a quick trip to the ice machine
Brimmed hat: even on overcast days, sunburn can occur
Flip-flops for hotel and beachwear, or for use at a spa
Comfortable shoes for when your heels become painful: it happens!
Documents and Identification
Passport: keep a copy at home, even if it's just a photocopy
Driver's license: great back-up ID as you won't carry your passport all over town or on excursions
Two credit cards: one to pay with, and one in case the first is lost. Be sure to notify your credit card issuer that you will be traveling out of the country so they make a note on your account, preventing any fraud alerts or refusals at point-of-sale
Doctor's name, number, address and prescription information
Point of contact for home in the event of emergency: put an ICE entry (in case of emergency) into your phone and also a piece of paper in your luggage or small purse with your spouse or significant other's name and phone number. This can also help if your luggage is lost.
Hygiene and Personal Odds and Ends
Sunscreen: lotion is best for close quarters, and face sunscreen is good to have as well
Blister treatment: especially important if you are taking new shoes!
Anti-chafing stick: if you're in a hot area and walking around in skirts a lot, you know what I'm talking about. (Anti-blister stick can also work in a pinch and it's one less thing to pack. Deodorant can also work if you have nothing else.)
Witch hazel or other facial freshening spray: lifesaving when you're hot and sweaty and want to brighten up your face without entirely redoing it. (Also good for your skin!)
Mini first aid kit: bandaids, bug bite cream, ibuprofen, etc.
Chapstick or other lip care, especially if you are prone to cold sores
Things for Your Hotel Room
Silk pillowcase if you have curly hair!
Mini vaporizer if you need more humidity in your room
Wall chargers for all your devices
Notepad/pen: not all hotel rooms stock these anymore!
Packing for a trip to Mexico doesn't need to take anymore time than packing for a road trip within your own state. There are plenty of stores and shops in the beautiful country in case you forget something, and traveling is easy. Flying is fun, and don't let it stress you out. In the event it does, this is my resolution. I love flying, but the boarding process and crowds can make me a little uptight.
This is by no means a fully comprehensive guide to traveling to Mexico or another international destination, but I hope it gives you some ideas of what to pack, what to buy and help you make your travel as comfortable and seamless as possible.