Day two of the #BloggerTrio girls' coastal California road trip to Carmel started with an extra couple hours of sleep. We all underestimate the value of sleep, and most of us operate in the negative, so it's a valuable part of a girls' getaway weekend. We had a busy day planned and we wanted to be fully rested before we hit the road for our adventures.

The beds in The Hofsas House were incredibly comfortable, so it was easy to sleep late. Window open to listen to the birds, I could have lounged in the plush bedding for hours, but there was also the lure of the continental breakfast, fresh orange juice and coffee in the lobby. Bed. Food. Bed. Food. Food won. The Hofsas House had laid out quite a spread of breakfast items, so I got a plate, sat for a few minutes by the fireplace and took a pot of coffee back to my room. So luxurious!
First on our agenda was taking the infamous 17 Mile Drive up to Monterey. If you've never gone, picture lazy, winding roads through the forest yet right next to the beach. Gorgeous homes on all sides and views of the coast and wildlife. It's not unusual to see deer wandering, though we didn't get to see any. We did, however, get to see a lot of sea lions at various lookout points. The views are beyond compare and words don't do them justice, but they alone are worth taking the 17 Mile Drive. If you do it fast, you can be done in under an hour — and by fast, I don't mean speeding, as there are posted limits for everyone's safety. I mean, not stopping at all, but then you'd miss so much! Each site has a sign explaining the historical significance. I thought I already knew a lot about the Monterey Peninsula, but I was wrong!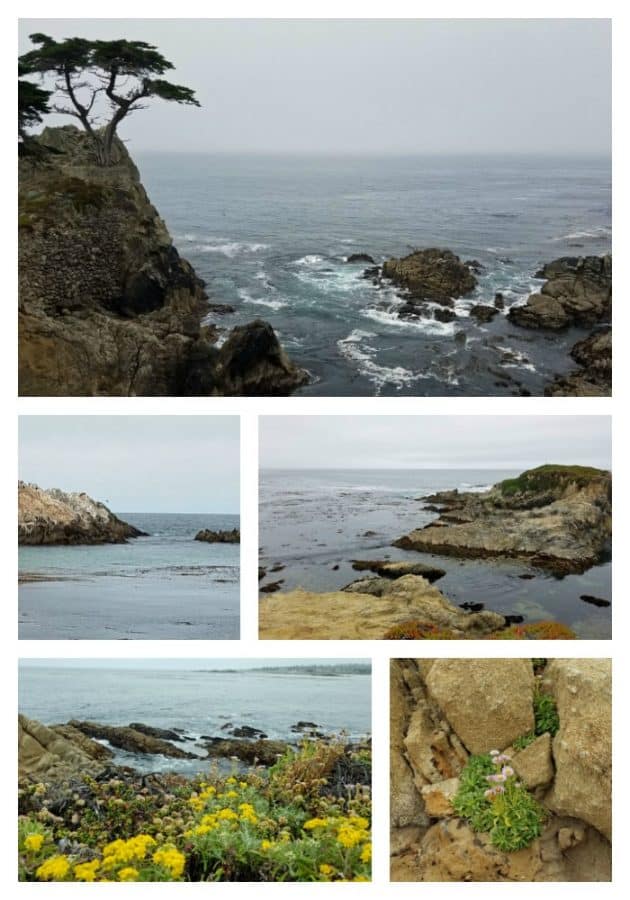 We then headed to Monterey Wharf for our 2pm whale watching excursion with Discovery Whale Watching. It was a two-hour tour, so we packed a few snacks into our backpacks, I took two motion sickness pills and we were quickly on our way after exploring the wharf with all its shops, food booths and restaurants. If you like clam chowder and seafood, you will get your fill here!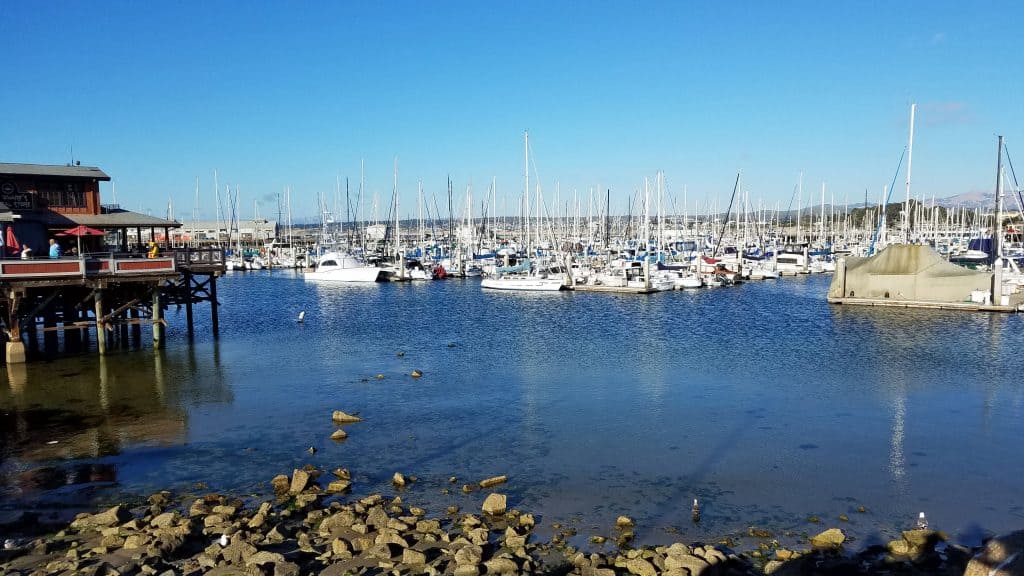 The whale watching expedition was nothing short of amazing. I've gone whale watching before, but up in Alaskan waters while on a Princess Cruise through the channel. This was an entirely different type of whale watching cruise. We saw a lot of Risso dolphins, which are scarred with scratches from other Risso dolphins, squid and parasites. They followed alongside our boat, the Sur Randy, in groups, jumping and diving while we all watched in awe.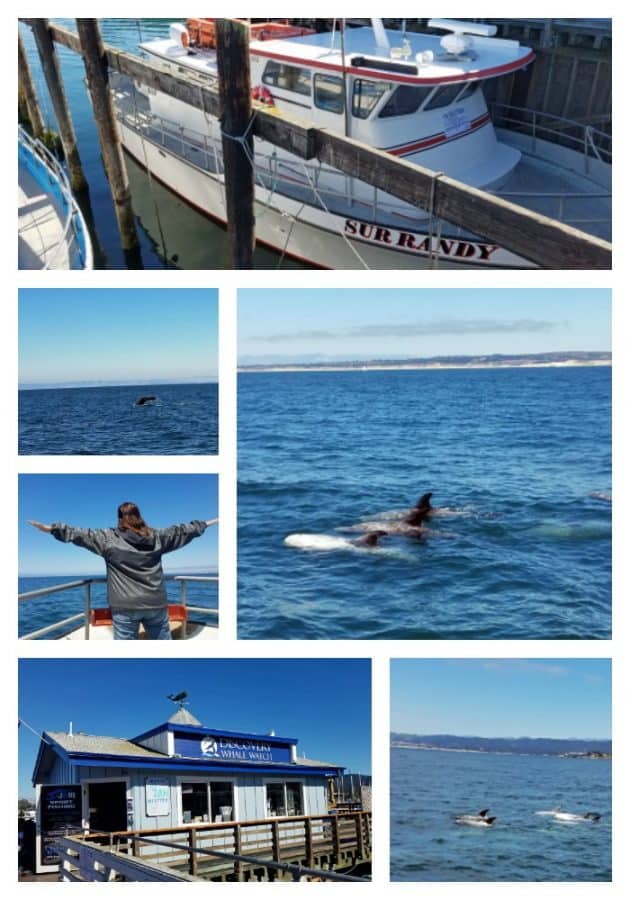 Once further out of the bay, we saw quite a few whales in the distance. During June, the most commonly seen whales are Blue Whales and Humpback Whales. Our biggest excitement came when we saw their tales as they dove deep under water, where they'd sometimes remain for five to 15 minutes. We saw one extraordinarily huge whale, and it was astounding to see how big these beautiful creatures are in comparison to our boat.
The cruise was over too quickly, but it was so successful in that we saw a lot of sea life….and I didn't throw up. Those motion sickness pills did the trick! The Discovery crew are fantastic, providing education about the ocean and its inhabitants while telling us where to look and keeping us safe. The boat was clean with plenty of seating and if you don't want to be out along the boat's edge, there is indoor seating. And, of course, the ever-necessary restroom. We did learn that if you do end up seasick, you don't want to be inside; you want to be on the back of the boat, where it moves the least, and you can 'feed the fish' if your motion sickness pills don't work.
Next up, we headed to Abalonetti Bar & Grill on the wharf for our dinner reservation. Right across the wharf from Discovery Whale Watching, we had a two-minute walk before we were sitting by the window, enjoying house margaritas and this calamari appetizer.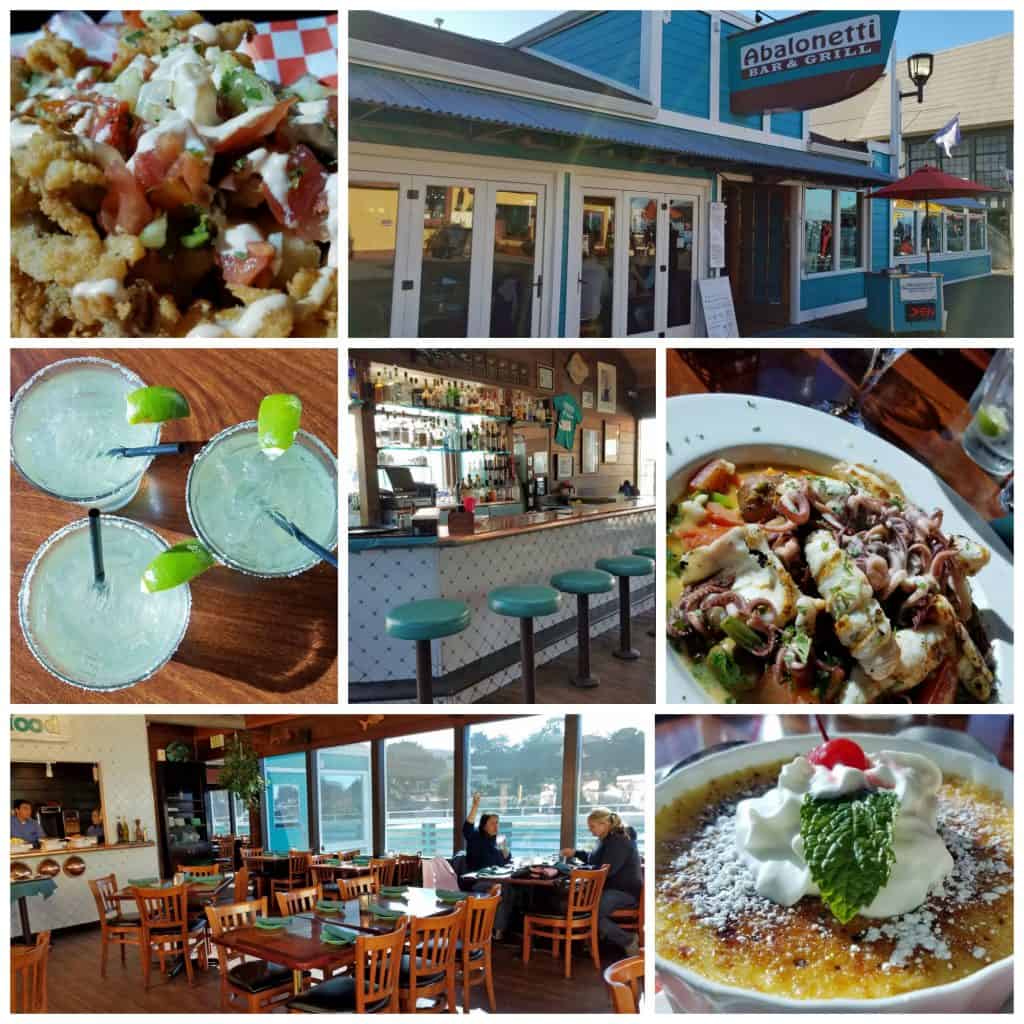 Each of us chose different entrees and all were delicious. I love squid and all types of sea food, so I was really looking forward to the meal. It was a large serving — all of our entrees were — and the beer, wine, cocktail and other beverages list was extensive. My glass of sauvignon blanc was a good pairing with my squid. We capped off our meals with the perfect creme brulee: crackling sugar top and creamy custard. Service was quick and not intrusive, and we really enjoyed our evening.
By then, we were exhausted. The drive back to The Hofsas House was under 15 minutes, so our big plans for the night were to shower and sit by our respective fireplaces in our pajamas, catching up on some social media tasks and maybe enjoying some more of the wine they provided.
If you want to get away on a coastal California road trip, consider driving up the 101 to Carmel, and if you want more coastal views, divert to the 1 to go through Big Sur. (It is partially closed at the time of writing this post, but they are working to clear the damage from a major slide a couple of months ago; you can still get through on both sides to the sites, just plan ahead and do your research to see where shuttles are going and be sure you know how far you'll have to double-back.) California truly is the only place I want to live — and I've lived all over the country. Our views are indescribable, our shore line is full of wildlife and top travel destinations, and even on our drive back home, we saw whales near Santa Barbara. Even if you only have a few days, this is a road trip that will refresh your mind, rejuvenate your spirit and get you back on track with a new, energetic mindset. Thank you to everyone who had a part in making this California road trip one for the books! (All of our accommodations, food and fun in this post was sponsored!)