If you're looking for adventure, you'll find it all over the island of Maui. Hiking, helicopter tours, biking down from the top of a volcanic crater…and the infamous Road to Hana drive. It's an all-day excursion full of beautiful sights, but should you really do it?
Only if you like:
one-of-a-kind food
waterfalls
swimming holes
your road trip partner(s)…..a lot
Seriously though, it's a great road trip, but there are quite a few tips for taking the Road to Hana drive that you should know before you embark.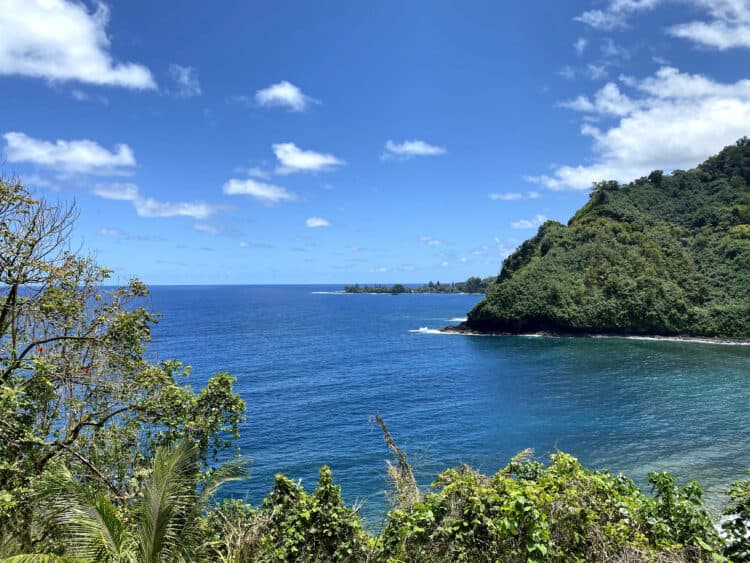 What exactly is the Road to Hana drive?
It's a drive that begins on Hana Highway outside of the little town of Paia, on the northeast side of the island of Maui. (If you're familiar with Mama's Fish House, you know where Paia is.) The drive has a long history, one of which I'd most assuredly butcher, as it's not mine to tell, but a quick Google will fill you in on how the road came about.
What I can tell you is that the road to Hana was paved in 1962, which opened it up for tourists to begin to more easily enjoy the beauty that lines every one of the 600+ twists and turns. Those many tight corners are part of the appeal that draws approximately 500,000 people per year, according to an article on Frommers.com. So know going in, there are a lot of other cars out there with you, and your drive will require patience, kindness and knowledge of a few things.
First, plan for it to take the better part of the day. The entire drive is over 64 miles, but with over 50 one-lane bridges and speeds frequently maxing at 15mph, it takes about three hours to reach the actual town of Hana — and that doesn't include the time you take to stop and explore.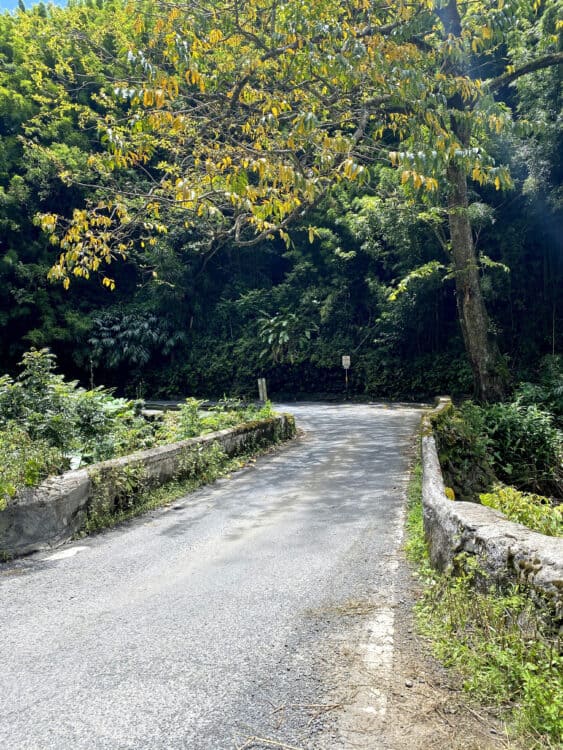 The majority of people get to Hana (or Haleakala National Park, about eight miles beyond Hana) and turn around, but the road is passable all the way to the other side of the island. Bear in mind, not all of it is paved, and the road becomes even more tight on the other side of town.
To really do it right, you'll need to pad in time to get out of your car numerous times. You can't get the photos you'll take home and show everyone from just the window of your rental car.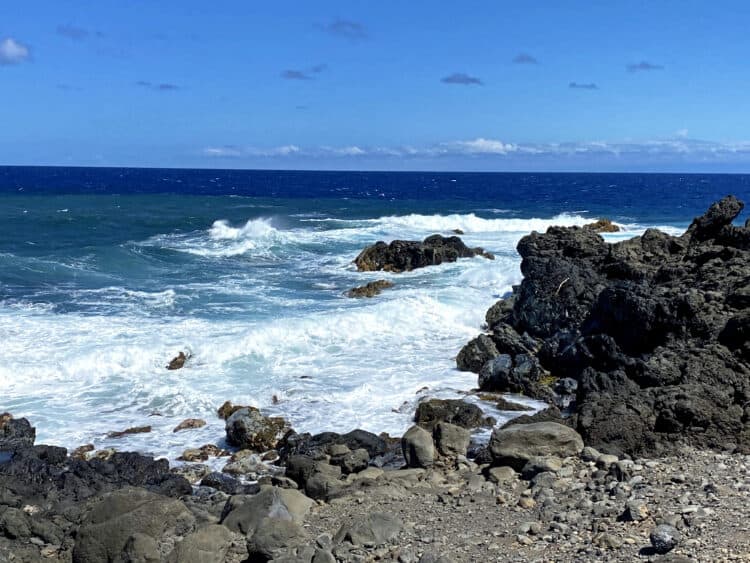 And speaking of rental car, less is more while on the road to Hana drive. There are many places where you will literally have your tires on the far edge of the road, so those big SUVs or Jeeps that seem cool on paper are going to make your drive more stressful. (There is no off-roading on the drive to Hana or the national park, so there's no real need for a Jeep.) I cannot imagine facing a breakdown on any of this road. We didn't see anyone with car issues, but we did see several instances of people driving large vehicles who were clearly uncomfortable sharing the tight space. In two cases, we had to wait for people to figure out just how to pass. (In both cases, it would have been avoided if one of them had a smaller vehicle or had hugged the turn tighter.)
Before you leave Paia, make sure you have a full tank of gas. Fill your water bottles and if anyone's prone to motion sickness, purchase some anti-motion sickness treatments at one of the stores along the main drag. (There's also a Target and Walmart by the airport (OGG) in Kahului.) I do not typically get motion sickness, but I bought some Hyland's chewable tablets at a cafe in Paia that also sells organic sunblock, bug spray, and other things you may need. There are no gas stations along the route.
However, there are a lot of roadside restrooms. Most of the main stops will have one, though they are usually port-a-potties. (Every single one of them was clean, I was so impressed.) Still, plan ahead because sometimes parking can be limited and you may have to visit something on the way back due to no space to pull completely off the road.
Take cash. Not every roadside food truck or attraction takes debit or credit cards.
You will likely lose phone service along the way, so be prepared to not post on Insta or call someone to tell them about the amazing road trip you're on. (And remember, it can be 6-10-12 hours to make the trip, so plan accordingly.) You'll still want to pack that phone charger.
Maybe this won't be necessary at some point in the future, but masks were required everywhere we stopped that had guides, rangers, attendants and/or stores. Be prepared or they may not let you into the hiking trail.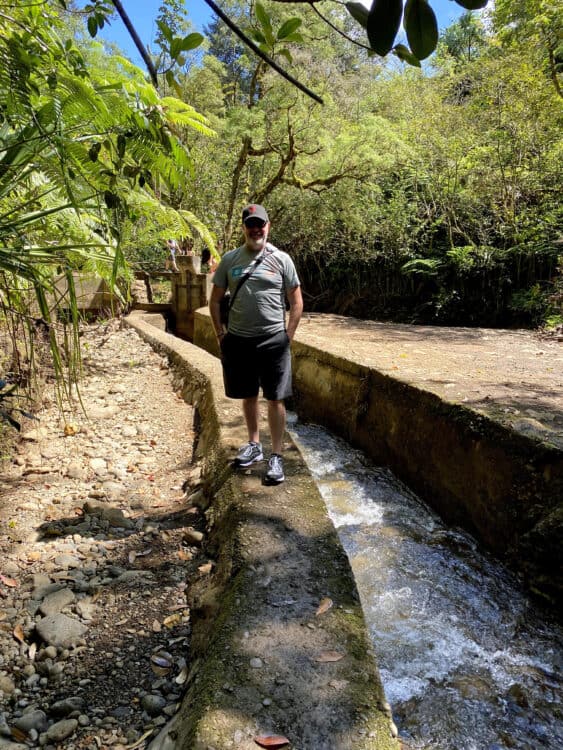 If you plan on hiking, your feet may get wet. Bring water shoes or an extra pair of sneakers if having wet feet bothers you. Towels are a good idea, too. Quite a few of the hiking trails have swimming holes, so toss the bathing suit into the car, too!
The road is not what I'd call treacherous, but if you're a slower driver, use the pull-outs. Don't be that person slowing down a long and growing line of cars.
On that note, if you see a truck or another car come up close on you and make a gesture, don't assume they're being aggressive. They may even yell or flash lights or tap their horn. This is how locals get around tourists. They are familiar with the roads and have to get to and from work, stores, the hospital, wherever, around us. Pull over as soon as it's safe and let them go without getting offended. Chances are, they'll give you a friendly Shaka sign (looks like 'hang loose') and continue onwards at speeds that will make you feel like you are crawling by comparison.
I repeat: pull over if you see a line of cars building up behind you. It's a long drive on a good day when you're first heading out, but when you're on your way home, tired, or it's raining, it's easy to be done with it and getting stuck behind someone too stubborn to be courteous just makes it worse.
The one-lane bridges require everyone to keep their eyes peeled on the other side before they advance. There is no room to play chicken, so if someone's closer to the entrance or has already begun to cross the bridge, pull to the side and wait before taking your turn. People typically go in long lines, so you may see 5-7-10 cars before you and those behind you get a turn. This is just how it is and you'll get in a rhythm after a bit.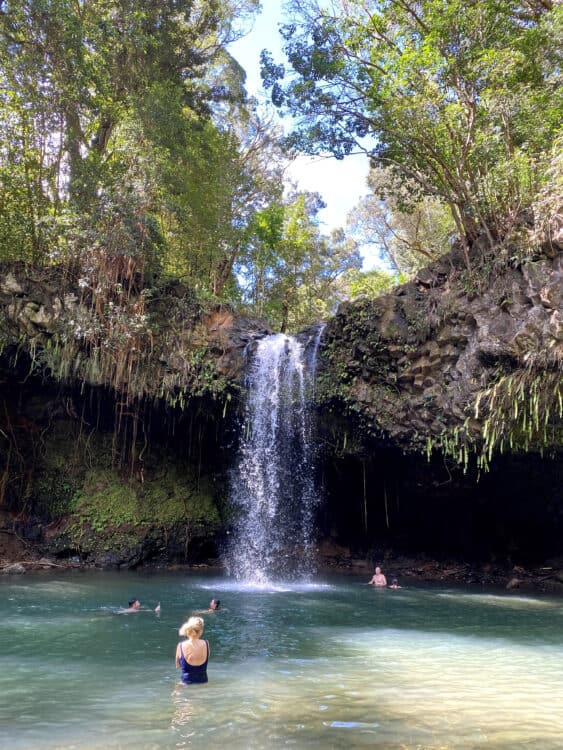 If you don't want to drive in the dark — and that's a common worry, because once the sun sets, there's not much to see or do — be sure to leave Hana by 4:15pm or so. There are guard rails and the roads are safe, but it's even harder to navigate in the dark, particularly in a car you may not be entirely familiar with.
There are a LOT of things to see on the trip, so many that you will have to make some decisions. The Garden of Eden is gorgeous, but can take an hour or more to see, and it's $15 per person. If you take too long in one place, you'll have to say no to another later.
You often stumble upon places because of the amount of cars pulled off the road. Sometimes this means something amazing — like the Bamboo Forest, which was a total surprise — and sometimes, it's just a lot of people hiking or picnicking. We learned to pull over if we thought it might be interesting, as soon as we saw a safe place to park, or we may end up past it with no parking available.
If that happens to you, it doesn't mean you can't make it work, but you may be forced to walk on the road itself to return to the location. Keep your head up and your eyes on the road to make sure you don't turn a corner and end up in front of a vehicle. I wasn't always comfortable with this, but it all depends on where you are.
Some of the stops are a little harder to navigate than others. The Bamboo Forest was a highlight of my whole trip, oddly enough, but it did mean we had to go down a muddy slope into a darkened forest. It was so worth it, but not every stop can accommodate everyone's abilities.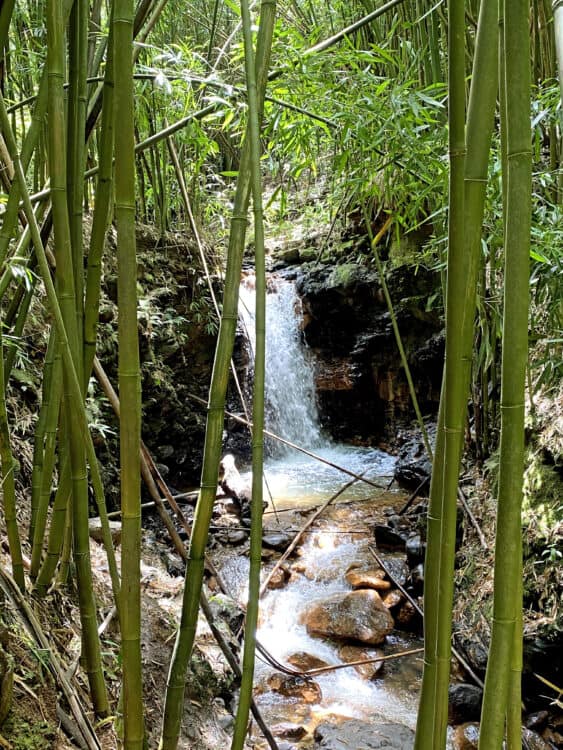 If you're hungry, eat when you see something that sounds good. There are food trucks and small stops all over, but they aren't all open every day. You do have to try Coconut Glen's vegan ice cream, the famous banana bread, and Island Chef's coconut shrimp. Also, don't miss the breadfruit if you can find it! You have to try it at least once.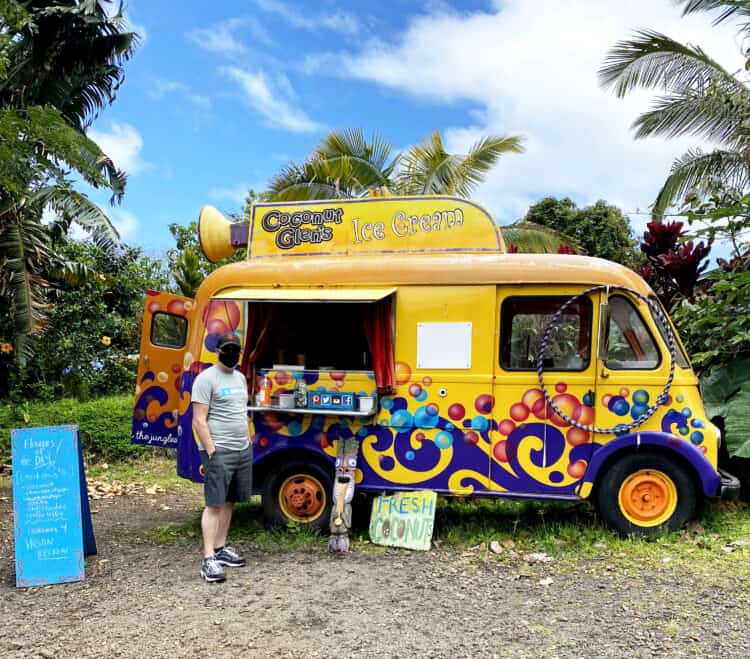 The road to Hana drive may not be the best trip to take with small kids. Many hikes are doable with them, and the swimming holes make fun memories, but it's a long drive and after a while, the gorgeous scenery may all start to look the same to them. "Are we there yet?" will get old once you've seen the highlights or are on your way home from Hana. If I was there with small kids, I'd go as far as Twin Falls, take them to the swimming holes, and head back to the resort. It's enough to experience what IS the road to Hana without making everyone miserable.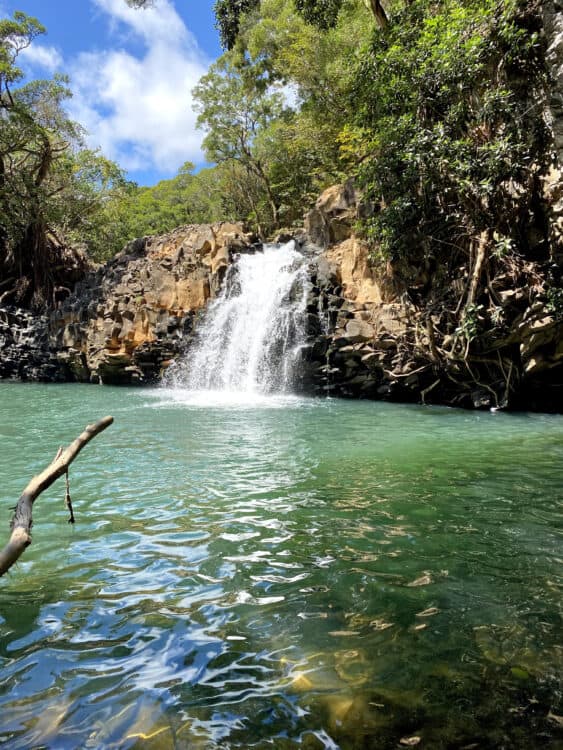 If you plan on going to the pools of Ohe'o, also sometimes referred to as the Seven Sacred Pools, you will experience some of the more rural Maui culture and even tighter roads. I loved the rolling hills and the views of the beautiful homes and ranches; the school off to the right and up the hill really exemplified how isolated it is in Hana, and the school bus hauling around those roads (probably at 25 mph, but it was way faster than us) made me give mad props to the driver.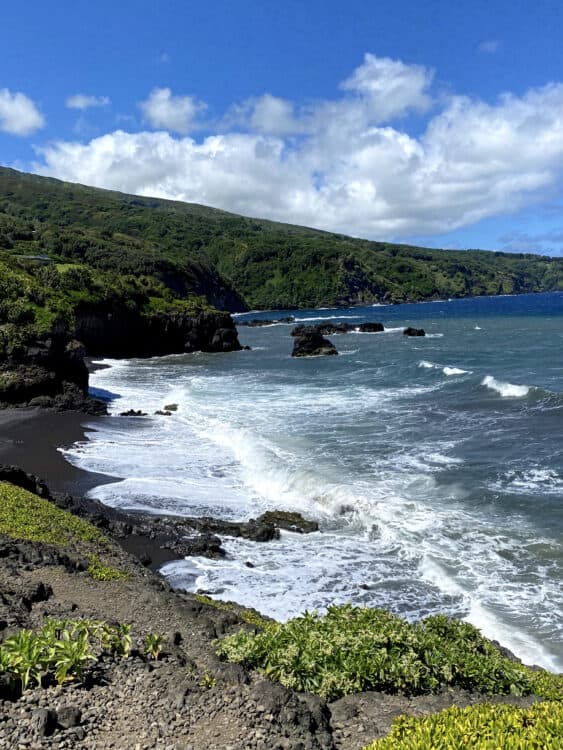 The pools are worth the drive, as are the stark views of the coast, where the waves pound against the massive piles of lava rock. The colors of the water against the green of the cliffs is something you do have to see, as it's somehow different from the water's edge anywhere else on the island. You'll need to pay for a day pass to get into the park, which was $30, but if you're a military veteran or active duty, your ID card will get you a discount. There are a number of trails available, some with steps, but there are also clean indoor restrooms and places to picnic.
The grave of Charles Lindbergh is a little past the park, and I wanted to see it, but we were pushing it on time. I'll confess, I was afraid to be making the drive in the dark. A local is the one who suggested we be done by dusk, and that's an important tip, too — listen to the locals. They won't steer you wrong.
Last tip: start the road to Hana drive early in the morning. You'll have more time to relax and explore without worrying about the clock. If you do make the full drive, you can finish off your evening with dinner on the other side of the island. We did it on our first trip to Maui, and it is quite an experience.