I love to blog. Designing my website is fun, I enjoy making tweaks and learning more code and I meet the coolest people while networking, but it all takes time. Add in promoting the blog you've spent so much time creating and all the fantastic content you write and it's enough to be a full-time job in itself. Something has to give some days, but if you cut back on any of the necessary things, your blog can suffer, so how do you do it all and still have time for anything else?
Stay organized! I use a lot of To Do lists and I swear by OneNote on my laptop and phone. Turning off Facebook, my cell phone and personal email keeps the distractions to a minimum but I still need to fit in marketing. So much of marketing cannot be automated, but one huge timesaving way it can be is by using CoSchedule, the one-stop shop for scheduling my blog posts and sharing. I now swear by promoting my blog content with CoSchedule!

Never heard of CoSchedule? Check it out here. (That's an affiliate link, fyi.)
In short, CoSchedule is an editorial calendar, but that's over-simplifying it. It's a drag-and-drop sharing tool for your WordPress blog that provides statistics and analytics on things you share while giving you a place for your whole team to chime in and work together. If you have a virtual assistant or other social media managers or writers, they can all work within CoSchedule and allow the business to run smoothly. Save time and save money while growing traffic!
It works pretty easy, too. Install the WordPress plug-in, sign up and access the dashboard, either within your WordPress admin directly or online at CoSchedule.com. You can quickly visit your past activity or begin adding new shares.
This YouTube video is a quick overview of the program.
https://www.youtube.com/watch?v=uK3un3Wt_Qo
CoSchedule is priced affordably, too. For only $10 a month, you get it all. You can organize your thoughts and your content while getting it out there for others to read. I love knowing that when I'm going to be away for the weekend, I will still have content being shared. No downtime at all, and it takes only a minute or so per entry, if that, to get your calendar loaded up. Add the profiles in that you want and you can do everything at once – I have my Facebook Fan Page, my Facebook personal page, Twitter and G+ set up, and even all the set-up took only a few minutes. I was up and running in under 10, including download, and the plug-in doesn't slow down the loading speed of my blog, so it's a win all the way around.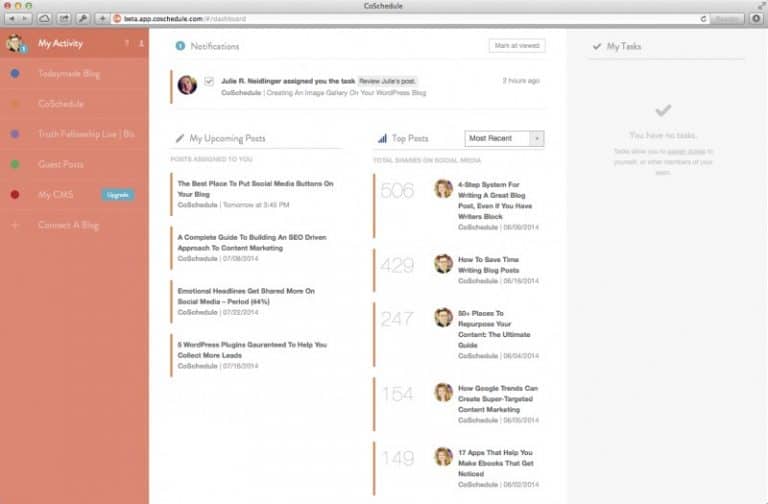 The editorial calendar interface itself is clear and colorful and self-explanatory. You'll see at a quick glance what you've got coming or what other users on your team have got going.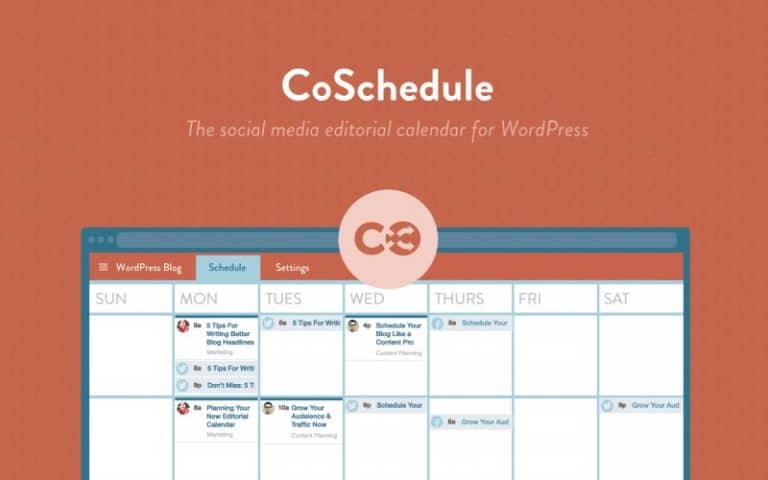 Take this evening for example — I took about 10 minutes and entered over 15 links that I wanted shared over the next few days. For each share, I was able to choose with network(s) to share it with, choose which type of share (text, photo or link) and choose if I wanted it shared now or scheduled for later promotion. When I chose later, I was able to choose the date and a time frame, which is a span of a few hours. It doesn't get more easy than that! One of my favorite options is that it shows you the character count, so you know if you're going over on Twitter. Another must-have? You can link your Buffer account (free or paid) and it will shorten the links for you.
Here's exactly what you'll see when you click on the calendar, in the upper-right corner of the particular day on which you want to share something, and choose "Social Message." (Your other option is "Blog Post.")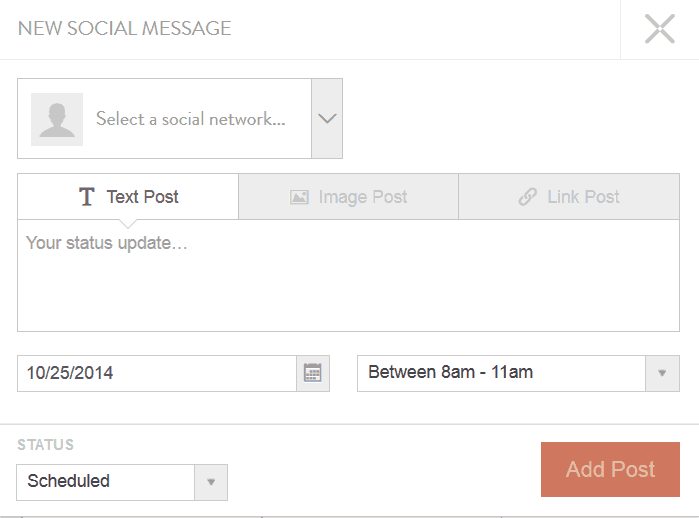 I then spent a few minutes looking at the analytics for prior shares. I can see what worked and what didn't, how many clicks shares got and where they were shared.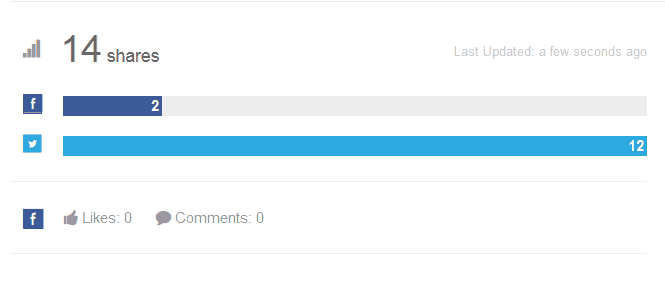 Give it a test run! You can sign-up for a free trial period, and no credit card is required. If you don't want to continue it, you're under no obligation but I think once you give it a shot, you'll find you love the convenience and help it provides. Let me know what you think!