Usually, here on the blog, I talk about working with brands and businesses from a blogger perspective. Today, I'm spinning that around and going to share some insight and tips on how to work with brands successfully. As a brand during my day job, and when I represent my clients, I see some things that make me cringe. With just a few simple changes, we can all build productive partnerships that are mutually beneficial in no time!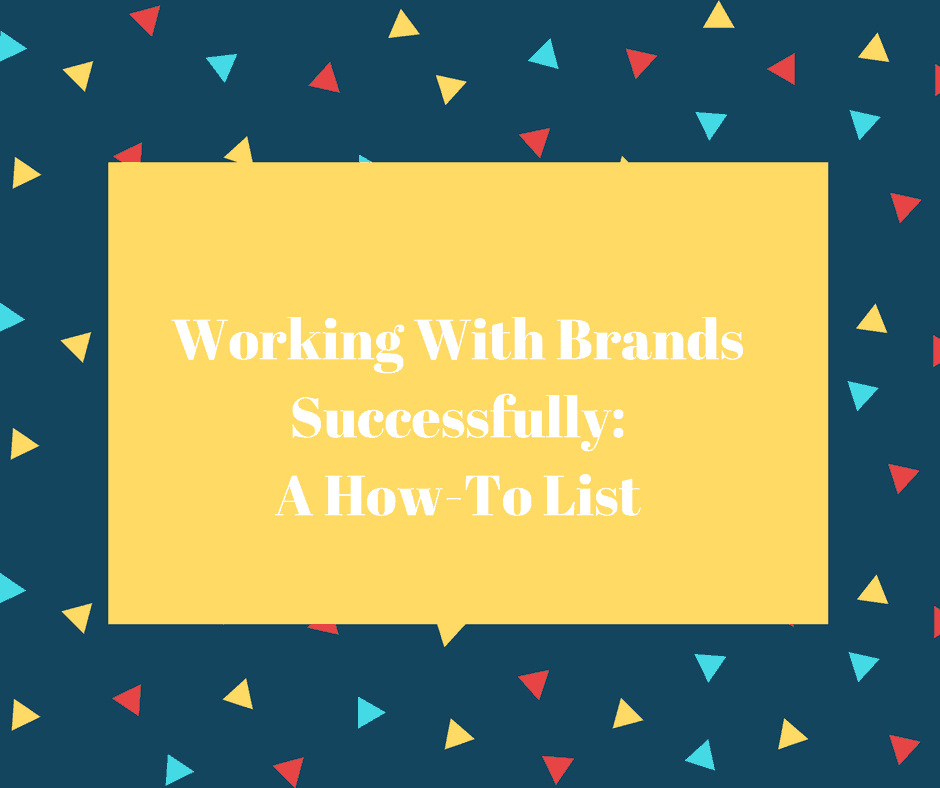 Before I share the list, I want to mention that we're all new at some point. Most of us begin our blogs learning as we go. We make mistakes. We send emails with typos. We phrase things badly or we are unclear. It's going to happen. The written word is not perfect but it's important to re-read your mails before you send and avoid some of the common mistakes so you get your answer back as soon as possible — and hopefully it's a YES for a project that is properly aligned with a brand that helps your blog AND offers value to the brand.
[perfectpullquote align="left" cite="" link="" color="" class="" size=""]So we'll start with that: offer value to the brand.[/perfectpullquote]Don't write a hospitality brand pitching your personal vacation and asking for a rental car or hotel or excursion without making the HOW and WHY very obvious. Everyone takes vacations, so keep in mind that simply asking for the brand to provide you something for free is neither cool nor going to get you a positive response. A brand is not obligated to help you save money on your trip. There has to be something in it for them, something that is going to make you stand out.
When writing the brand, be sure to tell them what you're going to do for them. It's awesome that you're finally taking your first trip to Alaska, but brands aren't here to make your personal trips a luxury, free event. You need to let them know how you're going to put a dollar value on what they give you. If you want a free hotel room for three nights, you need to give the hotel a virtual product — blog post(s), social shares, video, etc. — worthy of the hotel room. Do the math before you write, remembering that they're losing revenue if they give you a room that someone else would have paid for. If you write them first, keep that in mind; you need them. Don't undervalue yourself, but offer a fair exchange. Chances are, they have a long list of bloggers writing them so remove any entitled tone that implies you are doing them a favor. You are building a relationship and if you want it to be a long-term one, work WITH the brand as a partner. (My best example is someone writing to request travel accommodations for 10 days for their personal vacation. The proposal had no concrete information and a quick review of their social profiles had no prior travel content. It seemed as though they simply wanted us to help them save money on their family summer trip. We need to come off as professional businesses, not people trying to get things for free. Nothing is "free," you are working for it all as a blogger, so be sure to convey you realize that.)
Be patient. If you write a brand on a weekend and they haven't answered by Monday, don't email them again….and then again a day or two later. Brands need time to do their due diligence on your request and to review your social media profiles and blog. They also may need to see if there's a budget available for your request. (Recently, I had someone write me on a Saturday, then again on a Monday morning, then again on Wednesday. My response to them on Monday didn't get an answer so I don't know what happened, but getting obviously impatient and saying "This is my third email" isn't cool.)
If you see something you think is inaccurate in their response, be nice if you reply. Brands are busy people, so they may make mistakes. Or, you may make a mistake. I had someone ask me for some accommodations recently, and I had to decline because we couldn't fulfill her need due to an exceptional request she made. She apparently didn't believe me, so she reviewed the entire client website and came back asking why it said that we do offer the option she'd requested. She was correct, but due to legalities and policy, that client is unable to offer it to media. (It's also $350 fee on top of her prior accommodations, something that was visible on our site as well so if you request more, give more, don't demand more.) Business relationships are like friendships, just business-ier. Be nice. I'd have been happy to further explain it to her but her pointed comment about how I was wrong — when I've dealt with this client for many years — was a huge red flag about working with her.
Budget restrictions mean they have to say no. Even if they're a big brand, don't assume they are being cheap. They may have run out of budget or just signed up the last blogger they can work with for the day/week/month/year. Who knows. The social media manager or PR rep you deal with is doing a job, too, and they may really want to work with you but can't. They may have had a bad experience and be revamping how they work with influencers. In other words, it's not always personal.
And sometimes, stuff just happens. Emails are lost. Staff changes. We're waiting on someone else in the chain to chime in before we can go further. Whoever you are reaching out to is a person, too. Kindness and understanding goes a long way. This isn't to say that you shouldn't seek out help with a contract or payment or that you have to deal with issues necessarily, but it means that working with someone rather than attacking or blaming is more likely to help keep your blood pressure down while helping reach a resolution.
Working with brands successfully isn't rocket science. It's something we can all easily learn to do while remaining flexible and willing to cooperate. It's a necessary part of a monetized blog — unless you're going all with ads and affiliate links, which works, too — and one of those things that you should let yourself enjoy. Be yourself when dealing with brands. Show your personality. Being unique is a huge selling point, but you don't need to spend hours coming up with ideas. Be reasonable and be sure you are fair. It becomes routine and you'll make friends while building relationships that could be long-term!