A long time ago, I got to visit New Orleans, tour some neighborhood homes and eat in a lot of good restaurants. While the swamp tour with the gators was a huge highlight, I have to say that the food remains my biggest memory, especially a spicy jambalaya recipe I sampled, one made by a NOLA native. Rich, colorful and with a depth of flavor I'd never experienced before, I went back for seconds, savoring every bite until I couldn't eat anymore.
That meal is what comes to mind whenever I think of Mardi Gras. I'd eaten it on Fat Tuesday, the night before Ash Wednesday, the beginning of Lent. We'd eaten well that evening, enjoying all manners of authentic Cajun food, followed up by beignets dripping in powdered sugar. (She may have gone a little heavy on the application of it in her efforts to round out all the spice we'd just eaten, but somehow it worked.)
Since then, I've made gumbo, jambalaya, red beans and rice and beignets a lot. Cooking for four kids, I don't know how to cook small, so whenever I make it, we end up with a lot of leftovers. This Fat Tuesday, I decided to make jambalaya again, instead of the gumbo of the last two years. Once again, we've got leftovers, despite having a full house when I pulled it off the stove. (The cherry beignets though are gone.)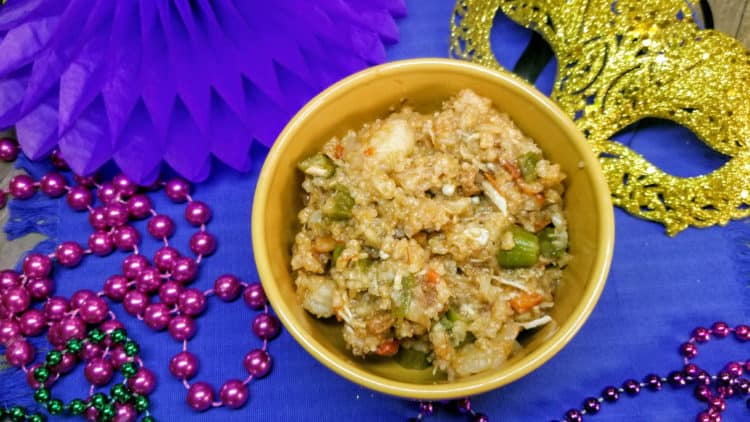 I may or may not have had more of the jambalaya for brunch today. (Is it brunch if there are no mimosas? If yes, then it's brunch. It was a work day. There were no mimosas.)
I want to thank Melissa's Produce for sending me this big box of fun items to use for our latest blogger challenge. This one was themed around Mardi Gras and we all came up with different things. Look what I had to inspire me!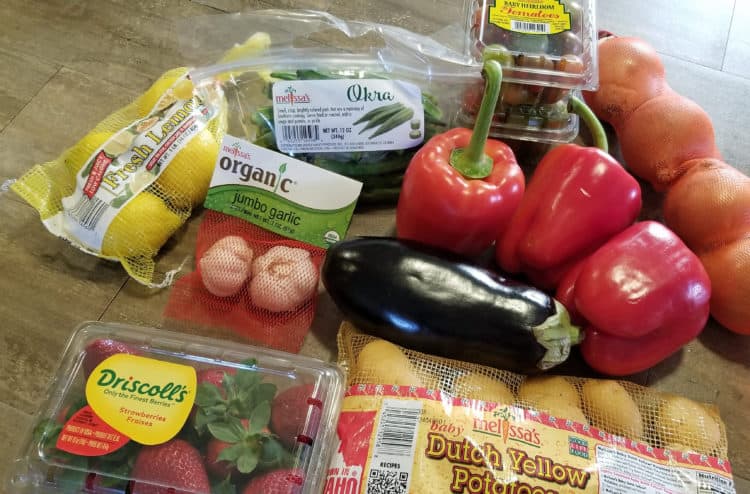 My spicy jambalaya recipe is pretty easy, all things considered. It's a great recipe for someone who has never made jambalaya before, yet the spice and seasoning makes it authentic enough for a real Cajun food fan. It does take some chopping, but once you've gotten everything prepped, the assembly and cooking itself is easy and comes together in under an hour. Before you know it, your house will smell amazing and your neighbors may peep your windows.
There are three things that help make the best spicy jambalaya:
Andouille sausage from a deli or butcher (not one of those big pre-packaged links), along with fresh shrimp instead of pre-frozen
Quality Cajun seasoning, authentic flavors to go along with your other spices
Fresh okra. You can use frozen, but fresh has a consistency that makes the okra literally pop when you bite into it.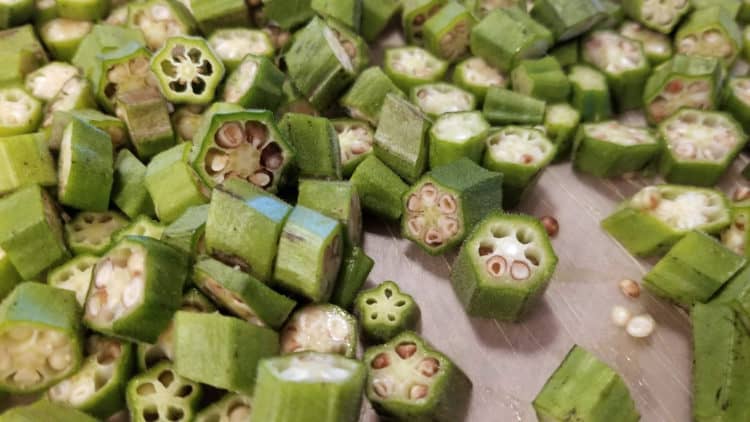 If you can't do all three or any of the above, don't let that stop you. I've done it many times with the more affordable pre-packaged links of kielbasa, a generic package of Cajun seasoning, and frozen okra. Fresh okra isn't always easy to find, but if you do need to use it, rinse it thoroughly to make sure there are no ice crystals left, then let it drain in a strainer. Pat dry, very gently, and try not to add any water or additional liquid to your pot.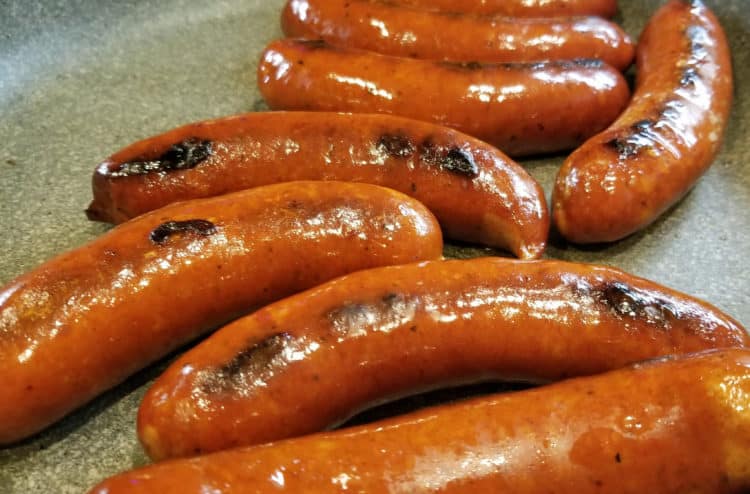 You don't really need any fancy equipment to make jambalaya, but use a big pot. Stock pot, Dutch oven, whatever you've got that's big and stove top safe will work. (But if you do use a cast iron pan, you will need to keep the heat down a little lower and stir it more frequently to avoid burning.)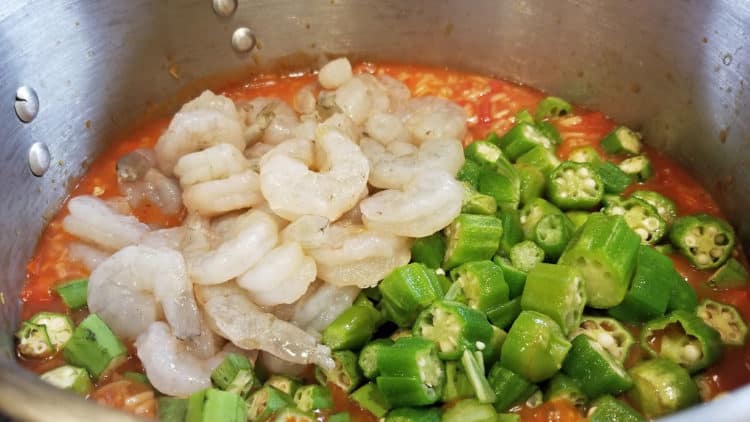 Now let's get to cooking!
Spicy Jambalaya
Ingredients
1 3/4

pounds

Andouille sausage

1 1/2

pounds

shrimp

1 1/2

pounds

chicken breasts

3

tbsp

vegetable or olive oil

6

cloves

fresh garlic, chopped small

1 or 1.5

whole

onion, diced small

Depends on onion size and your preference

1

jalapeno, seeded diced tiny

3

bell peppers, seeded and chopped

I used red but you can use any color.

28

oz

can crushed tomatoes

15

oz

diced tomatoes

6

cups

chicken broth

3

tbsp

garlic powder

3

tbsp

oregano

5

tbsp

cajun seasoning

1

tsp

cayenne pepper

1 1/2

cup

long-grain rice, uncooked

1

pound

fresh okra, sliced into small rounds

Salt and pepper to preference
Instructions
Cook the Andouille sausage in skillet until almost completely done. Set aside until cool, then slice into rounds.

Boil chicken in plenty of water to cover, add salt, pepper, 1 tbsp cajun seasoning and 1 tbsp garlic powder to turn water into broth. Cook until almost completely done and set aside to cool. Shred chicken and set aside broth.

Put oil in the bottom of the stock pot and saute the jalapeno, garlic, onions and bell peppers. Saute for 5-6 minutes.

Slowly pour in 6 cups of broth, 2 cups of broth from cooking the chicken, the crushed tomatoes, the diced tomatoes and the remaining seasonings. Stir to combine, then add rice. Slowly bring to simmer for approximately 30-40 minutes, until rice is cooked through.

Add okra and shrimp. Stir and cook just until the shrimp is cooked through. (Okra will be cooked through enough by that time.)

Stir in the chicken and sausage and serve.
So you can see it comes together pretty quickly once you've gotten the chicken and sausage cooked and the veggies chopped. You may notice the glaring omission of one item that's part of the holy trinity of this type of cooking: the celery.
Truth is, I'm not a fan of celery unless it's raw and either covered with peanut butter or being dipped into a good Bleu cheese. The husband suggested maybe I should have chopped it and at least sauteed it with the rest for flavor, but the idea of trying to pick it out was entirely unappealing, and there's no way I'm putting cooked celery in my mouth. It's a weird thing but we all have one of those foods, right? (Okay, I have three: celery, raisins and peanuts. They don't belong in heated items, not even a cookie. Just no.)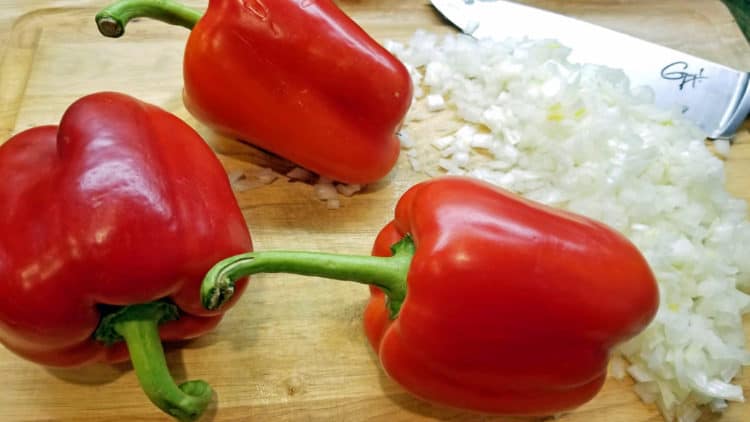 One really good thing about this recipe is that you control the spice level. If you'd rather it not be spicy jambalaya, leave out the jalapeno and half or all of the cayenne pepper. It really isn't hot by any means, but those two items definitely kick it up a notch. If you're worried, omit the jalapeno, add half the cayenne and slowly add some more until you're comfortable. This recipe doesn't cook for too long so it won't permeate much more beyond when you initially add it.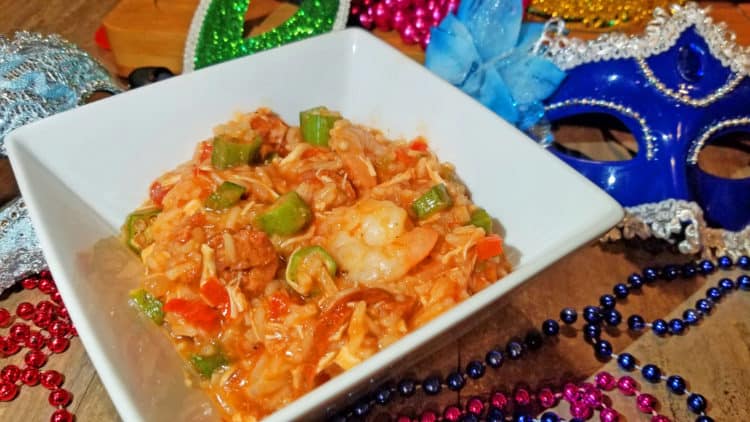 One-pot meals like this are a favorite of mine. It's not necessarily a cheap meal, but it goes a long way, is very filling and you can customize it to your family's preferences. It also travels easily if you're taking it to a potluck or party. There's something so cozy about having a big pot on your stove for everyone to dive into, and the smell of this jambalaya will make you want to close your windows so your neighbors don't show up. Your house may also still smell like garlic in the morning.
Thank you again, Melissa's Produce! Fresh okra made all the difference and the bell peppers were HUGE. I love the challenge of creating something different with our deliveries. Here are a couple of recipes my friends made with their Melissa's deliveries. Enjoy their recipes!
Non-Alcoholic Strawberry Margarita