If you're from Fontana or another nearby Inland Empire city, you may still call the track the Fontana Speedway. Though it's been the Auto Club Speedway since 2008, the old moniker still sticks. Whatever you call it, the 2020 NASCAR season is underway and there's a good time to be had at the track for this weekend's Auto Club 400.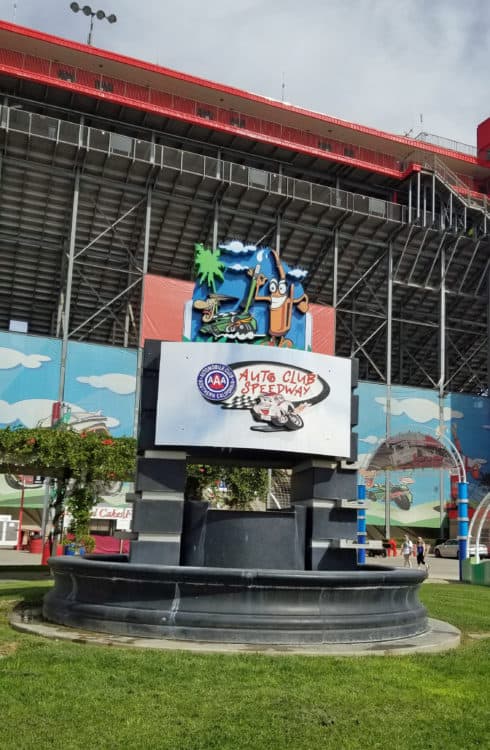 Held on Sunday, March 1, the stands are going to be full of fans cheering on their favorite drivers. This year's race is under the threat of a serious rain storm though, and whatever mojo you can invoke, ask it for the rain to hold off until Monday.
Fans hit town yesterday, with RVs lined up early Thursday morning along Cherry Avenue, awaiting entry into the infield where they found their assigned spots, set up camp and are currently enjoying the beginning of a weekend of fun.
This morning, as the stands opened for fans to watch NASCAR Cup and Xfinity series practice, the merchandise haulers were available fo purchase of race or driver gear. Beer booths opened next to taco trucks. Fans were beginning to wander around the stands as media and Kyle Busch fans gathered around Gate B, waiting to celebrate Kyle's fourth cement square on the Auto Club Speedway's Walk of Fame.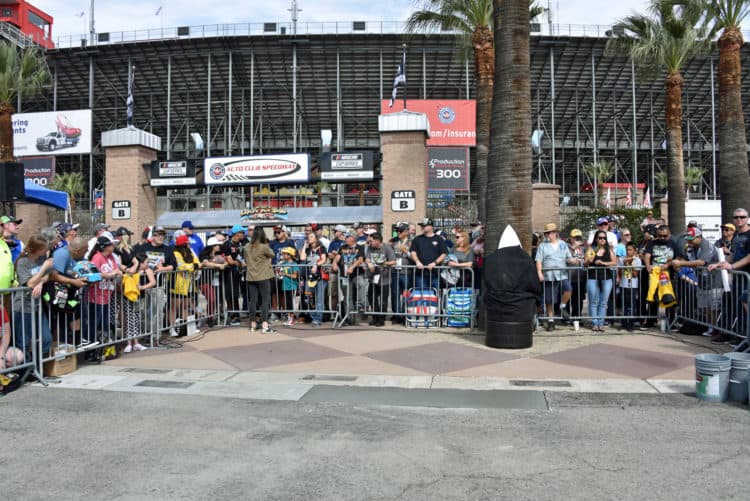 The group was boisterous and excited, awaiting "Rowdy's" entrance. Kyle was a few minutes early and immediately got down to business with some photo opps with the plaque and stepping into the cement.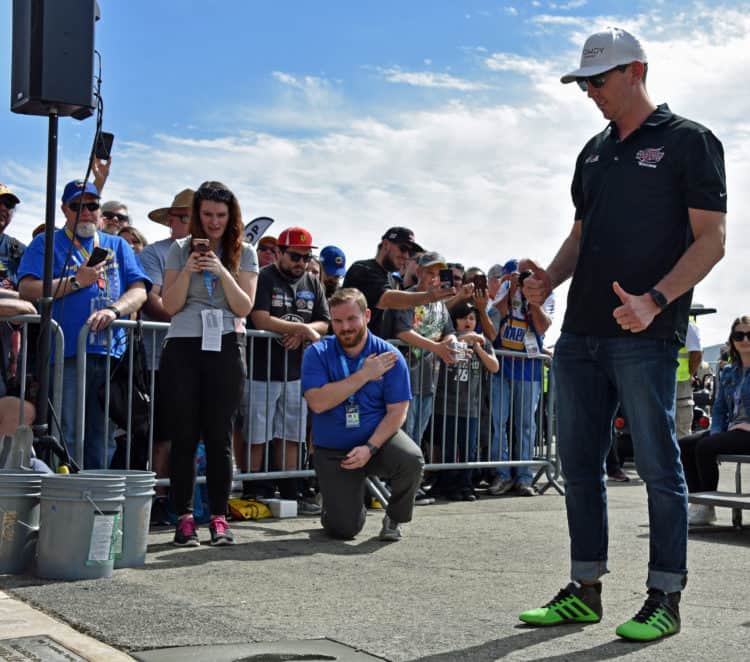 In case you ever wondered, no, they don't do it in their existing shoes. They wear a special pair of shoes that are basically one and done after sole immersion into the cement.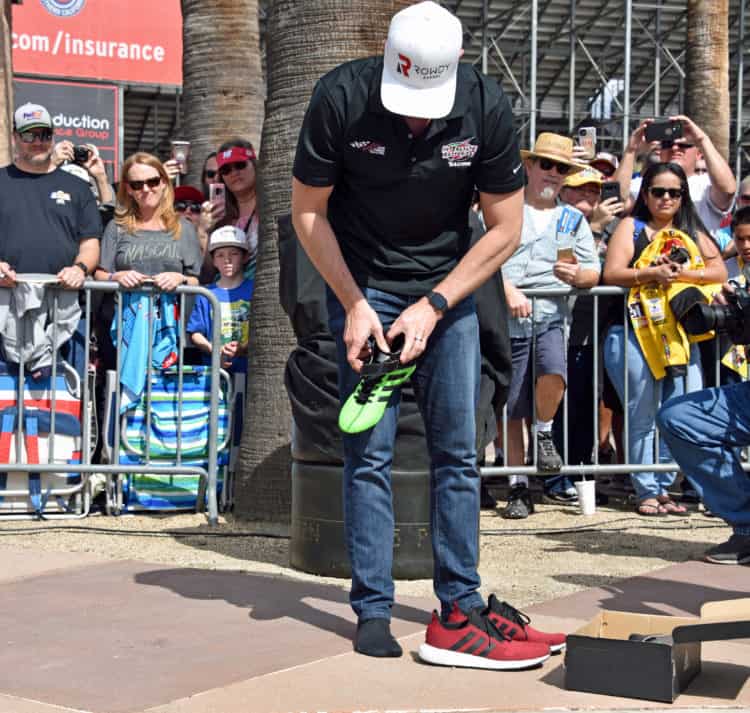 Kyle announced, after removing the cement-covered shoes, that he would be donating them to a charity to be auctioned off. (If you're not aware, Kyle and his wife, Samantha, do a lot of charity work for various organizations. Their biggest is Bundle of Joy Fund, an organization dedicated to infertility awareness and education. They also change lives of those who are facing the financial hardships that infertility issues can cost, and because of their foundation, there are families out there who now have kids they'd not have conceived or carried in any other way. It is an amazing program.)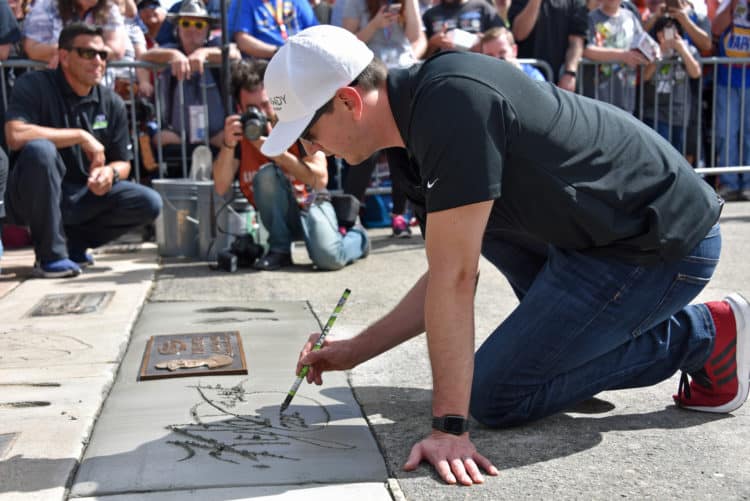 Kyle fans were happy that he was in no rush to complete this Walk of Fame square, where he also inscribed "200 Wins." He was all smiles, addressing the crowd at large and clearly enjoying himself.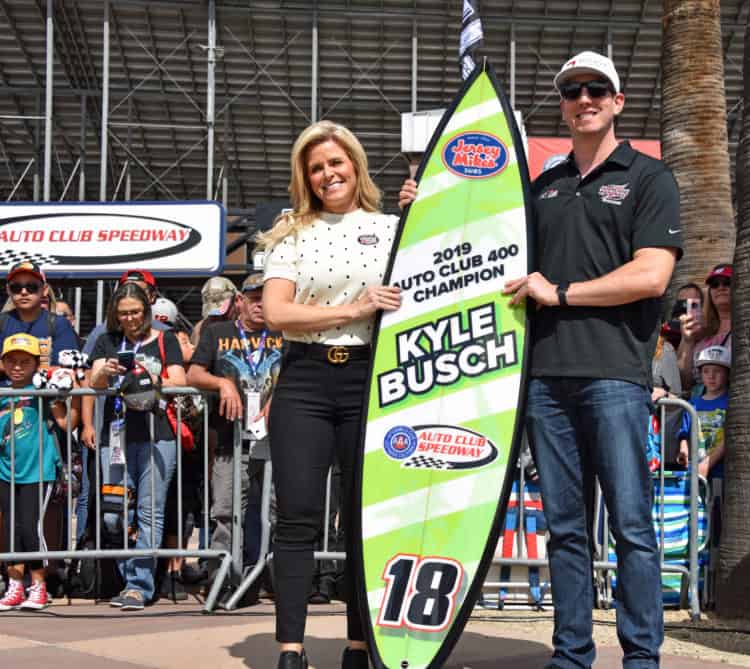 Auto Club Speedway, Fontana Speedway, whatever you still call it, the fun is just beginning today. Tickets are necessary to get into the stands, but they start at $35 per person tomorrow and kids 12 and under are free with a Lefty's Kids Club Membership. Gates open at 9:30am and the race begins at 1:00pm.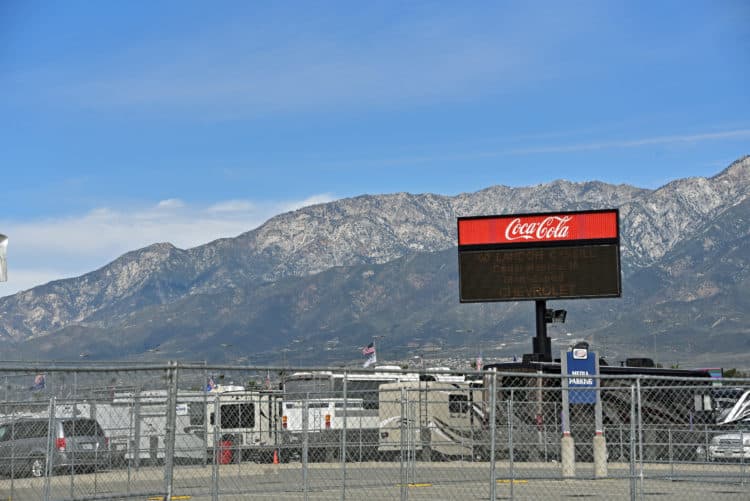 Sunday's race tickets begin at $50 per person ($20 for kids) and gates open at 7am for ticket holders. I'm excited that David Boreanaz (from Seal Team on CBS but I will always call him Booth from Bones on Fox) will be the Grand Marshal. Chandra Johnson, Jimmie's wife, and their two daughters, will be the Honorary Starters. The race starts earlier, at 12:30pm, with pre-race ceremonies held at 11:50.
I'll be there all weekend. I'm covering as press this year, so I'll be wandering getting photos and sharing on social, so if you're interested, follow my Instagram stories for views from the pit road or photo spots around the track. Sunday, I'll mainly be shooting from the stands, but I'll share what it's like to be down on pit road and signing the start/finish line or wall. Driver intro is also a lot of fun!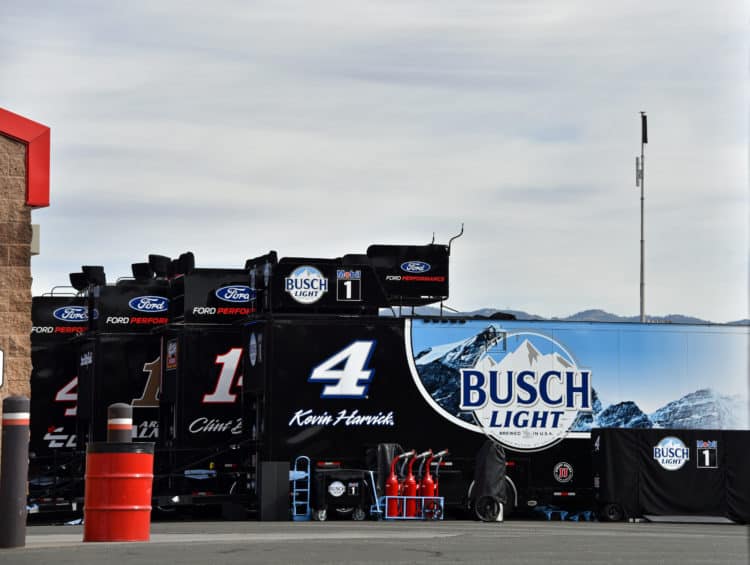 If you're not a NASCAR fan, head over to my primer about the sport, because it's way more than just left turns. NASCAR is a fun, family-friendly sport that you can watch almost year-round. Fans are a good group of people, and I've made friends at tracks throughout the country, some whom we remain fast friends with years later. We have some crazy tailgating stories, fun infield RV stories, and a lot of driver interactions. If you're not sure about the investment, hit up the Xfinity race on Saturday. It's inexpensive and will give you a feel of the sound and overall experience for very little investment.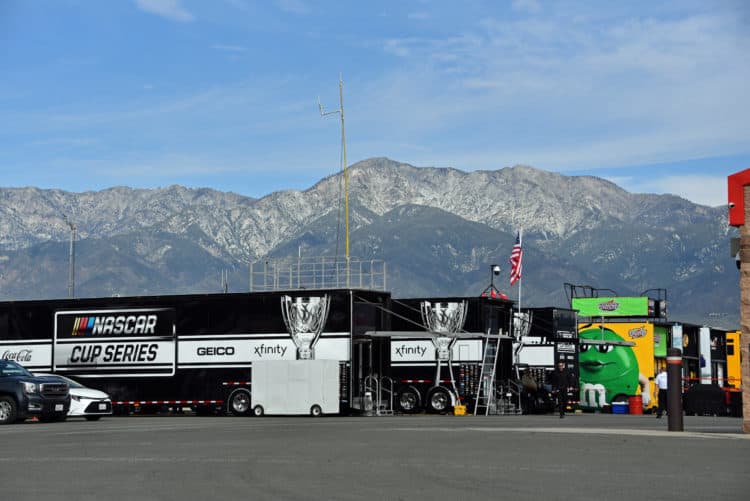 See you at the track!