Growing up, I was never a big potato chip fan. I preferred popcorn and it's still a favorite snack, but a few years ago, we made a side dish with Yukon potatoes that quick became popular with the kids. When Melissa's Produce sent me two bottles of Garcia de la Cruz olive oil this month, to use in a recipe creation challenge, I thought about that dish. Changing it up a little, I created a recipe for Olive Oil and Rosemary Potato chips that I think you'll like!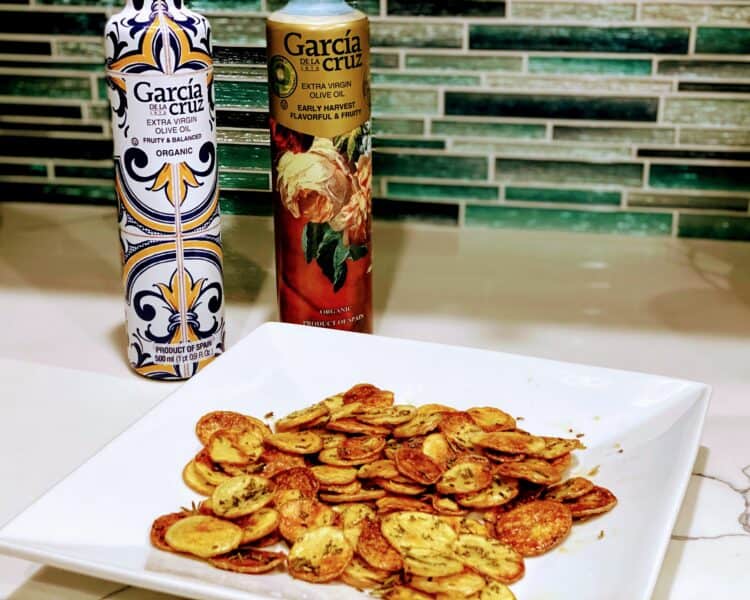 The best part about this recipe is that it's so simple. It also requires only four ingredients, and I bet you have all of them already in your pantry. Using baby potatoes makes these rosemary potato chips bite-sized and I guarantee when you put the bowl out on any table, it will get emptied fast.
It took me less than 30 minutes to have these on the table, so while you can definitely enjoy them hot out of the oven, they are equally delicious at room temperature. I served them with a soup and crusty bread.
You can technically use any olive oil and salt, but go big or go home on this one. It's so basic that the flavors really shine, so amp them up by using quality EVOO like the Garcia de la Cruz pictured. It's got a wonderful flavor, rich and smooth, and would be equally good as a dipper or used in hummus.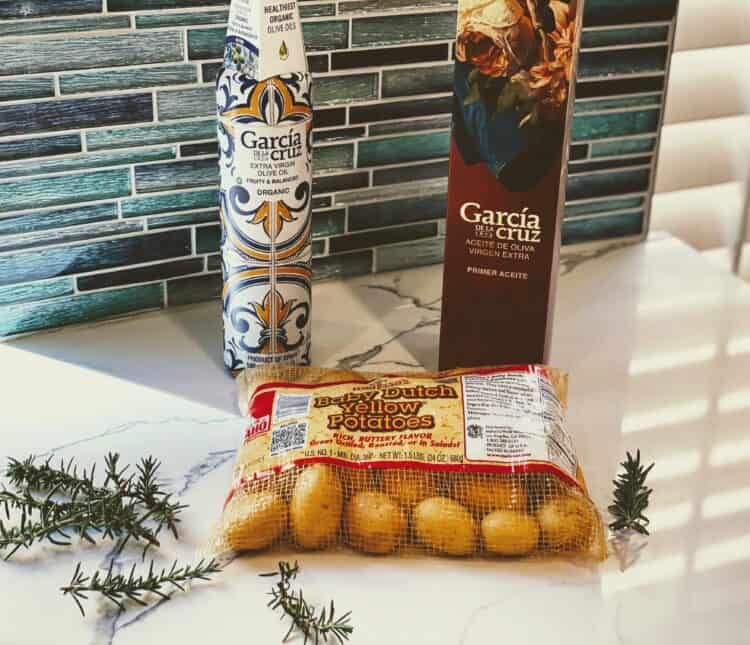 I have a lot of types of salt, and had initially planned on using Pink Himalayan, but when I went to grab it out of the pantry, I saw the box of Maldon Sea Salt Flakes that I'd purchased at a local cheese shop. They remind me of snow flakes or crystals and they are so pretty on anything. Sprinkling them on the slices of potato, it's easy to see where you've already put the salt so you don't oversalt or wonder if you hit them all. And the flavor!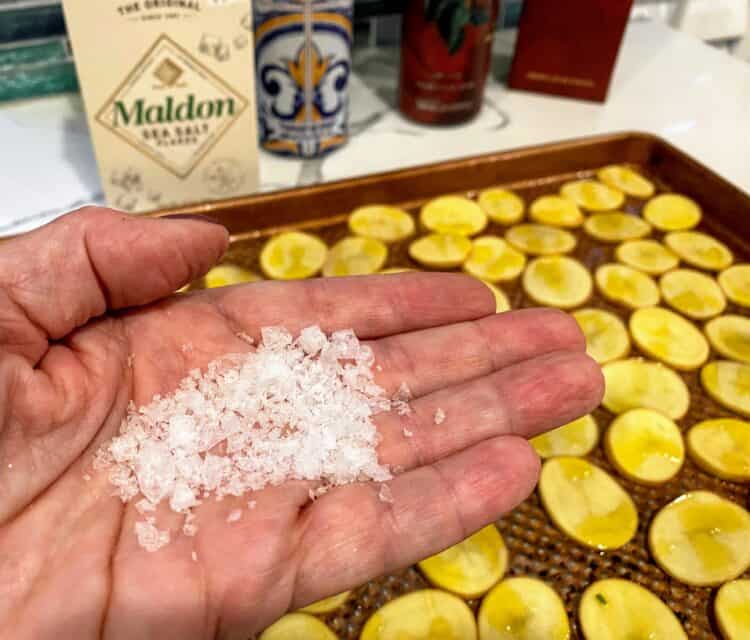 Regular salt and quality olive oil will work, so if you don't have anything fancier on hand, don't let that stop you! These chips can also be dipped into dip (or ketchup, if you're one of those who love it on everything…and no judgment, I get it!) and they travel well, requiring only a slight toasting or reheat upon arrival if they lose any crisp after storage. The flavor doesn't abate at all so the only thing you have to watch is to not burn them.
Olive Oil and Rosemary Potato Chips
Baby Dutch Yellow Potatoes
Olive Oil (I used Garcia de la Cruz Extra Virgin Olive Oil.)
Fresh Rosemary, Chopped
Preferred salt (I used Maldon Sea Salt flakes.)
Preheat oven to 400°.
Oil cookie sheet.
Slice potatoes thin. Place on cookie sheet, spread out completely so none are on top of each other.
Drizzle olive oil on all pieces; don't be stingy, this is where you get a lot of the flavor!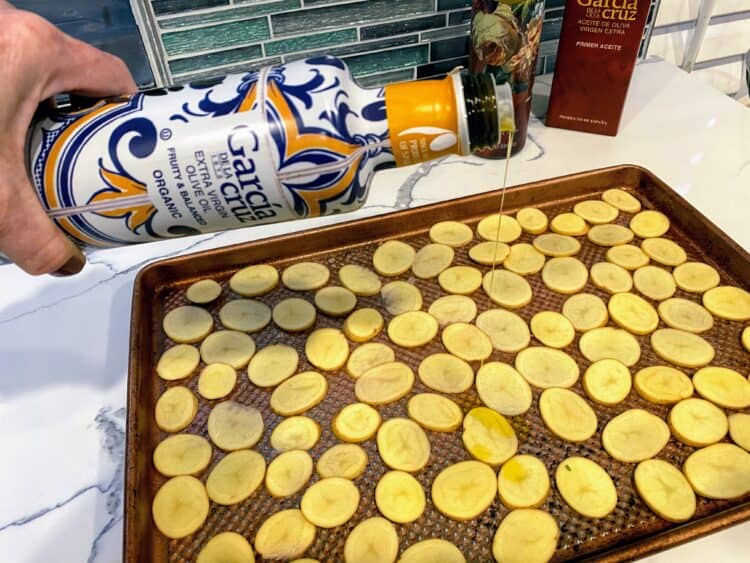 Sprinkle salt and chopped rosemary, making sure every single chip gets a good amount of each.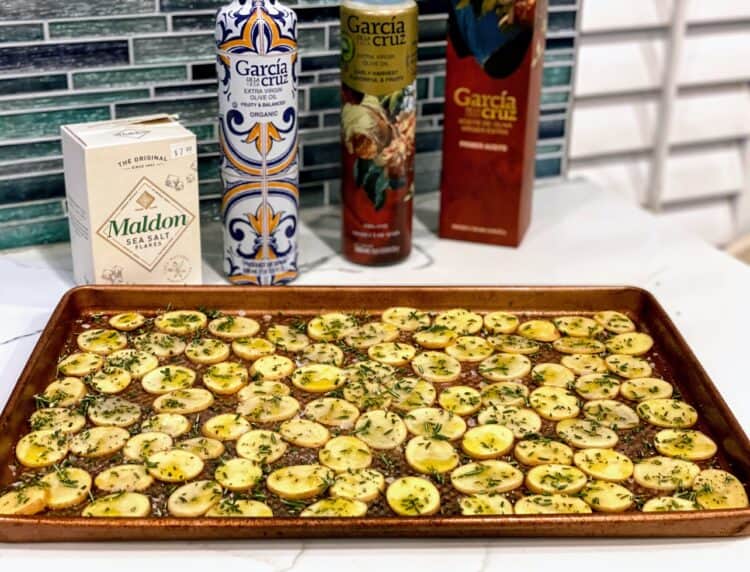 Bake for 18 minutes. Check starting at 12-14 minutes in case your oven runs a little hot or you cut your potatoes very thin. They crisp up fast so even an additional minute or two will turn some brown.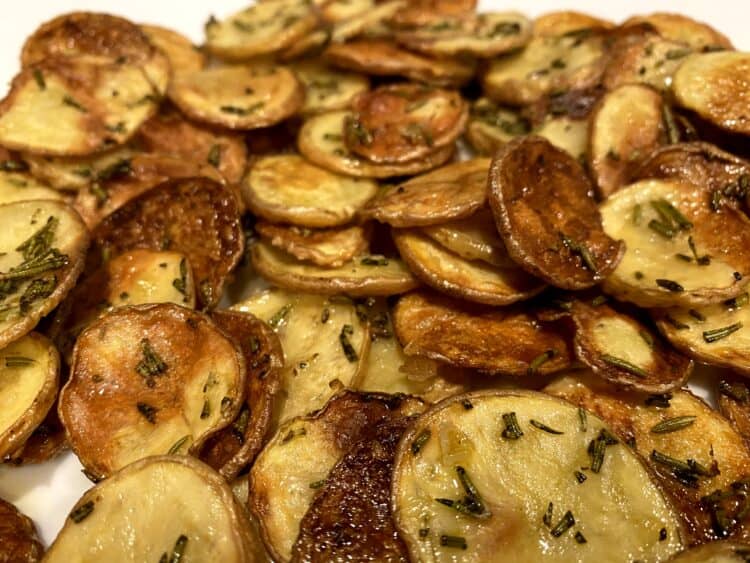 Baby Dutch Yellow potatoes are very multipurpose. They aren't too starchy so they lend themselves to recipes that require baking or boiling. They're also affordable and last quite a while in your refrigerator. They're something I like to keep on hand because they can be used in so many ways.
And olive oil. No kitchen is complete without it, and with so many brands and variances out there, it's fun to experiment. This was my first time trying the Garcia de la Cruz, and I'm a new fan. The EVOO Blend is fruity and balanced, organic and is richer in antioxidants than other EVOOs, making it one of the healthiest olive oils on the market. It's also got Vitamin E and is an anti-inflammatory. Healthy and delicious? Winning!
It's a product from Spain but can be purchased online and other places, including Melissa's Produce. We opened the bottle last week and if kept in a dark and cool place, should be safe through July 2021 without any change in flavor or texture. If you can, try this brand — you won't be sorry. Bonus: the beautiful bottles will look gorgeous on your counter!