Every year, we celebrate Valentine's Day as a couple but we also do something as a family. This year, I created this fun and easy fruit crepe cake using fresh produce and other fun flavors to make an easy Valentine's Day dessert I can change up and make for other occasions year-round.
As the kids grew up, I'd surprise them each Valentine's morning with a special greeting: red balloons on their door, heart-shaped eggs on heart-shaped toast, chocolates in their lunchbox, Valentine's cards tucked by their toothbrush…with four kids 12+ years apart in age, I had to get creative!
Now that they're older, I still want to treat them with a dinner and Valentine's Day dessert but since they're all young adults who are more health-conscious and active, we try to be a little healthier and make it less of a splurge. This fruit crepe cake checks all the boxes of fun, sweet, fruity and pretty. It gives us a delicious dessert without overpowering us all with chocolate, and since I have one kid who can't eat chocolate, she gets to enjoy this along with everyone else.
Making this cake is so easy! Before I get to the very simple instructions, I want to thank Melissa's Produce for sending me and a few of my blogger friends a big box of produce and items for use in this recipe.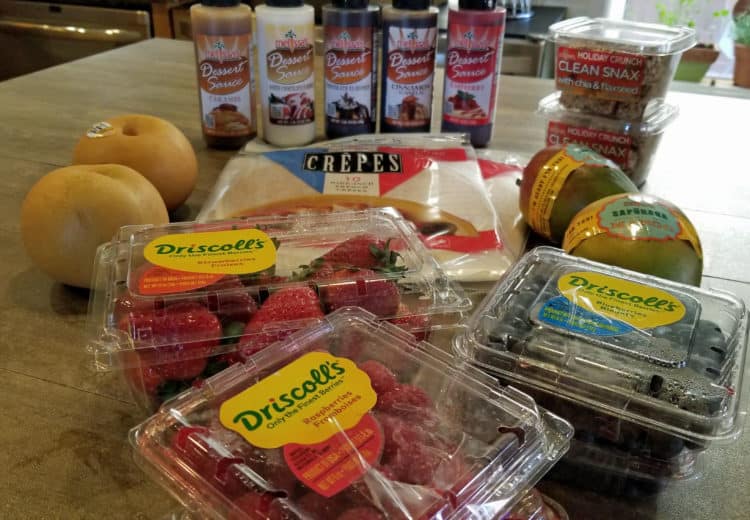 Let's look a little closer at those sauces and syrups. I didn't even know Melissa's sold these until I got this box!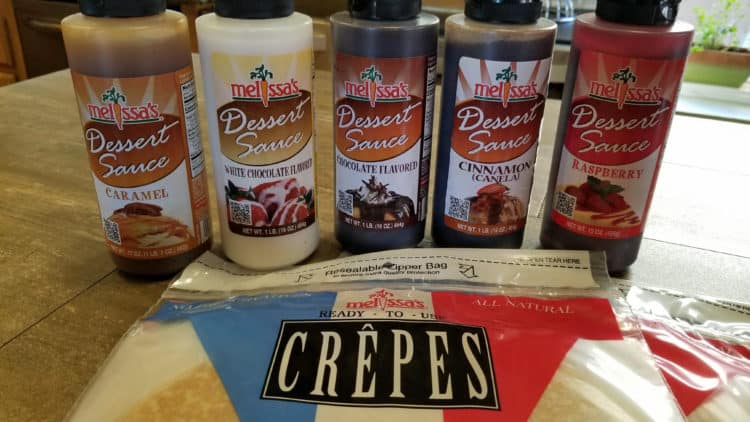 Each box we open is a little like a Chopped episode, and we each try to make something based on a common theme. All boxes are exciting but this one made us stretch our thoughts a little to go beyond typical crepes. I can't wait to see what my friends came up with!
Ingredients Needed for a Fruit Crepe Cake
Two packages of Melissa's Produce ready-to-use crepes (10 per package, individually wrapped)
Various fruit: I used blueberries, raspberries and strawberries
Cream Cheese: approximately 16-22 oz, softened
Melissa's Produce Raspberry Dessert Sauce
Melissa's Produce White Chocolate Dessert Sauce
1/2 cup sugar
2 tbsp lemon juice (fresh is best but bottled works fine)
Assembling a fruit crepe cake isn't rocket science; there's no right or wrong way to do it, so have fun. Change it up and assemble according to your preference. My main tip is that when you use fruit compote, strain it so it isn't overly wet. Too much liquid can cause the cake to tilt.
First step is to prep your fruit. You can certainly use berries whole, but they will make for a lumpy cake and it will be more prone to lean. The cream cheese is not only a good filling but it's kind of a glue, and if the berries are too big, the 'glue' won't work. We fixed this by turning the blueberries and raspberries into separate compotes.
These are really easy to make. Put the clean berries into a small pan, sprinkle with a few tbsps of sugar and 1 tbsp of lemon juice. Turn on the heat and bring to a slight simmer. Smush the berries down, if they don't pop on their own. No need to puree, but breaking them down turns them into a jam-ish consistency. Let them cool completely before you begin cake assembly.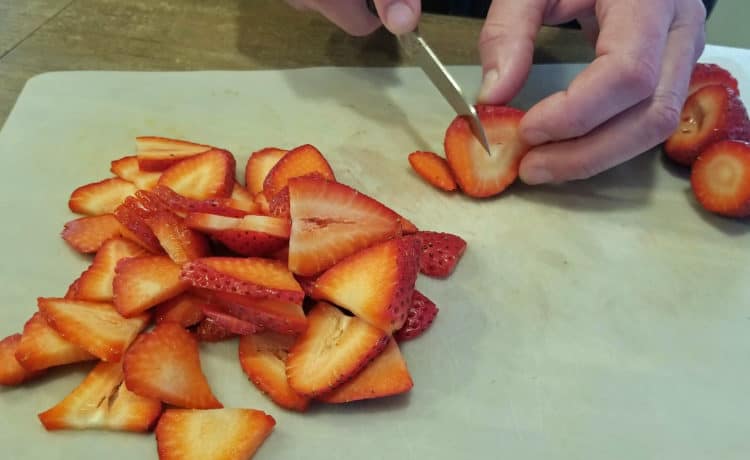 While you're waiting on them to cool, slice the strawberries thinly and set them aside. (Reserve 5-6 slices for the top of your cake.) Now it's time to make the various cream cheese fillings.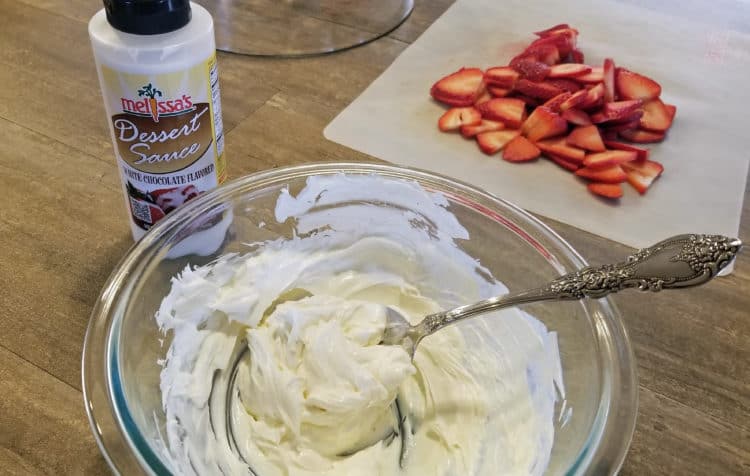 These are very basic. Divide the cream cheese into three separate small bowls. In one, add 2-3 tbsp of sugar and thoroughly mix. In the second, squirt several tablespoons of raspberry dessert sauce and combine. In the third, squirt in several tablespoons of the white chocolate sauce. Mix and you've got three separate fillings.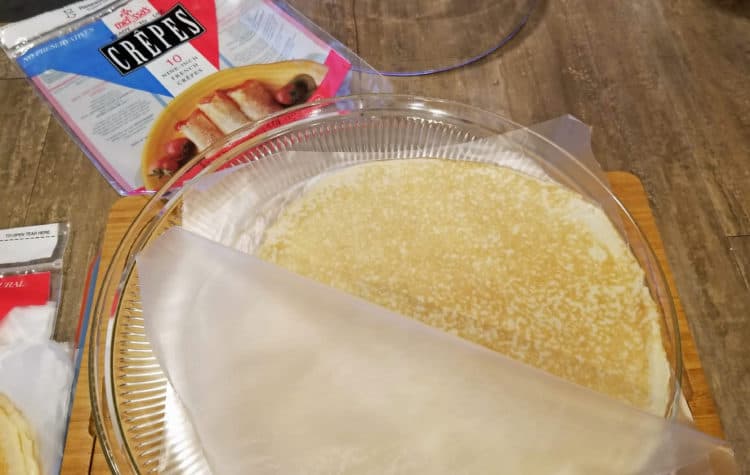 Once the fruits are cool, begin assembling your fruit crepe cake. Place two crepes onto a flat surface. (Two gives it a little bit of stability so you don't rip the base and it holds together better.)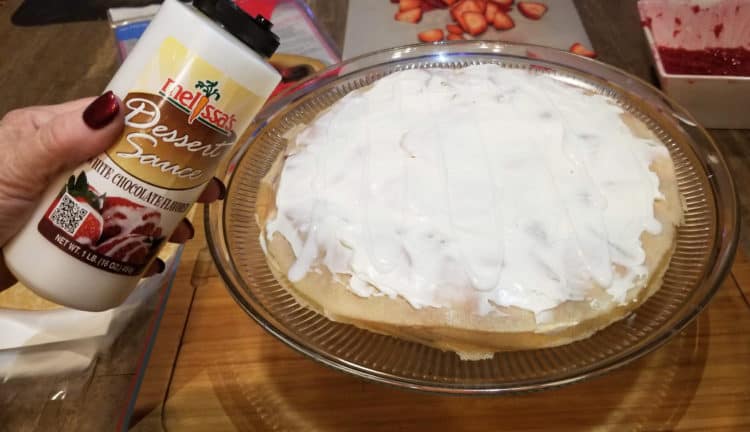 Spread a filling on the top, and place another crepe over it and so forth until you're done.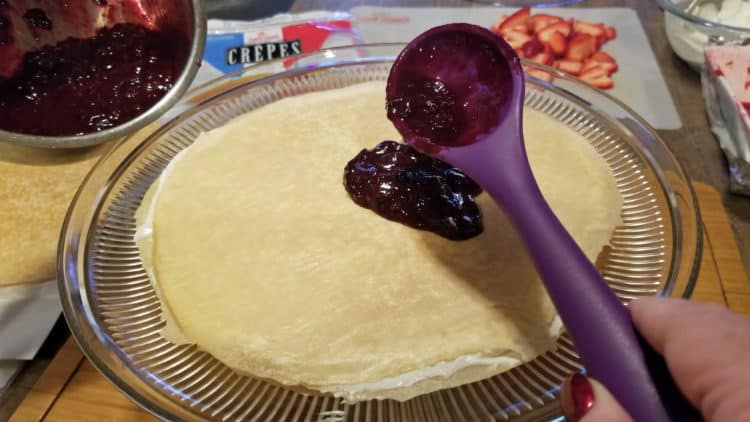 We rotated like this: plain cream cheese, blueberries, white chocolate cream cheese mixture, strawberries (which we placed mainly around the outside, which evens up the layers), raspberry cream cheese, raspberries, and then we repeated until we'd built it up to 18 layers.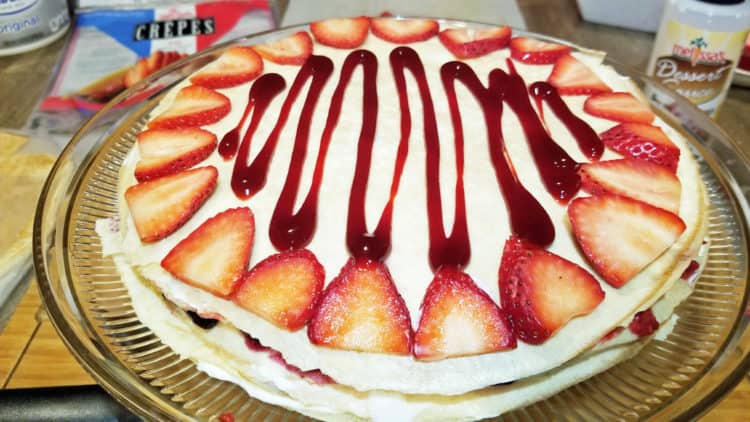 Top the final layer with strawberries in a pretty shape in the center, place a sprig of mint in there and swirl on a little more of the raspberry and white chocolate sauces for decoration.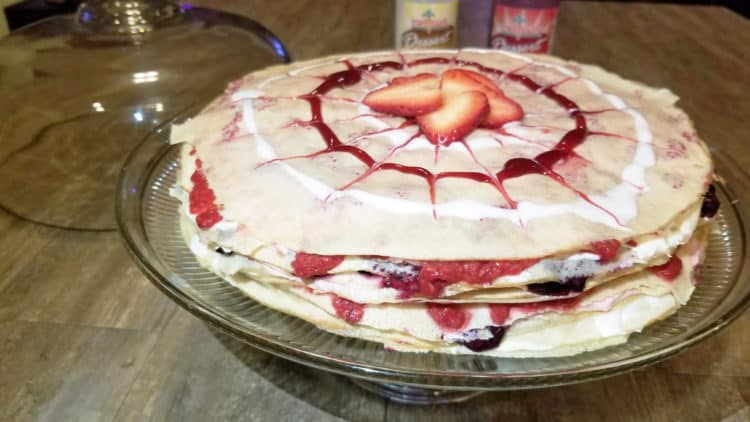 Refrigerate for at least two hours so everything can firm up. The crepes and everything become one cohesive item so slicing is really easy.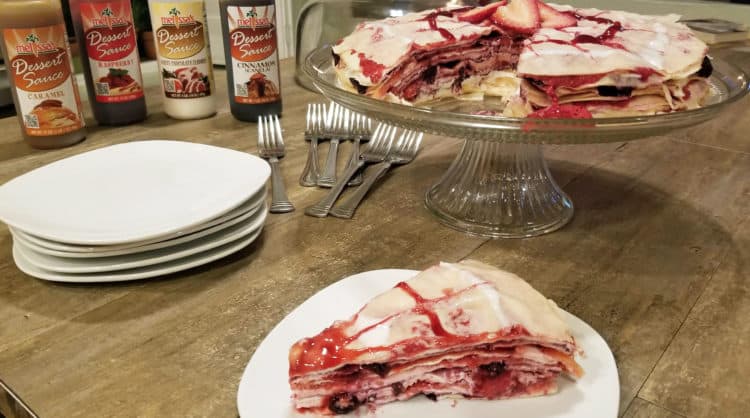 Have fun with it! You can use different fruits, sauces and flavors. One with chocolate and strawberries would be good. I want to try one with vanilla cream cheese, mango and mint. I created mine on a glass cake plate to elevate it just a little. Our china hutch has several gorgeous cake plates I never use (like eight or nine) and my goal is to use the fancy stuff more. Life's short, use the good china!
Thanks again, Melissa's Produce! I appreciate the nudge to get creative and to provide my family top quality produce and fun food items. (And the white asparagus that came in the box made such a delicious side dish when roasted with lemons, EVOO and seasoning!)
For more good recipes, visit: