Did you know it's Hatch Pepper season? In case you haven't gotten any yet, you need to. I got mine from Melissa's Produce, a company I frequently work in partnership with for recipe development. I also received a few containers of the amazing Hatch Pepper Pecans in both green and red. If you like a little spice or heat to your pecans, these are great snacks on their own, but in this unique fish recipe, they shine.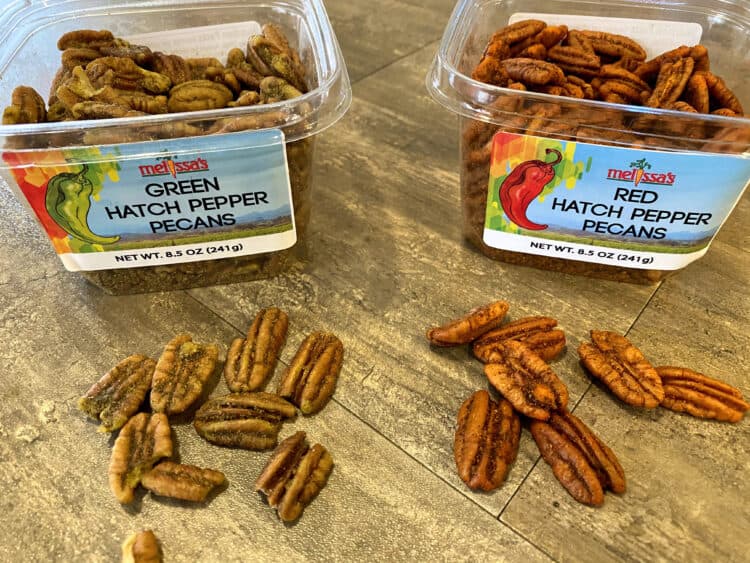 For everyone who's been cooking almost every day during quarantine, I salute you. Kudos, because it's tough. Coming up with different ways to feed the family, making meals that aren't boring, it's hard. This halibut recipe shakes up your typical pan-fried or baked fish, and kicks up the flavor a notch using the Hatch Pepper Pecans from Melissa's Produce.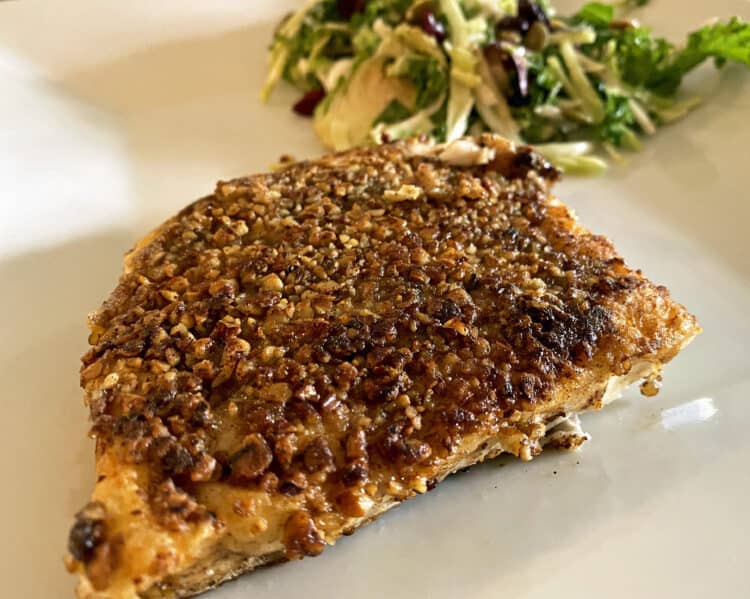 Halibut is a non-fishy-tasting fish. It holds up well to either the oven or stove top, and it can be flavored in many ways, served as the main protein with a couple of sides, or on top of a fresh green salad. It isn't the cheapest fish but it's well worth the cost, and can be found affordably if you keep an eye out and buy it on sale. Fresh is best, though you can find it frozen.
Prep for the dish is simple. Thaw the fish if you purchased it frozen, and chop the pecans in a rough cut. You can use them roughly chopped small, but there's an extra step, a tip my husband taught me, that will make their use even better. In fact, you can use this dusting technique in any nut crusted entree.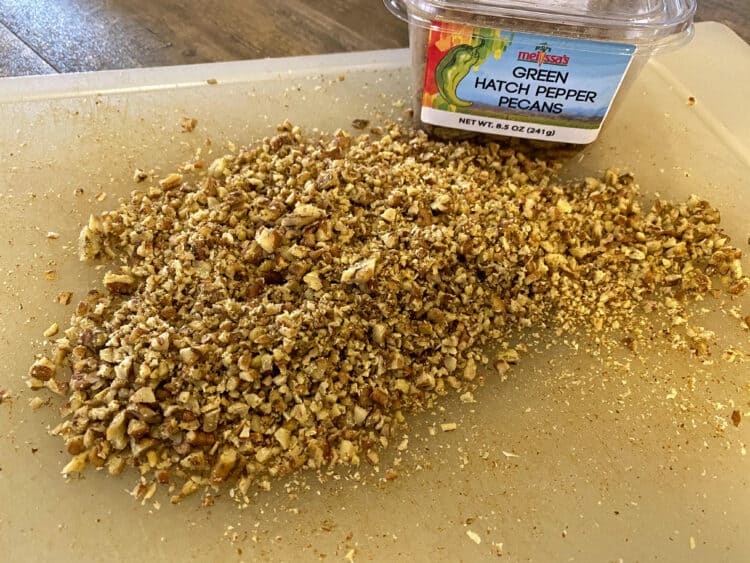 After you chop the pecans, put them through a fine mesh strainer. Using the back of a spoon, apply pressure so dust from the pecans come through the strainer. After you've gotten a decent amount, set the dust aside in a small bowl. Retain the rest of the pecans for layer two of the coating. Keep reading the recipe below for how to use both sections for one amazing pecan crusted halibut you'll make again and again.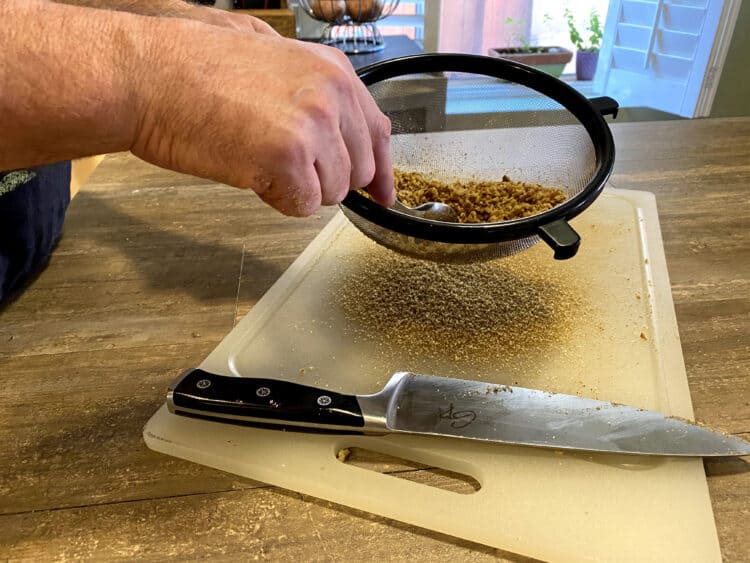 Hatch Pepper Pecan Crusted Halibut
4-5 slabs of halibut
3/4 cup chopped Hatch Pepper Pecans (green or red)
2 eggs
1/2 cup flour
Set up your workspace, with the flour on a flat bowl or plate. Beat the two eggs in a separate bowl, and arrange them in an order so that you can go from flour to egg to pecans to frying pan. (This isn't a requirement but most definitely makes the process neater and easier.)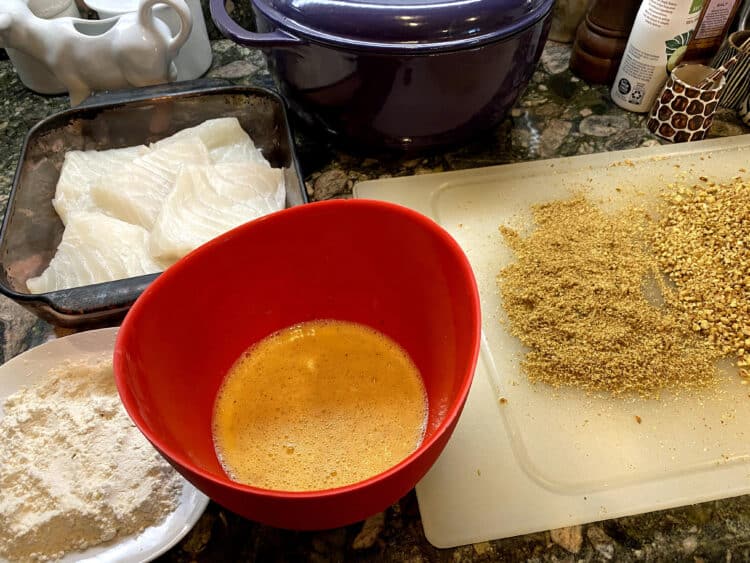 Get cast iron pan, lightly oiled, heating on the stove.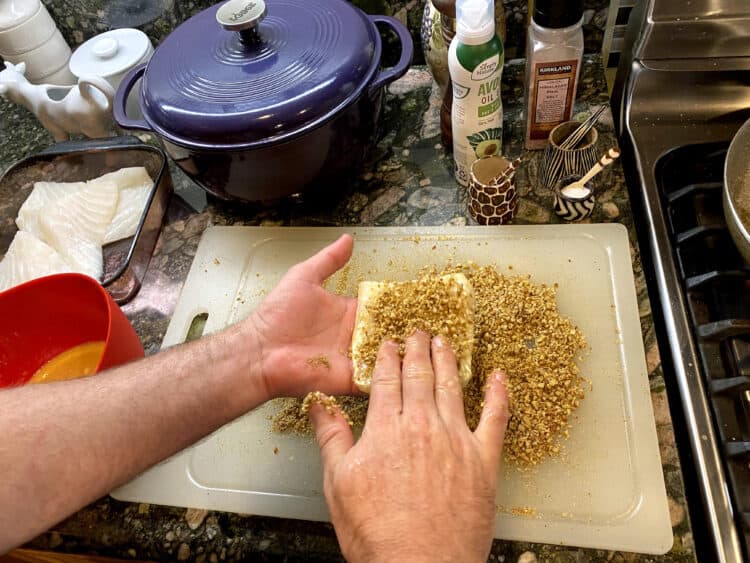 Pat dry each piece of halibut, then dip each separately, first into the flour, then the eggs, then pat pecan dust onto both sides. (This gets messy for sure!) Then push in some of the larger pecan pieces on each side. Place each pecan crusted piece of halibut gently into heated cast iron pan.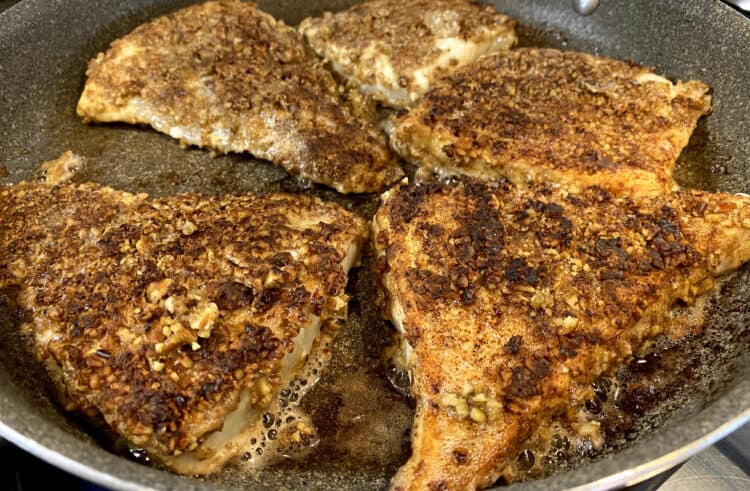 Heat through until each side is brown. This will depend on thickness, but ours took approximately 5 minutes per side.
Serve and enjoy!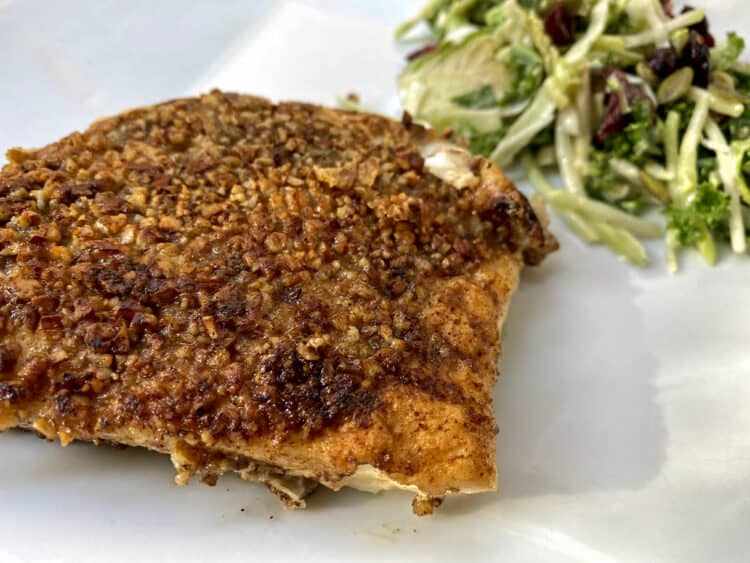 These Hatch Pepper Pecans are available at Sprouts, Smart and Final and directly from Melissa's Produce as well. (They ship quickly!) We didn't use a full container for this halibut, so we enjoyed some the next evening with slices of gruyere (left over from a beer cheese dip we had with homemade pretzels) and good red wine. I considered making a pecan pie take on a cupcake, too. I think that's what's up next!

What's up next in your kitchen? Whatever it is, try to enjoy it. This time with our family stretches on, but kids grow quickly and soon, or someday, they'll be out on their own. We'll look back and find the positive of COVID quarantine.