I'm not a morning person. It takes me at least an hour to become coherent and interested in the world, and that's with the help of coffee. While my family respects that, they have this weird need of food in the morning, whereas I'm good to go for hours with just the caffeine. On days that I have a lot of activity planned, I really ought to eat something but I am not interested in actually making food. As a compromise for everyone, I like to make muffins. It gives me an excuse to bake while giving the family an easy meal to grab on-the-go or throw in a lunch bag. This strawberry muffin recipe is my new favorite!
Muffins are filling and can be made in a million different ways, but they can also be unhealthy and full of fat, so the challenge isn't just making good muffins, but it's making them more healthily than the average. Not always an easy combination, so today I turned to Natural Valley Toasted Oats Muesli.
Nature Valley Toasted Oats Muesli – which comes in two flavors, blueberry and original — is a delicious blend of whole rolled oats, fruit, nuts, and seeds. It is lightly sweetened and made with wholesome ingredients you can feel good about eating. Hot or cold, its delightful texture makes it easy to enjoy anyway you serve it up. It is wholesome goodness you can see and taste. The quality ingredients are simple and easy to pronounce, which is usually a sign of a natural product without unhealthy preservatives and/or unnecessary additives. Blueberry flavor contains whole grain oats, sunflower seeds, dried blueberries, pumpkin seeds, raisins, almond pieces and dried cranberries, while the original flavor includes the same ingredients but subbing in toasted coconut for the blueberries.
Muesli is awesome on its own as breakfast or a between-meal snack. I like to eat a bowl with coconut milk, but others prefer almond milk or even regular milk. I like that it doesn't get mushy when wet and its flavor retains throughout the whole bowl. I also don't need to eat as much as I would a regular cereal because it's more filling and the crunching just makes me feel like I'm eating longer!
Using the muesli as an inspiration, I created the below Strawberry-Banana Streusel-Topped muffin recipe. They are moist, flavorful and according to the family "really, really good." What's the kick I mention? You'll be surprised — keep reading to learn what it is!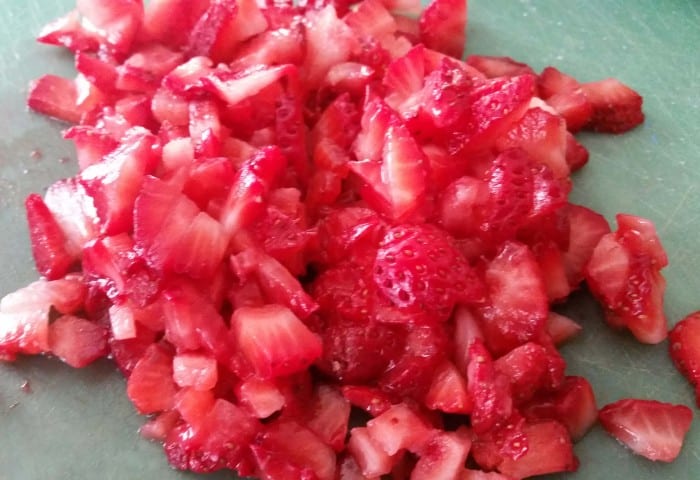 I love fresh produce — the color of these strawberries is so vibrant!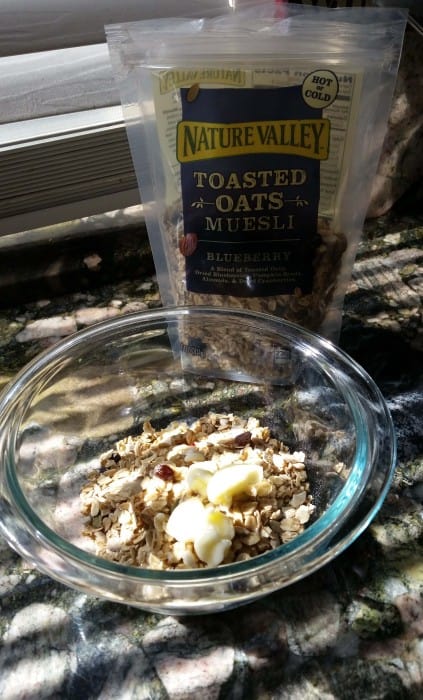 It's a hot one here today in Southern California, and the only sun allowed in was those few slats peeking through…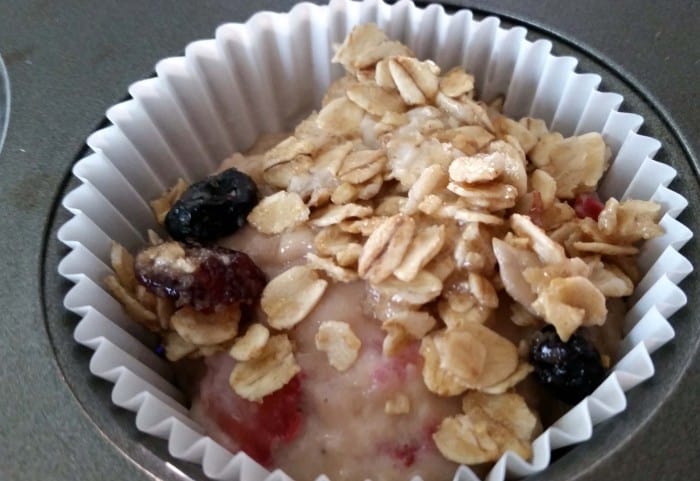 Love how the strawberry color came through in the batter!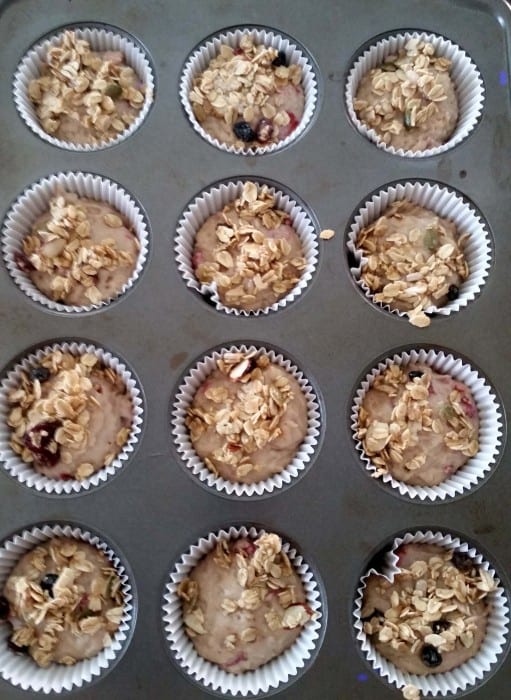 All ready to go into the oven.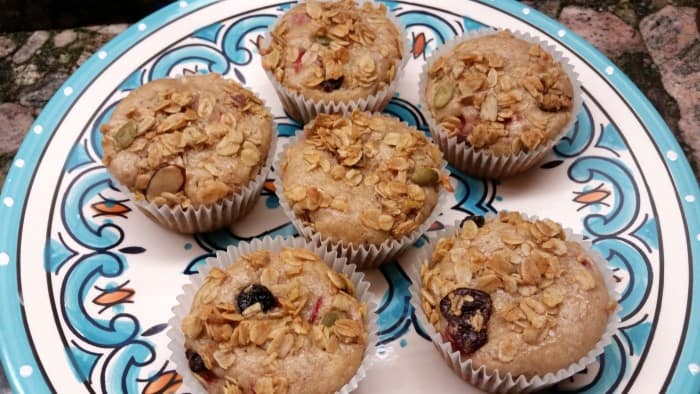 These are already gone.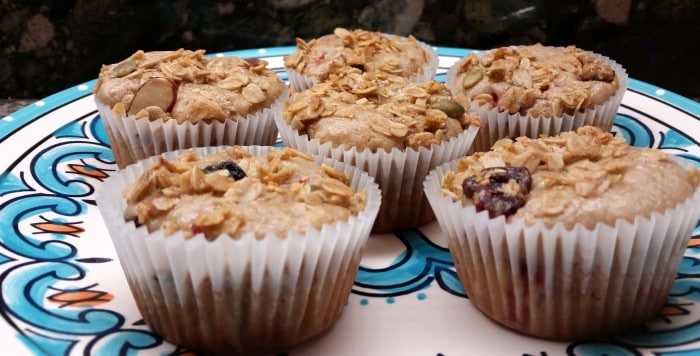 They look both healthy and delicious, I think!
Strawberry Muffin with 

Banana

 and Streusel Topping
1 ¾ flour
1 tsp baking powder
¾ tsp baking soda
½ tsp salt
½ tsp nutmeg
½ tsp cinnamon
¾ cup packed brown sugar
½ cup sour cream
1/3 cup vegetable oil
1 tsp vanilla
3 tbsp balsamic vinegar – for a kick, I changed it to raspberry-balsamic (Trust me, try this!)
1 mashed semi-frozen banana
1 cup chopped strawberries (I used overripe for more natural sweetness)
Streusel
¾ cup Nature Valley Toasted Oats Muesli — I used blueberry
¼ cup melted butter
1 tbsp brown sugar
Blend all three ingredients together.
Heat the oven to 325 degrees. Place cupcake liners in approximately 18 muffin pan cavities.
Mix all the dry ingredients together, and mix all the rest, except for the fruits, in another bowl. Add the mashed banana and strawberry to the liquid ingredients, then blend the two bowls together gently. Using an ice cream scoop, place one scoop in each cupcake/muffin liner. Put approximately 1-2 tbsp of streusel mixture on top, depending on your taste.
Bake for approximately 16 minutes, or until firm. Cool on rack. Enjoy!
Fun bonus way to use a strawberry muffin: slice it in half and put in a slice of vanilla ice cream! (A scoop would work, too, but if you can slice it, it will turn your strawberry muffin into the outside of an ice cream sandwich.)