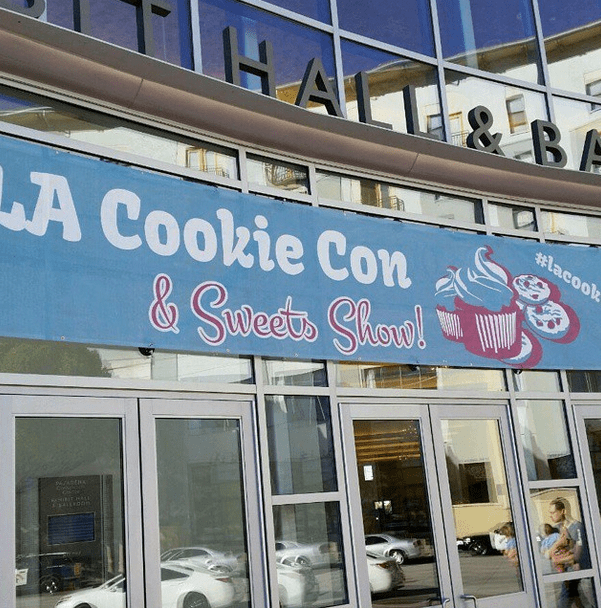 Sweets. Cookies. A picture of cupcakes. How can this baker not be interested in spending the day at LA Cookie Con?
Held on January 25 in the Pasadena Convention Center, it is every baker's dream convention. Billed as the west coast's biggest cookie and pastry gathering yet, it was easy to believe if you got there early in the morning before opening. Lines of people proved the popularity and excitement. We were attending as press and were able to get in the door first thing in the morning, where we headed straight to the VIP booth for some early-morning snacks. (We even tried sparkling wine at 10:30, courtesy of Stella Rosa!)
Throughout the day, there were schedule meet-and-greet moments, with baking celebs such as Greggy Soriano (TLC's "Cake Boss: Next Great Baker), Ahran Cho, Monti Carlo, Stacey Poon-Kinney, Daniel McGuffey, Dara Yu, ("Masterchef"), etc., as well as famous bakeshop owners and of course, Ron Ben-Israel of Food Network's "Sweet Genius" fame. There was also a long list of demos and speakers, such as Rachel Fong, host of King Arthur Flour's "Kawaii Sweet World," Paleo Cookies by Bex Bakes, Zesty Chocolate Bark with Sara de Leeuw ("My Imperfect Kitchen") and How to Become a YouTube Baking Star. Seats filled up quickly but the way the convention was laid out, there was plenty of standing room with a good view without blocking the aisles. It was almost overwhelming, with so many choices of exhibits and sponsors to visit and only a limited amount of space in my stomach for all samples and food available.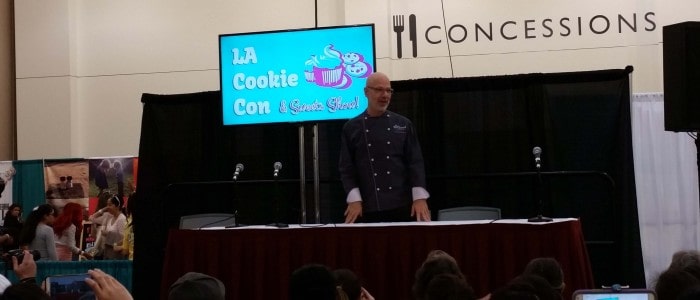 As a lifestyle and food blogger, I wanted to see and try everything, so we started on one end and worked our way around. I'm making cupcakes and a bride and groom cake for my daughter's wedding in May and I needed a few more supplies for toppers. We scored at Sprinkles n Stuff and I bought one of every beach-themed mold they had. (Great prices there, so keep them in mind if you hoard, I mean collect baking supplies like I do! They are located in Torrance.)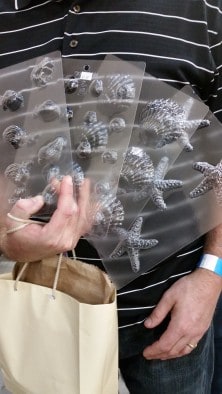 We also spent quite a bit of time over at the Cakewalk booth. Located in Murrieta and Redlands, they are closer to my neck of the woods so I'd already had field trip planned. I've got a shopping list, a 30% off coupon and the husband won a pair of the Cake Off at the end of March. Score! Best prize, in my opinion! (But I did win some fondant from their spin the wheel game, too, and while I don't do a lot with fondant, I could do a lot of amazing things with that chocolate flavor. Yum.)
By the time we'd left, we had run into quite a few friends, made some new ones, met a television star (Chloe Noelle, who plays Emma on True Blood), ate a lot of food and my husband even got to photobomb Ron Ben-Israel.
So many favorites, I won't be able to list them all here, but one thing that stood out for me was the cotton candy cupcake from Cupcake Kissis (located in Burbank), along with the single-origin ice cream from Choctal (located in Pasadena). The husband's favorite was the purple yam donut from DK's Donuts in Santa Monica. We took a bag of goodies home with us, too, with organic two cake pops from Charlie Pops. As a cupcake baker, I'm pretty picky about density, moistness and flavor, and those cake pops were the best we've ever had.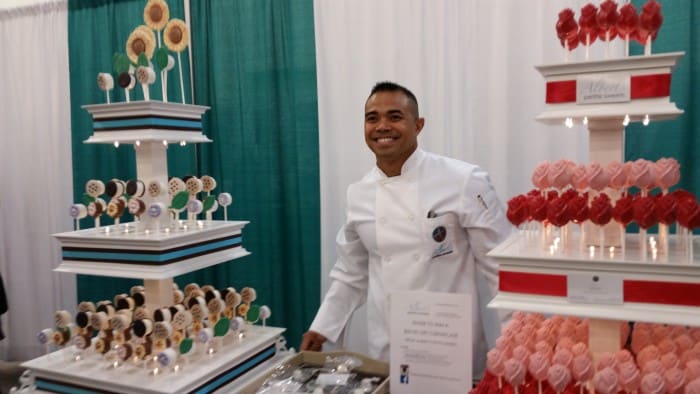 We also had some pumpkin seed and flax seed Clean Snax from Melissa's Produce and I have to hide them from the kids! For healthy snacks, they are fantastic and totally not what you'd expect.
In between the sample booths were gorgeous displays from bakers and bakeries; the talent is indescribable, so I'm going to let the pictures do the talking.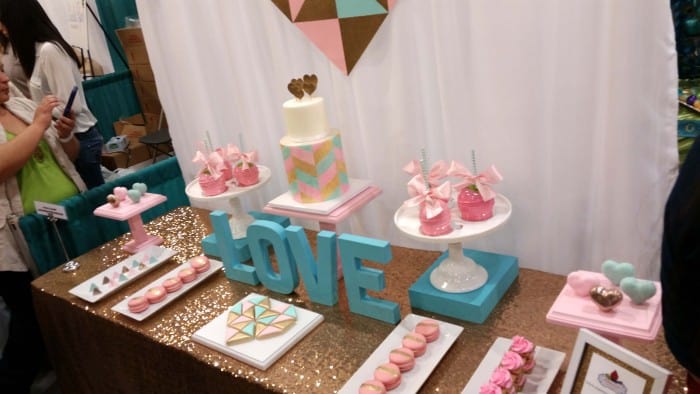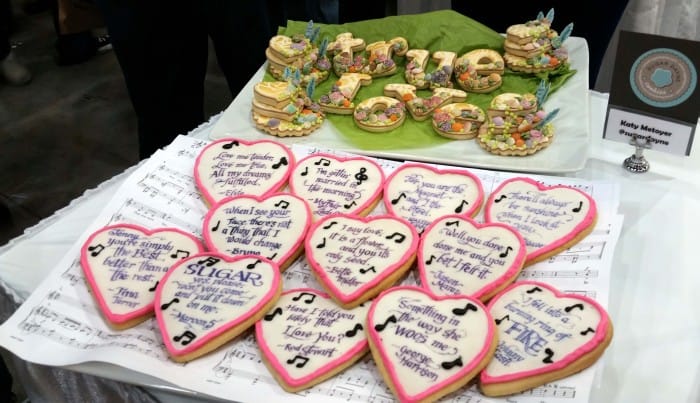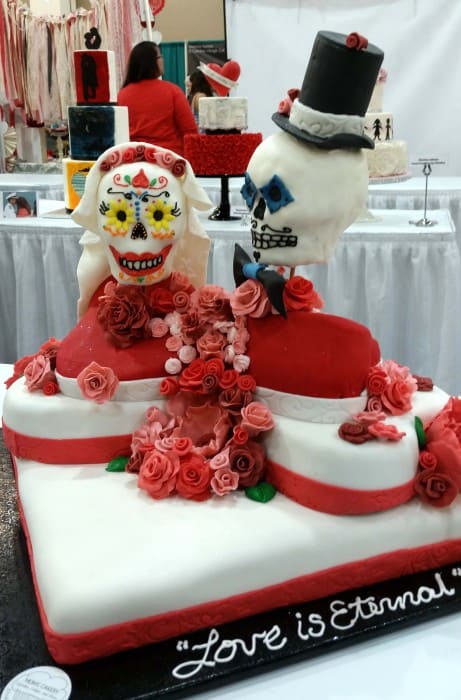 One blog post isn't going to cover it all, so my recommendation is to buy a ticket next year. Come early, and come hungry. Bring a sack for flyers and business cards and wear good shoes. (I didn't say sensible, as I'm all about the shoes looking awesome…just wear good ones that will allow for you to walk around and wait in line without foot pain to distract you.)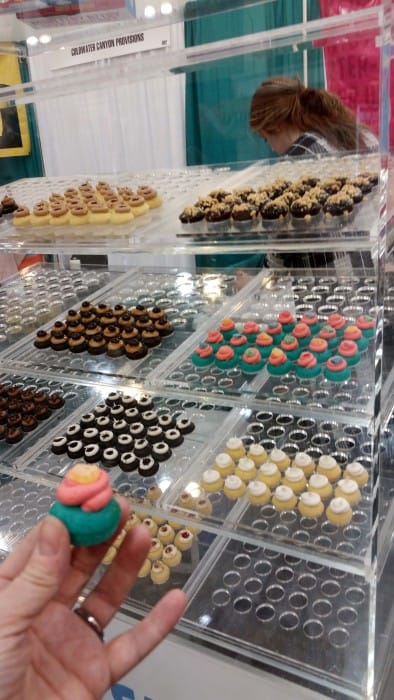 Cupcake Kisses! Quarter-sized cupcakes in a zillion flavors. So good!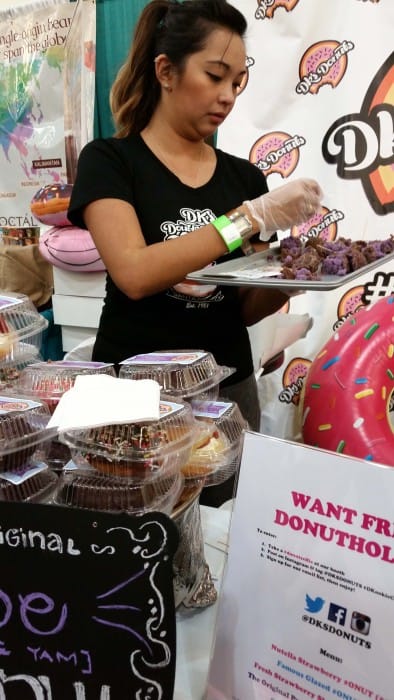 The infamous purple yam donuts from DK's Donuts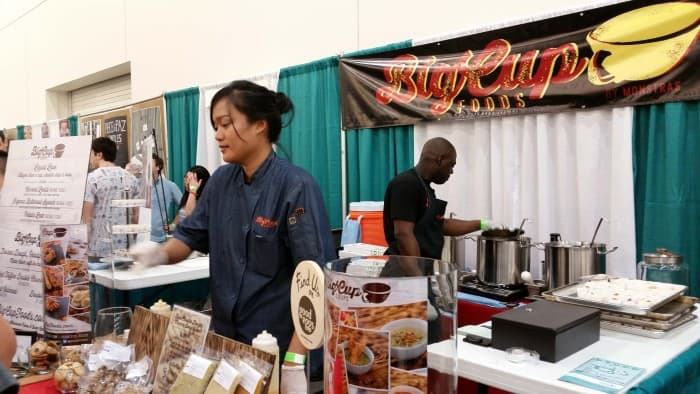 Big Cup Foods — soup and cookies!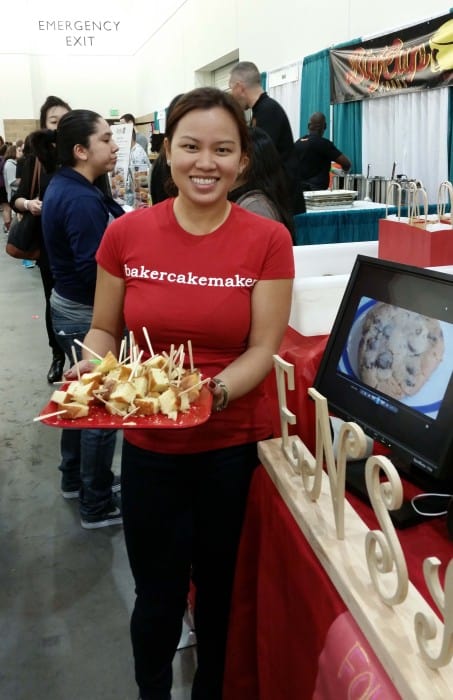 BakerCakeMaker!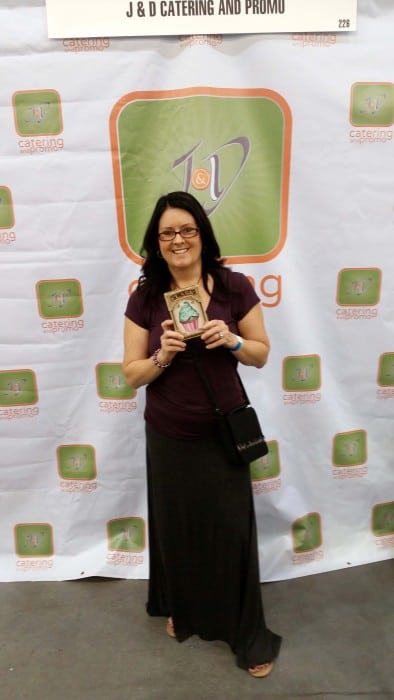 That flask says "Bad cupcake. So bad for you." Perfect for Dangerous Cupcakes, right??