Groceries are expensive. Each week, I shop at one of a few stores, working on my list while trying to keep the cost down. I feed anywhere from four to eight people nightly, and that means I have to buy a lot of food, but buying the organic and healthy stuff we want gets costly. Making a choice between feeding a lot of us and feeding us nutritious food is not an option, so I have to choose carefully. Shopping takes a little longer, because I take costs into consideration when I'm at the store; if something I've planned to purchase is too expensive, I have to have a Plan B. To help make things easier, I like to make all I can at home, and that's where my garden comes in: if I like to buy it repeatedly, why not grow it?
This year, my edible garden only contains six varieties of tomatoes and six types of peppers, as well as tomatillos, but it's our first time planting in this new dirt so we weren't sure how it would work. (We're in our second year of organic dirt, and we have to go three without any pesticides and additives to be considered organic.) I've got big plans to preserve whatever we don't eat fresh, and I'm regularly learning on how best to do that. There are a lot of ways, and one of them is dehydrating. I was offered a complimentary copy of The Dehydrator Bible, by Jennifer MacKenzie, Jay Nutt and Don Mercer, and Robert Rose Publishing. This is a book I've had my eye on as a motivator for great ways to extend the use of produce I grow, produce I buy and need to use before it goes bad, and of course, use the dehydrator I've had ever since our wedding 21 years ago. (The book was given to me, but my opinions and the photos I share are my own.)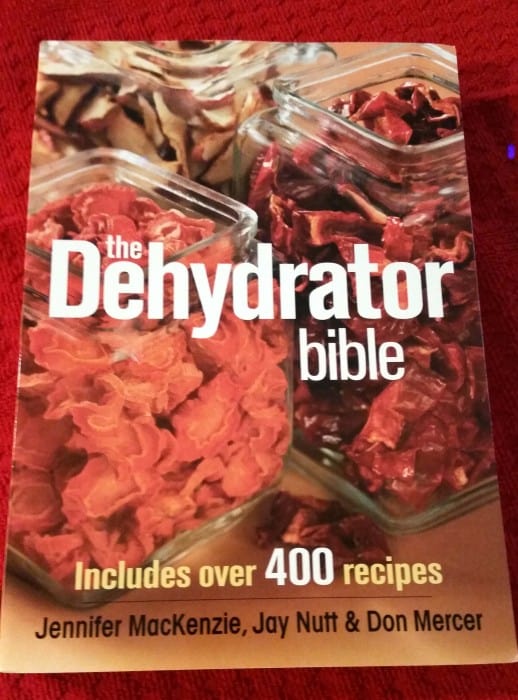 The Dehydrator Bible is the book to have if you want to learn how to dehydrate and use dehydrated food. People think dehydrator and picture banana chips and fruit leather, but this book takes it way beyond and shows you how those things are just scratching the surface of possibilities for dehydrating food. With over 400 recipes and 381 pages, the paperback book is full of ideas that help you to get beyond the idea of dehydration being for snacks and preservation alone. Instead, you'll get a primer on what dehydration is, how it is achieved and how to do it. Then you can use the things you've dehydrated – or purchased as dried – in other recipes, such as Roasted Garlic Dressing, Cranberry Newtons and Asparagus Risotto.
The list of recipes for dehydrating fresh produce is extensive, including herbs and seasonings, fruit and vegetables. Recipes for meals using dried foods are much more creative than you may think. Meals such as Banana Almond Pancakes, using dried banana slices, and Apple, Cranberry and Oat Crumble, using dried fruits, are just a couple of the breakfast suggestions. Lunch and dinner include Sweet Potato and Chile Pepper Soup, using dried sweet potatoes and chiles, Teriyaki Orange Simmered Beef, using teriyaki beef jerky, and Curry-Roasted Squash and Chickpeas, using dried onion and red bell pepper slices.
My favorite part is the Camping Food section. It's a big part of the book, but while we frequently camp in our RV, don't let it scare you if you don't camp. The recipes are things everyone can use and for prep later on, some are as easy as simply adding water. Convenience and freshness come together for a wide variety of recipes that will make your food standout at the campground! We take the RV out whenever we can, and we often have large groups of people so we could potluck meals; contributing a dish that goes above and beyond what people expect while camping is fun and now I can do it even easier.
Because of the tomato crop that I've got coming soon – I literally have 100's of green tomatoes out there in my garden – I looked up tomato in the index. Over 40 listings for things to use dried or fresh tomatoes in! I also know now how to best dry the grape-roma hybrids that are coming in fast and furious.
Because dehydrating is something that works well for people who preserve, I'm hosting a giveaway for a new preserving book, called Preservation Society Home Preserves, by Camilla Wynne and also published by Robert Rose. To be entered for a chance to win, read the Rafflecopter widget below and enter as many times as you choose. I will be sending the book out directly and I already have a copy here that is pretty cool!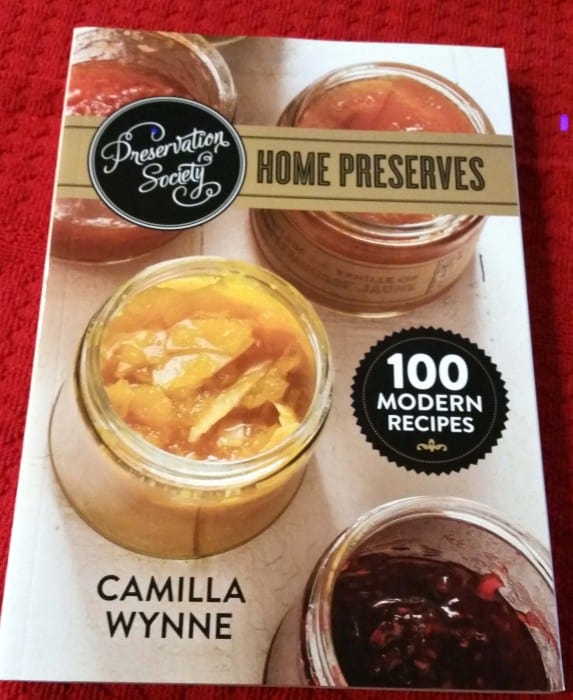 Do you dehydrate, can or preserve? I'd love to hear what recipes you like the most or what experiences you've had, even the bad or funny ones!