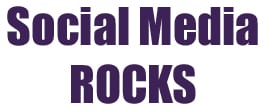 My "Ten Minutes to…" series has covered how to get ahead on Facebook and Twitter if you only have ten minutes, and I've got articles on Google+ and Instagram coming soon, but sometimes we get so caught up in trying to promote our business we forget that we still have to be social for the sake of, well, being social.
Social media isn't just a noun, it's a verb. To remain active in social media, there are a few things that have to be the core of all of your interaction. You may get traffic in the short run by following my ten minutes to social media success on Facebook and Twitter tips, but to really make it stick? To really show you mean it? To go above and beyond and stay "in" social media, not just using it, you have to have these few basic credos at heart.
Sharing others' material, because you find it meaningful and relevant and it's the right thing to do.
Engaging with others, because you want to make friends, start genuine conversations and thank them for their participation and help.
Creating fresh content to share, because regurgitating old content only works if you're on vacation or it's really good stuff that hasn't been shared recently.
Being proactive, because sometimes in life you have to go out and find people. Friends, employers, business transactions won't always come after you. You have to meet them in the middle or be willing to even go all the way.
Reciprocation, because it shows your appreciation for others' time and people don't want to be ignored. In the end, we're all in it for similar reasons. It's business, and we need to be professional, but we can make it a friendly, helpful space for everyone and we'll all be better off. And all our businesses will benefit!