What's it like to live in an RV?
It's fun.
No, maybe not..how about we settle for doable?
When we started off living in our RV on March 31 of this year, we figured we'd only be in here for eight weeks. Max. Doesn't seem too bad, right? Then a layoff occurred and reality hit. It meant living in the RV longer because my husband needed to have a couple of months on-the-job to get back into the lending process. (We'd already been pre-approved for a loan but under my name as my longterm job was portable, while he started a new one after our arrival back here in Southern California. When I got laid off, they could no longer put the loan in my name. Pesky requirements of an income…)
Eight weeks may not sound like a lot, and it really isn't, as those eight weeks sped by..then another four did…and these last four? Not so much. Every time I'm hot and want cold water…every time I need ice and have to go into my friend's house to get some…every time I have to iron just to have a non-wrinkled shirt to wear? I'm reminded that I live in a 300 sq. ft. box on wheels. It's a nice box, don't get me wrong, but it's still a box. A long, rectangular box where two adults, a pre-teen and a young-adult live with an 85 pound Labrador and a nine pound Yorkie full of feist. Multiply the hygiene items, the clothing, the shoes, the personal items, the books and the 'Must Haves' by four. Add in a few sentimental houseplants — two from the funerals of my parents, one from a dear friend in South Carolina — to my 'office' pile (work-related things), my library pile, my husband's 'file' pile and all the extraneous foodie items that don't fit in cabinets? It makes for one crowded RV. Even the nicest RV with a flat-panel tv, a Keurig, Cuisinart cookware and a $300 knife set can get old.
Want to know what it looks like living in an RV? I'm about to unabashedly share what the inside of our RV looks right now. Keep in mind that when you pack to live in an RV, you have an idea of your timeframe. I packed my clothes for eight weeks. I didn't pack interview attire, as I had a job when we packed up and shipped off our 53′ trailer full of belongings, which is now here in the field as storage until we move next week. I packed three pairs of flip flops, a couple of summer dresses, six pairs of earrings and two necklaces. Two pairs of pajamas. Uggs. (It was COLD when I left South Carolina still. Somewhere west of the center of neverending Texas, I pulled out the shorts and tank tops.) My kids? They packed ALL their clothes into the back of the RV; after all, they have their own room of four bunks and just the two of them. My husband? He did the same, he's a guy. My daughters "oops" was to pack her contact lenses into the trailer. (Duh moment, for sure.) I hope they aren't melted when we get them out next week. I'd planned on working, so along came a new printer, my "office in a box" and office supplies. How things change when you extend the time in the RV and no longer need all the same office stuff!
All that said, here's what it looks like in the RV as of today. I know you're jealous, it's okay…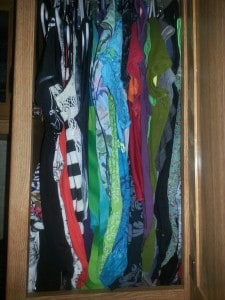 That's my closet, filled to the brim with wrinkled clothes, 3-6 items per slot.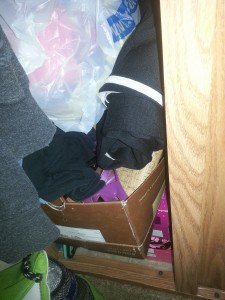 That's the blanket nook…which I took over for clothing overflow. I've managed to fit another 5-6 pairs of shoes (new — I can't live with 3 pairs of flip-flops, one pair of sneakers, a pair of Uggs and one pair of very, very gorgeous spiky black heels for all this time), my sweats, and two plastic store bags full of new clothing into that little spot meant to hold extra blankets.
That's the extra top bunk in the kids 'room.' As you can see, every single little space is filled.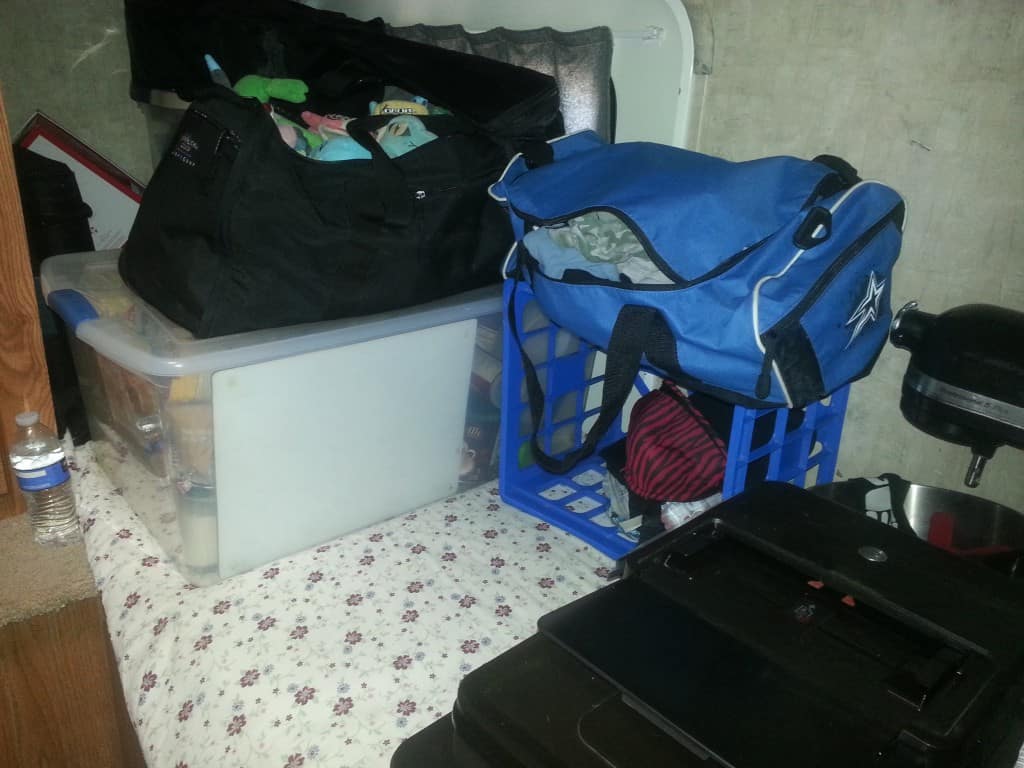 And the other spare bunk. That blank spot usually holds the dirty clothes hamper, which is taken into the house every 2-3 days to wash in my friends' machines. No rhyme or reason, right? But we know where everything is and we live without deprivation at least!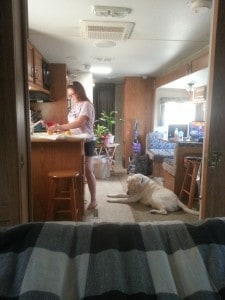 The view from the master bedroom….cluttered but pretty typical for mid-afternoon.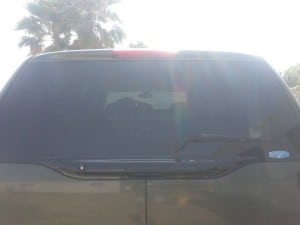 That's the back of our Excursion. (It mainly is an RV hauler now, along with toting the big dog to his vet visits, but I used to drive that when I had the four kids and all their friends to drive around daily.) It's FULL of stuff to go into the new house…my son's new school supplies, our Keurig K-Cups, dog food…yep, overflow of all sorts.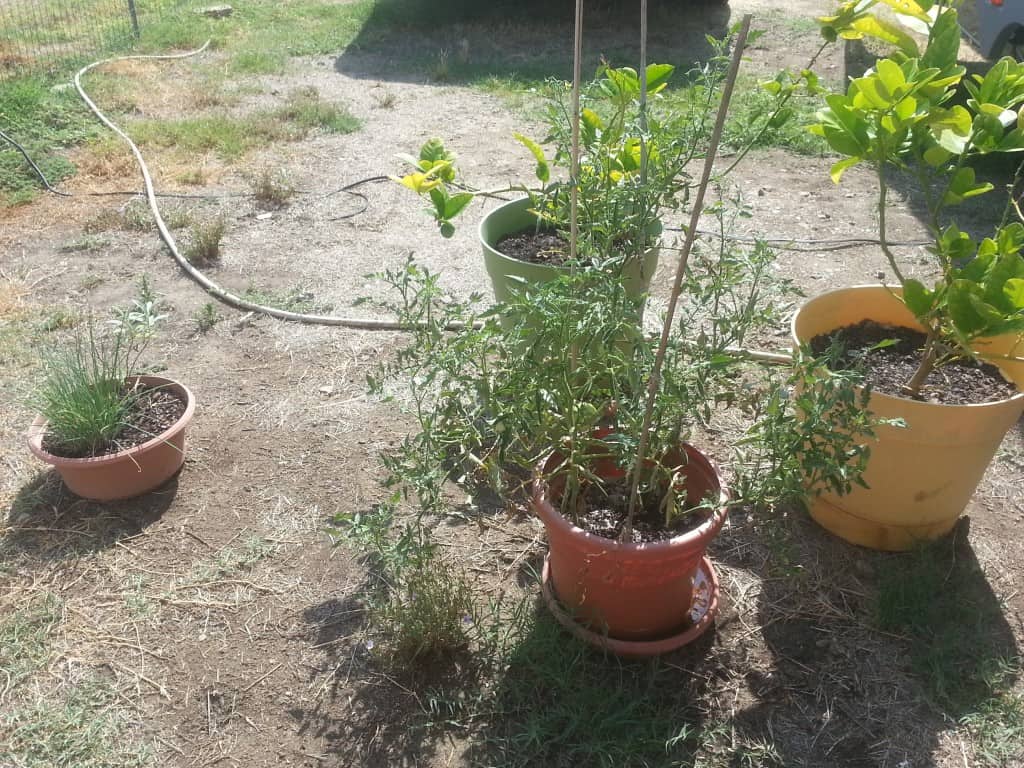 These are my tomato plants, citrus bushes and the herbs that made it from SC. Instant garden when we move into the house!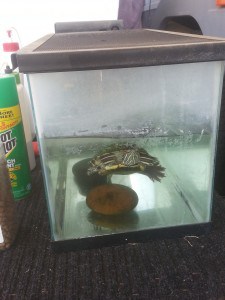 This is Yurtle. He's our beloved turtle, waving hello to me as I took the picture. He's, of course, moving with us.
And in addition to all the above things that we have to move? Here's the trailer…that freezer leaning up against it is the only casualty of the move, yet Arctic Air products rock: it WORKS! Don't let that ugly exterior scare you away. It hums and freezes as it should and with a little help of new back bracing (due to wheels that slammed down during the move and one too many bumps and a husband who forgot to turn it upside down for the move) it will be a fixture, once again, in our garage.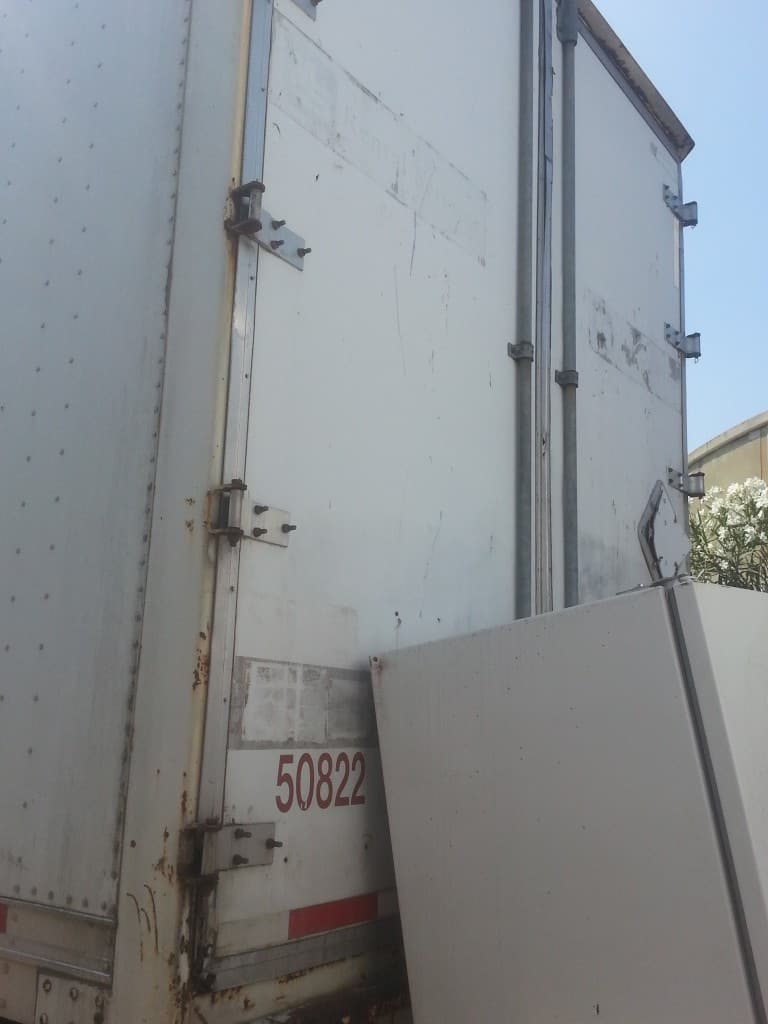 Let's just say — we've gone through a lot as a family. When someone says "gone through a lot," it doesn't mean bad — it just means you've done a lot of things together. We made two cross-country moves and a lot of related things, and now after living so closely together for four months, we're a lot closer. The two younger kids joke frequently about how much less concerned they are with quiet time or having friends over separately; they've grown to enjoy each other so much more, in a way they wouldn't have if we'd been in a big house from day one. Now that we're moving into a big house next week, I'm going to bet we still end up frequently all in one room hanging out, all the time?  I'll let you know how that goes, but I am thankful for a house with a lot of space, open concept and room for everyone to have their own room yet happily enjoy each other. Thank you to the four months for bringing us closer together…but catch me in one of my "I'M SO SICK OF LIVING IN THE RV!!" mood and I may deny I ever said that. 😉