Last week, I decided we needed to live it up one more time before school started and take a field trip. My son starts 7th grade next week and I wanted him to have a long list of activities and memories to look back on when he's sitting in a classroom bemoaning the fact that most kids are still at the beach while his district starts early. We talked about options and settled on visiting the Los Angeles Zoo. (My vote counted for like five so I'm not sure any other place really had a chance?)
I love the zoo. Zoos are great for kids and a wonderful family event, but certain areas of the south apparently don't believe in them. The closest thing we got to a zoo while in the Myrtle Beach area was Alligator Adventure, which was absolutely amazing, but still, not a zoo. Brookgreen Gardens is also a blast but again, not a zoo. (Mr. Bull, my son says hello! You are forever engrained his memory as "my friend, Mr. Bull.")
Los Angeles is approximately 40-45 minutes from us, an easy drive straight out one freeway, and for Californians, freeways are the norm. You don't go far without getting on one, and when you learn to drive, you have to learn the intersections and onramps and which carpool lane requires you to do 80 mph before you get run over. (It's an art driving out here, not a science.) LA is huge, with a lot of different areas making up its entirety, and all of them different. Add in Hollywood, Burbank, and a lot of other cities, and you've got so many entertainment options that you can't possibly do them all, so you keep a mental list and work towards checking them off. I've been to the zoo several times, but it's been 5-6 years, so it was back on my list. The kids were excited to go, but like many of the things we do out here, I may be equally, or more, excited!
My favorite exhibits have always been the chimpanzees, gorillas and monkeys. I love how active they are and how they interact with us humans…but it also makes it harder to get great pictures of them, particularly when you're not lugging around your pro camera.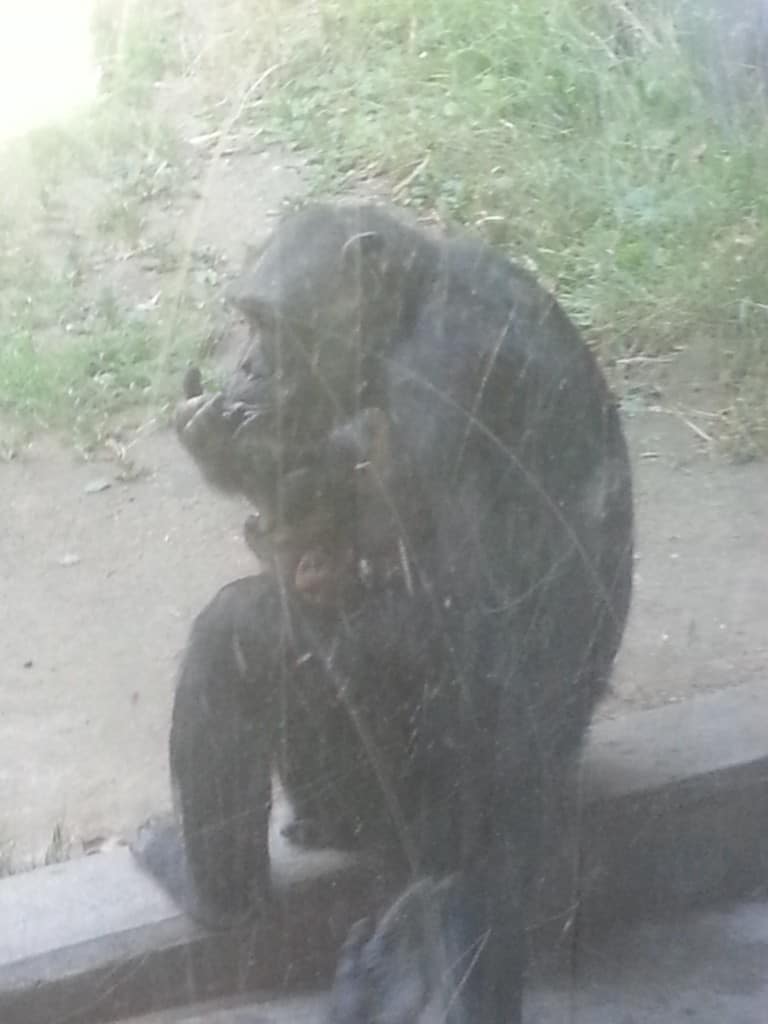 What you can't see beyond the dirty glass is the baby cradled in his arms.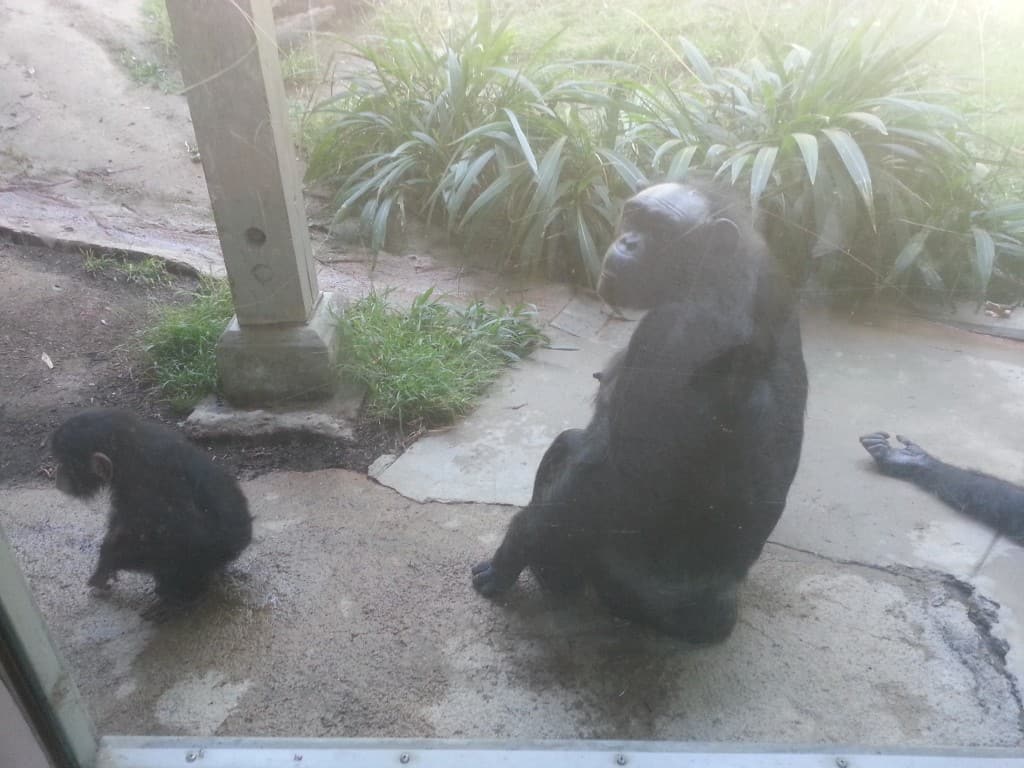 He put it down so it could walk to the window and look up at me, which had me so mesmerized I neglected to take a photo. (As much as I love photography, pro camera, pocket cam or a cellphone, sometimes I prefer the memory untouched by rushing to grab a camera and temporarily block the view to that of a photo.)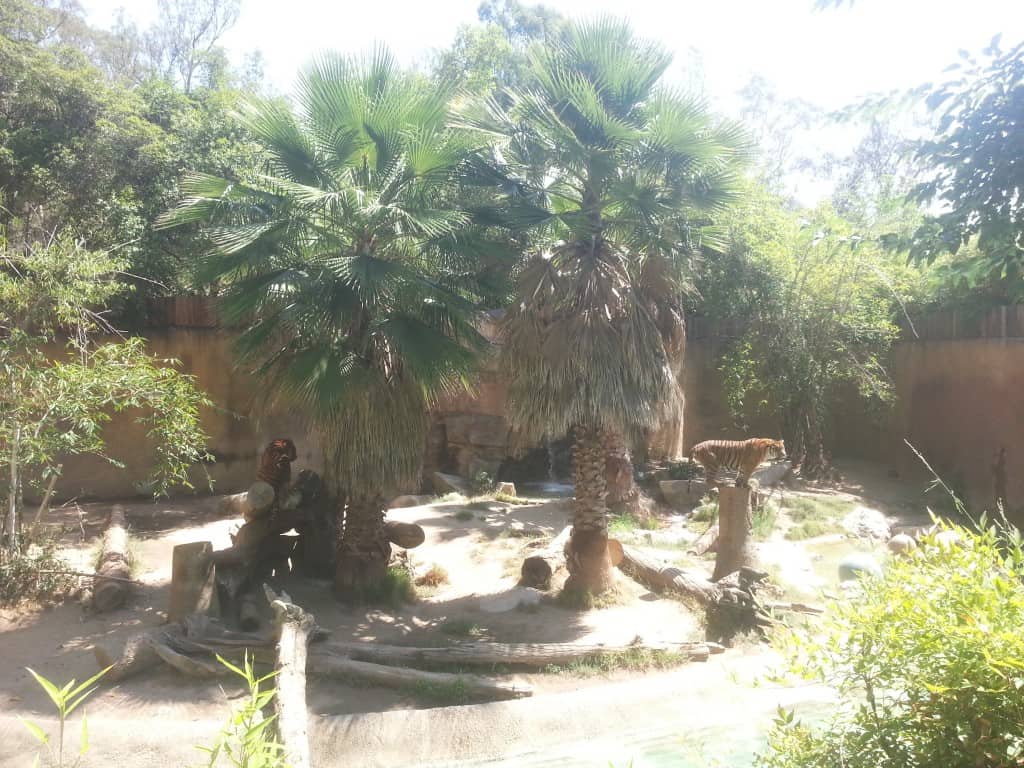 Lions, and tigers and bears..oh my! Except, the lion exhibit was under construction, so I only got to see the tigers and bears.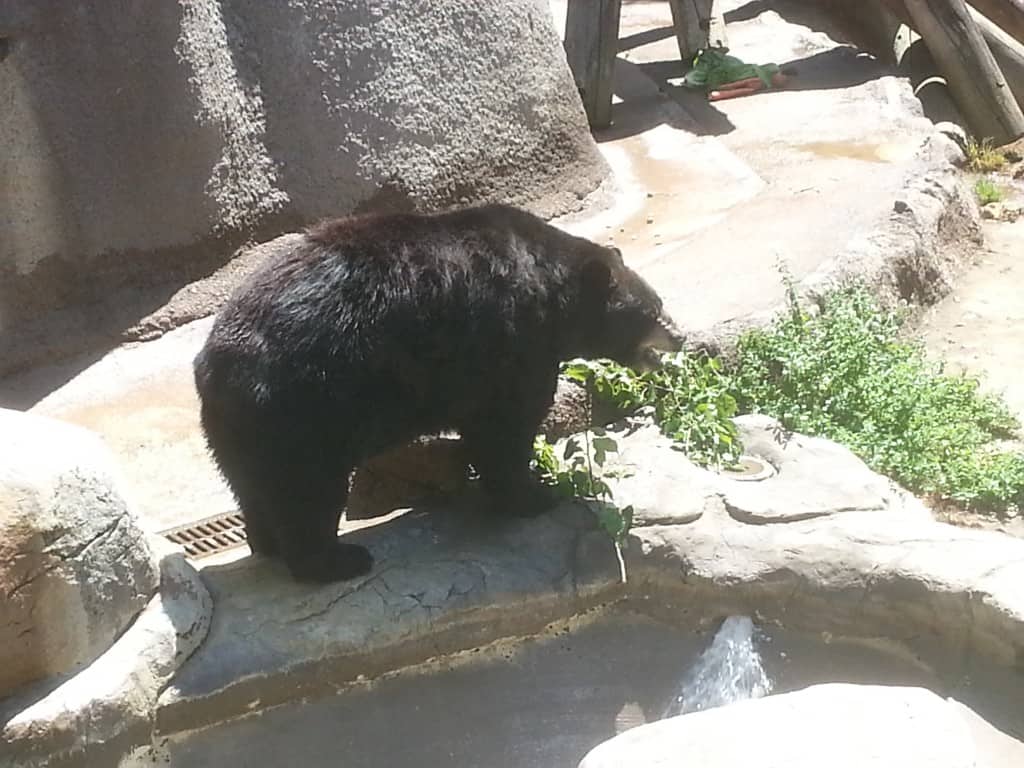 The tiger on the pedestal was so regal. The colors of the one under the tree? Vivid. Crayolas should be so beautiful. And the bear? A brownbear, happily eating his lunch, probably wondering why we were all making a fuss as they let him out of the cave.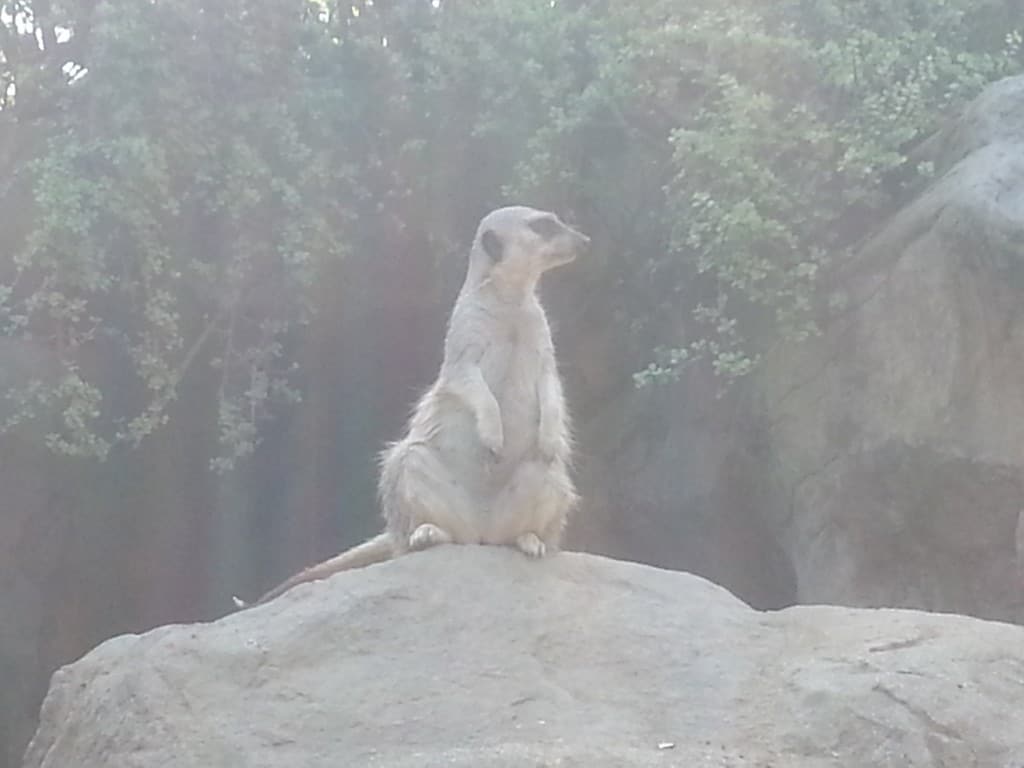 This little guy seemed to be enjoying us as much as we enjoyed him. (And any self-respecting "Madagascar" fan would know what this is!)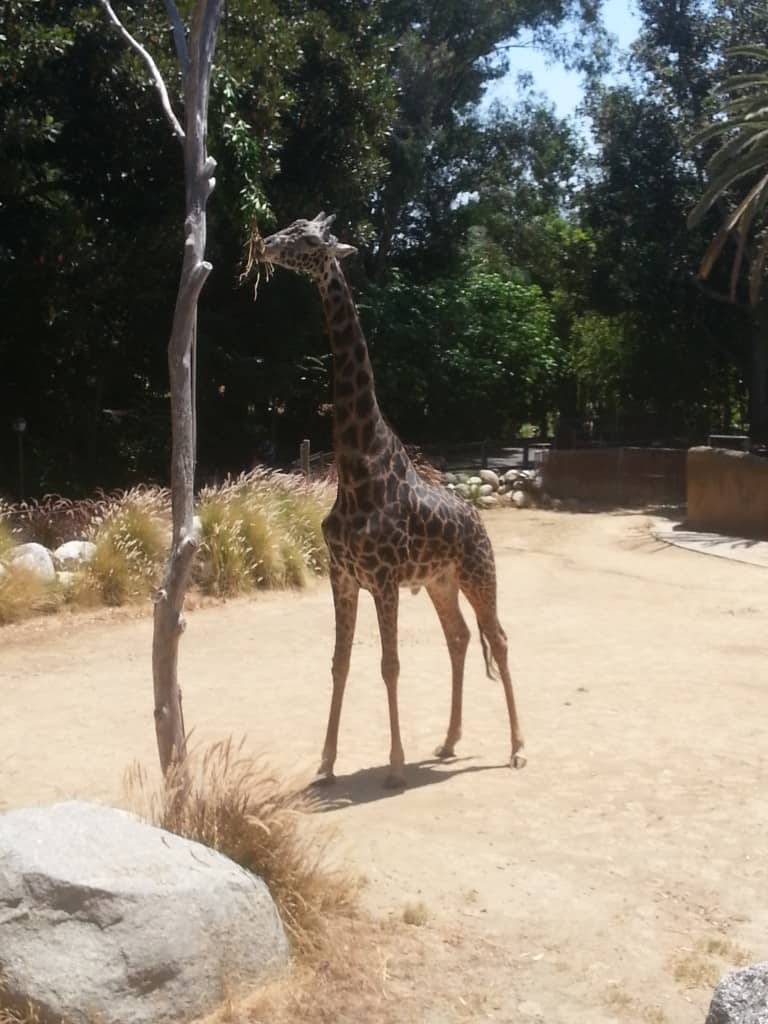 If I could pick another animal to pet, it would be the giraffes. One was nursing its baby (which totally grossed out little guy…and I made it worse when I told him he, too, had been nursed.."ewww, mom") and dad was eating. (Typical? LOL) They look so velvety and graceful for being such tall animals. Giraffes, I love you.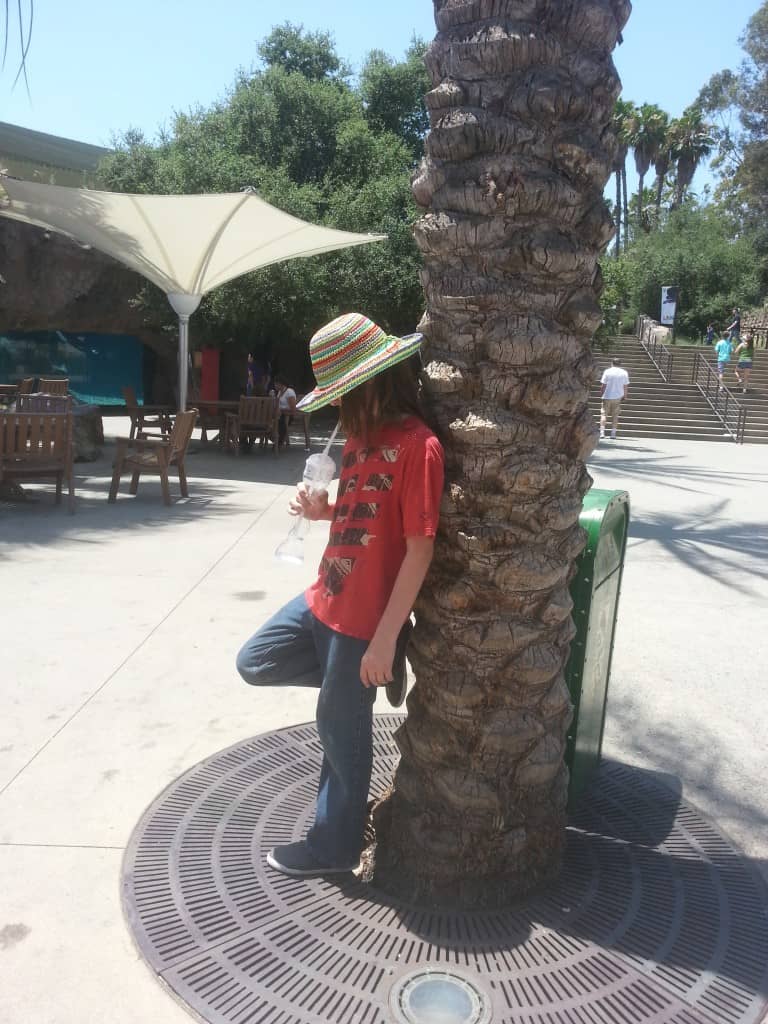 And at the end of a long day wandering a zoo in the heat? You buy yourself a really cool hat, refill your souvenir cup and lean against a California palm tree. Yeah, I wanted to do it too.
If you're looking for a fun place to spend a few hours, one where you can meander the world, in and out of shade and even do some spelunking, consider visiting the Los Angeles Zoo. Passes, anyone? Yes, I think I will.