"You'll shoot your eye out, kid!" Who didn't laugh as Ralphie did everything in his power to get a Red Rider BB gun in the iconic Christmas Story movie? The 1983 Christmas movie immediately became a cult classic, earning its Christmas Day marathon of playing back-to-back for a full 24 hours. Now, thanks to Warner Bros. and HBO Max, the sequel is streaming for the enjoyment of diehard and new fans alike.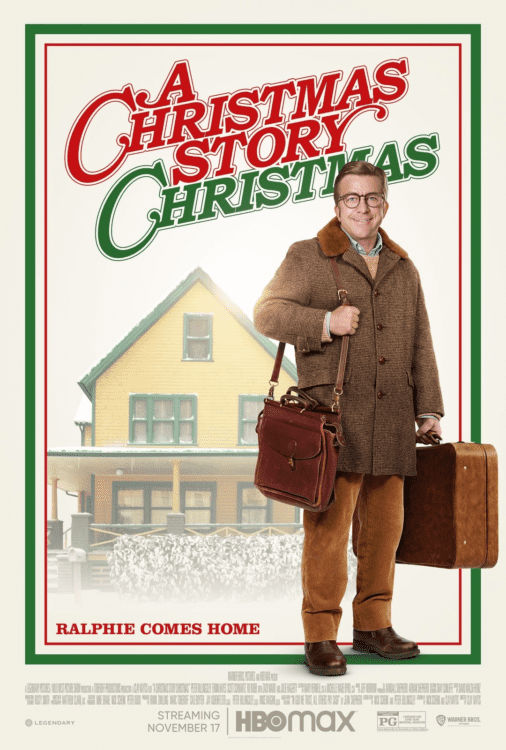 A Christmas Story Christmas brings back Peter Billingsley reprising his role as Ralphie, almost as well-known for his pink bunny suit as his BB gun and broken glasses experience. So many scenes full of laughter, we are one of the many who leave it on the TV every Christmas Day until someone announces they can't take it anymore…and that's not usually until at least 2pm, and given that even with adult kids, we're still up at 7am, that's saying something.
In case you haven't had a chance to watch the movie yet, you're in for a treat. Ralphie's, or Ralph's, imagination is again hard at work, with his classic head tilt and upwards stare as he envisions whatever dream he's hoping to manifest.
A Christmas Story Christmas features so many references to the original, even showing a glimpse of the infamous costume, the bullies from Cleveland Street, and tips from "the old man". The carolers scene brought back personal memories of living in New York and dealing with carolers who took your nods and smiles as encouragement to launch into three or four songs, as you stand at the door in the cold. There was no escaping!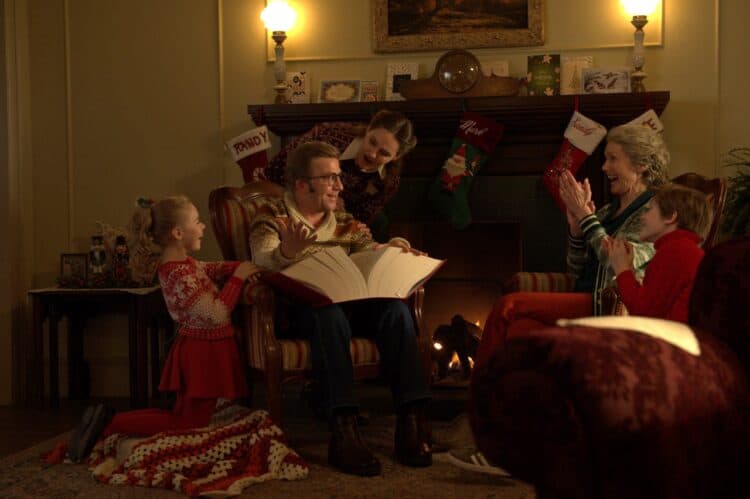 A group of us got the opportunity to interview Peter in a virtual junket a couple of weeks ago. He was kind, genuine and as he spoke, in my mind, I heard him saying "F-dash-dash-dash", the queen mother of dirty words…but there was none of that in the interview as he handled a litany of questions with grace.
Questions like what it felt like to return to Hohman for a second movie. Peter shared that he felt it was the right time, and it was exciting for him to come back, almost 40 years later, playing Ralph as a parent. "As a kid, you just want the perfect Christmas gift, but as a parent, you kind of want Christmas to be perfect." I feel like he nailed the feeling of aging from child to adult during the most wonderful time of the year; I could relate when remembering back to being a kid and hoping for that Barbie Dollhouse, then being an adult staying up all night wrapping the gifts we'd shopped so carefully for, while looking forward to seeing our kids' smiles as they opened them and spent the day enjoying their presents.
Ahhh, Christmas, I feel like this never changes, despite how old our kids get. We want to leave them indelible memories while still staying present in every moment.
Peter also shared how nice it is to play that character that saves Christmas, and that's why he loves Christmas movies. The movie deals heavily with the sudden and unexpected loss of Ralph's father, and in the end, there's "In trying to define Christmas, it's just the idea that there's love, laughter and life in the house again, and that was the ultimate Christmas present for the Parkers that year." And that goes back to Peter's comment about how as parents, we just want the perfect Christmas.
If there's a lesson to be had from this movie, it's twofold: the perfect Christmas comes in many shapes and sizes, and isn't always in what we expect, and that family and traditions and being together to enjoy them truly is everything. You don't need that BB gun or sled to have everything you want.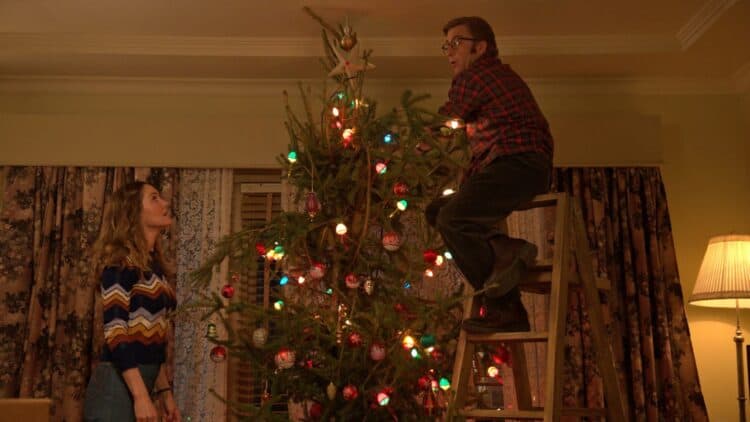 I'm thankful to Warner Bros. and HBO Max for the invite to the junket, and for the opportunity to screen the movie early. The junket came on a very windy day here in the Inland Empire, and I was so afraid I'd have to swap to watching on my phone just to keep a signal, as the wifi was spotty. Meeting "Ralphie" in person was pretty amazing. It's not every day you get to speak with someone who so personifies your favorite day of the year…and someone who made me consider, more than once, heading down to our local Asian restaurant to order duck for Christmas dinner.
A Christmas Story Christmas is streaming now on HBO Max, available via app or on your TV for a monthly fee. There are so many good things coming on HBO Max over the next few months, and I'm happy that we've had HBO Max since the beginning due to our tv service bundle with Spectrum. There's always something new to watch, and that's going to continue as we head into 2023.
Give it a go if you haven't, and enjoy the sequel to the iconic Christmas Story movie!