On Day 2 of my recent press trip with Disney, in honor of Disney's The Nutcracker and the Four Realms and the release of Christopher Robin on Blu-ray, a dream came true: I got to have a 100 Acre Wood picnic…and it wasn't just any silly old picnic, but a magical one amongst the trees and flowers, with the infamous voice of Winnie the Pooh, and Tigger, too  — Jim Cummings!
I got to meet Jim a few months ago before the movie hit the theaters and it was an amazing event, so the idea of seeing him again but this time in a setting straight out of a movie, had me SO excited! A real, true, 100 Acre Wood picnic? Yes, please!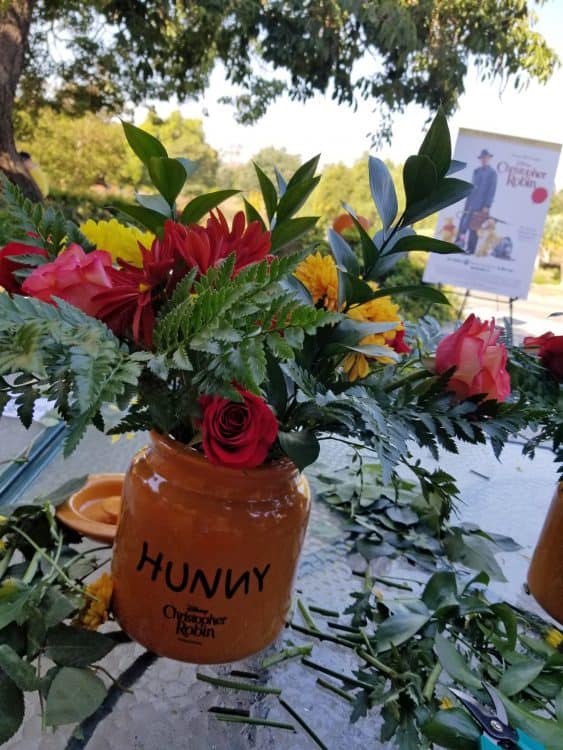 We started a day at the Los Angeles Arboretum, located off the 210 freeway in Arcadia, with a floral arrangement class hosted by Flower Duet. We were all given an authentic Winnie the Pooh/Christopher Robin "hunny" pot cookie jar, doing double-duty as a flower vase for our class, where we learned how to fill the vase with the proper amount of greenery, how to use flowers and stems in varying heights, how to cut them properly, and where to put the pops of color.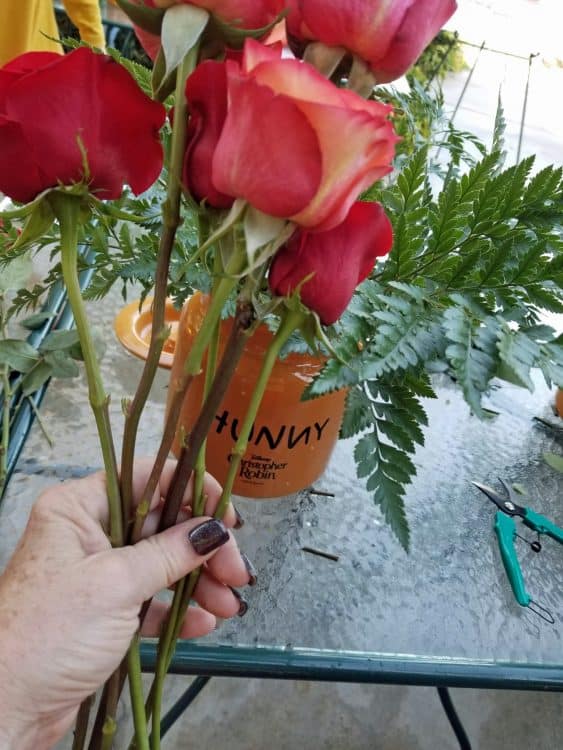 Floral arranging was something I've always wanted to learn, so learning in this environment is a memory I'm going to cherish forever.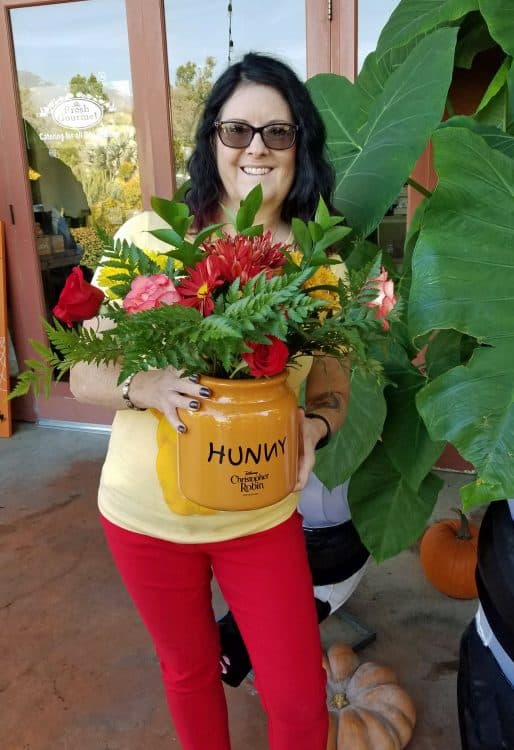 After we finished our creations, which came out pretty good, I have to say, we moved over to the 100 Acre Wood, just a few steps away in the arboretum. We were greeted by a gorgeous, long table underneath the drooping green boughs of a tree with a door in the trunk, straight out of Winnie the Pooh. So picturesque, we felt miles away from the bustling city outside the doors of the arboretum. Truly, it was a transformed location.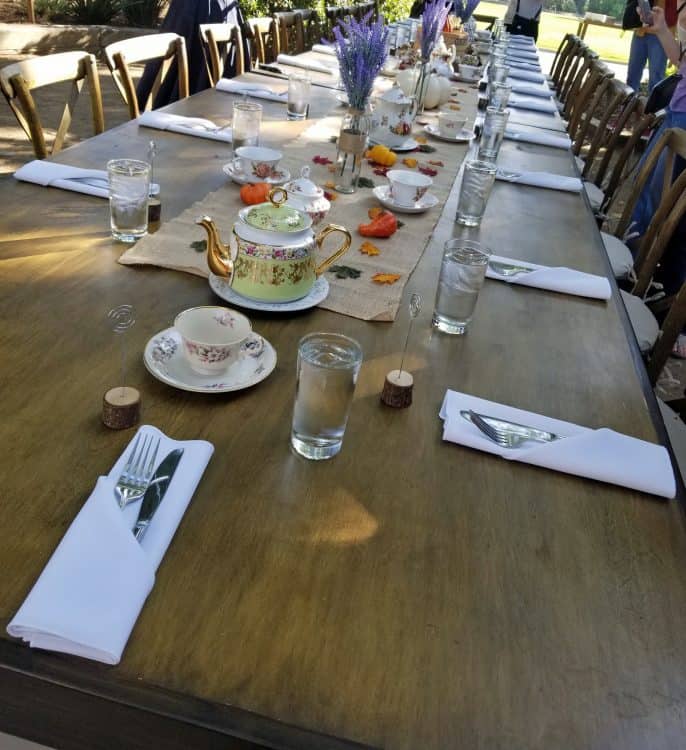 Jim Cummings arrived soon after, regaling us with his comical one-line Pooh and Tigger phrases and his gracious personality. Despite being Winnie the Pooh since the late 1987, he still appears enamored with the opportunity and told us that he still attempts to watch the movies as an outsider, still ooh'ing and aah'ing over what he sees on screen. There is no pretense at all, which is absolutely refreshing.
Our group of 26 bloggers hit him up with a lot of questions. We could have kept him there for hours! When asked if it was difficult switching from animation to live action, and he quickly quipped "Yes, it was hard fitting into the costume!" Cue the laughter. We were all immediately entranced.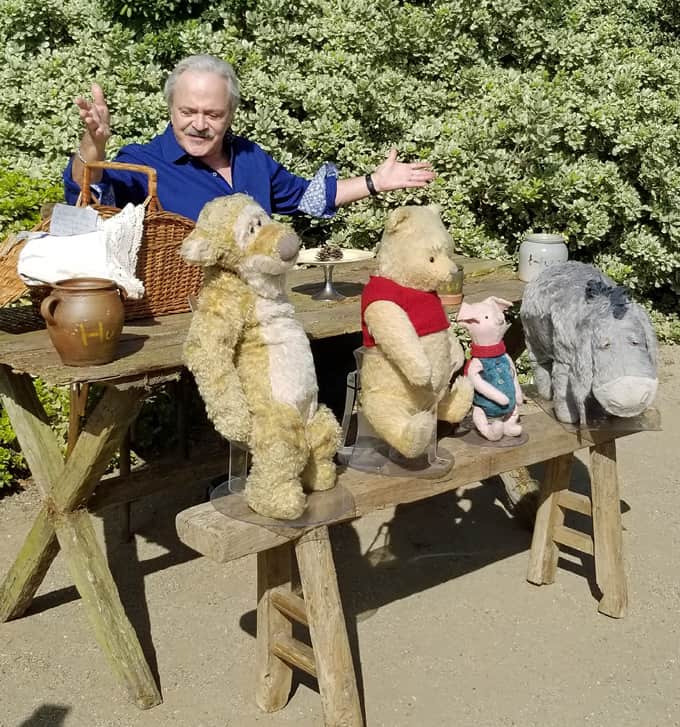 He shared a lot of insight with us, including the amazing fact that he did ALL of his lines in one day in London! If you've seen the movie, that fact alone will surprise you. So much emotion and so many different scenes — the skill and professionalism this had to take is hard to imagine.
We quickly backed up to the beginning, asking Jim at what point he realized he wanted to do voices. He shared what an 'annoying' child he was. "Jim, there are no dolphins in this classroom!" He then made a believably funny dolphin noise. Cue more laughter.
As there are some scenes throughout the years where Pooh and Tigger are together, rather than go back and forth between the two, he'd do all of one character's lines and then all of another. This prevented one's voice from bleeding into another, as Tigger's "a little raspier." Such talent though to portray two entirely different characters so seamlessly!
I try to ask questions in all the interviews, particularly the round tables, but sometimes it's hard having a unique question that's worthy of everyone's time. Sitting right next to Jim, I was so glad to have a question at the ready! I have seen all of the Pooh movies — repeatedly, courtesy of my now 23-year-old daughter who had every single thing in life that was Pooh-tehemed — and I wondered what line, or quote or scene out of all the movies or shows was the most difficult for him. He first complimented my shirt, a yellow Winnie the Pooh t-shirt I'd found at Pooh Corner in Disneyland, then said yes, there were definitely some difficult scenes. He said the hardest though was playing Ray in Princess and the Frog, where he passed away. His answer in its entirety:
"We're singing wherever you are, I've been lost and lost without you." And in fact, that's where the quote "You are stronger than you seem, braver than you believe…" came from. And that was very, very emotional. There were a lot of moist eyes in the studio that day."
Isn't that amazing? To see one situation from one movie end up inspiring another?
I love what I do, and being able to meet such a well-known person, even if he is more behind-the-scenes than many, is something I never take for granted. I hope I did him justice with my recap of our 100 Acre Wood picnic!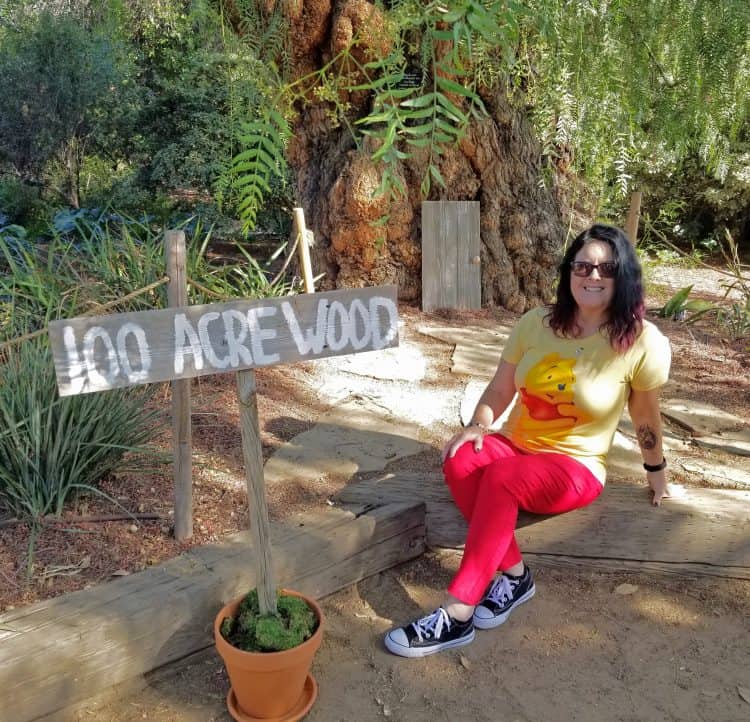 After he left, we went over to the buffet tables and filled our plates with a real 100 Acre Wood Friendsgiving dinner, from salad to entrees to sides and dessert.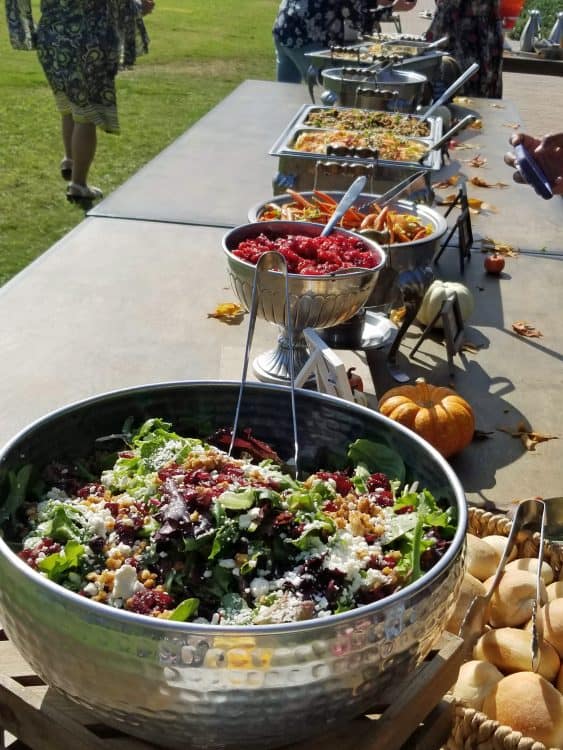 Those lemon bars!!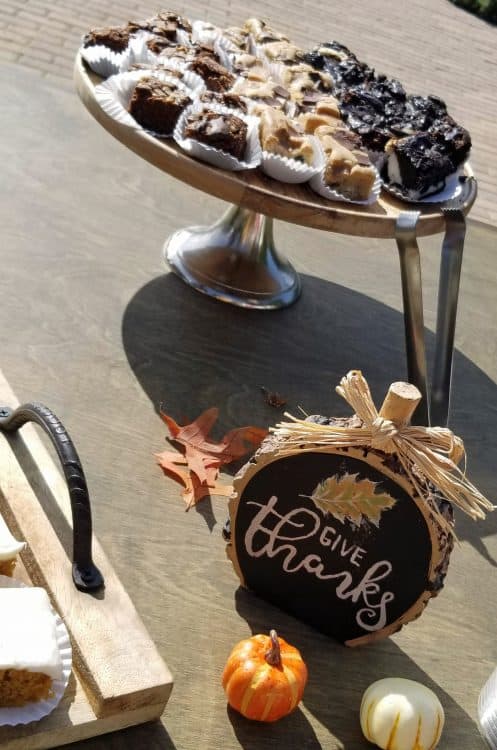 The time went so quickly, and all too soon, it was over. We had to get back to the hotel and get glammed up for our evening at the premiere! More on that later!
Christopher Robin hits the shelves on Blu-ray, DVD and more on November 6. You can pre-order on Amazon or hit up Target or another store that morning. I was given a complimentary copy at the junket, where we also received a number of other goodies from the world of Winnie the Pooh. This little guy loved hanging out on my pillows!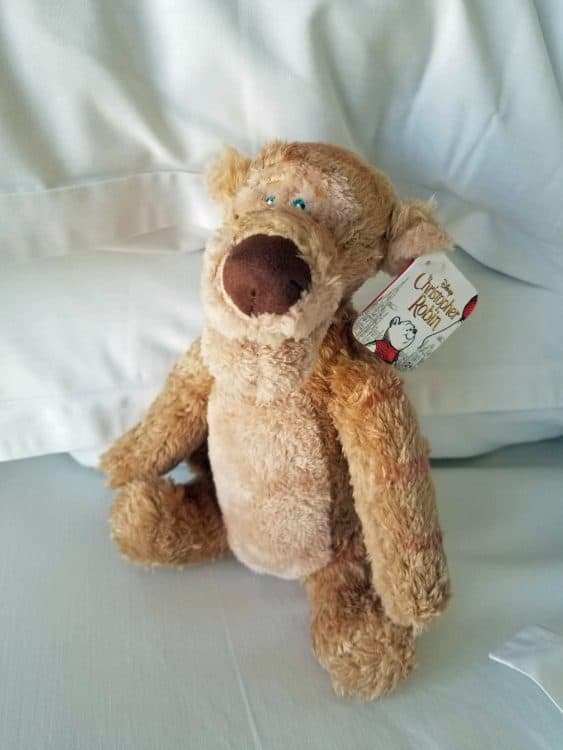 Thank you, Disney and Jim Cummings, for a magical day full of pixie dust! To sit behind all the original props from the Christopher Robin movie??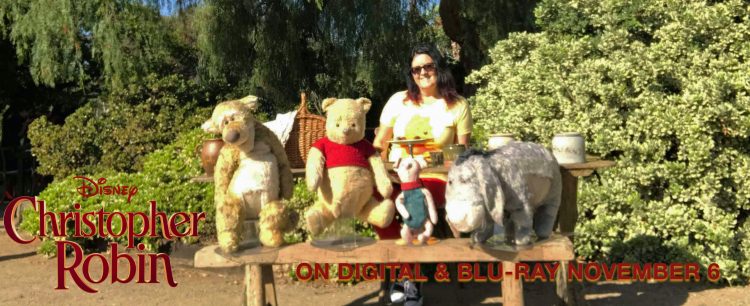 This photo sums up all of my feelings perfectly.