I love bread. I love it way too much. Like, if you said "Ten cookies or a few slices of good bread," I'd say bread. Add in some dipping oil and vinegar, I'm all over it and I won't even need dinner. Below I'm sharing my favorite recipe, the best rosemary garlic bread recipe I've ever created and eaten. Light and fluffy inside, crispy exterior, perfect for dipping, you'll end up making it frequently….and dipping in Secolari artisan oils and vinegars.

We host a lot of gatherings, but most of all, I prefer small, intimate get togethers with just a few close friends. Talking, enjoying some good wine and maybe playing a game is a perfect evening, with the only real work being creating some appetizers. This rosemary garlic bread can be the centerpiece of a simple charcuterie tray, taken up a few notches by adding a good dipping oil and vinegar. I tried it recently using Secolari products –their Jalapeno Olive Oil and Tuscan Herb Balsamic — and it was a wonderful platter served with glasses of good red wine on our balcony as the sun set.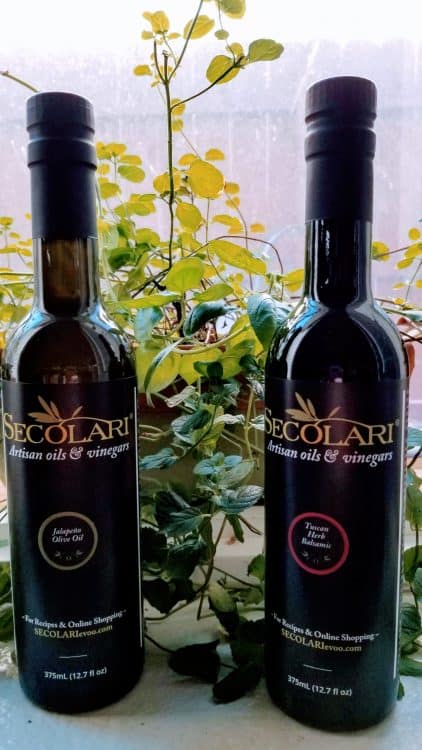 If you haven't heard of Secolari yet, be sure to head over to their website to check out their quality line of vinegars, olive oils, salts, seasonings and more. Orders of $75 or more qualify for free shipping, and smaller orders only cost $5 to ship! You can also buy them at their storefront in Maryland.
Secolari is known for their artisanal food, created with non-industrial methods, "making the mundane exceptional." Judging by these two products, that's a pretty accurate description! I love to dip a thick piece of fluffy bread into balsamic, sometimes covering it with a good fig jam, or with a salty piece of salami.
A charcuterie tray with a slab of bread also can contain things like briny olives, sharp cheddar cheese and fat blackberries to cut the acid just a little. Pour a glass of Zinfandel, sit down and relax!
The next thing I want to try from Secolari is their Champagne Mimosa Vinegar. Many of their vinegars are aged at least 18 years, ensuring the flavor and consistency is at its peak.
For more information, and to save 30% on your first order, Subscribe to the Secolario EVOO newsletter!
Their EVOOs — Extra Virgin Olive Oils — are certified by the California Olive Oil Council, which basically means that it's of the highest quality. If you've ever wondered how useful olive oil is for cooking, the Secolari website also has a recipes page full of ideas on how to use their products and basics on the products themselves. (They've even got a new post with a pecan pie recipe!)
Rosemary Garlic Bread for the Win!
With Thanksgiving on the horizon, this rosemary garlic bread recipe is going to be an appetizer for our Thanksgiving-eve gathering. Everyone comes armed with a bottle of wine and an appetizer or snack, and we all get a chance to talk before everyone goes to their prospective families for the holiday. It's like a Friendsgiving but without all the fuss!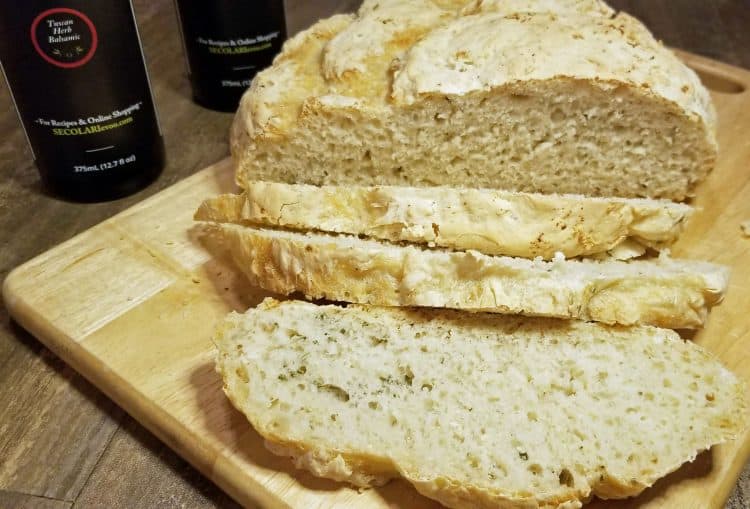 One of my best roast turkeys years ago, I put butter in between the skin and the meat, and drizzled olive oil on the outside. I am not cooking the big bird this year, but I'd love to cook a turkey using Secolari's Mantequilla Olive Oil. Mantequilla is vegan and dairy-free, made from a plant-based natural butter flavor blended together with cold pressed California olives. Their Roasted Garlic Olive Oil would be another alternative. I happen to have a spare turkey in the freezer, I may have to try it out and have a mini-Thanksgiving dinner on another day, just for the leftovers!
On to the recipe now!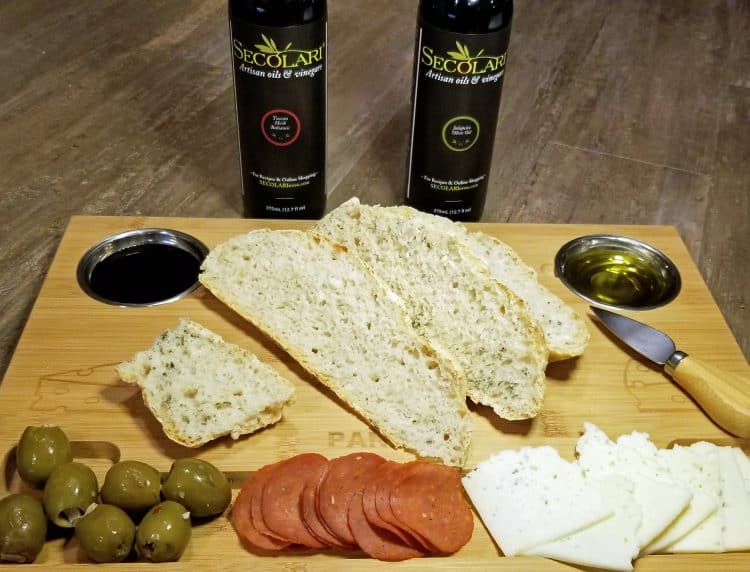 No-Knead Rosemary Garlic Bread
Ingredients
1.5

tbsp

yeast

3

cups

lukewarm water

1

tsp

salt

6.5

cups

white flour

2-3

tbsp

fresh chopped rosemary

1

tsp

garlic powder
Instructions
In a large oven-safe bowl, pour the lukewarm water on top of the yeast. Gently stir and let sit on the counter for approx. 5-10 minutes. (This allows the yeast to activate, or 'bloom.')

Once yeast has bloomed, gently pour in the flour. Stir until all combined. This is a no-knead bread but you may want to get your hands in there to mix it thoroughly.

Remove dough from bowl and oil it with Secolari oil (I used the Jalapeno Olive Oil), then replace dough; alternatively, just use another bowl.

Place bowl in oven on breadproof mode. (If you don't have that, set your temperature to 75-100 degrees.) Set timer for an hour. Peek at dough and if it's not risen in almost double its size, let sit for another hour.

Remove dough and add chopped rosemary and garlic powder. Mix in by hand, place on parchment paper and place it all in a Dutch oven, no lid. Put back in oven for another hour to rise more.

Here's the tricky part: if you have just one oven to use for bread baking, you'll need to remove the parchment paper, with the dough on it, and place it aside. If you have an extra Dutch oven, this is much easier but since bread baking can stain some pans, I stick to one trusty old red Cuisinart that has seen better days visually, but it bakes perfectly and is a solid pan.

Put whichever Dutch oven you're using into the oven and turn it on to 500 degrees. Once the oven reaches temp, leave it in there for 15-20 minutes.

Carefully pull out rack with Dutch oven and place the parchment paper and dough inside pan. (Cast iron pans will be EXTREMELY HOT. Be careful!) Put on lid. Turn oven down to 450 degrees.

Set timer for 20 minutes.

When timer goes off, remove lid and bake for an additional 15 minutes.

Remove parchment paper and bread and let cool before slicing or bread will rip.
Don't let working with yeast intimidate you! A lot of people are afraid their bread won't rise, but there are a couple of secrets that are SO easy, you will be baking bread all the time once you get over them.
First: use lukewarm water. It should feel warm on your wrist, around the temperature you'd use for a baby's bottle if you were to heat it up. Stir it gently with the active yeast and let it sit.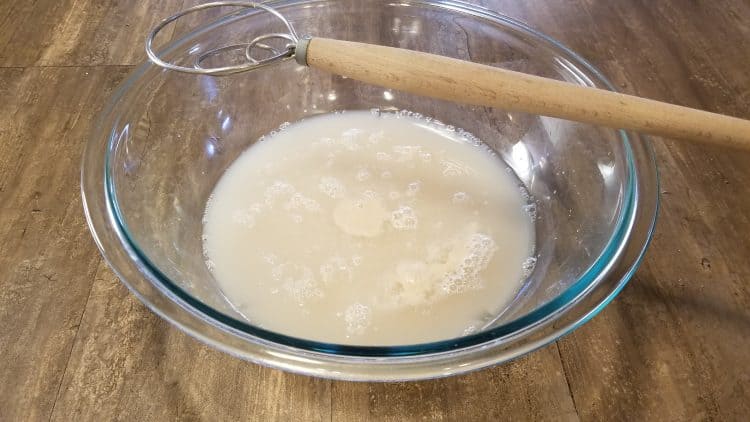 The other tip is to make sure your yeast is fresh and not expired. (And sometimes, I admit to adding an extra 1/4 tbsp or so — never had a fail yet in 20 or so years of baking fresh bread.)
One way to add a hint of extra flavor? When you oil your bowl for the bread to rise, use a flavored oil. I used the Jalapeno Olive Oil I mentioned above for a pinch of heat, and it keeps the dough from sticking to the bowl.
Don't let the consistency of this rosemary garlic bread, or any no-knead bread, worry you. It's okay if it's sticky. You can oil the bowl when you place it in the oven to rise, so it sticks less, and you can oil the parchment paper if you wish as well. I didn't when I made this batch, and you can see how it stuck a little, but you can use a butter knife to remove it if you're worried, though not much is wasted.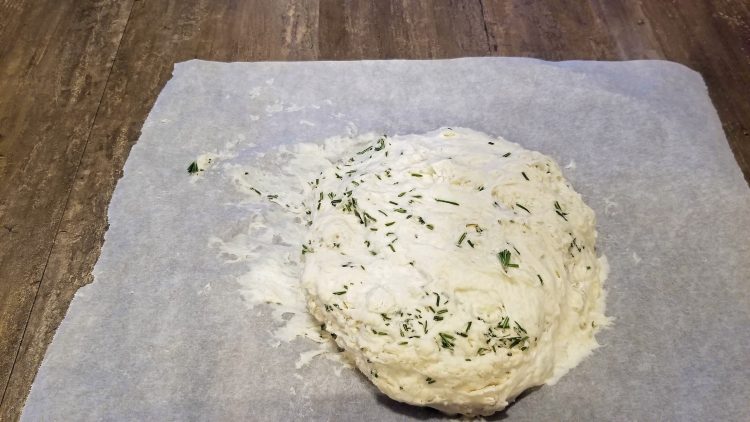 Be sure to give it ample time to rise, and if you aren't able to turn on the oven, even just the pilot light can suffice if your house isn't freezing. See how much mine rose in just about 90 minutes?
Don't be surprised if the dough stretches out. A smaller pan can yield a taller loaf, but I prefer this size in a Dutch oven as it's easier to cut in uniform slices.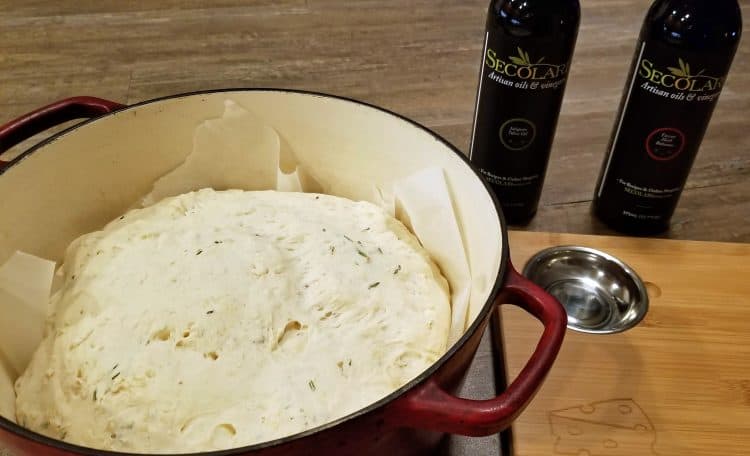 Fresh rosemary is the best if you're able to do it. Oh, the smell as I was chopping it up! Your kitchen smells even better with the addition of this herb in anything.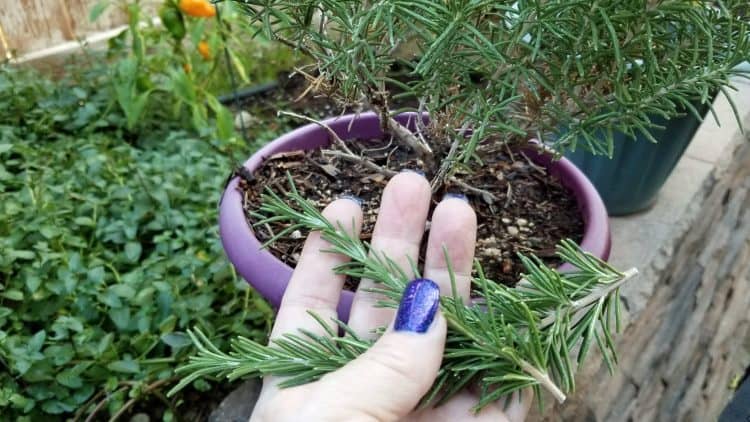 Even if your parchment paper folds over onto the dough, it's all good. It comes off, and even if it gets stuck a smidge IN the dough, you cut or pull it out after…but that's rare, as long as you don't get super-overzealous with the size of the paper you use.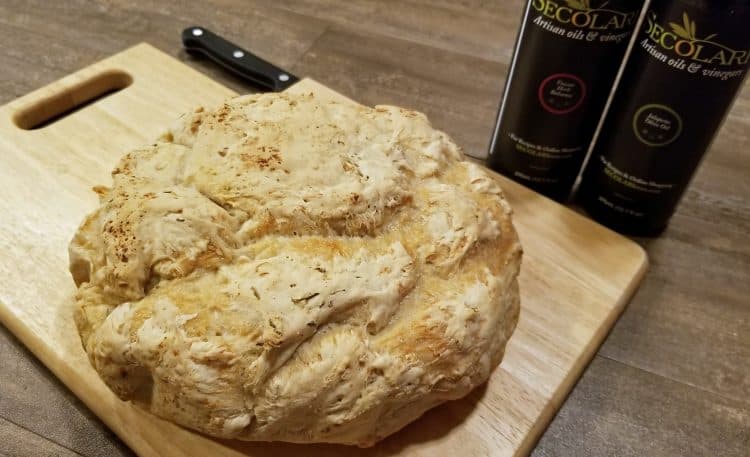 The beauty of this bread is that it's versatile, and can be used in many ways, just like Secolari products. The olive oils can be used in baking, as dipping, in dressings or used on top of protein as you bake it. (This jalapeno flavor will be SO good drizzled over homemade tortilla chips before baking or on top of my homemade focaccia and flatbread!) The vinegars make good simple dressings for salads and some flavors can be reduced slightly on the stove to go on top of berry desserts or even ice cream. If you haven't tried that, you are missing out!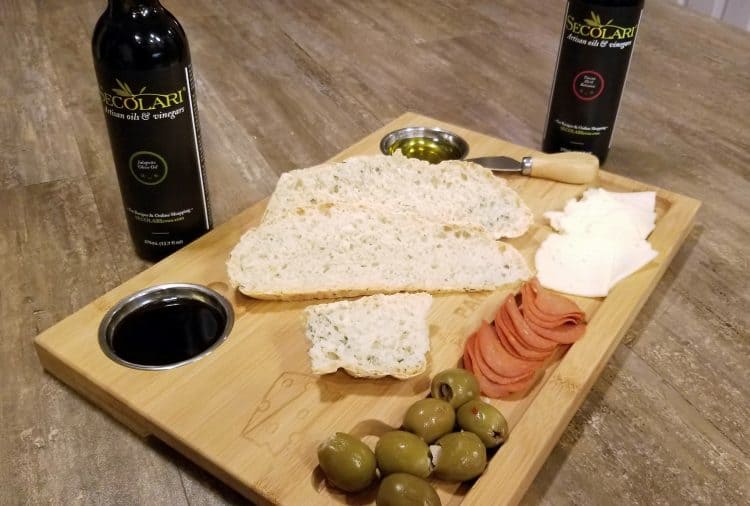 Enjoy my bread recipe and head over to SecolariEVOO.com. Their products make not just good Thanksgiving menu additions but they are fabulous Christmas gifts, too!