The temps dropped this week from 95 to 55, an unusually early cold spell for Southern California, and in anticipation for 'cold weather,' we all brought out our Uggs, our leggings and our sweaters. We also all rushed to the store and stocked up so we could start our holiday baking. This year, thanks to Melissa's Produce sending me a gorgeous box of seasonal produce, I added a new recipe to our fall baking list: Ginger Bourbon Persimmon Bread!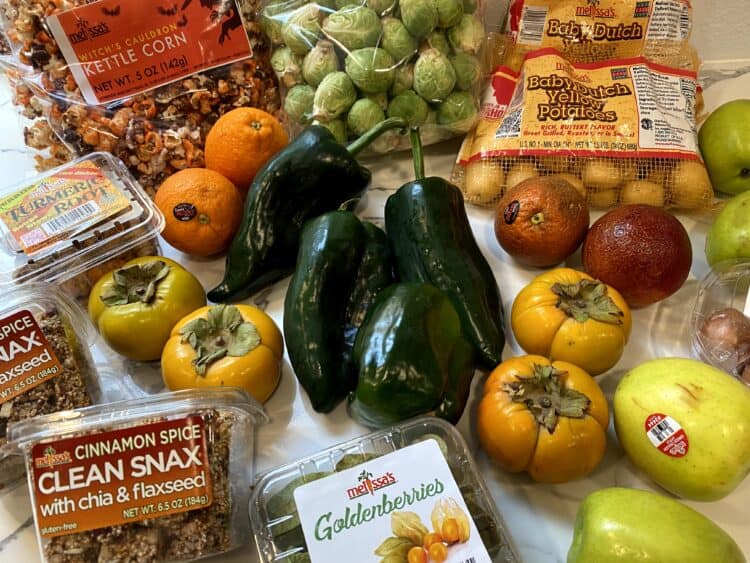 Persimmons are an undervalued fruit. Sweet, a bit tangy, full of flavor and color, they lend themselves to a lot more than you'd think. The most common reason I hear about not using them more is the work involved in peeling, but I'll share a tip below that will make it go much faster.
In season from October through January, they don't always get a large display portion of your grocer, so you'll need to keep an eye out. You'll usually see two kinds: Fuyu and Hachiya. You can bite into a Fuyu like an apple, eating peel and all, but a Hachiya (the one that's longer with a point on its end) is a bit bitter and peeling is a good idea. Fuyu is best for baking, and Hachiya for salads and other dishes, but both add Vitamin A, among others, and fiber to your diet.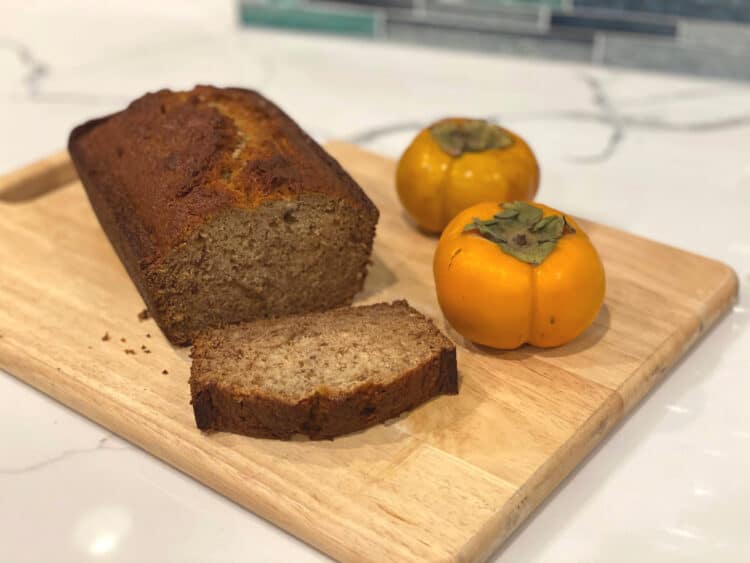 For my recipe below, I used the Fuyu type. I did peel them still, because I've always done it that way, but there are a lot of nutrients in edible peels so that's just something to consider. Peeling a soft-ish persimmon can be a little more time-consuming if your peeler isn't sharp, so that's tip #1: use a quality peeler.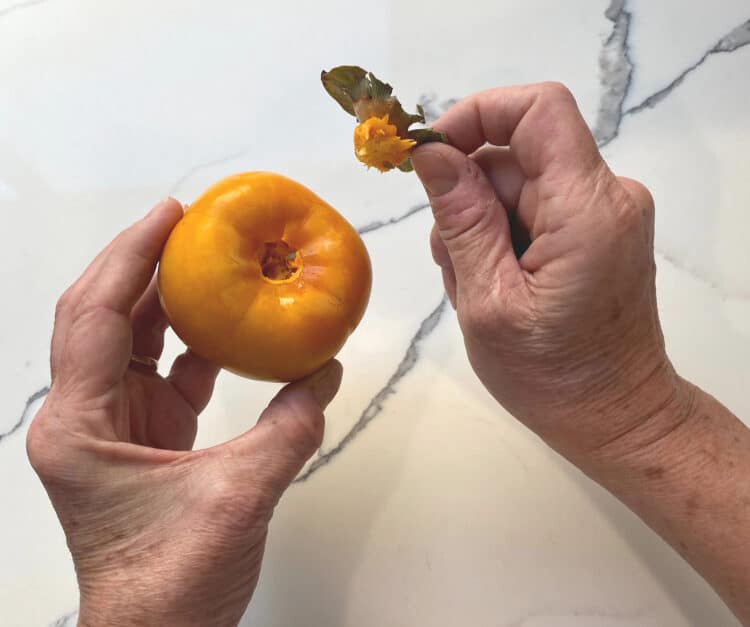 Tip #2 though makes it easier no matter what. Stick a fingernail or the end of the peeler under the stem piece on top of the fruit; grab it with two fingers and firmly tug it off. It leaves a nice hole and from there, you can either grab the skin with your fingers and pull off in large chunks, or you can use that as a starting point for your peeler. I promise, this is faster than cutting the top AND you get a lot more of the persimmon for your recipe.
There are a lot of bourbon persimmon bread recipes available on the internet, which are adapted from basic persimmon bread recipes, adding bourbon (or whisky) in place of some of the other moisture. James Beard's recipe has been modified many times over to personalize your bread, and my recipe below takes that all a step further with the addition of another wonderful year-round-available produce, fresh ginger. (You can technically sub in 1/2 of the amount of ground ginger, but it doesn't have the same texture or flavor.)
This recipe makes two full-size loaves of bread, so you can share….or not!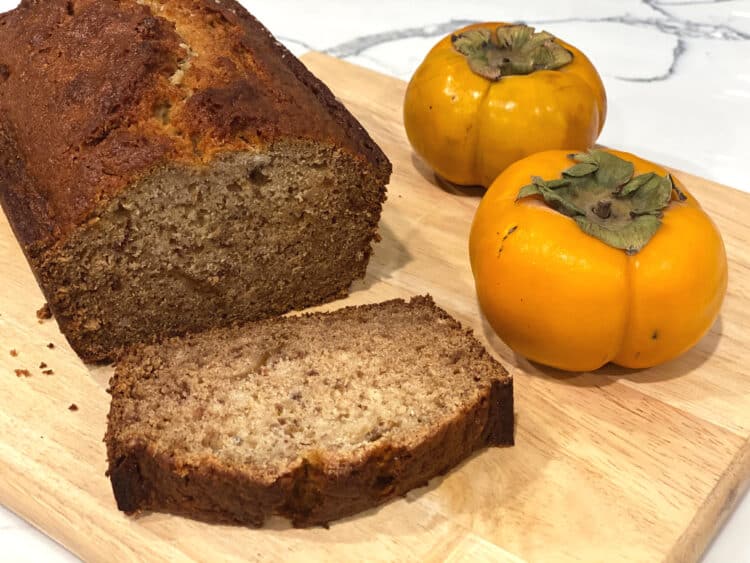 Ginger Bourbon Persimmon Bread
3 1/2 cups white flour
1 tsp salt
2 tsp baking soda
1 tsp nutmeg, freshly ground or from the jar
2 cups granulated sugar
1/2 – 1 tsp fresh ginger, grated
2 sticks melted butter, cooling to room temperature
4 eggs, gently beatened at room temperature
2/3 cup bourbon (or whisky, maybe even brandy?)
five persimmons, pureed
This all comes together in one bowl, so start combining the dry ingredients together in a large mixing bowl. Once combined, add the liquid/wet ingredients.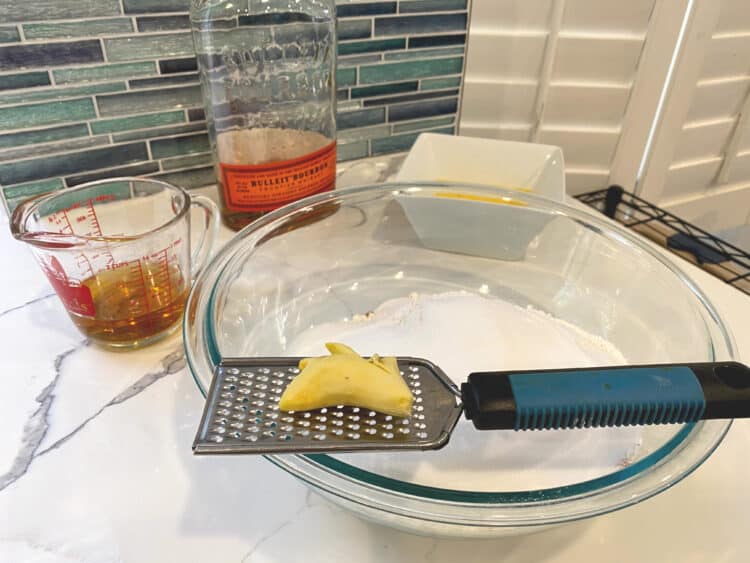 Preheat oven to 350°.
After peeling, chop into smaller pieces and either use the food processor or a baby food blender/chopper, similar to a coffee grinder. So much easier to clean!
Mix thoroughly and pour evenly into 9″ lightly-greased loaf pans.
Bake 55-65 minutes. (Mine were mostly done at 58 minutes, but needed another 3-4 minutes. Watch carefully so you don't get burnt edges, as the middle will appear more moist if you insert your checker/toothpick/knife into an area where you hit a persimmon piece.)
Cool on a wire rack for five minutes, then remove loaf from pan (carefully, it will still all be hot) and let cool completely. Slice and enjoy!
Purchase your persimmons today, available from Melissa's Produce and at select stores. Learn more at their website, as well as get inspiration for additional holiday baking! You'll also want to check out the recipe below that my friend made using fun holiday produce ingredients from Melissa's. Happy holidays!