It's that time of year, the time where we enjoy more hot drinks, cuddled under a blanket or next to a fireplace, treat in hand. Try my Hot Buttered Rum cupcake recipe below for your next treat! Like most of my dangerous cupcake recipes, it's infused with alcohol. Guess which kind!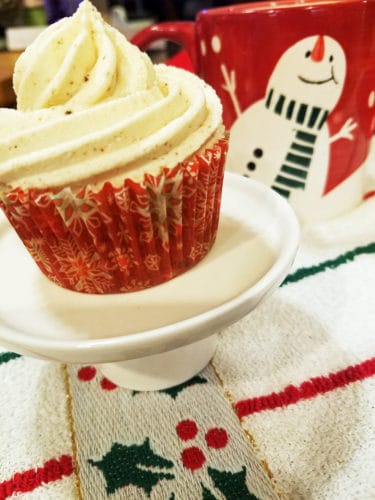 This Hot Buttered Rum Cupcake was created to honor the favorite holiday drink. Perfect for entertaining, hostess gifts or just a treat when you've had a long day of Christmas shopping or wrapping, it's a rich, flavorful cupcake with just the perfect amount of spice and a buttery, rum flavor you're going to love.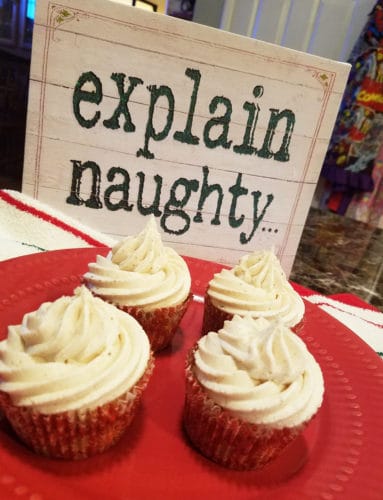 Hot Buttered Rum Cupcake
Another dangerous cupcake recipe, with rum in the batter, a light rum glaze and a brown butter frosting, all reminiscent of that popular drink, a Hot Buttered Rum.

Ingredients
2 1/3

cup

white flour

2 1/2

tsp

baking powder

1/2

tsp

salt

1

cup

browned butter, refrigerated to semi-solid state after melting/browning

1 1/4

cup

brown sugar

3

whole

eggs and one extra egg yolk

1/2

cup

rum, with 3 extra tablespoons

1

tsp

rum extract
Instructions
Place cupcake liners in cupcake pan. (Alternatively, spray/flour cupcake pan directly.)

Mix dry ingredients together in medium bowl: flour, baking powder and salt.

In large bowl, or mixer bowl, whip butter for 30-45 seconds to make it fluffy and incorporate all nutty pieces thoroughly. (Directions on browning butter are below.) Pour in sugar, 1/4-1/2 cup at a time until mixed thoroughly.

Add in eggs, then extra yolk, one at a time, mixing in between.

Slowly pour in dry ingredients, alternating with rum, then rum extract, until completely mixed. Do not overmix.

Scoop into cupcake liners/pan, until 2/3 full.

Bake 17-19 minutes per cupcake, testing to be sure center is fully cooked.




Cool on rack, where you can apply the glaze whenever you're ready. Cupcakes need to be entirely cool before frosting. (Glaze recipe below.)
Not familiar with cooking with browned butter? No worries, it's really simple! Melt the butter you need, plus a couple of tablespoons extra, very slowly in a shallow frying pan. Keep the heat very low. The goal isn't just to melt it, but to let it brown, so don't be worried if it appears to separate. Keep a close eye on it, as it will start to turn golden after it melts; when you start to see brown speckles appear and it's a brown color entirely, turn it off and remove from the heat.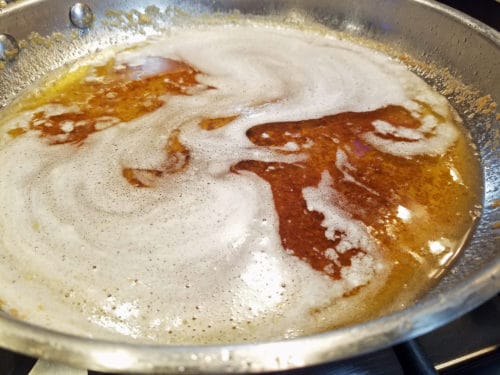 For this recipe, you'll want the butter to be semi-firm again, so as soon as it's safe, transfer the melted and browned butter into a glass bowl. Place it in the refrigerator and let it return to a solid yet softened state. Mix it a few times as it hardens so the brown speckles are mixed in evenly. I melted all my butter at once for this recipe, including the butter for the frosting, so keep reading to get the totals so you can save yourself some time!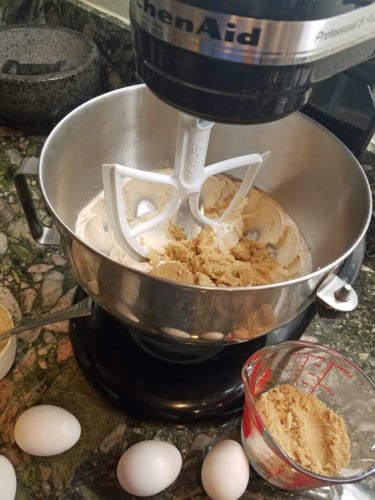 The browned butter, softened similar to a room-temperature stick of butter, mixes just like regular butter would, and it looks so pretty in the bowl with all the brown speckles. They're also obvious when you scoop the batter into the pan.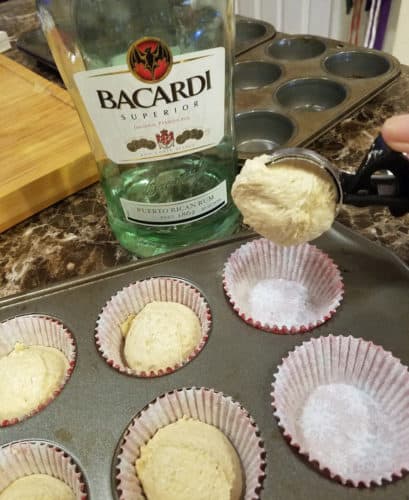 Doesn't the batter look good? Up next is the glaze. You'll spread this onto the cupcakes as they're cooling on the rack. You can put this on when they're still warm, it's fine either way, as long as you don't put the frosting on them until they're fully cooled.
Rum Glaze
This glaze is quickly mixed together and brushed onto the top of cooling cupcakes before you apply the frosting.

Ingredients
2

tbsp

white granulated sugar

1

tbsp

hot water

3

tbsp

dark rum
Instructions
Mix the sugar and hot water together in a small bowl. It will be like a paste.


Pour in rum and mix right away so the hot water helps dissolve the sugars into a thin syrup.


Spread onto the top of each cupcake. This can be done when they are warm or cool.

Speaking of frosting…it is my favorite part of this cupcake, and one of my favorite frostings ever. I could have taken a spoon and run off, hidden away to eat a lot of this on my own. So good! This frosting is really what makes this cupcake like a traditional Hot Buttered Room drink, so don't skimp on the spices!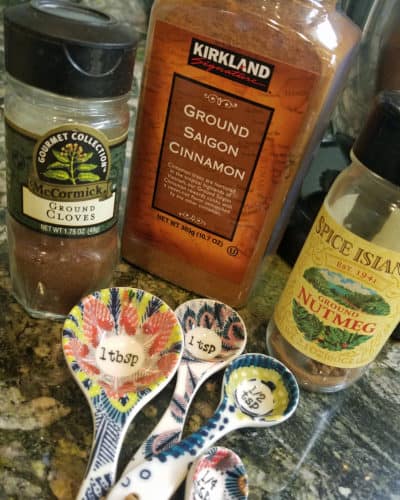 Hot Buttered Rum Cupcake Frosting
This frosting doesn't have alcohol in it, but it's not simply a browned butter frosting. You may want to double this recipe if you are like me and use a lot on each cupcake!

Ingredients
1

cup

browned butter, firm from refrigeration

1/4

cup

regular butter, softened

4

cups

confectioner sugar

3-4

tbsp

cream, almond milk or non-dairy sweet creamer

1/2

tsp

cinnamon

1/4

tsp

nutmeg

2

pinches

cloves, to taste as it can be overpowering
Instructions
Mix the two butters alone for approximately one minute. This incorporates the two types of butter together and makes them fluffy.

Carefully pour in the sugar, 1 cup at a time, until mixed thoroughly.

Add in the cream, using only enough to achieve the proper consistency.




Once you're happy with the consistency, add in the spices. Mix gently until only mixed through. Place into large piping bag with your choice of tips and pipe onto cooled and glazed cupcakes.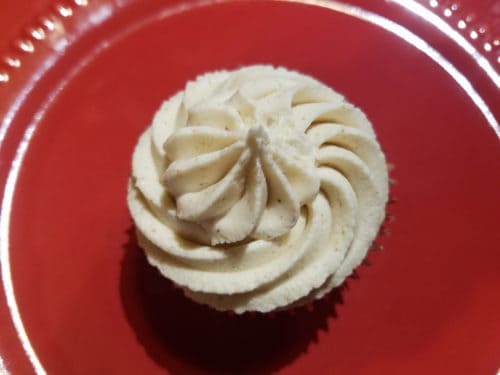 Decorate as you like, but this swirl is one of my favorites. It's simple, quick to do and is an easy way to pile on a ton of frosting! Enjoy!