Do you ever watched Chopped? If yes, you probably watch as they list the ingredients and wonder what you'd make. Four unusual or weird ingredients and a short deadline to make something that will wow the judges? On one hand, I'd love to try it sometime but in reality, I know I'd choke. I'd never come up with something like my Mini Hasselback Potatoes with Brown Butter under pressure! My food may be tasty but not on a short deadline. I'd be the first one to hear the words "You've been chopped."
Thanks to Melissa's Produce, I get to do this at home, in the privacy of my own kitchen — except the ingredients are a lot less weird and I have no deadline. Each month, a few blogger friends of mine join together with our own challenge. Melissa's Produce sends us a box of seasonal produce, spices and additional ingredients so we can each make at least one app, side dish, snack, entree, dessert or beverage. This month's box was focused on fall produce, and it included a bounty of seasonal items that had me thinking ahead to our Thanksgiving menu.
Here's a peek at the box I received. So much good stuff! If it wasn't still in the 80s, I'd have immediately put those mulling spices to good use. (I've got a recipe coming up using them that I'll share soon too.)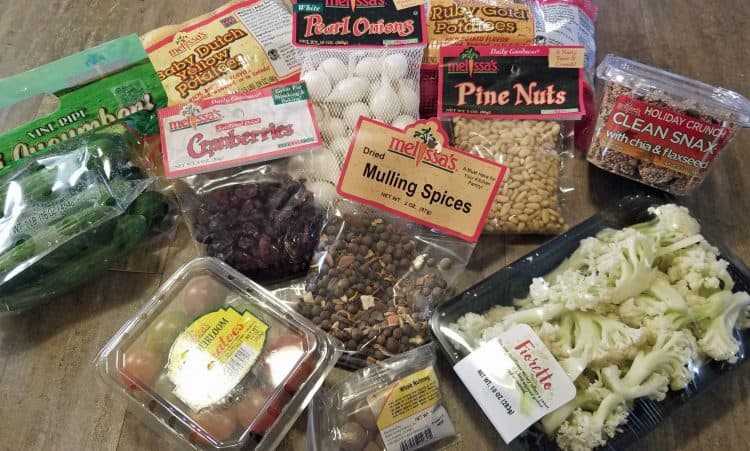 And about those Clean Snax. They didn't make it into a recipe but instead were a blogging snack. Those are so good! One day, I will put them into one of the several recipes I have in my head for them.
The first item I ended up making was a riff on Hasselback potatoes. I wanted to make gnocchi, but that's not feasible with mini potatoes. I knew the size would make Hasselback potatoes a bit of a challenge, but I had fresh nutmeg, pearl onions and pine nuts, all ingredients that would ramp up the flavor and allow me to make a unique version of this popular side dish.
Why the nutmeg? Gnocchi is an Italian dish, and many authentic recipes include a pinch of this spice that is more frequently seen on top of egg nog, in a chai tea or a fresh pumpkin pie. It's much more versatile though, and if you've got fresh nutmeg, bust that out and experiment!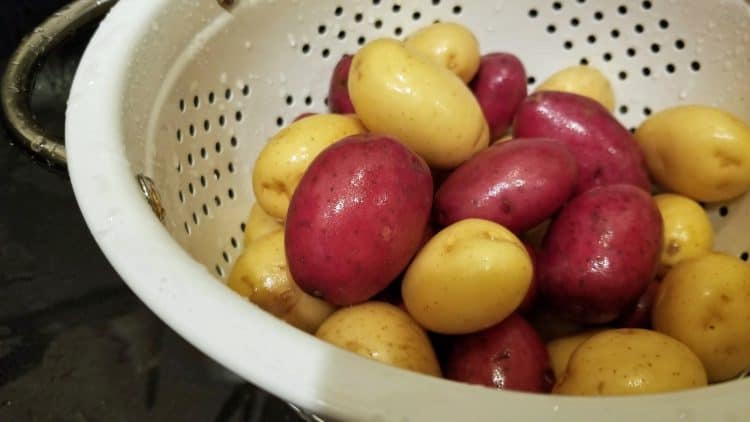 I try to make my recipes as healthy as possible, so I'll admit that the brown butter in this side dish isn't the healthiest. But that's okay, because simply making your food with fresh items is already half the struggle. Using fresh produce and quality ingredients ups the healthiness and if you use real butter, you at least know you're avoiding chemicals and additives you might find in other dressings or a margarine that many people put on potatoes.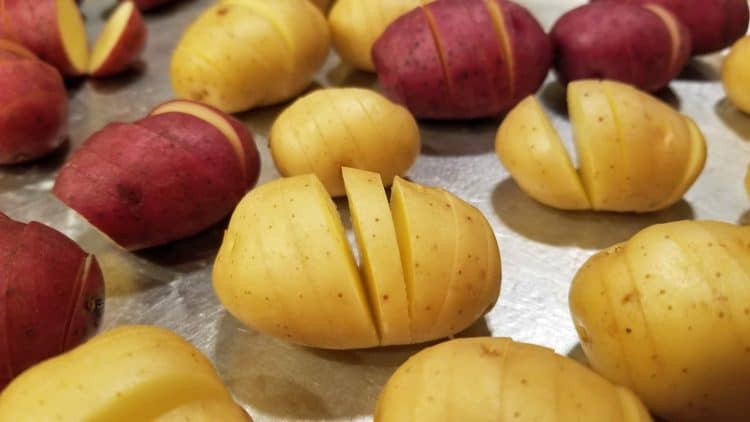 Here is my simple Mini Hasselback Potatoes with Brown Butter recipe to consider for your Thanksgiving dinner menu or a big family meal!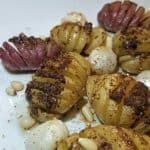 Mini Hasselback Potatoes with Brown Butter
Ingredients
2

sticks

butter

1

pound

Baby Dutch Yellow and/or Ruby Gold Potatoes

12-14

pearl onions, peeled with ends cut off

1.5

ounces

pine nuts

This is approx. 2-4 tablespoons.

salt and pepper
Instructions
Brown both sticks of butter by placing in a medium sized frying pan on low. Stir every few minutes. The butter will slowly brown, and you can choose your level of brown; I prefer it to get more of a nutty flavor, which I achieve by letting it get fairly dark with brown specks. (It does not need to get to that brown to be considered brown butter. The choice is yours.)

While butter is browning, clean and dry your mini potatoes. To make them Hasselback potatoes, slice all the way across the width of the potato, going almost all the way through the skin. Do not cut all the way through. It will give them an accordion look. Spread them apart a little but be careful not to tear the potatoes.

Place potatoes on a cookie sheet that has been oiled slightly, to prevent sticking. Spread apart so potatoes do not touch.

Sprinkle each potato with salt and pepper.

Bake potatoes for 25 minutes until partially softened. Remove from oven, then spoon brown butter onto each potato, approximately 1 tablespoon per potato, depending on size.

Place pearl onions onto tray in between potatoes.

Grate fresh nutmeg on top of the butter on each potato.

Place potatoes back into oven and bake another 20 minutes. Remove, if adequately soft in the center, and sprinkle with pine nuts. Potato exterior should be slightly crispy.

Serve, with additional brown butter if preferred.
I'm a brown butter fan. I often put it on top of our gnocchi, pierogis, even bowtie pasta mixed with fresh chopped mini bell peppers and basil. It's easy to make but elevates your dish to taste just a little fancier.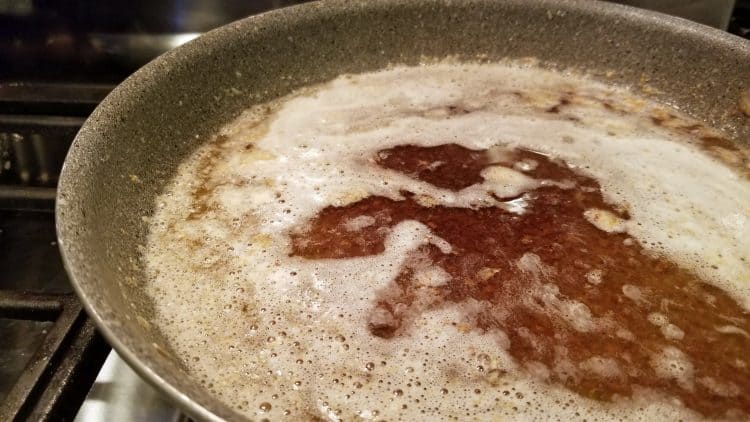 See what I mean? Butter. It just looks like something that will make your food taste better. Your kitchen will smell amazing, and your guests will think you spent a lot more time in the kitchen!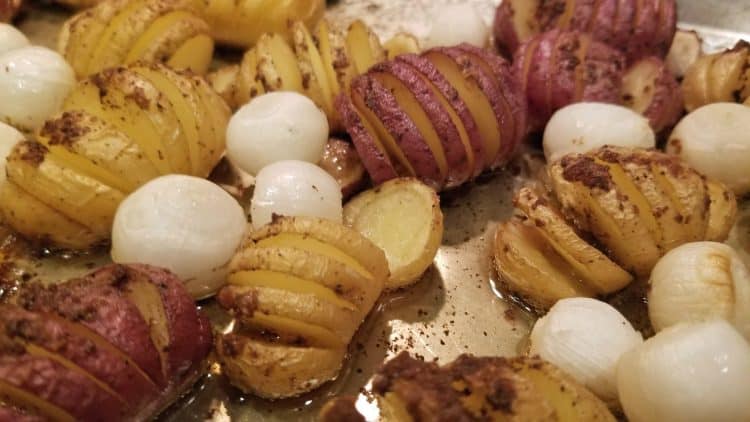 There are so many things you can create with Baby Dutch Yellow and Ruby Red potatoes. For this recipe, you can use just one type but I liked the mix of the two. Colorful food just tastes better, right? You can also make more or less with very little change to the recipe, simply adjusting the number of potatoes and onions.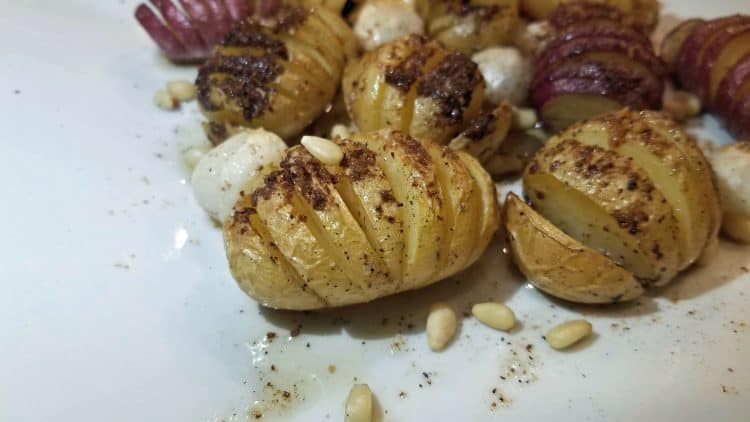 Enjoy my Mini Hasselback Potatoes with Brown Butter recipe! Try adding it to a family meal or even one of your upcoming holiday menus. Everyone needs a few easy side dish recipes in their arsenal for those sudden holiday party invites or drop-in guest gatherings. I think this one fits the bill!
And here are a few more to enjoy!