Developing better habits isn't always easy. We mean well. We come up with ideas, say we're going to do it, maybe even buy everything we need and get prepared, but then we stop. Or maybe we start and it peters out. Studies have shown that it takes approximately three weeks for a new lifestyle or activity to become a habit. That's three weeks full of opportunities for us to make excuses or give up. The key to successfully developing better habits is finding a way to make them more enjoyable. How do we make getting healthy more enjoyable? Make the food tasty and affordable!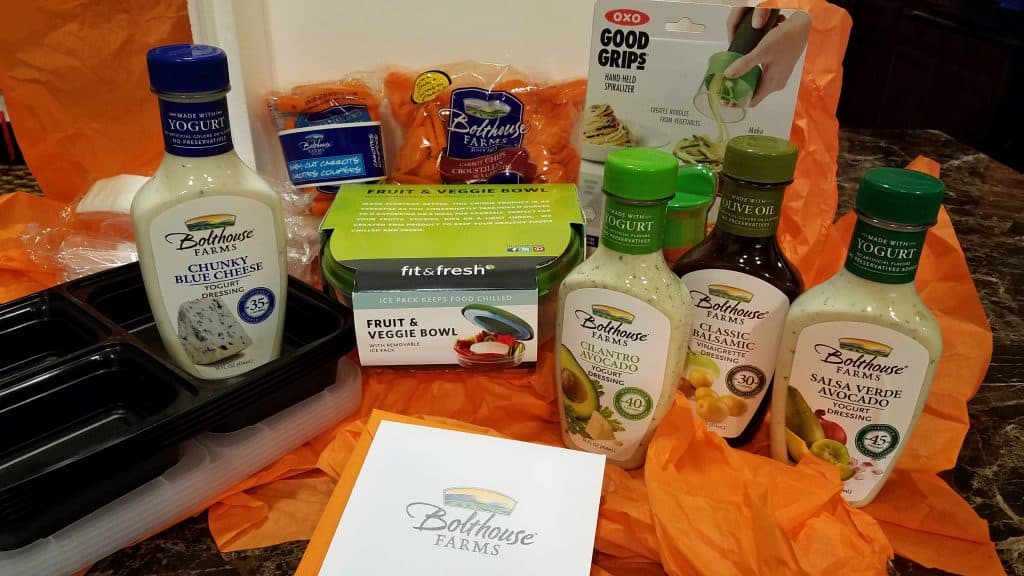 As an ambassador for Bolthouse Farms — which means I get a complimentary cool box full of food and gear sent to my house each month or so — developing better habits has become easier. Each shipment, we have a theme, and this month I'm working with Bolthouse Farms on talking about better habits. (You can follow along on Twitter and Instagram, or with #BHFbetterhabits to see delicious ideas others are sharing, too.) We all need to do it, so why not make it easier, right?
As a busy working mom, running a business and working full-time, I don't always have time to make lunch during the work day. I often look up and it's 2:30pm and I haven't eaten yet. This isn't helping with weight loss, and it's not good for my energy level or health overall. That's a bad habit I need to break, but I need food to be convenient….and drive-thru food doesn't count. Celery sticks and hummus, yogurt with organic fruit, grape tomatoes with light olive oil and sea salt, sushi from Sprout's on shopping day, they're all great but not necessarily filling or something I can do every day. The answer to all of this is pretty easy, but definitely a new habit: pre-making my lunches.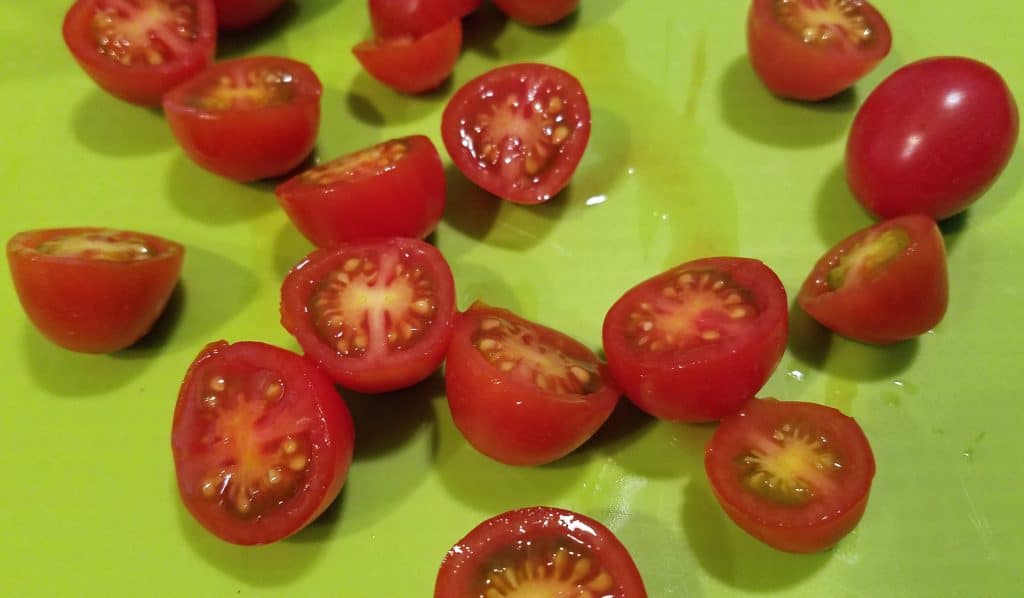 The healthy choices are endless: chicken breast, tuna, yogurt, soup, vegetables, fruit, the list goes on. The important thing to do is to make sure you like the food, or you're not going to want to stick with it. Some people spend a couple of hours on a Sunday afternoon making their food ahead of time and putting it in safe food containers to take to work. I prefer to do it a couple of evenings a week, so I am more in control of what I'm eating on what day. If I make salmon, brown rice and broccoli crowns for the week then on Wednesday am really wanting vegetable soup, what then? I'll head to the drive through and get orange chicken, defeating the purpose of pre-making my food.
Choosing food that only needs to be reheated slightly, or not at all, helps. I don't always have access to a microwave or the time to get to one. Being able to grab my lunch bag and eat without any further preparation is a huge time-saver. Using containers that keep my food cold is also invaluable when I'm on the road and my bag sits in the car for a few hours. Keep disposable napkins and silverware in your bag, small containers of dressing or hot sauce and you'll avoid your meal ever being boring.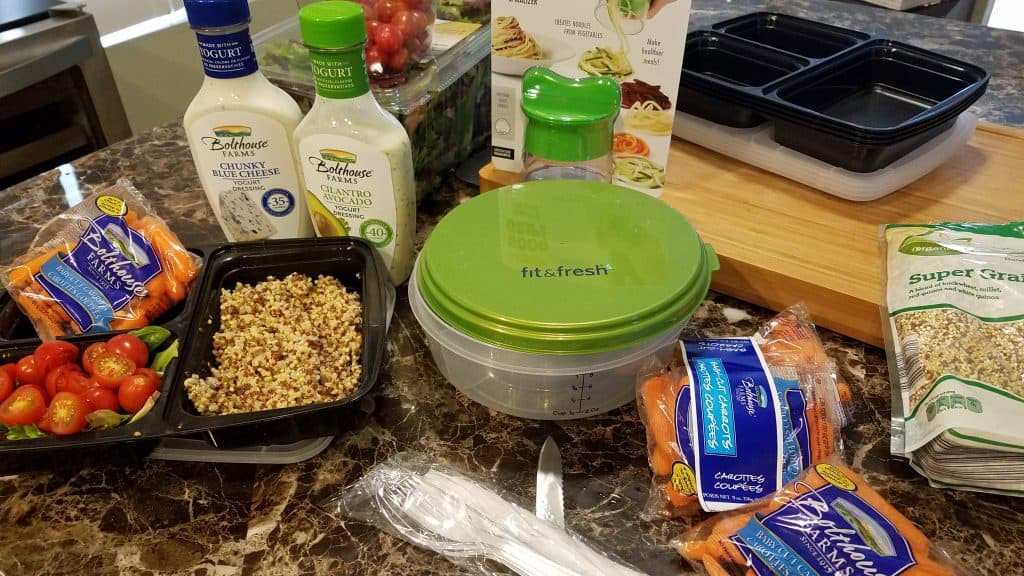 This week, I tried something new and incredibly simple. Truth is, I was feeling a little lazy. I'd gotten a small cold and wasn't quite myself. My energy was low but it was even more important I eat right. I made a quick stop into the Aldi's and saw this bag of super grains, made up of red quinoa, white quinoa, millet and buckwheat. I grabbed a few things from the produce aisle, including fresh micro-greens, organic grape tomatoes, celery, pepitas and asparagus. Then my meal plan for the week came together, meaning all I have to do is toss my container into the bag with my silverware and I'm ready to eat a healthy lunch at my desk.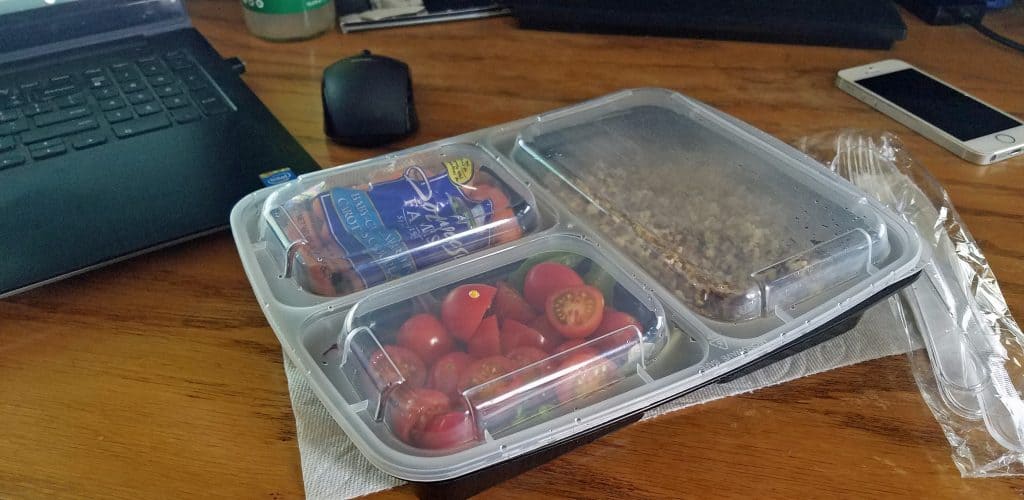 I cooked the super grains; you boil them for 15 minutes until the water is absorbed. While it was cooling, I assembled the lunch containers, cut the tomatoes in half and grabbed a single-service package of baby carrots. I filled the large side container halfway with the grains. One of the two small sections held arugula and other greens, and I stuck the carrots into the other. Pour a little of the Bolthouse Farms dressing into a small container and I have an inexpensive lunch of simple food that tastes amazing!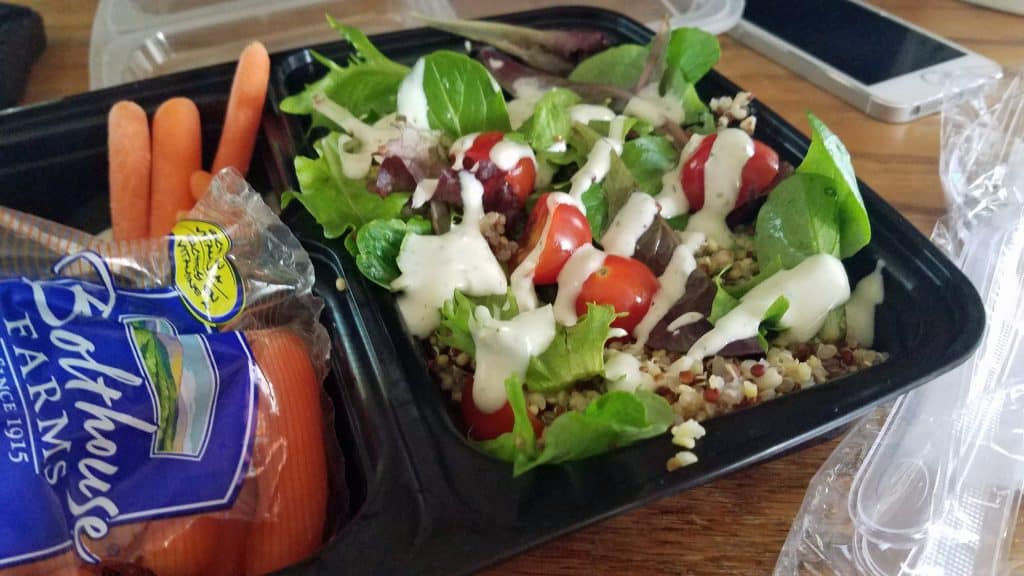 Bolthouse Farms dressings come in 18 varieties. Yogurt-based or vinaigrettes, they're all fantastic. The Cilantro Avocado is a favorite. I've used it on so many things, and not just salad. We made fish tacos last week and used it instead of salsa. So good! They also grow and package fresh carrots, the ones I used in my meals for this week. You can read more about that here, but basically the carrots come in several varieties, can be purchased for snacking (adults and kids' packages) or cooking and organic's an option, too.
I haven't started next week's food plans yet, but I know I can get a lot of ideas from their Pinterest board, More Taste, Less Waist. So far, I know it's going to be a meal using my new spiralizer Bolthouse Farms included in this latest shipment. I'm thinking a pasta-less pasta dish, made with zucchini instead of carbs.
Making healthy, fast lunches is just one part of developing better habits. I'm working on making my workouts more regular, extending my runs a little further and going faster. Drinking more water. I get up an hour earlier to get a head start on the day. Baby steps, right? What's your favorite lunch to take? I want to hear how you implement new habits!