I recently was invited to a top-secret event in Beverly Hills, held in honor of the upcoming debut of Big Little Lies on HBO. It was another one of many recent rainy days. On a good weather day, my drive can really stink coming from out here in the Inland Empire, so I typically arrive most places early.  Despite the day's rain, I was earlyagain, so I took advantage of the extra 30 minutes, exploring a new building and enjoying the amazing view. This was another day where I was glad for the spare time to catch up on a few emails until the reception began. And to people watch. That never gets old out in in the LA area.
HBO pulled out all the stops for this girls' afternoon out. We were invited into a plush, appointed screening room with a small amount of red velvet recliners. Open wine and beer bar in the corner, popcorn at the ready and a wide array of delicious cheeses and other snacks. It was the perfect ambiance to watch a guilty pleasure show like Big Little Lies.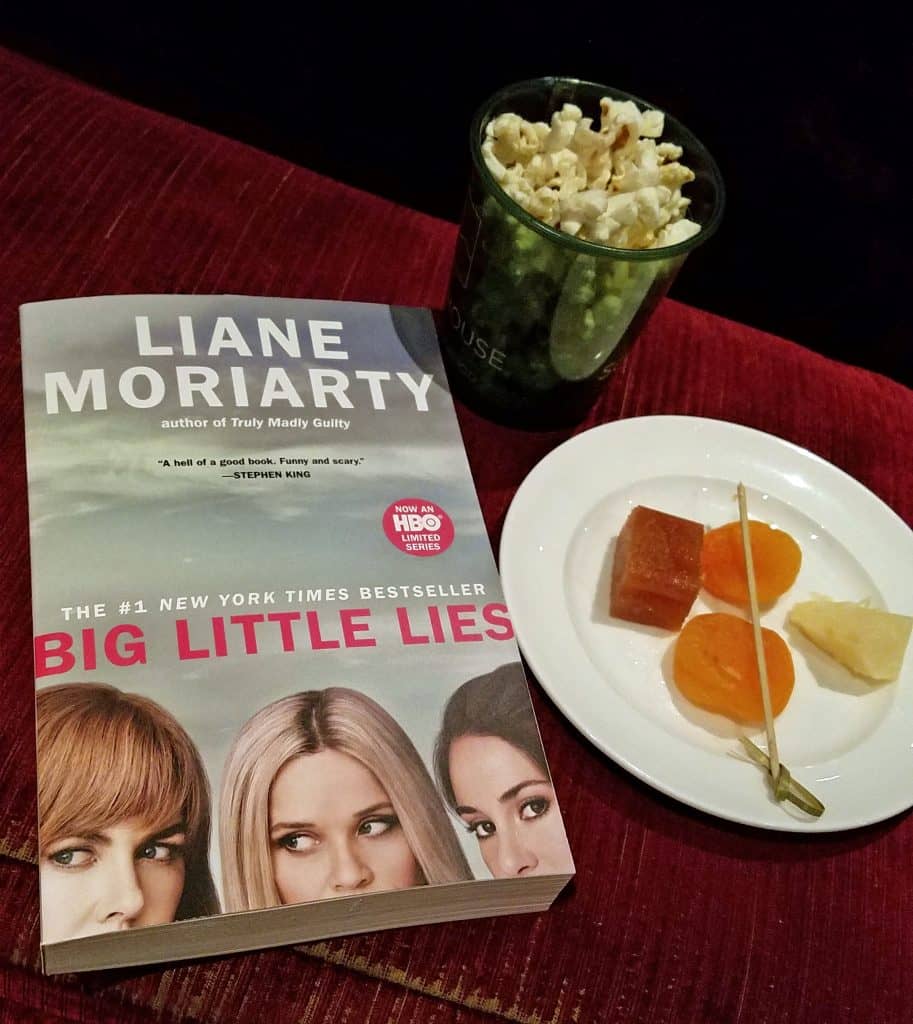 Based on the book by Liane Moriarty, best-selling author of The Husband's Secret, Big Little Lies is set in picturesque and affluent Monterey, California. The cast is star-studded, including Reese Witherspoon, Nicole Kidman, Shailene Woodley and Laura Dern. They portray mothers whose kids all attend Otter Bay Elementary. That's about the only similarity. Each relationship and personality is explored as the city deals with a murder — but whose?
Suspense, drama, a little comedy — the show will have you glued to the screen until the end of the 7-episode series. There are surprises around each corner as you learn more about the intricacies of small coastal town living amongst the wealthy and not-so-wealthy. I haven't yet read the book (though we were all gifted a copy at the screening), but I have started it and am waiting until dark comes again this evening to dive back in. The show does it justice, and I'm considering passing it along for friends to quickly read it before I host a viewing party here at the house on February 19, the evening it debuts on HBO.
Before the screening began, Nicole and Reese stopped by for a photo opp and to tell us a little about the show. We learned it came to fruition, from concept to screen, in about 18 months. Reese had read the Husband's Secret and loved the writing style, making it an easy project to work on. They are as down-to-earth as any celebrities I have met, and while I only had a very brief personal chat with each of them, they were so sweet. I discussed shoes with Nicole and dancing with Reese. So brief but so pleasant!
Thank you, HBO, for getting behind another fantastic show that is going to have me waiting to see each episode. Check out the website for further details or follow along on Twitter. Big Little Lies on HBO — it's what you need to watch on February 19!