Last week, I had the privilege of a Girls' Night Out with some of the best Twitterazzi out there, enjoying red carpet time at Muffin Top, A Love Story. Directed by and starring Cathryn Michon, Muffin Top is a movie everyone can relate to. Available on iTunes and Video on Demand through many providers, you too can get in on the fun and watch the movie in the comfort of your own home!
I got to watch it in the comfort of the official Twitter Pit at the Regal Theater at LA Live, after a delicious dinner at Wolfgang Puck, courtesy of Cathryn, a woman with such an engaging and genuine character that you can easily feel like you've known her for a long time. We chatted throughout dinner, where I inadvertently grabbed her glass instead of mine, and the time flew until we had to make the short walk to the theater for curtain time.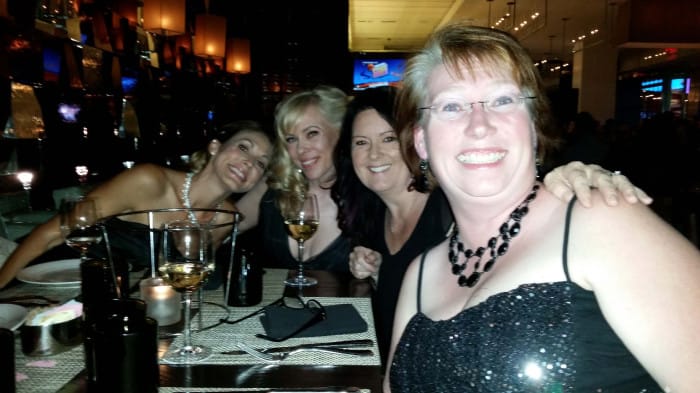 That's Cathryn Michon to my left, @KadiPrescott all the way to the left and @Girlwiththepink to my right. Such a fun group!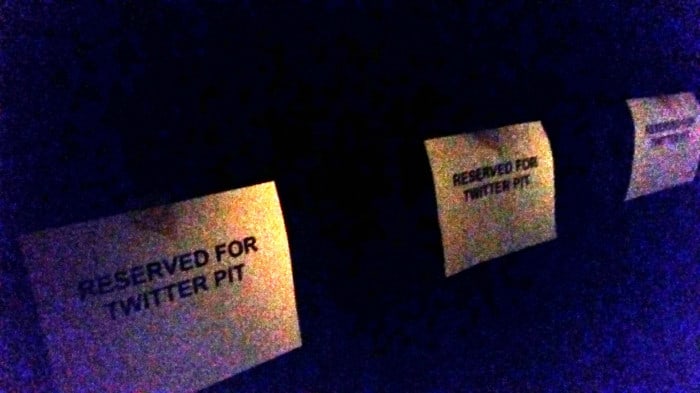 Twitter pit!
A highlight from the evening was our hilarious elevator ride, after a really fun van ride because six of us rode to Los Angeles together.
Selfie time in the van!
We were all headed upstairs and trying to all get into one elevator. Not going to happen, but that didn't mean we didn't cram ourselves in like sardines because no one wanted to miss any fun or get left behind. Picture Dot Jones in a corner with Marissa Janet Winokur and Melissa Peterman, a bunch of social media and one lone ranger who probably was immediately thinking "why in God's name did I just get into this elevator car?" As we continued to pile in, his "This is not a good idea. This is too many people. We need to stop. No more!" comments got a little more higher-pitched. I felt a little bad for him but we only stopped when there was no more room. Dot Jones chose halfway up to jump. The man was not amused. When we piled out upon arrival, he had very large eyes and did not seem too happy with us. Go figure.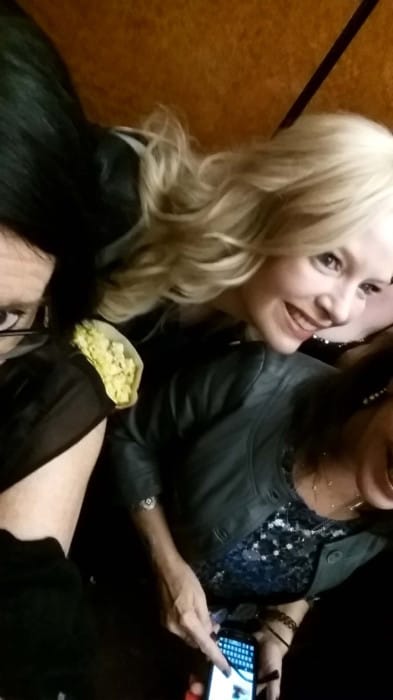 My poor attempt at an elevator selfie but my phone was slow…that's Melissa Peterman there though!
Just a few things about the movie, because I don't want to give away too much:
We need to love ourselves now, not five pounds from now. The pursuit of perfection makes you miss out on the important things.
Trust in yourself above all; once you have that confidence, just from being yourself, the unique "you", you won't need to worry about anyone else. They're all bonus!
Live. Have fun. Enjoy people.
Life can throw you a curveball. You can choose to let it suck you in or you can pretend it's a riptide, swim along with it and pull yourself out as soon as you're able.
I laughed and I sniffled and it made me think. I know I do not want to get liposuction, even though I may think my upper arms could use it (oh those red carpet press cameras really do not flatter all of us) and now I know that the word "prius" has a whole new meaning. I also know I'm glad I follow my heart and gut, not the money or the opinions of others. It can be eye-opening to know you're more comfortable with yourself than you originally thought!
Watch the movie. It's also showing in specific cities throughout the United States, and keep an eye out for the amazing cast, including David Arquette, Dot Jones, Melissa Peterman, Marissa Janet Winokur, Haylie Duff and many other talented people.