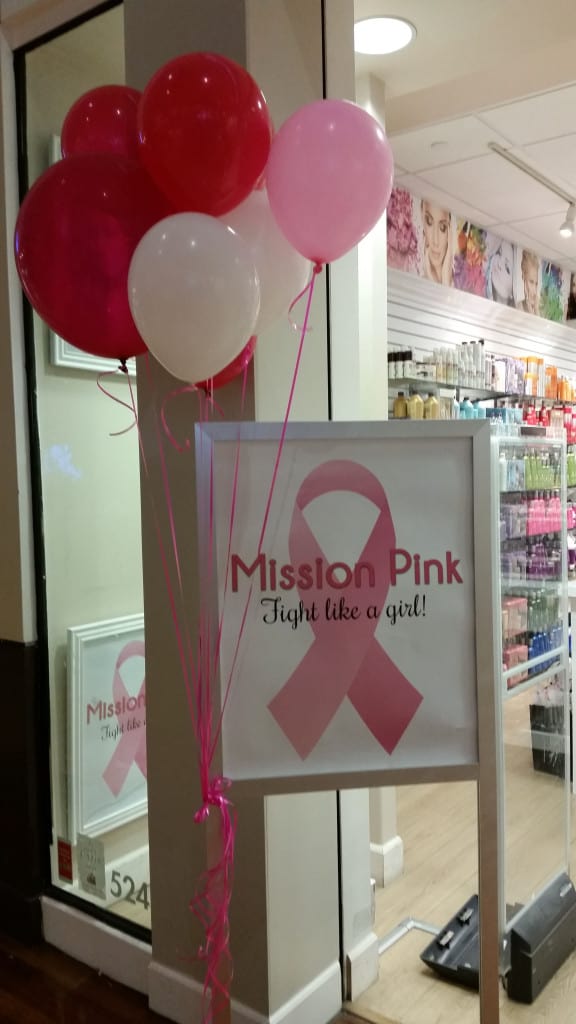 October is National Breast Cancer Awareness Month. Pink ribbons are everywhere, signifying Mission Pink, supporting those fighting breast cancer and celebrating with survivors of this all-too-often fatal disease. In conjunction with the Susan G. Komen Foundation, Simon Malls is putting Mission Pink all over their malls, allowing customers to join together in solidarity over a common goal: breast cancer awareness.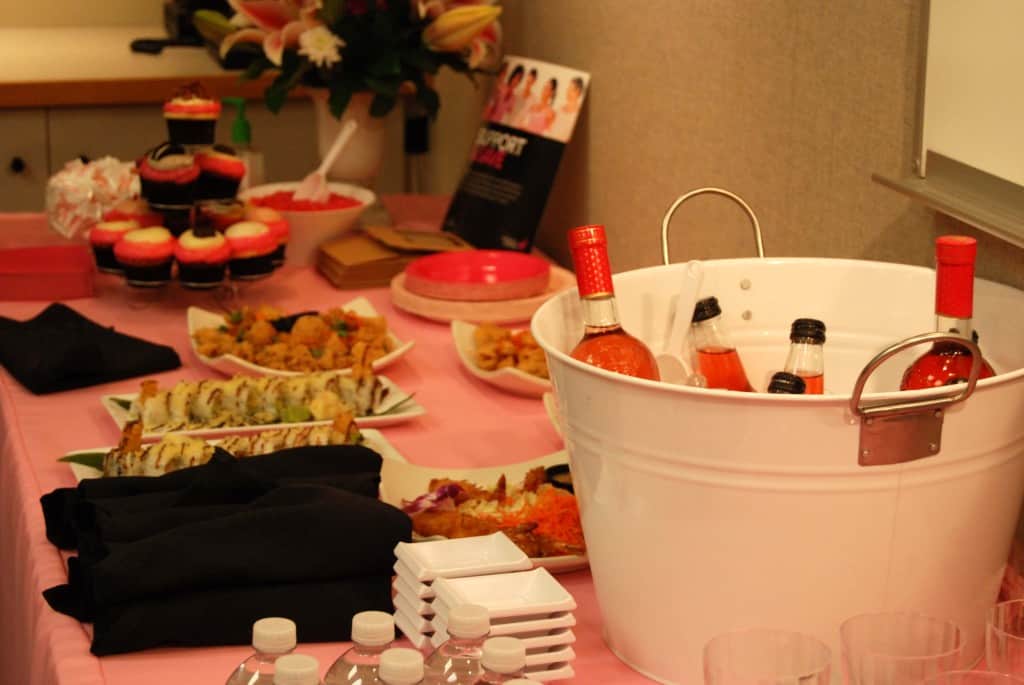 I was invited last week to attend a pink-themed, champagne-filled blogger mini-bash to help get the word out about Simon Mills' involvement in the cause, held at Ontario Mills, off the 10 freeway at Milliken. Ontario Mills has the distinction of being the largest mall in California. They're currently going through a renovation, with expected completion in Spring 2016, adding 12 new storefronts to an already impressive array of shopping options. With 28 million visitors last year, Ontario Mills has a handle on attracting shoppers who love a good shopping experience with affordable prices, which makes it the ideal place to promote a breast cancer awareness campaign. (We were given a gift card for the mall, along with some other goodies, in exchange for our attendance. I would have come without it though. The night was so much fun!)
I attended the Ontario Mills event with a few other bloggers from the Inland Empire, and the word of the evening was pamper. Dining on the pink spread above — sushi, calamari and Stella Rosa pink wine — provided some time for us to get to know each other.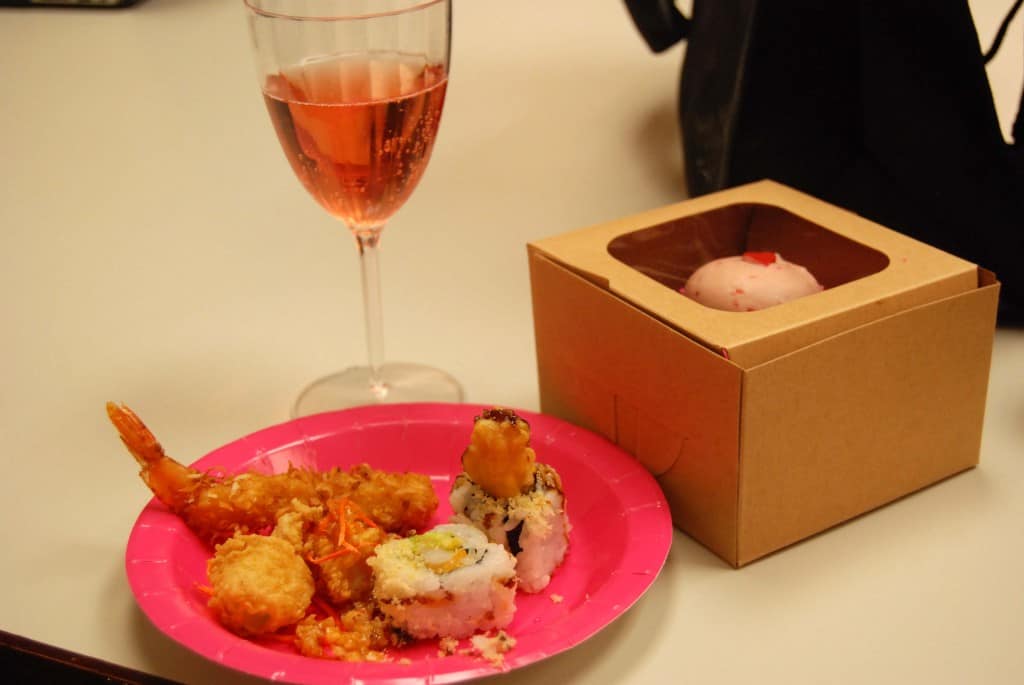 And whenever you throw in cupcakes? Everyone's happy.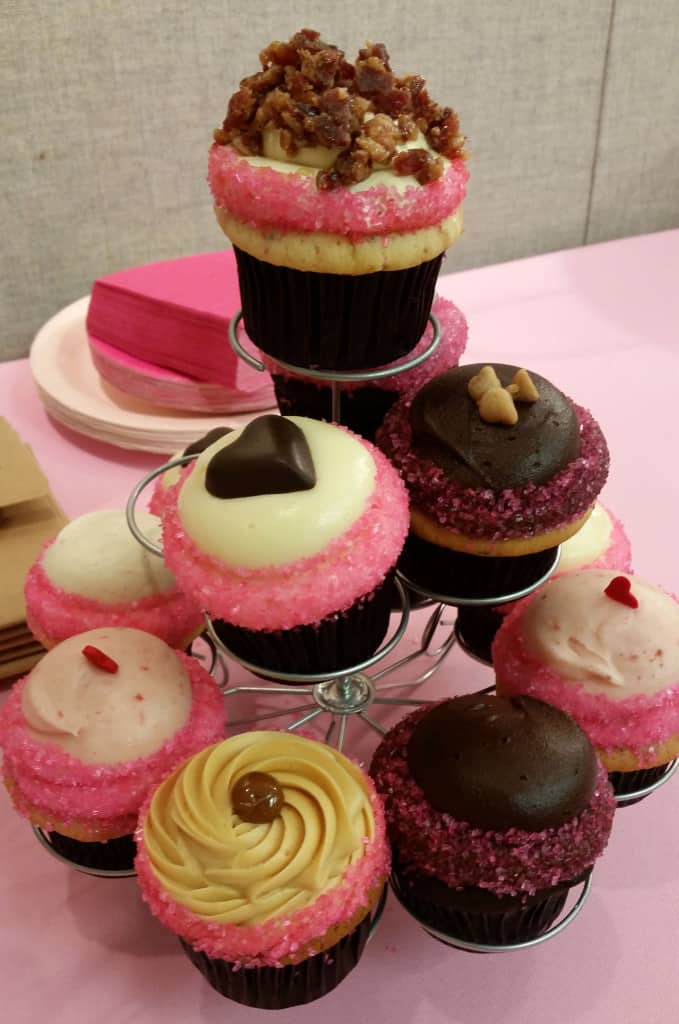 Aren't they beautiful? As a cupcake baker, I was impressed. I took one home and ate it later, having a typical blogger night, working at a quiet table, sipping some Chardonnay and enjoying the strawberry cream frosting.
First stop at the mall was Neiman Marcus' Last Call. I hadn't been into the store yet, and I now have plans to return for holiday gift shopping. And maybe a few dresses for myself. And shoes, definitely shoes.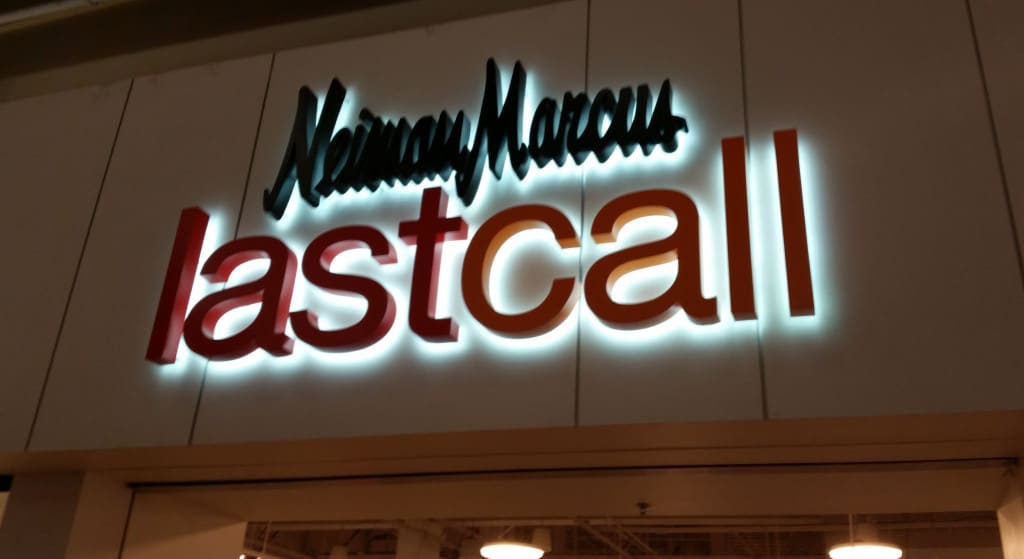 Surrounded by high-quality bags, clothing and accessories, we were treated to red velvet cupcakes and champagne. Who can turn down pink bubbly named Fancy Pants? (And swag bags — thank you again, Neiman Marcus! I can't wait to light the holiday candle!)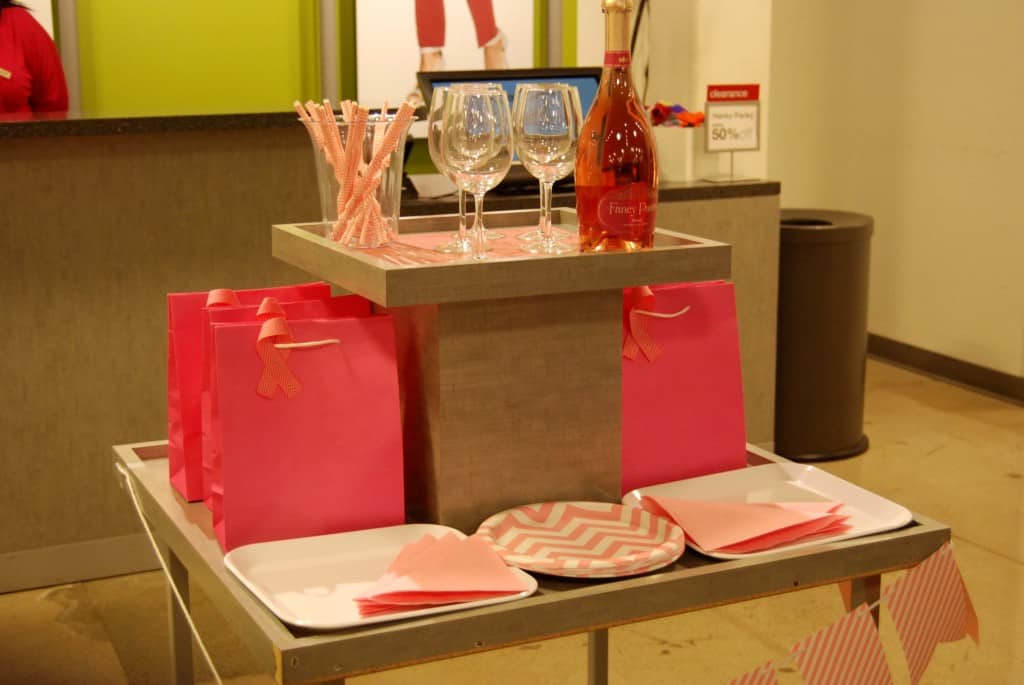 Cheers!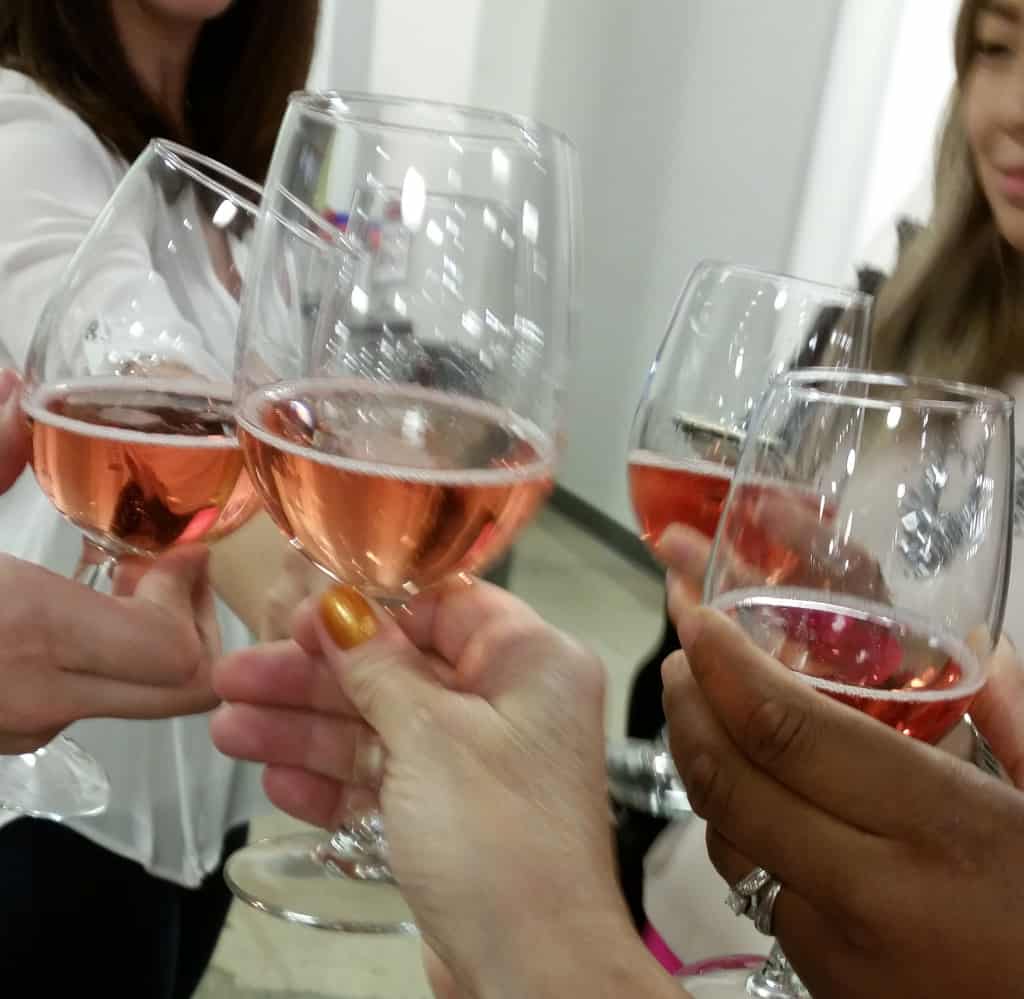 Neiman Marcus is one of many stores at Ontario Mills who are participating in Mission Pink. On Saturdays and Sundays, guests can donate $1 and get a photo taken by the Wall of Strength or put up their own personal note of encouragement. Also available for purchase are discount vouchers with the proceeds going directly to Susan G. Komen. To help with the campaign, Simon Mall is also giving $250,000 directly to the fund. Neiman Marcus' involvement is helping by focusing on pink clothing, accessories and accents. (And every store in Ontario Mills that participates has a cling on the front window to signify their involvement.)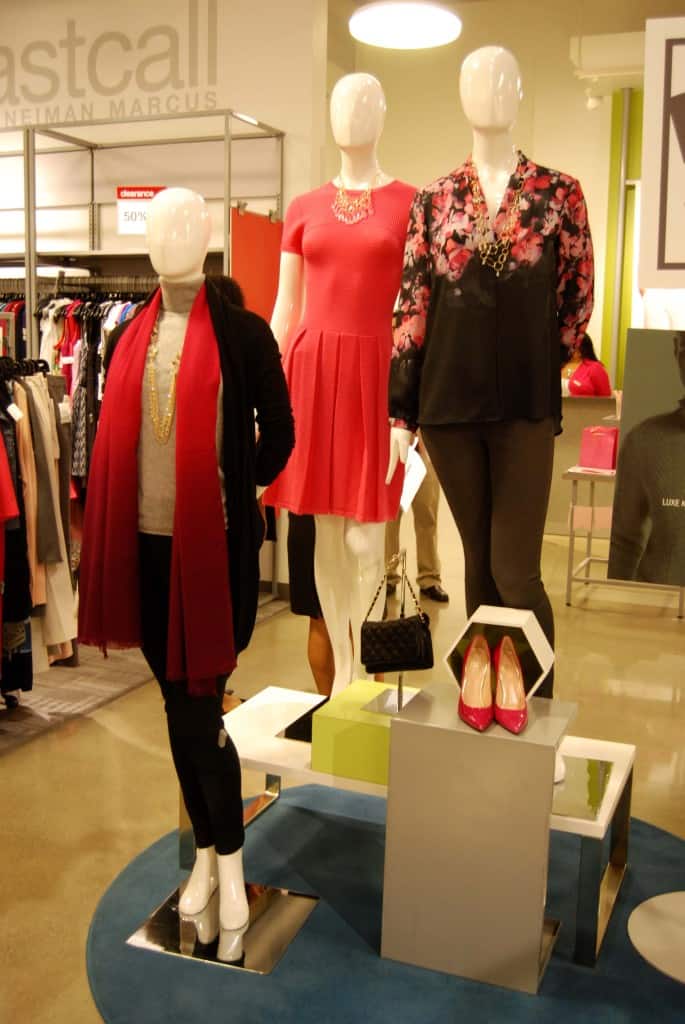 Next up was Planet Beauty. I'd only briefly been in and now I can't wait to go back; thanks to a healthy coupon, I'm taking my daughter and we're going back to try some new items, particularly a make-up setting spray that smells like roses. I never knew this product existed and now I have to have it!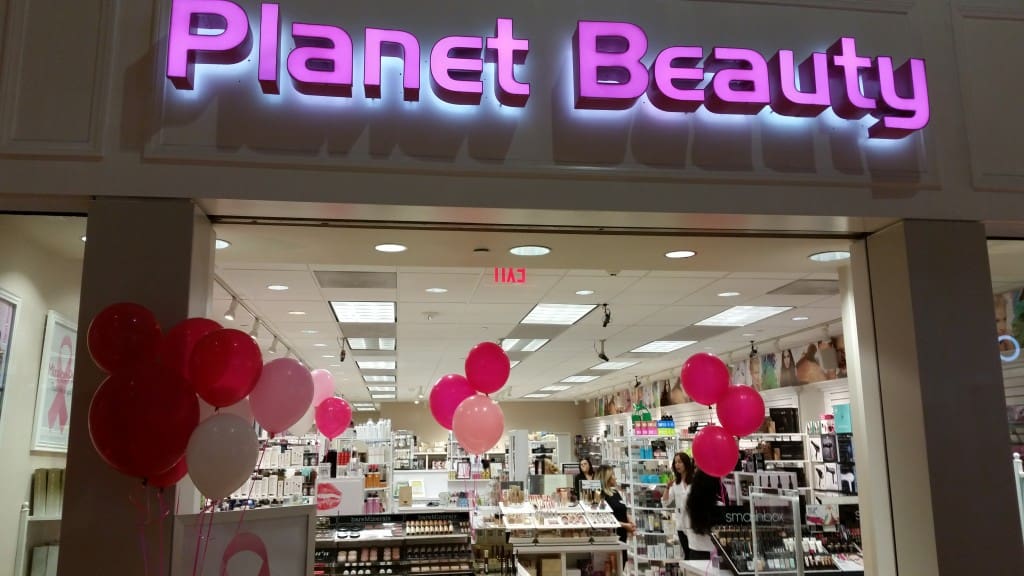 Planet Beauty staff clearly love their jobs, and it's not just their smiling, made-up faces. On the night we attended, they all had cat faces on! They taught us how to use a contouring kit to highlight our cheekbones, accent what we wanted to accent and shape our faces with a few sweeps of a brush. I had never tried contouring but I could clearly see a difference between before and after. I finally had cheekbones, it took less than two minutes and I sparkled.  The beautiful Jamie, shown below, made a great model for my photos.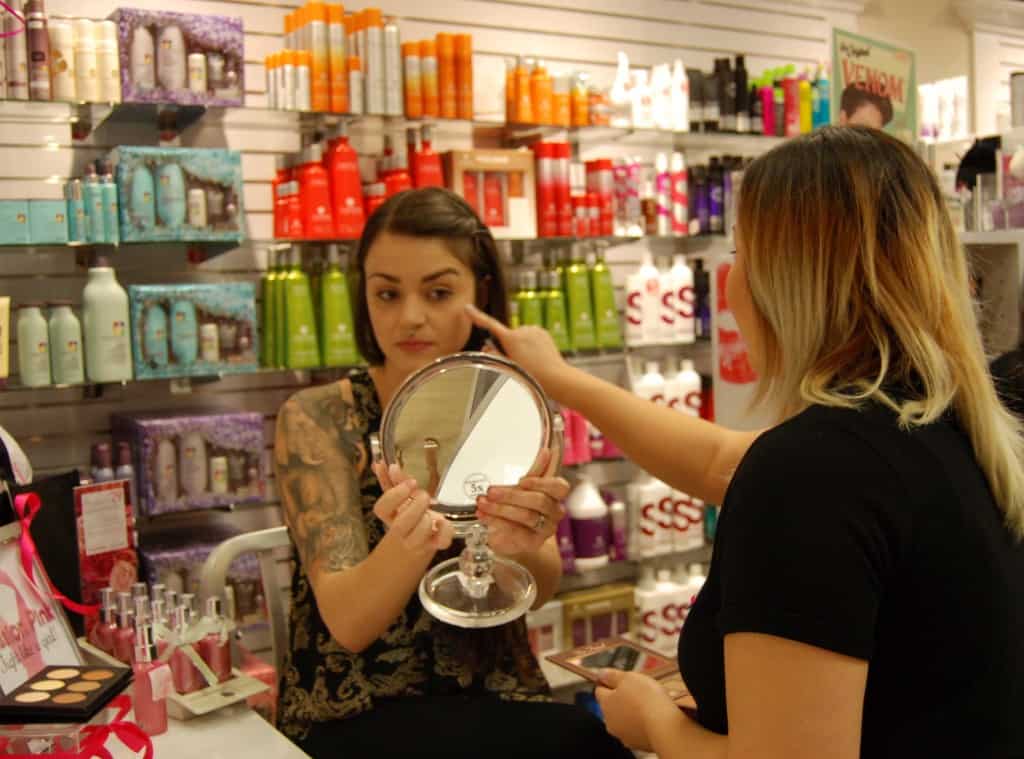 Planet Beauty sent us on our way with a very large and heavy bag of complimentary goodies. Nail polishes, Bare Minerals and other skin and hair products. So much fun to try new things!
Thank you, Simon Malls, for your partnership with the Susan G. Komen foundation. Thank you for your efforts to help make breast cancer awareness and treatment more accessible to everyone. Together, women everywhere can "Fight like a girl!"
Visit Ontario Mills this coming weekend for your last opportunity for this year's Breast Cancer Awareness Month photo sessions, 12pm – 7pm on Saturday and Sunday. Get your photo and strength encouragement note up on the wall and know you're helping your family members, your friends, your sister, your daughter, your mom and any other woman to have help available should they ever need it.