Brie Larson's fitness level showed in her role as Carol Danvers aka Vers, or Captain Marvel. In the movie, she did a lot of her own stunts and is always on the move, but that didn't come naturally. While she was in great shape before filming began, she had to take it up a notch and she did that with the help of personal trainer, Jason Walsh, who gave her a Captain Marvel workout regimen from day one.
Higher, further, faster, baby.
We can't all push a jeep like Brie did after working with Jason, but fitness isn't unattainable if we give it some time and effort. (Please see a doctor for any limitations and/or fitness advice as some medical issues may preclude certain workout regimens.) To help me enjoy my workouts more, I was sent a package of Captain Marvel workout gear!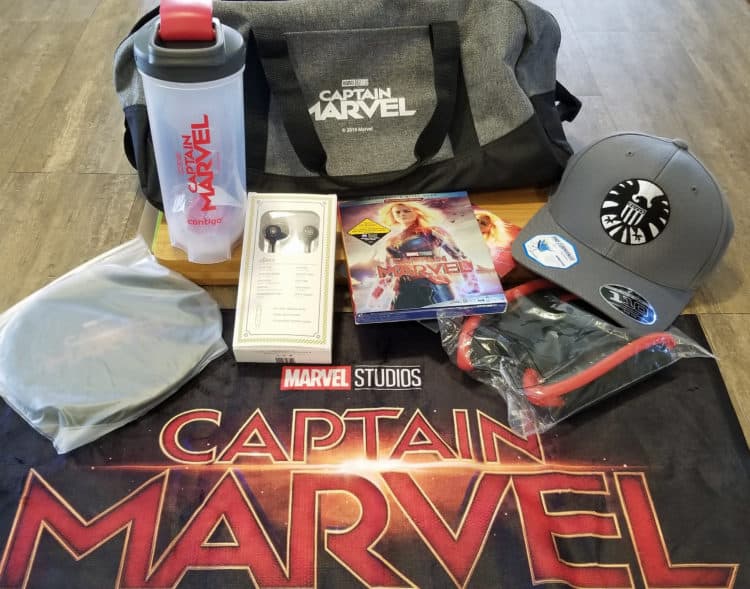 You can't buy this Captain Marvel fitness kit anywhere, but even without it, we can all still workout like a pro. We don't need to be a superhero for a reason to work out! With this kit came a two-week workout plan, a set of themed sliders to help with my core strength, Captain Marvel ear buds, a cool protein shaker, that amazing hat, a jump rope, a gym bag that's already in my car for tomorrow's visit to the gym, and that towel, also in the bag to wipe the sweat off my forehead when I push it while lifting weights.
I'm officially going to be the coolest person in the gym.
Speaking of cool….Captain Marvel comes out on Blu-ray on June 11! It's already out on digital for downloading…like I may have done on my tablet for my flight this weekend to Puerto Vallarta.
Captain Marvel takes place in the 90's, but her character also reappears in the latest of the Marvel Cinematic Universe movies, Avengers: Endgame…but you knew that already, right? I have seen the movie a few times now, cried every single time..and maybe worse each time I see it…and I'm excited to add it to my Blu-ray collection along with Captain Marvel.
Here are some deets about the Blu-ray:
Deleted Scenes
· "Who Do You Admire Above All Others?" – Kree Commander Yon-Rogg must answer to the Supreme Intelligence, who questions his leadership ability.
· Starforce Recruits – Yon-Rogg lectures a roomful of students on the Kree's mission to defend all nations from the scourge of the Skrulls.
· Heading to Torfa – Vers (Danvers) and her fellow Starforce members banter as they prepare for their rescue mission to Torfa.
· "What, No Smile?" – In this alternate version of a scene from the movie, Vers is consulting a map when she receives a dubious offer of assistance.
· Black Box – Keller attempts to track Vers and Fury after their escape in a quadjet from the Joint USAFA Facility.
· Rookie Mistake – Novice S.H.I.E.L.D. agent Phil Coulson helps Director Keller out of an embarrassing situation.
· Gag Reel – The fate of the universe hangs in the balance as the cast battles props, flubs and Flerkens in these outtakes from the set.
Featurettes:
· Becoming a Super Hero – Follow Brie Larson's journey as she joins the MCU, and see what it takes to be a Marvel Super Hero in every sense of the word.
· Big Hero Moment – Explore how impactful Captain Marvel's entrance into the MCU is, and how she inspires audiences around the world.
· The Origin of Nick Fury – Witness some of the MCU's most significant events through Nick Fury's eyes, and see how his influence helped shape the MCU.
· The Dream Team – Discover why Anna Boden & Ryan Fleck are the perfect pair to direct Marvel Studios' most powerful hero.
· The Skrulls and the Kree – Take a deeper look into the Skrulls and the Kree, their ongoing conflict, and the importance of shifting perspectives in the film.
· Hiss-sterical Cat-titude – The cast and crew dish on working with Goose and the raw talent it takes to portray such a complex character on-screen.
I'm going to keep using my Captain Marvel workout beyond the two weeks, as I need something to take my regular plans to a new level. I hit the gym 3-4x a week but sometimes I get in a rut and this workout's going to change things up enough to really test my muscles, but in a good way.
Higher, further, faster? Heck, yeah….
If you want more Captain Marvel scoop, read my Captain Marvel cast interview post over here!